Complete Guide To Vegan Starbucks Drinks
These aren't your boring everyday Starbucks drinks! (Although I'm sure you'd enjoy them every day as well.)
Many of your favorite Starbucks drinks can be made vegan with a few substitutions. While not every drink can be vegan (RIP pumpkin spice latte), there are plenty that can by changing to non-dairy milk and skipping the whipped cream.
Below I will show you the best vegan drinks at Starbucks including some from the Secret Menu. I will also show you how to create your very own personalized vegan Starbucks drink.
This post may contain affiliate links. That means if you purchase an item through these links, I may earn a commission at no additional cost to you. Please read the full disclosure policy for more info.
How To Create Your Own Vegan Starbucks Drink
Below I'll go over how to create a personalized vegan drink at Starbucks. Knowing which specific syrups and drink bases are vegan allows you to evaluate any of the new drinks they put out.
I found the ingredients information from the Starbucks website but they state:
We cannot guarantee that any of our products are free from allergens (including dairy, eggs, soy, tree nuts, wheat and others) as we use shared equipment to store, prepare and serve them." Probably best to avoid if allergic.
If you have an allergy to dairy then it's probably best to avoid Starbucks altogether since there's the chance of contamination.
Vegan Dairy-Free Milk At Starbucks
The conversion to plant-based/vegan is even easier now that Starbucks carries non-dairy milk. Gone are the days when soy milk was the only option if you want a dairy-free beverage.
Starbucks has almond milk and coconut milk as well. I will mention that their soy and coconut milk contain carrageenan for those who are trying to avoid that additive.
For all of the drinks listed below, a substitution of soy, almond, or coconut milk can be done if asked to make it vegan/ dairy-free.
Does Starbucks have dairy-free whipped cream?
As of now, Starbucks does not have a dairy-free whipped cream so order your drink with no whip. Hopefully this changes in the near future.
Is Starbucks Hot Chocolate Vegan?
Yes, Starbucks hot chocolate is vegan as long as you order it with non-dairy milk (almond, coconut, or soy) and skip the whipped cream.
Dairy-free and Vegan Starbucks Syrups:
Hazelnut Syrup

Mocha Sauce

Vanilla Syrup

Classic Syrup

Creme Frappuccino Syrup

Caramel Syrup (not drizzle)

Hazelnut Syrup

Almond Syrup
Vegan Drink Bases:
Drip coffee

Espresso shots

Nitro Cold Brew

Iced Coffee

Cold Brew

Steamed Apple Juice

Hot Chocolate
Non-Vegan Ingredients To Avoid:
Cinnamon Dolce Topping (contains dairy)
Caramel Drizzle Sauce (contains dairy)
Java Chips (contains dairy)
Whipped Cream (contains dairy)
Protein Powder (found in smoothies, contains dairy)
Cloud Foam (found in cloud macchiatos, contains egg)
Pumpkin Spice anything (contains dairy)
Chai Mix (contains honey)
Carmel Brulee anything (contains dairy)
White Mocha anything (contains dairy)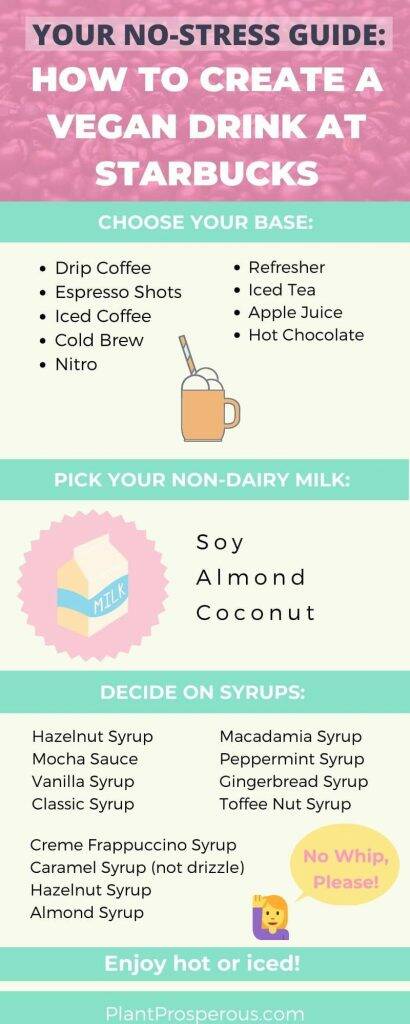 Share this Image On Your Site
---
Best Starbucks Drinks With Almond Milk
Almond milk mocha with no whip
Matcha green tea latte with almond milk
Hazelnut latte with almond milk, no whip
Cinnamon almond milk macchiato with no caramel drizzle or cinnamon dolce topping
Best Starbucks Drinks With Coconut Milk
Iced matcha green tea latte with vanilla syrup and coconut milk
Any Refresher or Infusion with coconut milk substituted
Iced or hot coffee with coconut milk
---
Vegan Refreshers & Infusions
In the heat of the summer sometimes you want something to cool you off. Starbucks has been expanding and promoting its offerings of iced teas.
Frappuccinos are still popular but, admit it, they are calorie bombs. Basically a dessert shake.
Tip For Making Refreshers At Home: Pick up Instant Refreshers to always have them at home. These are the secret!
Every time I enter one of their stores it seems like they're promoting a new Refresher or Infusion concoction.
Are Starbucks Refreshers and Infusions Vegan?
All of the Starbucks Refreshers and Infusions are vegan but skip adding any honey.
Refreshers are fruit juice with a Green Coffee Extract. Infusions are Teavana iced tea infused with fruit and sweetened.
Both are wonderful! Geared towards millennials with their picture-worthy appeal, they don't cost you a huge amount of calories either.
5 Best Starbucks Refreshers & Infusions From The Secret Menu
Want something creamy without being a nuisance to your health goals?
The following drinks add coconut milk to a base of Infusion or Refresher. The end result is delicious!
1) The Pink Drink
Strawberry açaí refresher with berries and coconut milk instead of water.
This is getting a lot of notoriety with breastfeeding mammas for boosting milk supply due to the coconut milk and superfood açaí.
Does Starbucks Pink Drink Increase Milk Supply?
Possibly. Coconut is a galactagogue that is thought to increase breastmilk supply. The Starbucks pink drink contains a base of coconut milk.
Related: Other foods you can eat to increase breastmilk supply.
2) The Purple Drink
Passion iced tea, soy milk, vanilla syrup, and berries.
3) The Violet Drink
Very Berry Hibiscus Refresher base mixed with coconut milk.
4) The Ombre Pink Drink
Cool Lime Refresher, coconut milk, and a splash of Shaken Iced Passion Tango Tea.
5) Teavana Shaken Iced Piña Colada Tea Infusion
Shaken Iced Pineapple Black Tea Infusion and coconut milk.
---
Vegan Starbucks Frappuccinos
Make sure to order ALL these vegan frappuccinos without whipped cream and choose non-dairy milk. Also, make sure none of the non-vegan additives aren't added.
Cafe vanilla frappuccino
Caramel frappuccino with no caramel drizzle
Cinnamon dolce frappuccino with no cinnamon dolce topping
Coffee frappuccino
Espresso frappuccino
Green tea creme frappuccino
Midnight mint mocha frappuccino
Salted caramel mocha frappuccino made with caramel syrup instead of caramel drizzle sauce
Strawberries and creme frappucino
---
Conclusion
Once you know which sauces and coffee and tea flavorings are vegan, it's easy to mix and match them to create a truly unique vegan Starbucks drink.
Starbucks is becoming more vegan-friendly as time goes on. As interest in vegan items grows, they add more to their menu.
Let me know what your favorite drink is in the comments below.
Pin for Later:
Ultimate Vegan Starbucks Drink Guide