Silky Vegan Mac and Cheese with Butternut Squash Cheese Sauce
Think you can't have mac and cheese as a vegan? Think again! It takes only 15 minutes to whip up this creamy, butternut squash mac and cheese vegan dinner. You'll be enjoying your vegan pasta in no time.
Vegan mac and cheese is made by combining carefully selected ingredients and blending them into a creamy sauce that coats every noodle in saucy perfection. I've found the perfect balance of squash and spices to build this sauce really quickly, without sacrificing flavor.
This recipe is also special because of how flexible it can be. You can make this squash mac and cheese with several different forms of winter squash, whether it's a can from your pantry, cubes from the freezer, or freshly roasted squash.
There's also a lot of ways to jazz it up, and I'll give you all the tips you'll need to customize it just the way you like. Whether you're here for a last-minute vegan dinner or looking to fill that mac and cheese craving, this recipe checks all the boxes.
This post may contain affiliate links. That means if you purchase an item through these links, I may earn a commission at no additional cost to you. Please read the full disclosure policy for more info.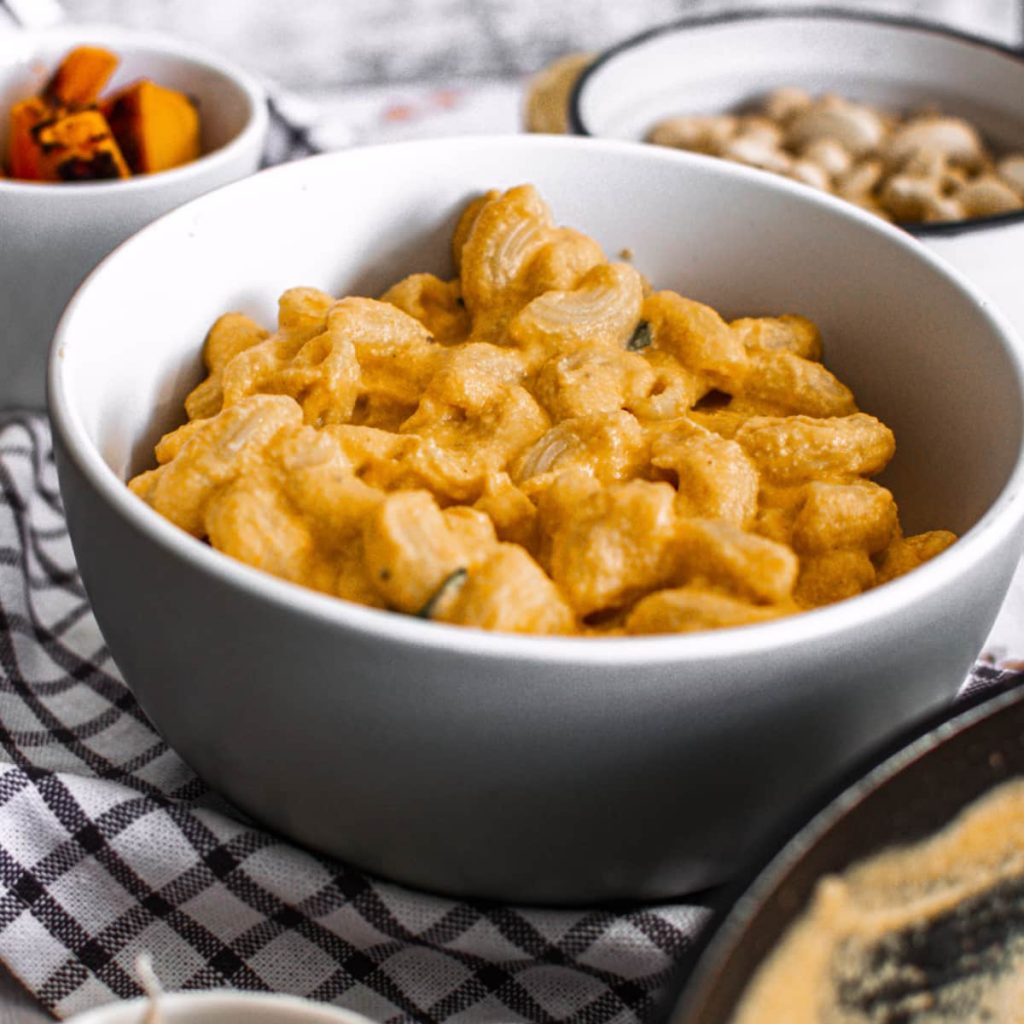 Ingredients for Vegan Mac and Cheese
The perfect butternut squash mac and cheese begins with a combination of key ingredients that build creamy, cheesy flavor.
I recommend using fresh butternut squash when you can, but there are actually a few substitutions that work just as well. You can also swap in a 15 ounce can of butternut squash or pumpkin puree. Frozen butternut squash chunks from the grocery store or your freezer work just as well too.
If you opt for the canned puree, just make sure you're choosing pure pumpkin puree, not pumpkin pie filling. The pie filling has a lot of spices and sugar that clash with this recipe.
To make this you'll need:
Butternut squash, cooked or frozen, or one 15 ounce can of puree
Raw cashews, soaked overnight
Nutritional Yeast
Prepared Mustard
Onion Powder
Smoked Paprika
Nutmeg
Sea Salt
Black Pepper
Lemon Juice, fresh
Coconut Milk
Cooked Pasta, of choice, rigatoni or macaroni work great
If you have the time, I highly recommend roasting your butternut squash cubes first. This draws out a lovely caramelized flavor from the squash's natural sugars and adds a depth to your sauce.
You can even roast frozen butternut squash. Just place frozen cubes on a parchment or Silpat lined baking sheet and roast at 425°F until you see it begin to caramelize, about 20 minutes. 
Nutritional yeast is best to use for that cheesy flavor but you can try to use one of these nutritional yeast subs if you don't have any on hand.
How many butternut squashes do I need if I want to use fresh squash?
For 2 full cups after peeling and seeding your squash, look for one 1 ½ pound to 2 pound butternut squash. You should get anywhere from 2 to 3 cups.
However, if you're looking to save time later, prep extra and freeze it for another night when you're craving squash mac and cheese.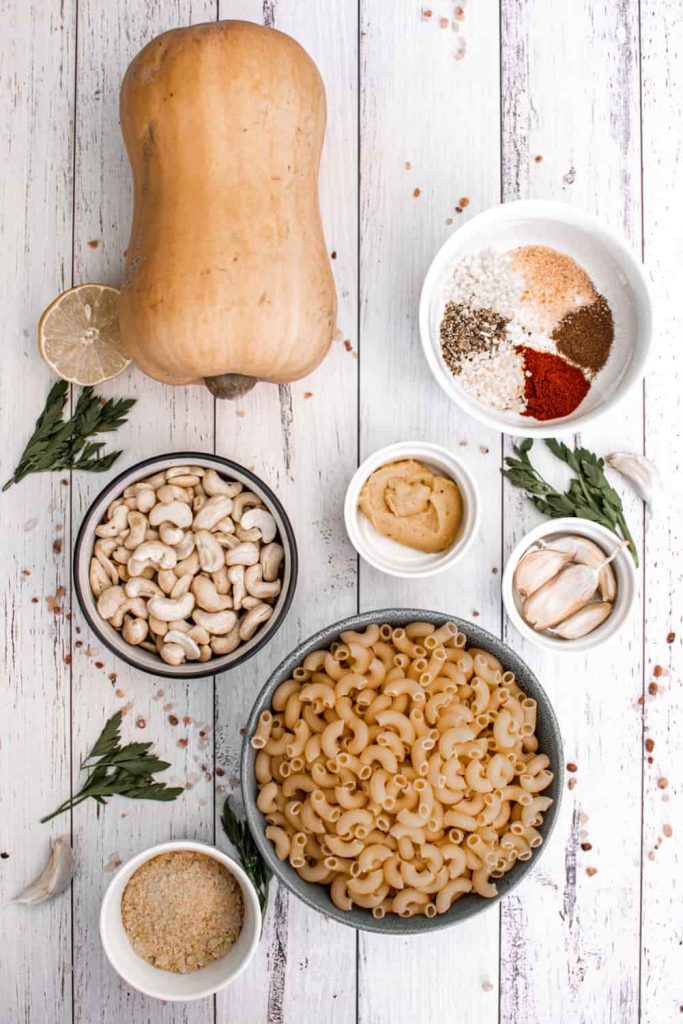 How to Make Squash Mac and Cheese
With a creamy sauce that comes together in the time it takes your pasta to cook, this is an easy and flavorful weeknight meal. To get started, get your high powered blender out and ready to go.
Begin by bringing a salted pot of water to boil for your pasta. Follow the pasta's package instructions for cooking times. While you do that, prepare your sauce.
Combine your cooked butternut squash, soaked and drained cashews, and all other ingredients into your blender. Blend on high until the sauce is smooth and creamy. This took about 2 minutes for me, but may take a little longer in your blender.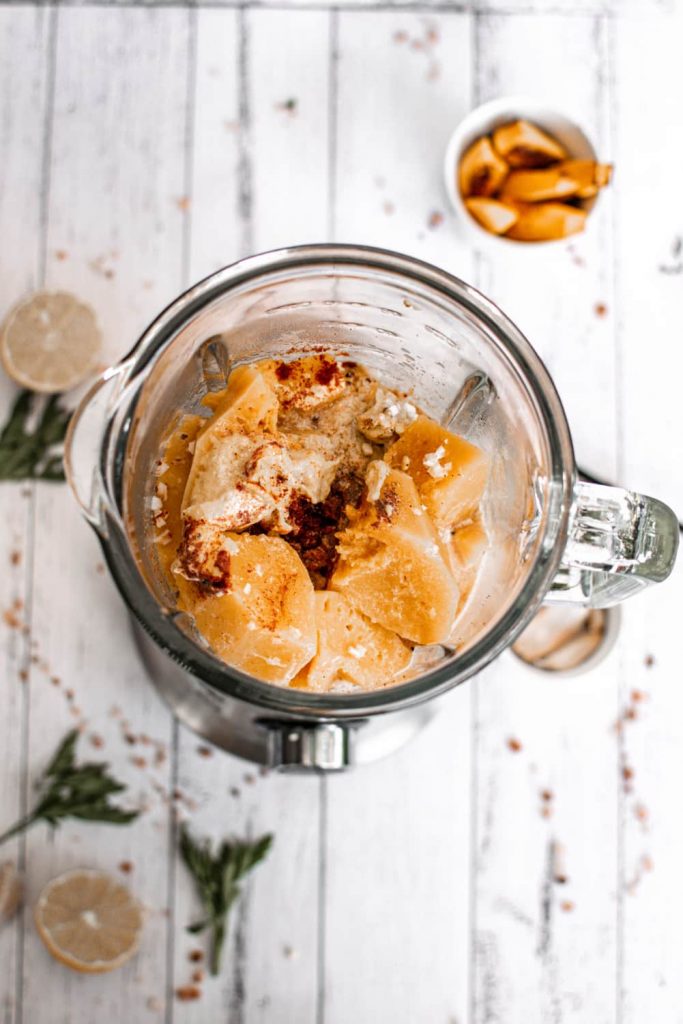 Taste your sauce and if needed, add more salt, pepper, or other spices to suit your tastes. I definitely recommend using smoked paprika if possible, it builds a nice but subtle smoky flavor that compliments the squash.
If you forgot to soak your cashews overnight, you can always soak them quickly for 30 minutes in boiling water before making your sauce. Just be sure to drain them well before using them.
Once your pasta is cooked to al dente, drain it and return it to the pan. Pour the creamy squash cheese sauce on top and stir it over medium heat until well combined and hot.
I always find that reserving a tablespoon of pasta water to add to the sauce while heating is a great way to help the sauce cling to the pasta and thicken beautifully.
Serve immediately and enjoy! You just made a butternut squash mac and cheese vegan masterpiece in about 15 minutes.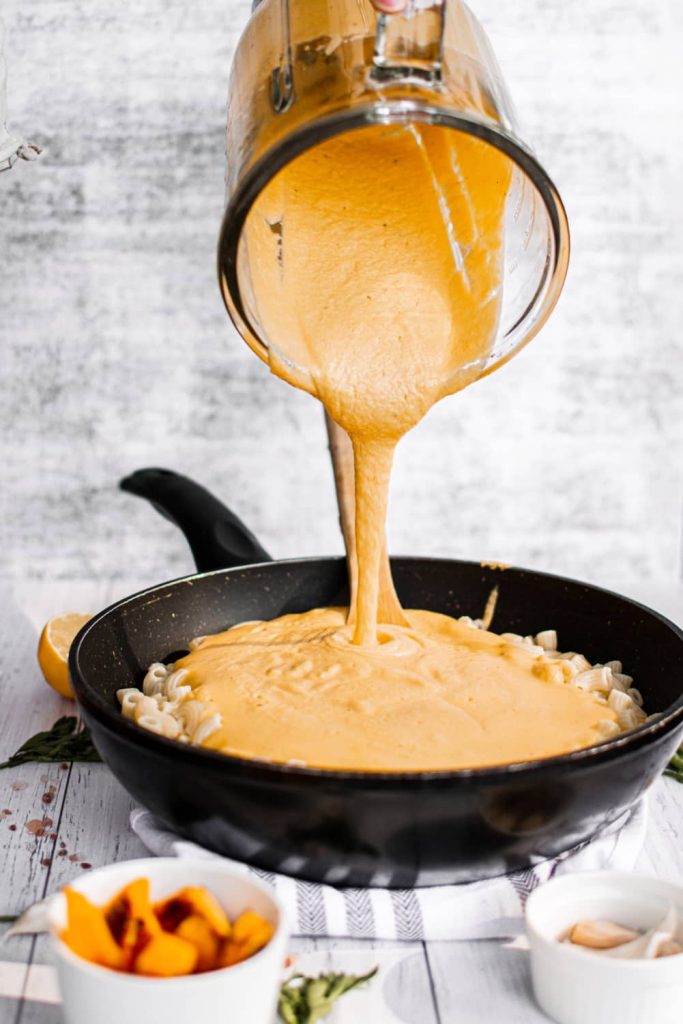 Jazzing up your Mac and Cheese
I can guarantee that a bowl of this vegan mac and cheese is satisfying as it is. Butternut squash is creamy, full of nutrients, and delicious.
But sometimes, I like to change things up. Here are a few ways to make this different from time to time.
Roast your squash with some add paprika or herbs to infuse it with flavor.
Add a teaspoon or two of roasted garlic to your sauce.
Add sautéed or roasted kale, spinach, peppers, or broccoli to your finished dish for added bursts of veggies.
Transfer your butternut squash mac and cheese to an oven safe pan or dish and top with breadcrumbs that have been tossed with oil, salt, and pepper. Bake until the breadcrumbs are toasted and enjoy.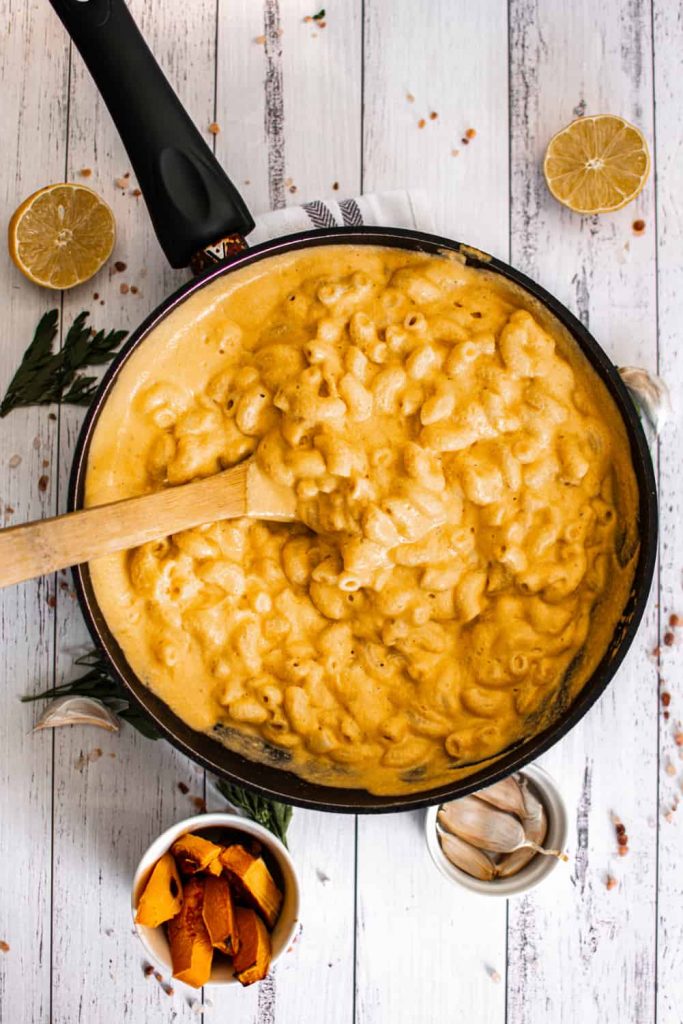 How to Store Leftovers
If you have any pasta left or decide to make extra for an easy meal later in the week, vegan mac and cheese stores well in the fridge. Simply store it in an airtight container in the fridge for up to five days.
You can also freeze this in any freezer-safe, airtight container for up to 3 months. To prepare from frozen, allow it to thaw in the fridge then reheat gently on the stovetop and serve warm.
When reheating your squash mac and cheese, you may find that you need to add a splash of non-dairy milk or water to help the sauce loosen up. Taste and adjust seasonings if you do this, and serve as usual.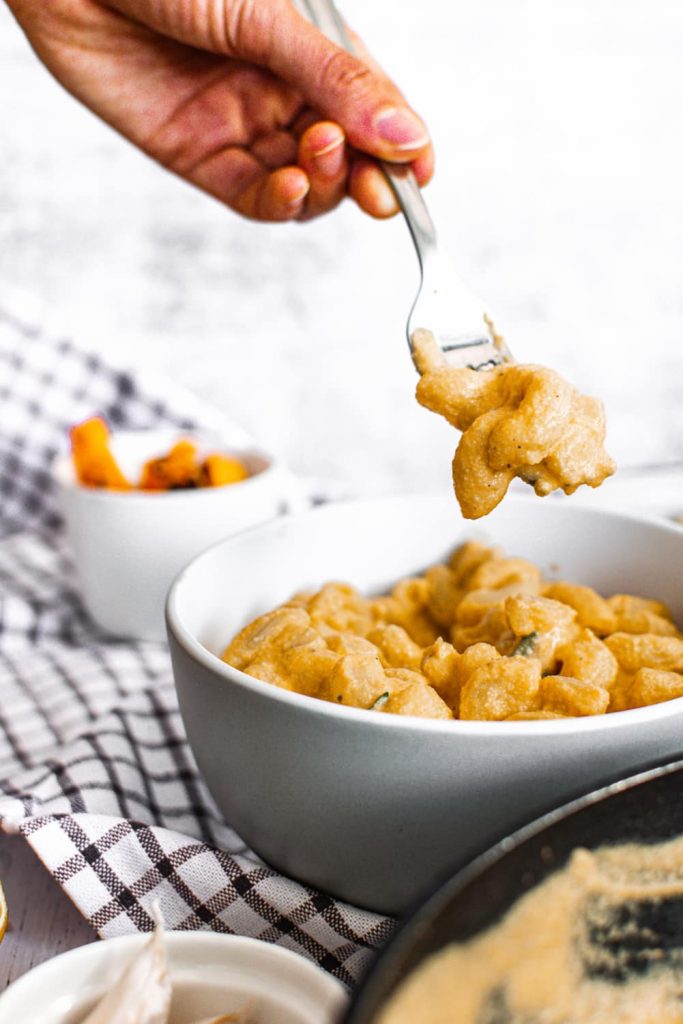 Final Thoughts
Overall, this vegan butternut squash mac and cheese is extremely versatile. You can use fresh, canned, or frozen autumn squashes and pumpkin. This sauce freezes well and can have other vegetables and seasonings added to change it up.
This cheesy-tasting vegan mac is the perfect comfort food for fall. Since it's full of winter squash, it's a healthy and guilt-free even your kids will beg for. Better yet is how fast you can whip up this meal when you simply would rather not cook. It's my go-to savory cheese sauce for the fall and winter.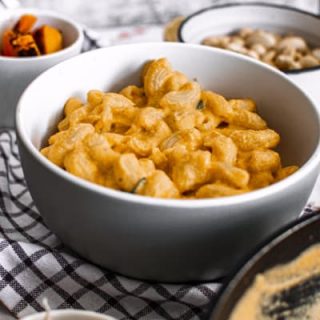 Creamy Vegan Butternut Squash Mac and Cheese
A healthy take on macaroni and cheese that's vegan and filled with nutrition butternut squash. So creamy and flavorful, your entire family will clamor for more.
Ingredients
2 cups of butternut squash, cooked or frozen. (can also use 1 15 oz can pumpkin puree instead)
1/2 cup raw cashews, soaked in cool water overnight or for soaked 1 hour in boiling water
1/4 cup nutritional yeast
1 teaspoon mustard
1 teaspoon onion powder
1/2 teaspoon smoked paprika
1/4 teaspoon nutmeg
1 ½ teaspoons sea salt
Freshly cracked black pepper to taste
2 tablespoons fresh lemon juice
1 cup of coconut milk
10 ounces of rigatoni pasta, medium-sized macaroni shells, or pasta of your choice
Instructions
Bring a large pot of water to a boil and salt generously. Cook the pasta according to the box directions until al dente. Drain the pasta in a colander and set it aside.
In a high-powered blender, add the butternut squash cubes, the soaked and drained cashews, nutritional yeast, mustard powder, garlic powder, onion powder, paprika, nutmeg, salt, black pepper to taste, lemon juice, and coconut milk. Blend until the sauce is completely smooth and creamy, about 1-2 minutes. Taste the seasonings and adjust accordingly, adding more salt as needed.
Return the cooked and drained pasta back to the saucepan. Then add the squash cheese sauce. Heat over medium heat until the sauce is well combined with the pasta and warmed through. Serve and enjoy.
Notes
You can use fresh, frozen, or canned butternut squash and pumpkin.
If using canned pumpkin, make sure it is plain puree without spices.
Nutrition Information:
Yield:

6
Serving Size:

1
Amount Per Serving:
Calories:

384
Total Fat:

15g
Saturated Fat:

8g
Trans Fat:

0g
Unsaturated Fat:

5g
Cholesterol:

0mg
Sodium:

556mg
Carbohydrates:

54g
Fiber:

6g
Sugar:

3g
Protein:

13g
Nutrition information isn't always accurate and is for estimation purposes only.