Delicious and Simple Vegan Grazing Platter
We've all seen them at social functions. The store-bought platters of dull-colored veggies and standard dips. Despite their reputation, crudité platters have so much more potential.
Whether it's a party, a social event or just a family get together, a good vegan snack board and vegan crudité dip can be made at home a thousand times better than any grocery store vegetable platter.
I'm sharing my version of a beautiful and delicious vegan grazing platter, complete with a healthy crudité dip to make every vegetable shine. But, if you see something on my list that doesn't work for you and your family, simply swap it out with any of the numerous suggestions I've made for making a seasonal or regionally inspired crudités platter.
This post may contain affiliate links. That means if you purchase an item through these links, I may earn a commission at no additional cost to you. Please read the full disclosure policy for more info.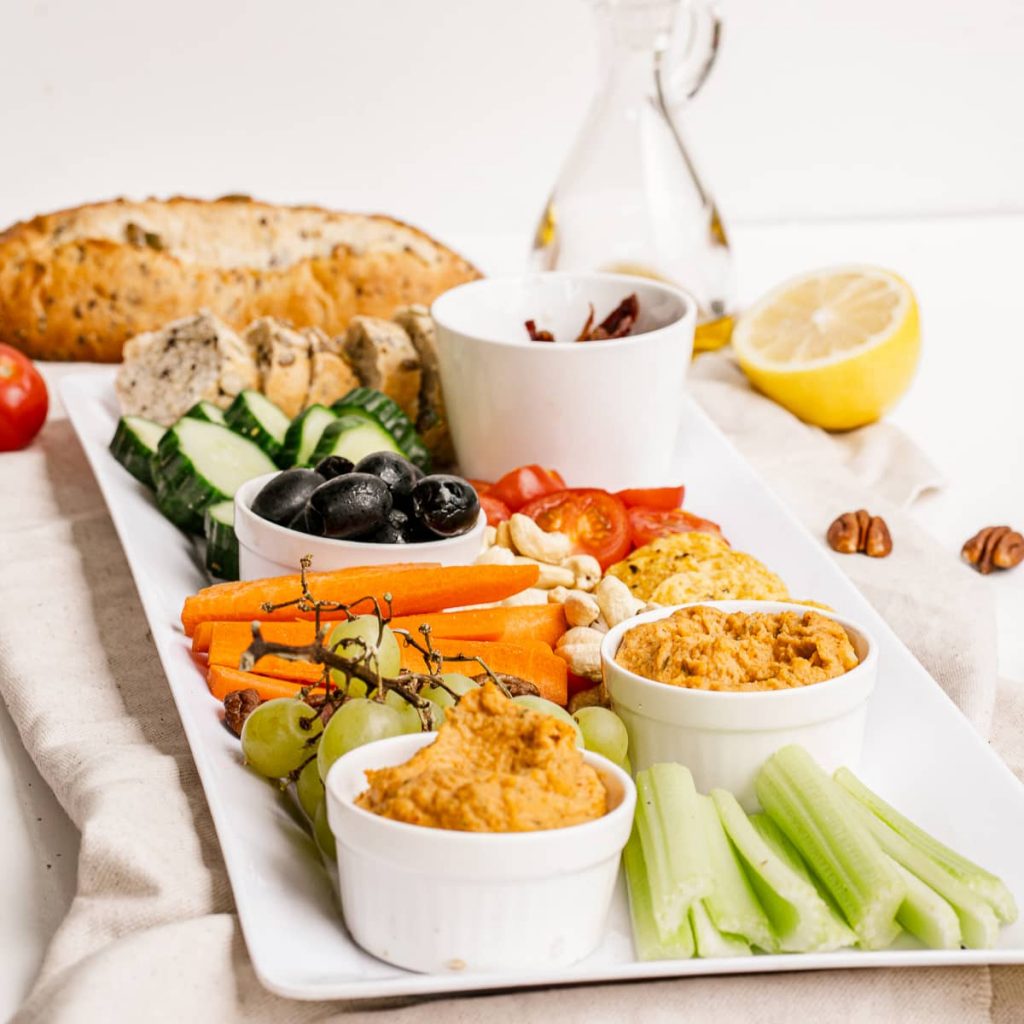 What Does Crudité Mean?
The French word crudité refers to an appetizer of raw vegetables, either whole or sliced, served with some sort of dipping sauce.
What's The Difference Between Charcuterie And Crudité?
When it comes to assembling a vegan grazing platter, it's pretty important to know the difference between charcuterie and crudité. Charcuterie actually refers to the meat portion of a traditional grazing board while the crudité refers exclusively to the chopped veggies and fruits.
Since we're celebrating delicious vegan flavors with this one, we're calling it a vegan crudité platter and showing off those gorgeous veggies.
What Can You Include On a Crudités Platter?
Any vegetable under the sun! Traditional crudité does refer to raw vegetables and the accompanying dip, but often, you'll also see crackers, bread, nuts, dried or fresh fruit, and pickled or sweet preserves.
There really aren't any rules about what you can and cannot add to your vegan snack board. A crudité platter can be very easy to prepare, or as intricate as a full meal.
You might add a variety of cooked and raw preparations of different vegetables for example. Or perhaps you marinade some veggies and leave others crisp and unseasoned. Simply be sure to choose veggies and fruits at their peak of freshness for the best results.
For the example I'm sharing today, I put together a combination of my family's favorites. It includes a mix of these ingredients:
Carrot sticks
Celery sticks
Cucumber slices
Pecans
Cherry tomatoes
Cashews
Sun-dried tomatoes
Corn chips
Olives
Bread loaves, sliced
This is a great well-rounded place to start building your vegan grazing platter. These ingredients will be available at most grocery stores all year, and don't require a ton of work to serve. It also combines salty, sweet, crunchy, and soft for a variety of flavors and textures the whole family will enjoy.
Summer Crudités Platter Ideas
Summer is a popular time for parties, cook-outs, and family reunions, making them ideal for testing out some vegan snack board ideas made with seasonal ingredients. Here are some of my favorite summer crudités to pair with a yummy fresh dip.
Sweet bell peppers
Blanched green beans
Tomatoes
Berries
Stone fruits like peaches or apricots
Grapes
Summer squash
Cucumbers
Snow or sugar snap peas
These are just a few of the many fresh vegetables or fruits you could serve during those hot summer months. The options are endless. A great way to be inspired about fresh vegetables is to check out a local farm stand or market and see what looks the best.
Winter Crudités Platter Ideas
When it comes to the cold part of the year, holiday parties and community events make great venues for showcasing a winter inspired crudité platter. Here are a few of my favorite ideas.
Broccoli
Cauliflower
Carrots
Roasted, raw, or pickled beets
Kale chips
Apples
Pears
Oranges
Endive
Fennel
Again, these are just the tip of the iceberg. Paired with cranberry sauces, apple butters, or other comforting crudité dips, and a variety of breads and nuts, it's sure to be delicious.
Mediterranean Crudités Platter Ideas
As a region known for it's love of fresh produce, creating a Mediterranean crudité platter is an easy way to make sure the veggies are not just featured, but highlighted. Here are some regionally inspired suggestions.
Tomatoes
Cucumber
Figs
Grapes
Radishes
Sweet peppers
Carrots
Olives
Roasted red peppers
Beets
Start with this list, then build on your personal tastes. For Mediterranean-inspired snacking, remember to use olive oil and fresh herbs in abundance, even marinating some vegetables in them. Then give it a final flourish with some regional additions like Marcona almonds, pita chips, roasted chickpeas, and baba ghanoush.

Crudités Dip Ideas
When it's time to think about the dips for your crudité platters, I always recommend choosing a flavorful but healthy crudité dip.
For our platter, I'm sharing the recipe for an easy, but tasty homemade hummus flavored with smoked paprika, garlic, and parsley. It pairs beautifully with all the veggies on our board.
You can certainly make a hummus just like mine, or any other hummus recipe you like. But there are countless other ideas for vegan crudité dips.
Creamy white bean dip
Spinach dip, hot or cold
Vegan queso dip
Fresh salsa
Layered bean dips
Baba ganoush
There's a whole world of vegan inspired dips out there, from classic ranch flavors to creamy veggie based dips. Have fun with it, and your crudité platter will be all the better for it.
Can you make a veggie tray the night before?
Most often, you can prepare the dips and do much of the cutting the night before. For any cut vegetables, keep them in an airtight container in the fridge, between layers of lightly damp paper towels. This will stop the vegetables from drying out, but also keep them crisp. This works best with veggies like carrots, celery, radishes, cauliflower and broccoli.
For soft veggies or fruits, things that generally brown or become unappealing quickly after cutting, it's best to wait until you're ready to serve. Slice apples, stone fruits, tomatoes, and berries when assembling.
How do you chop vegetables for crudités?
Just like deciding what goes on your vegan grazing board, you can chop the vegetables however you like them best.
Choose simple and straight batons for carrots and celery, or opt for a crinkle cut cutter for more playful shapes. Small vegetables like cherry tomatoes and baby radishes can be left whole, or sliced in half.
A good rule of thumb is to simply make each piece on the platter bite-sized so your guests can build variety on their plates and sample everything.

Final Thoughts
Once you've seen how beautiful a delicious, colorful homemade crudité platter is, and how fun it is to arrange, I hope you'll never choose a store bought tray again. In addition to ensuring every item on it is vegan friendly, the vegetables and the dips you choose will be fresh and flavorful.
I hope my suggestions have inspired some vegan snack board ideas for your next get together, and that you have fun mixing and matching your vegetables and crudité dips.
If you're ever stuck for inspiration, my go to vegan grazing platter is always here and always delicious. I'd love to hear how your platter turns out, simply leave a comment for me below.

Easiest Crudités Platter
Perfect for a party or an easy healthy snack tray, this vegan crudités platter can use whatever veggies you have on hand. Combine them with easy-to-make dips, and you have a go-to grazing platter for your family.
Ingredients
1 carrot cut into sticks
1 cucumber cut into slices
¼ celery stick
½ cup pecan nuts
1 cup of grapes
1 cup of cherry tomatoes
½ cup of cashews
½ cup of sundried tomatoes
1 cup of corn chips
½ cup olives
2 bread loaves, sliced
Hummus
1 16 oz can of chickpeas, drained
1 clove of garlic
¼ cup fresh parsley
½ tsp salt
1 tbsp olive oil
1 tbsp tahini paste
½ tsp smoked paprika
juice of ½ lemon
Instructions
Set all hummus ingredients in a food processor except paprika. Blend the ingredients on high speed until a smooth paste forms.
If your hummus is too thick, drizzle in extra olive oil, little by little, while blending.
Garnish with smoked paprika and a drizzle of olive oil.
For the vegetables, slice them into sticks for dipping and arrange them on the tray.
Place the sun-dried and nuts in small cups on the tray. Serve.
Nutrition Information:
Yield:

8
Serving Size:

1
Amount Per Serving:
Calories:

441
Total Fat:

24g
Saturated Fat:

3g
Trans Fat:

0g
Unsaturated Fat:

18g
Cholesterol:

0mg
Sodium:

476mg
Carbohydrates:

51g
Fiber:

8g
Sugar:

13g
Protein:

11g
Nutrition information isn't always accurate and is for estimation purposes only.