To Buy Or Not To Buy An Infant Plane Ticket
Deciding whether or not to travel with a lap infant is a question that parents often face.
On one hand, plane tickets are expensive and airlines allow babies under 2 years old to fly for free on a parent's lap.
On the other hand, your flight length or temperament of your child may not be the best for a lap child.
In this post, I'll go over important factors to consider when deciding whether you should buy your baby a plane ticket. I'll also cover baby airplane travel tips that we use on our trips.
This post may contain affiliate links. That means if you purchase an item through these links, I may earn a commission at no additional cost to you. Please read the full disclosure policy for more info.
Why An Airplane Seat For Your Baby Is The Safest:
Here are 3 reasons why getting your child their own plane seat is best.
1) Turbulence Is Always Unexpected
It's a federal law that any child over the age of 2 is restrained in their own seat but before then you're allowed to carry your child in your lap.
On the surface, this seems like a great way to save some money on already expensive plane tickets.
Even though flying is still statistically safer than driving, carrying a child on your lap really isn't the best idea.
Turbulence happens unexpectedly and it is unlikely you'll be able to hold onto your child if there's a sudden forceful drop.
If you decide to wear your baby in a soft body carrier, you'll need to take them out and hold them during takeoff and landing.
This seems counterintuitive since takeoffs and landings are the most dangerous parts of a flight.
2) Your Car Seat May Get Damaged
Most people plan on driving once they reach their destination so you'll need a car seat. Some car rental companies have car seats you can rent but you have no assurance that the seat was taken care of properly.
The saying "it's a rental, don't be gentle" may come into play. Some seats may not even come with the manual leaving you hoping that you installed it correctly.
If you decide to bring your own car seat and didn't buy your baby a seat you have two options: baggage check or gate check.
While gate checking seems like the safer option, there is still no way of knowing whether your car seat was dropped from a height or tossed around. We've all seen how damaged our checked bags come out.
Car seats in an accident are required to be replaced due to potential micro-fracture formation that could compromise the shell. This can cause the seat to fail or work improperly during an accident.
While airlines try their best, things happen, timelines need to be met, and you're unlikely to know if your $200 car seat was mishandled.
3) Airplane Seats Are Cramped
Since the '80s airplane seats have been getting smaller. An average of 2 inches each in seat width and legroom has been lost during this timeframe. Now add in a lap child.
Traveling with a baby is already stressful. Their napping, eating, and play schedule is thrown off.
By the time you get to your seat, you typically want to relax and take a breather. Not possible if you're in charge of holding a 20 lb baby for a 4 hr flight.
Planes are filling their cabins up to help with costs so it's unlikely you'll be fortunate enough to have an empty seat next to you.
If you don't get a window seat with your baby then you'll be getting up more frequently to let your row mates walk around and use the restroom.
Imagine having to stand upright after your baby fell asleep.
---
Tips For Airplane Travel With A Baby:
1) Keep A Lookout For Ticket Deals
We started planning vacation knowing we wanted our baby to have a seat of their own.
This additional cost was factored into our budget from the very beginning. Southwest is our airline of choice so we keep an eye out on their Wanna Get Away fares.
Even though the Southwest website says they offer affordable infant fares, when we called them up the prices they quoted could not beat any of the Wanna Get Away fares. We purchased three of the Wanna Get Away.
You do need to call Southwest after the purchase to straighten out the age on the baby's ticket. The youngest age option was 2yrs old since I guess most people will do a lap child before then.
Overall it was less than a 10-minute call so not an inconvenience.
2) Travel With A Carseat Easily
Now that your baby has a ticket, you don't need to check the car seat. If you don't want to bring a stroller, instead, use a hiking backpack carrier.
Carry your baby through security in the carrier. They'll probably love being up high and able to see everything.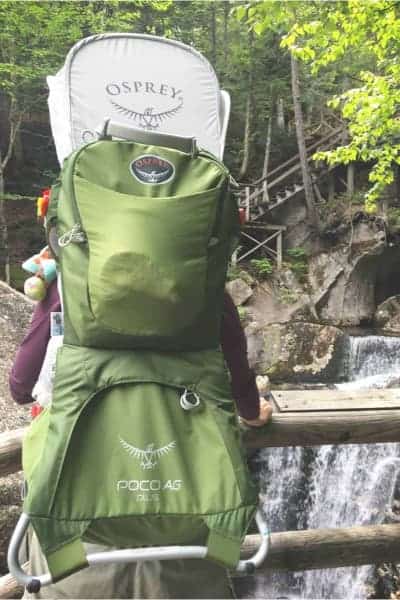 Instead of getting a car seat backpack bag or one with wheels, I recommend this strap to attach the car seat to our carry on luggage.
Attaching the car seat to luggage made it one less loose item to worry about. I've even seen some photos of toddlers being transported in the car seat attached to the luggage.
3) Load Onto The Plane Without Stress
While we love Southwest's prices and friendly employees, their mode of getting seats isn't the easiest for family travel.
There isn't assigned seating so it's on a first come first serve basis. It depends on the number you were assigned when you checked in for the flight.
When we've checked in pre-baby, we usually end up in the late B seating group. That means there are close to 80 people loading on the plane before us.
EarlyBird Checkin Strategy
In order to ensure a row all together, we purchased the EarlyBird check-in for my husband only. It is $15 but ensures that he gets an A group boarding.
We chose to forgo getting EarlyBird for my ticket. I've read that some people have been denied bringing their baby on board early if the baby didn't also have EarlyBird check-in.
It seems unnecessary to pay $15 extra for the baby to be EarlyBird too. It's not like you can leave them in line by themselves.
Family boarding is immediately after Group A anyways so it wasn't that much of a wait difference.
The benefit of having one adult with the EarlyBird check-in is that they can get on the plane and set up the car seat. Meanwhile, the other adult isn't blocking the aisle holding a baby.
You're technically not allowed to save seats on Southwest BUT it's highly unlikely someone in A boarding would insist on sitting in a middle seat between a baby and an adult.
Set up the car seat in the window seat and then sit in the aisle seat. This leaves only the dreaded middle seat open until the person with the baby arrives.
Also, by the time my husband got the car seat installed in the plane, it was time for family boarding. I walked straight onto the plane and placed our baby in his car seat without holding up the loading process.
4) Baby's Comfort Means Everyone Is Relaxed
Not really a solution but it is something that is important. Our baby has been using this car seat for months.
It is a place he is used to and feels comfortable enough to take naps. We have special car seat toys that he only gets to play with while riding in the car seat which keeps them interesting.
Had we carried our baby, he would want to play, to stand up and look around, to grab our hair, to peek through the crack between the seats, to try to crawl on the airplane floor, to grab all of the papers out of the seatback.
You get the idea. Nothing about that scenario sounds like something we wanted to endure for 4 hours.
Instead, our baby was safely tucked into his car seat, giggling and laughing while playing with his toys. Part of the flight we had him in our laps and walked up and down the aisle for his entertainment.
Mostly he was content people-watching in his seat or peering out the window. The hum of the airplane ventilation acted like a white noise machine.
It lulled him to sleep after his initial excitement wore off. He even slept through the landing.
Conclusion
Overall, buying your baby a plane ticket drastically cuts down on the stress of travel and is the safest.
I hope that you can use my baby travel tips and strategize on how to get an affordable plane ticket for your family trip.
Let me know how you've traveled with your baby in the comments below.
Related Articles:
Pin for Later:
Purchasing Your Baby A Plane Ticket Makes Traveling Less Stressful