30 Minute Recette Madeleines [Vegan, Eggless, Dairy-Free]
There are few desserts more recognizable than the madeleine. Its iconic fluted shape is well loved for so many reasons, but mainly because those little French butter cakes are delicious!
On a vegan diet, making madeleines is not only possible but downright delectable, with a few key swaps for plant-based ingredients. Those choice ingredients create airy vegan madeleines that still deliver on that classic sweet cake with crisp golden edges. 
The extra zip of lemon from fresh juice and zest are must-have bumps to flavor, and finishing with white chocolate and nuts is literally the icing on these little cakes. After one bite you'll be amazed that the tasty teacake you're snacking on is not only eggless and dairy-free but vegan too.
Don't wait any longer to try your hand at this 'recette madeleines' vegan recipe, your kitchen is about to transform into your personal French bakery.
This post may contain affiliate links. That means if you purchase an item through these links, I may earn a commission at no additional cost to you. Please read the full disclosure policy for more info.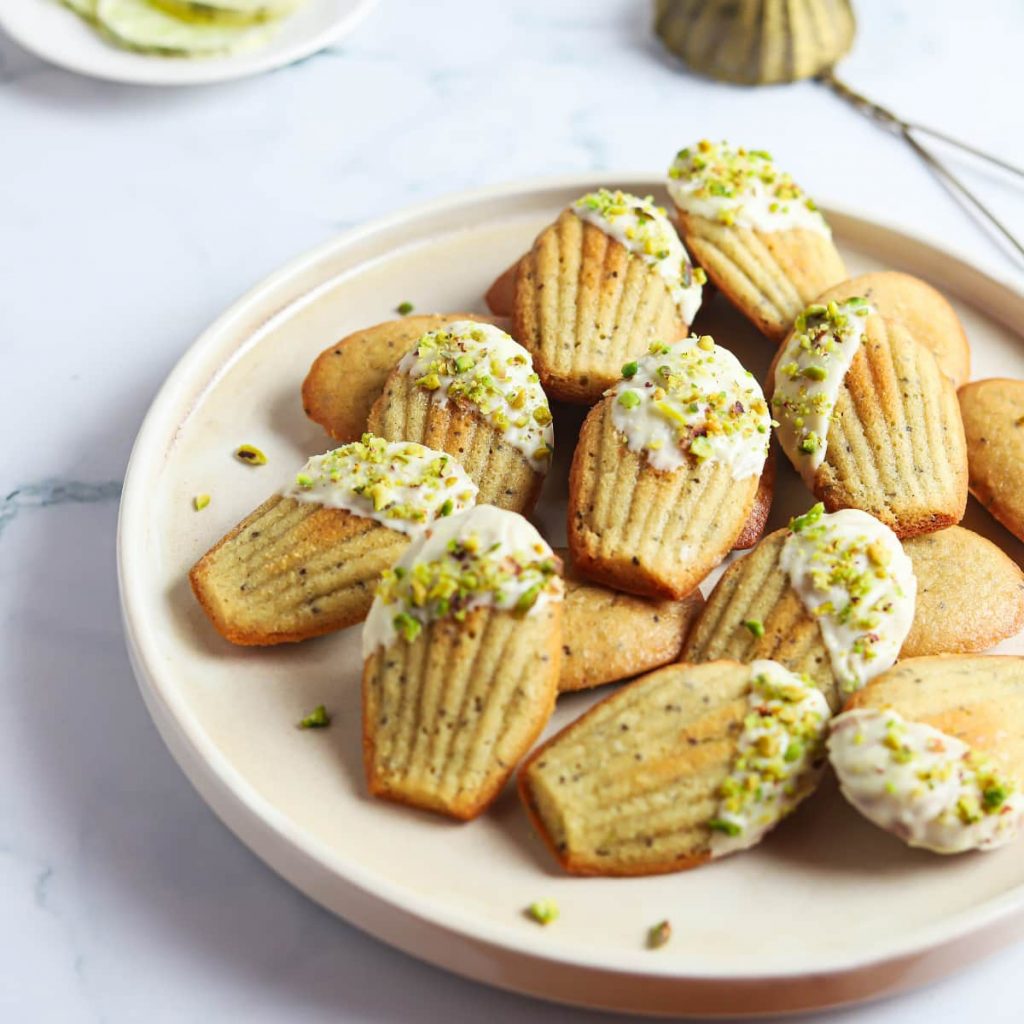 Ingredients for Vegan Madeleines
When making a vegan baked good, balancing texture with an eggless and dairy free ingredient list is key. These cakes deliver on that light texture with the must-have crisp edges by using this carefully tested blend of ingredients.
Almond flour
All-Purpose flour
Corn flour (cornstarch)
Plant-based milk
Light brown sugar
Olive oil
Lemon, zested and juiced
Salt
Baking powder
Chia seeds
Dairy-free white chocolate
Pistachios, chopped
This combination is my first choice when baking vegan madeleines, but there are a few options you have for substitutions all the same.
Substitutes for Lemon
You can opt for limes instead of lemon if you prefer it. Just one lime zested and juiced will easily swap for one fresh lemon. Orange is another fantastic flavor option as well. You can also choose whichever plant-based non-dairy milk you like for this recipe.
While we're here talking about ingredients, don't forget to learn how to tell if your brown sugar is actually vegan.

How to Make Vegan Lemon Chia Seed Madeleines
To begin, combine the sugar and your plant milk of choice in a bowl and give it a good whisk. Add the olive oil, lemon zest, and lemon juice to the bowl and mix again until well combined.
Next, set a sieve on top of the bowl, and measure all the dry ingredients into it, leaving only the chia seeds, chocolate, and nuts out.
Use the sieve to sift the dry ingredients in. Mix until a uniform, well blended batter forms, then cover it with plastic wrap and refrigerate for at least one hour, but up to a full day.

After one hour, or when you're ready to bake, remove the bowl from the fridge, preheat your oven to 350°F, and grease your madeleine tray. While your oven preheats, add the chia seeds to the batter and mix it thoroughly.
It's really important that you don't add the chia seeds until this point. Adding the chia seeds before the chilling period will cause your batter to thicken significantly. You can thin this out with additional liquid like non-dairy milk, but the final texture of your madeleines will be affected. 

Next, we create that iconic shape. Madeleines are pretty easy to make using mostly your usual baking equipment. To achieve the fluted shape, however, you'll also need a madeleine pan. You can find silicone or inexpensive metal ones online fairly easily. 
If you don't want to get one, you can also swap in a mini muffin pan. This won't deliver the golden crisp texture that we want on the edges, but you'll still have tasty little vegan lemon cakes!

To bake, spoon the batter into each madeleine mold, about 1 tablespoon per cake. Bake the tray for 10 to 15 minutes, or until you see edges beginning to turn golden. Allow your vegan madeleines to cool in the pan, then turn them out.
To make your vegan lemon chia seed madeleines extra beautiful, melt the white chocolate and dip the edges in. Sprinkle with chopped pistachios, let the chocolate cool, and enjoy a delicious eggless, dairy-free treat!

Vegan Madeleine Storage
Madeleines, like most cakes, taste best on the day they're baked. You can store extras once cooled at room temperature in an airtight container for a few days too.

Cakes freeze very well, so go ahead and freeze any extra baked vegan madeleines for a quick thaw-and-enjoy snack later.

Final Thoughts
Set out a plate of these at your next social event, or for your kids after school, and watch eyes light up. These vegan lemon chia seed madeleines are not only beautiful to display, but taste fantastic.
The tender cake in the middle, with the caramelized golden edges, is only improved by the hint of lemon inside and the white chocolate pistachio coating. 
Baking a vegan dessert that looks like it came straight out of a French patisserie is something we can all be proud of, and of course, we can enjoy eating them even more! I'd love to hear how the recipe goes for you in the comments below.

Easy Vegan Lemon Chia Seed Madeleines
Total Time:
1 hour
25 minutes
Fancy yet easy to make French vegan madeleines in under 30 minutes. Dip them in melted white chocolate and chopped pistachios to complete them.
Ingredients
⅔ cup Almond flour
⅓ cup All-purpose flour
¼ cup Corn flour
½ cup Plant-based milk of your choice
¼ cup Light brown sugar
¼ cup Olive oil
Zest of 1 Lemon
1 tsp - Lemon juice
¼ tsp Salt
½ tbsp Baking powder
1 tsp - Chia seed
½ cup dairy-free white chocolate
¼ cup chopped pistachios
Instructions
Take the milk and sugar in a bowl and mix it well.
Add the olive oil, lemon juice, and zest and give it another mix.
Place the sieve on top of the bowl and shift in all the dry ingredients into the bowl (except the chia seeds).
Mix it thoroughly until a uniform batter forms.
Cover the bowl with plastic wrap and refrigerate it for 1hr to overnight.
Take the batter out of the refrigerator.
Grease a madeleine tray generously with oil.
Add the chia seeds to the batter and give it a thorough mix.
Place one tablespoon batter into each madeleine mold.
Bake the madeleines in a preheated oven at 350F for about 10-15 minutes until the madeleines turn golden around the edges.
Let the madeleines cool completely and take these out of the mold.
Melt some white chocolate and dip one end of each madeleine into it.
Sprinkle some chopped pistachios or almonds on top and serve.
Notes
If you accidentally add the chia seeds while initially making the batter, the chia will absorb a lot of the batter's liquid and change the consistency.  You may need to add additional liquid the next morning but it will ultimately change the final madeleine.
Nutrition Information:
Yield:

18
Serving Size:

1
Amount Per Serving:
Calories:

117
Total Fat:

8g
Saturated Fat:

2g
Trans Fat:

0g
Unsaturated Fat:

6g
Cholesterol:

2mg
Sodium:

90mg
Carbohydrates:

11g
Fiber:

1g
Sugar:

6g
Protein:

2g
Nutrition information isn't always accurate and is for estimation purposes only.