Easy Zoodles with Vegan Bolognese
The smell of tomatoes and herbs simmering away on the stove is one that always gets the stomach growling. That's especially true if you know it means a big satisfying plate of vegan Bolognese is for dinner.
To make this hearty zucchini Bolognese vegan we'll be combining a flavorful mix of aromatics, veggies, herbs, and TVP. That perfect combo creates a delicious saucy vegan sauce with the texture and flavor reminiscent of classic Bolognese, but with way more health benefits.
Ladle that over crisp tender, lightly sautéed zoodles, and spaghetti night just got a fantastic, vegan upgrade. This is truly a warm and comforting recipe that kids and adults will be happy to see on the dinner table.
This post may contain affiliate links. That means if you purchase an item through these links, I may earn a commission at no additional cost to you. Please read the full disclosure policy for more info.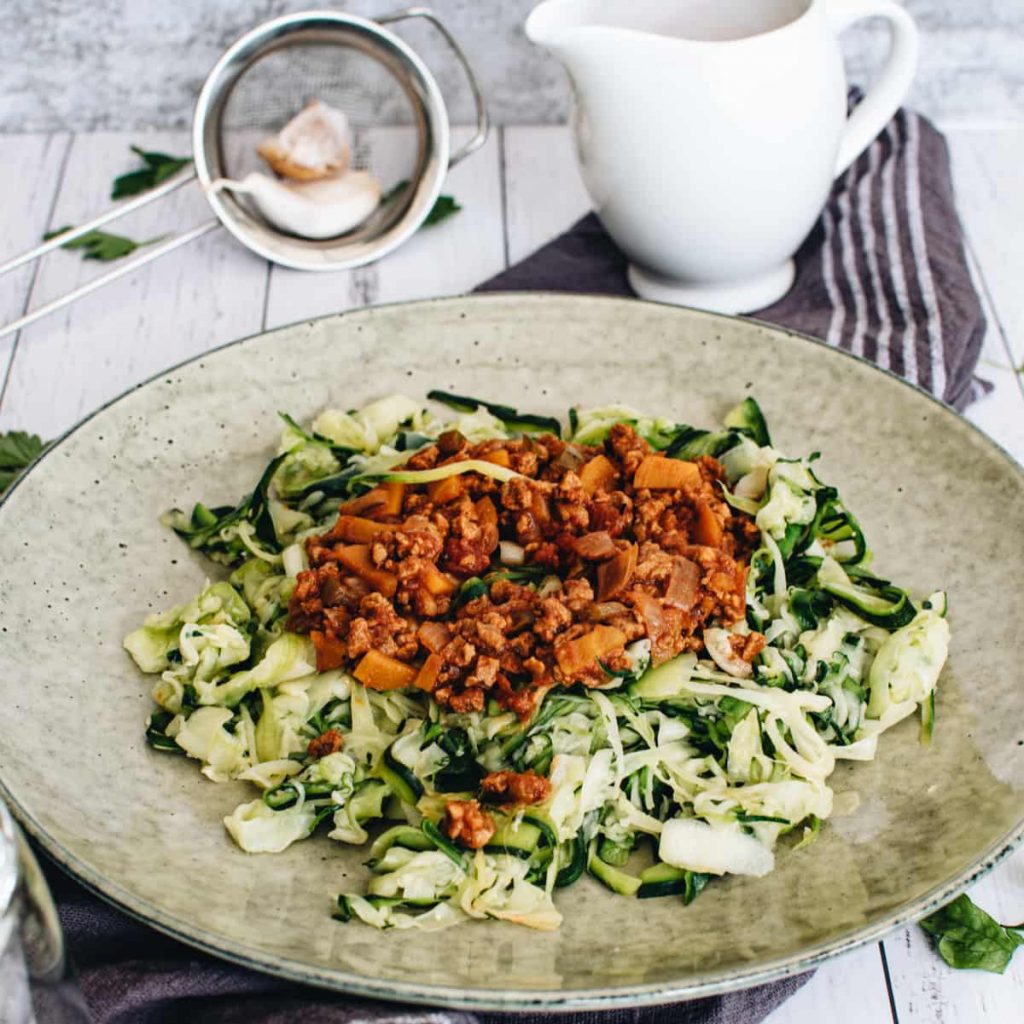 Ingredients Needed to Make Vegan Zucchini Bolognese
Aside from the addition of beef, the base of a classic Bolognese is already full of vegan-friendly ingredients. This uses many of those to transform a familiar dish into a vegan family favorite.
The one unfamiliar ingredient for many new vegans is going to be TVP. Simply put, TVP is a soy-based vegetable protein that is packed full of nutritious protein and while staying low in fat. TVP, or soya chunks, are created from soy flour and has a texture that simulates certain meats when cooked.
It's flavor is similar to tofu, fairly bland, which makes it ideal to use in flavorful sauces. It increases protein and creates a meaty texture that absorbs all the delicious flavor of the sauce.
To make your vegan Bolognese you'll need:
Textured vegetable protein (TVP)
Olive Oil
Onion
Carrot
Garlic cloves
Paprika
Dried Oregano
Vegan Red Wine
Maple Syrup
Canned Diced Tomato
Tomato Sauce
Red or Green Pepper
Water
Salt & Pepper
Of course, in addition to the sauce, we need noodles, or in this case, zoodles. I love zucchini noodles as a fresh and light alternative to pasta. While they don't taste like pasta, they are delicious, good for you, and do a great job at absorbing all that delicious sauce!

To create zoodles, you'll need a few large zucchini. You can certainly use a spiralizer to cut your zoodles if you have one, or a mandolin slicer does a great job as well. If you have the time, even a simple knife and vegetable peeler can give you beautiful zucchini noodles.

How to Make Vegan Bolognese with Zoodles
First we're going to prep the zucchini noodles so they're ready when our sauce is. Use whatever technique you're most comfortable with, then process 4 large zucchini into noodles.
Use a colander to squeeze out any excess water from your zoodles, then gently pan fry them in preheated oil. The key to avoiding soggy zucchini noodles is to avoid overcooking them, or cooking at too low a heat.
Your pan should be at medium high heat and the zoodles should reduce slightly, but remain al dente with just a little softening. If you prefer, you can of course serve your zucchini Bolognese with raw zoodles. Al dente is best here, but better raw than overcooked! Once they're done, set them aside until you're ready.

Next we begin the vegan bolognese. In a large pot set over medium heat, add your chopped carrots and peppers, onion, and garlic, to a few tablespoons of olive oil. Saute, stirring occasionally, until the onions are translucent.
Herbs and red wine are next into the pan, let them simmer, covered, for about 10 minutes. After that, all the tomatoes and the maple syrup goes in. Season it with salt and pepper and re-cover the pan to let the Bolognese simmer for another 15 minutes.

While that's simmering, rehydrate your TVP. This is as easy as covering the protein with boiling water. Keep adding water until you get a tender, ground meat texture. If there is any excess water, use the colander again to drain it off.
Once your sauce has simmered, add the TVP and allow it to cook together only for another minute or so. Plate up your sautéed zoodles and top with a generous ladle of vegan Bolognese.

Substitutes for Textured Vegetable Protein (TVP)
If you'd rather not use TVP, or can't find it, don't worry, there are several great substitutions you can make to keep zucchini bolognese vegan and delicious.
Mushrooms, lentils, and tempeh all make great alternatives to TVP, but they require a little bit different treatment to create the right texture and flavor for bolognese.
For the mushrooms, a quick saute before adding them into the sauce in the final minute is all they take. Building a little caramelization amps up the 'meatiness' of the mushroom.
Lentils should be cooked according to their package instructions. You can use either brown or green lentils, and when they're tender, add them to the sauce just as you would the TVP, then stir to combine. Yellow and red lentils shouldn't be used since they'll break down and won't keek their shape.
Tempeh needs a little extra prep, but it's a very simple process of steaming it for about 10 minutes before we add it to the sauce. This removes any potential bitterness that we don't want in our sauce. You'll want to break up the tempeh and add it to the Bolognese with the tomatoes to let it simmer in the sauce for a good 15 minutes.

Storage and Reheating
Bolognese is a fabulous dish for leftovers so I definitely suggest prepping extra. Leftovers are best stored separately, and zucchini noodles store the best raw. I'd simply make extra noodles, and store them in an airtight container to serve with leftover Bolognese later. Both the Bolognese and the zoodles will last 2 to 3 days in the fridge this way.
You can also freeze the Bolognese for about 2 months as well. Simply thaw and reheat for a delicious quick dinner later, with no prep needed!

Final Thoughts
Zucchini Bolognese is a comforting, hearty, and yet incredibly nutritious vegan dinner that I think your whole family can tuck into happily. Go ahead and go for seconds, zoodles are good for you!

I hope this makes the cut for spaghetti night in your house and I'd love to hear how it goes in the comments below.

High-Protein Vegan Zucchini Bolognese
An easy to make and healthy vegan bolognese filled with protein-rich TVP on a bed of zucchini noodles.
Ingredients
4 large zucchinis
1 cup textured vegetable protein (TVP)
2 tbsp olive oil
1 onion
1 carrot
3 cloves garlic
1 tsp paprika
1 tsp dry oregano
½ cup vegan red wine
1 tbsp maple syrup
1 can diced tomato
1 cup tomato sauce
½ red or green pepper
1 cup of water
Salt & black pepper to taste
Instructions
The zucchini noodles can be made in different ways, using a mandoline or a spiralizer is the easiest one. But I've done it with a peeler and a knife too, it just takes a little bit more time. Turn all 4 zucchinis into your preferred noodle shape.
Place the noodles in a colander and squeeze them gently to release any additional water.
Pan-fry the zucchini noodles for 3 to 4 minutes over medium-high heat. Do not overcook them. They should reduce just a little until they are softened. Remove them from heat and set aside.
Now it's time to make the bolognese sauce. In a large pot heat 2 tablespoons oil over medium heat.
Chop the onion, carrot, garlic, and pepper. Transfer to a pot and sauté for about 10 minutes, stirring occasionally. Once the onions are fragrant and translucent, add the fresh herbs and the red wine. Bring the mixture to a simmer and cover for 10 minutes to let the wine cook down.
Add the diced tomatoes, tomato sauce, and maple syrup to the simmering vegetables. Stir to combine, season with salt and pepper. Then cover again and let the sauce cook for another 10-15 minutes.
Meanwhile, hydrate the vegetable protein in boiling water. The water should easily cover it. You need to get a tender "minced meat" texture. Add as much water as you need. You can always use a colander to get rid of extra water.
Finally, add the soy "meat" to the sauce, cook for just another minute. Plate the zoodles and add the vegan bolognese sauce on top before serving.
Notes
If using tempeh instead of TVP, remove the bitterness by steaming the tempeh for 10 minutes before adding it to the sauce.  Add the tempeh to the sauce at the same step you add the diced tomatoes so that the tempeh has time to absorb the flavors.
If substituting mushrooms instead of TVP, sautee the mushrooms in a separate pan with a little bit of oil before adding them to the sauce at the end as you would with the TVP.
If substituting lentils instead of TVP, cook brown or green lentils according to the package.  You'll add the cooked lentils to the sauce at the same time as you'd add the TVP.
Nutrition Information:
Yield:

4
Serving Size:

1
Amount Per Serving:
Calories:

241
Total Fat:

8g
Saturated Fat:

1g
Trans Fat:

0g
Unsaturated Fat:

6g
Cholesterol:

0mg
Sodium:

459mg
Carbohydrates:

26g
Fiber:

8g
Sugar:

14g
Protein:

16g
Nutrition information isn't always accurate and is for estimation purposes only.