Creamy Vegan Lemon Bars That Are Low Carb
A creamy well-baked almond flour lemon bar is a treat that I love to indulge in. It only gets better when it's from a gluten free lemon bar recipe that's also vegan and low carb. That sounds like a lot, but really these bars are such a simple delicious treat, you'll have to remind yourself it's vegan.
This recipe is actually perfect for a newly vegan family. Fresh lemons give the creamy top layer a satisfying balance of sweet and tart that kids and adults will both love. The almond flour crust is cookie like, and together, the curd and crust transform a familiar dessert into a vegan favorite.
My vegan lemon bars are made without vegan butter and instead use natural sweeteners, gluten-free flours, and common baking ingredients to make sweet lemony goodness. It's a great recipe to have on hand, and a delicious way to indulge on a plant-based diet.
This post may contain affiliate links. That means if you purchase an item through these links, I may earn a commission at no additional cost to you. Please read the full disclosure policy for more info.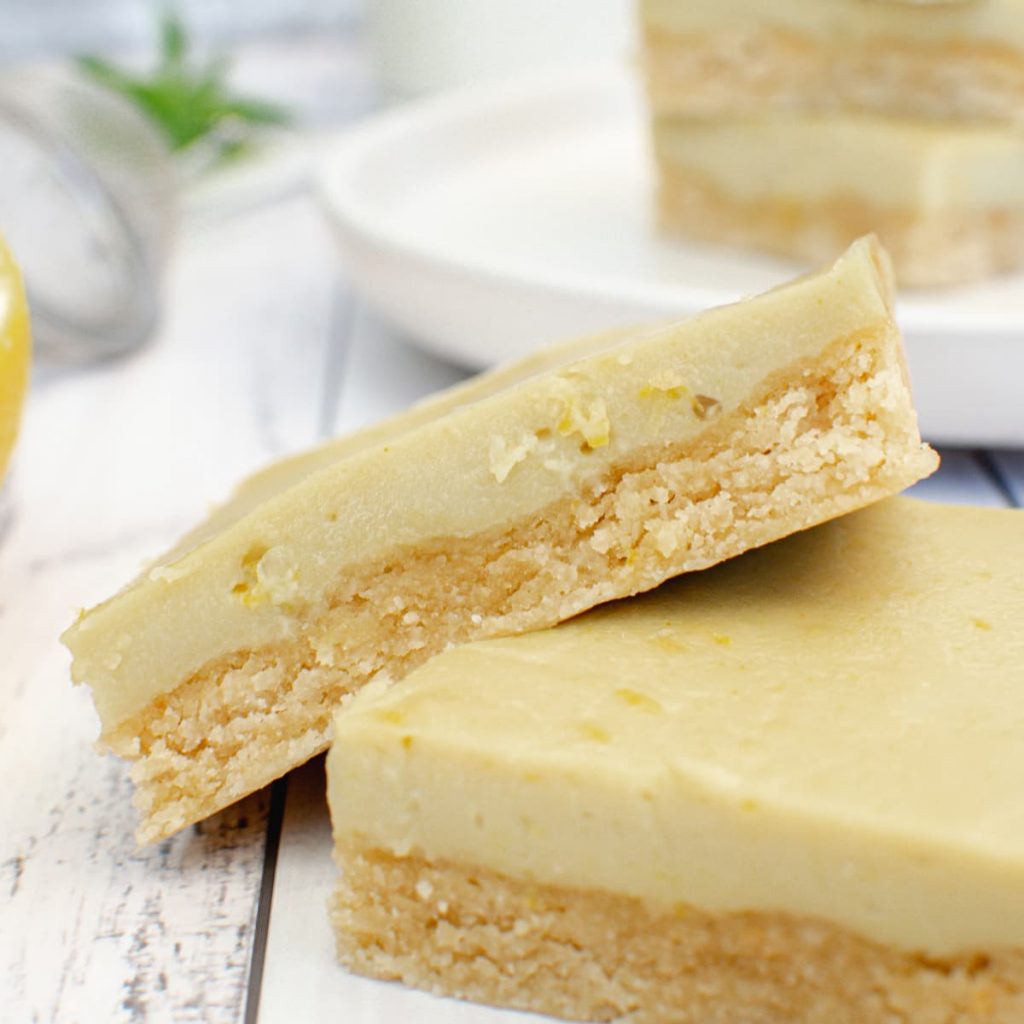 Ingredients for Almond Flour Lemon Bars
For perfect gluten free lemon bars you'll need an alternative flour blend to create a crust for the creamy curd to sit on. The curd itself is easy to make on the stove with a handful of simple ingredients.
For the gluten-free almond base:
Almond flour
Tapioca flour
Coconut oil
Baking powder
Maple syrup
For the vegan lemon curd topping:
Lemons, juiced and zested
Canned coconut milk, full fat
Rice malt syrup
Cornflour
Coconut oil
Vanilla extract
Turmeric, optional
What Substitutions Can I Use?
If you're wondering, almond meal is the same as almond flour and you can absolutely use it here. You may also want to know that the alternative name for cornflour, is cornstarch. It can be substituted for tapioca flour if need be. 
Sometimes, rice malt syrup is also called brown rice syrup. If you're having trouble finding it, check near the maple syrup and honey. Finally, turmeric is completely optional here. It adds the yellow color some cooks prefer in lemon flavored baked goods, but it does nothing else to the recipe.
Together, this blend of ingredients comes together in a magical way, creating not only a vegan and gluten free dessert, but also making these almond flour lemon bars low carb! All that is just a simple bonus however, when you take your first delicious bite.

Making the Gluten-Free Almond Flour Crust
Get started by first lining an 8×8 baking dish with parchment paper and preheating your oven to 350°F. You'll also need a small saucepan, a bowl, and a whisk.
To make vegan lemon bars, we'll be harnessing the healthy fat of coconut oil to make the almond flour base. Start by whisking the tapioca and almond flours together with the baking soda. Then add the coconut oil and maple syrup and mix. 

When it has all come together begin pressing the dough into the bottom of your prepared pan. Use your fingers to gently even it out, then bake until the top begins to lightly brown.

Making the Low Carb Vegan Lemon Curd Filling
To make the lemon topping, start by whisking the lemon juice and corn flour together in the cold saucepan until all the lumps are gone. It's important to do this off heat or your curd may end up loose or lumpy.
Only when smooth, whisk in the remaining curd ingredients and then place it over medium high heat. Stir continuously until the curd begins to thicken. Once its texture is thickened to the texture of a yogurt, remove it from the heat.

Pour the finished curd over the baked almond flour crust, and place the whole thing in the fridge to chill for at least 3 hours or until set and sliceable.
When ready, slice your low carb lemon bars into 9 squares and enjoy them straight out of the fridge the rest of the week.


What is the Best Way to Store Vegan Lemon Bars?
It's important that you keep your almond flour lemon bars in the fridge until you're ready to eat. The fridge keeps the curd set and the bars delicious for an entire week.
While they can't hang out on the counter for too long, they do hold up well in the freezer. Go ahead and freeze individual squares or the whole batch, then thaw in the fridge and enjoy when you're ready.

Final Thoughts
If you or your family is in search of a zippy lemon dessert to add to your vegan meal plan, this is it. The entire mixing and baking only takes 20 minutes or so, then it's just into the fridge to set.

Since almond flour lemon bars keep so long in the fridge, they're the perfect make-ahead dessert for families to enjoy any night of the week. Or, enjoy a square at a time all for yourself. Whoever it is indulging, I think this recipe for gluten free lemon bars will more than satisfy. Let me know how it goes for you in the comments below!

Almond Flour Lemon Bars
Total Time:
3 hours
30 minutes
These vegan lemon bars are gluten-free and low carb since they use almond flour instead of regular flour. Enjoy these healthy lemon bars with a creamy curd filling.
Ingredients
Almond Crust
2 cups almond flour/meal
½ cup tapioca flour or cornflour
¼ cup coconut oil
½ tsp baking powder
¼ cup maple syrup
Lemon Curd Filling
⅓ cup lemon juice
Zest of ½ lemon
1 cup canned full fat coconut milk
⅓ rice malt syrup
2 tbsp cornflour
2 tbsp coconut oil
½ tsp vanilla extract
Pinch of turmeric (it's just for the color, optional)
Instructions
Preheat the oven to 350°F and line an 8x8 inch square pan with baking paper. Set aside.
Add the almond meal and tapioca flour into a large bowl, and mix until combined. Add the coconut oil and rice malt syrup and mix until it all comes together.
Finger press the mixture onto the bottom of the pan and bake until it is just lightly browned on top. (~15 minutes)
Mix the lemon juice with tapioca flour and whisk well to remove any lumps. Whisk in the rest of the ingredients and place the pot on medium to high heat. Stir continuously until you get a curd consistency
Take the pot off of the heat and pour it onto the crust. Refrigerate for 3 hours or until set. Cut into 9 squares. Refrigerate up to 7 days.
Nutrition Information:
Yield:

9
Serving Size:

1
Amount Per Serving:
Calories:

340
Total Fat:

27g
Saturated Fat:

13g
Trans Fat:

0g
Unsaturated Fat:

12g
Cholesterol:

0mg
Sodium:

35mg
Carbohydrates:

22g
Fiber:

3g
Sugar:

9g
Protein:

6g
Nutrition information isn't always accurate and is for estimation purposes only.