Delicious Vegan Stone Fruit Galette With Sweet Apricot Filling
One of the most delicious ways to use beautiful, fresh stone fruit is in a freeform galette. This rustic dessert uses apricots and orange zest to create a gooey, delicious fruit filling encased in an easy vegan pie crust.
If you're looking for a showstopping, seasonal dessert, this is the one for you. It's much easier to make than a traditional pie, but the rustic, charming appearance of a stone fruit galette is still impressive.
Even better, this vegan galette is perfect to serve both your vegan and non-vegan friends alike. The easy oil-based crust is flaky and the simple combination of sugar and apricots make for a satisfying, jammy fruit filling.
Made with only familiar ingredients, this is the ideal vegan dessert for even beginners since it's so easy. Once you see how tasty this easy apricot galette is, you'll wonder why you'd ever make it any other way.
This post may contain affiliate links. That means if you purchase an item through these links, I may earn a commission at no additional cost to you. Please read the full disclosure policy for more info.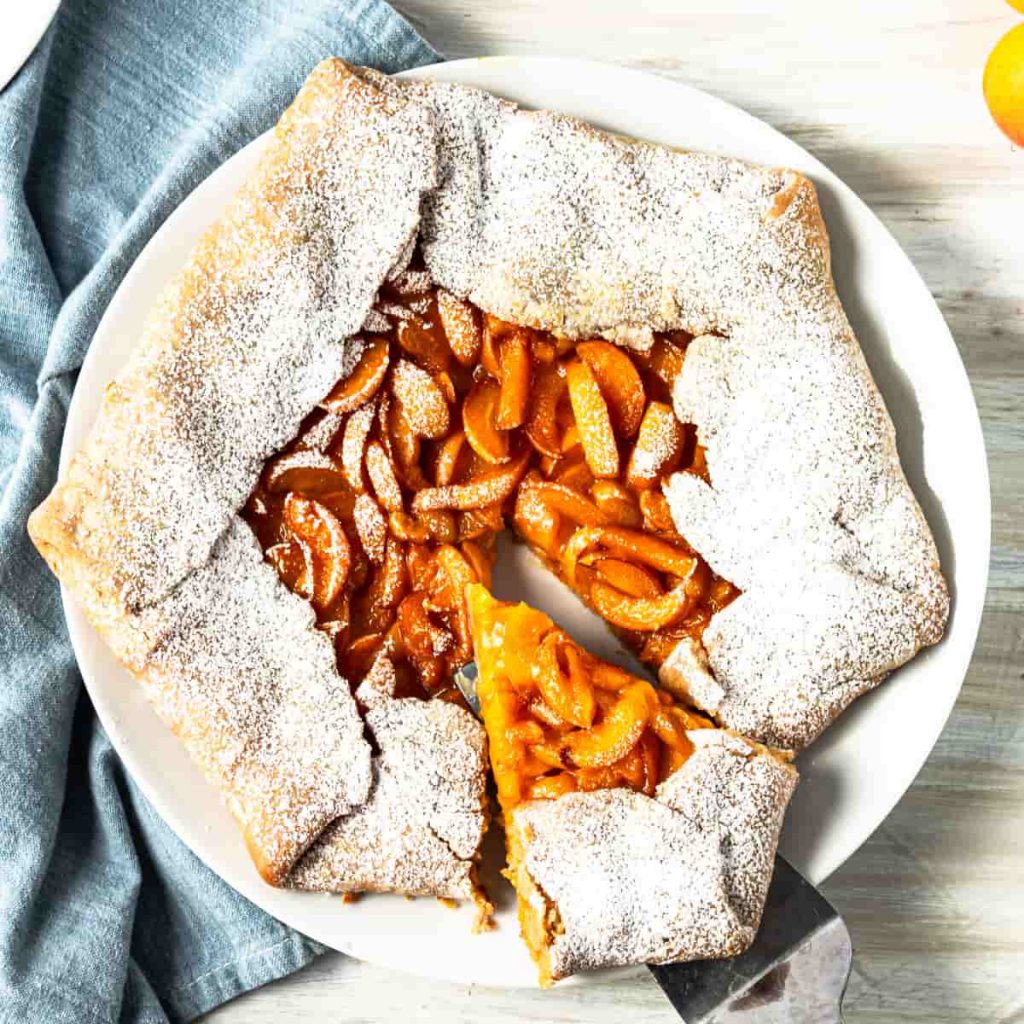 What is a Stone Fruit Galette?
A galette is a shortcrust based dessert very similar to pie, but in my opinion simpler. Instead of lining a pie tin, the pie crust is laid out flat and folded up around a fruit filling, creating a rustic, freeform, tart-like dessert.
They're beautiful, especially made with layered slices of stone fruit. While any stone fruit, like peaches, plums, and nectarines are great choices for both flavor and color, this galette features apricots. It doesn't take much sugar to help them become a fabulous cooked filling for a dessert like this one.

Ingredients For A Vegan Galette
There are lots of ways to make fantastic vegan shortcrust but this recipe uses common pantry staples found in most households. That makes this an approachable recipe whether you're newly vegan, cooking for vegan friends, or an old hat just looking for a fantastic galette recipe.
To make the apricot galette you'll need:
All purpose
Whole Wheat Flour
Granulated Sugar
Baking Powder
Salt
Vegetable Oil
Water
Apricots
Orange Zest
Brown Sugar
Powdered Sugar, optional for serving
The combination of flours makes for the best texture in the crust, and the pop of orange zest in the filling is the perfect boost of flavor for the apricots. You can further elevate the flavor by swapping the vegetable oil for olive oil, or by swapping some of the oil for an orange-infused oil.
Following a vegan diet and curious about what sugars to look for? Read my article about knowing if your brown sugar is vegan for helpful info and tips!

How to Make An Easy Apricot Galette
Since all those ingredients are readily available to most home cooks, you're now ready to get baking! Making this only takes 25 minutes of active time, and you'll be proudly flourishing that final dusting of powdered sugar when you show your beautiful galette off to friends and family.
When you're ready, wash and dry your apricots. You'll need between 12 to 18 total. Slice in half and remove the pits, then slice each half into small wedges, between ¼ inch and ½ inch (6mm and 12mm) thick.
Toss them in a bowl with the sugar and orange zest, then chill until ready for use.

Next combine all the crust ingredients except the oil and water in a bowl. Then, using a pastry cutter or two knives, cut the oil into the flour mixture. Do this just as you would butter, until the oil is in small pea-sized chunks.
Repeat this process with the water. When all the water has been added your dough should have a shaggy appearance. You should be able to pinch the dough together. If you're finding the dough too dry and crumbly, cut in one tablespoon of water at a time until dough comes together.

Form the dough into a ball and flatten into a disc, then wrap and chill for 2 hours.
Preheat your oven to 350°F/175°C once your dough is chilled. Line a baking sheet with parchment paper and set it nearby.
Lightly flour a clean work surface for your dough. Oil-based pastry crust can be a bit more temperamental to work with. I find rolling it between two sheets of parchment makes it easier to handle.
Roll your dough out until it's about ¼ inches(6mm) thick, and about 18 inches(45cm) around.
Either on the parchment paper, or by using your rolling pin, carefully transfer your dough to the baking sheet. Add the filling to the center of the pastry, keeping it all within the middle 10 to 12 inches, or 25 to 30 cm of dough.
Gently fold the edges of the dough over the top of the filling. You should do this 6 times to create that rustic, imperfect look we want with a galette. If you notice the dough wants to crack or split as you fold, use the parchment to gently fold it over.

Return the whole baking sheet to the fridge for another 15 minutes. After chilling, bake for 45 to 50 minutes, or until the fruit is bubbling and the crust is golden brown.
Allow the galette to cool at least 30 minutes before serving. To dust with powdered sugar for a finished look, allow the galette to cool completely, then sift the sugar around the crust.

How to Store A Galette
Your delicious apricot galette is of course best eaten fresh. But to store leftovers, loosely cover a completely cool galette at room temperature for 2 to 3 days.
Can a Vegan Apricot Galette Be Frozen?
Of course! Stone fruit galettes fruit beautifully. Simply wrap the galette, or individual slices, in freezer safe wrapping, and freeze flat until solid.
When you're ready to eat it, allow it to thaw in the fridge, then bake in a hot oven until warm through. You may need to protect the crust with foil to prevent over browning.

Can I Use Other Fruits In This Galette?
Apricots are only in-season for a limited amount of time. If you have other seasonal fruits, you can substitute them out easily. This galette crust is versatile and can be used with any type of fruit filling.
Some other fruit filling ideas include:

Easy Apricot Galette (Vegan)
Total Time:
3 hours
15 minutes
An easy to make and completely vegan apricot galette. Perfect for the summer when you need to use up remaining stone fruit. The crust can be used for other galette recipes too.
Ingredients
Crust:
1 c/120g all-purpose flour
½ c/60g whole wheat flour
2 tbsp/25g granulated sugar
½ tsp/2g baking powder
6 tbsp/90ml vegetable oil*
¼ tsp/1g salt
¼ c/60ml water
Powdered sugar to serve
Filling:
1 ½ lbs/680g apricots
2 tsp/4g orange zest
2 tbsp/25g brown sugar
Instructions
Crust:
Combine flour, sugar, baking powder, and salt. Cut in oil with two knives (use a cross angle) or a pastry blender.
When the oil is in pea-size clumps, add water and cut in similarly until pastry is a shaggy mass. If the pastry isn't coming together you can add more water 1 tbsp at a time.
Using your hands, form the pastry into one cohesive mass and flatten. Cover with plastic wrap and refrigerate for at least 2 hours.

Preparing the apricot filling:
Wash and dry apricots. Cut into ¼" – ½"/6-12mm slices.
Toss apricots with sugar and orange zest. Set in the fridge until ready to use.

Assembling the galette:
Preheat the oven to 350°F/175C. Line a baking sheet with parchment.
On a lightly floured surface, roll out the pastry into a ¼"/6mm thick 18"/45cm circle.
As oil-based crusts are more delicate, it can be helpful to roll the pastry between two layers of parchment paper.
Use the rolling pin to transfer the pastry to the prepared baking sheet.
Add the apricot mixture to the center 10"-12"/25-30cm of pastry. Flatten to an even layer.
Gently fold the edges of the pastry over the fruit so that 6 sides form. If the pastry is breaking, use the parchment to help you fold the edges over.
Return to the fridge to rest for another 15 minutes.
Bake for 40-50 minutes until golden brown and filling is bubbling. Allow to cool for at least 30 minutes before serving.
Once cool, sift powdered sugar on to crust edges. Excellent served with coconut whipped cream.
Notes
*Olive oil is also good here, or part vegetable oil and part orange-flavored olive oil.
Nutrition Information:
Yield:

8 slices
Serving Size:

1
Amount Per Serving:
Calories:

295
Total Fat:

11g
Saturated Fat:

1g
Trans Fat:

0g
Unsaturated Fat:

9g
Cholesterol:

0mg
Sodium:

78mg
Carbohydrates:

48g
Fiber:

3g
Sugar:

29g
Protein:

4g
Nutrition information isn't always accurate and is for estimation purposes only.