Creamy No-Bake Vegan Cheesecake with Cashew Filling.
Eat vegan and have your cheesecake too! This delicious, raspberry studded raw vegan cheesecake will satisfy all your cheesecake cravings, and you don't even need to turn on the oven.
One of the most decadent, satisfying dessert bites is a forkful of creamy fresh cheesecake. Thankfully, there are a ton of really satisfying ways to make a cheesecake vegan.
This is exactly that dessert. It's the perfect blend of sweet filling and tart raspberries contrasted by the crunch of a no bake crust. With just a few whirls in your food processor, you'll have a gorgeous, speckled nut-based crust that provides that perfect crunch as the base of your vegan raspberry cheesecake.
Top that with a raw cheesecake cashew filling sweetened with natural sugars and bursting with tart raspberries and you're in dessert heaven.
This post may contain affiliate links. That means if you purchase an item through these links, I may earn a commission at no additional cost to you. Please read the full disclosure policy for more info.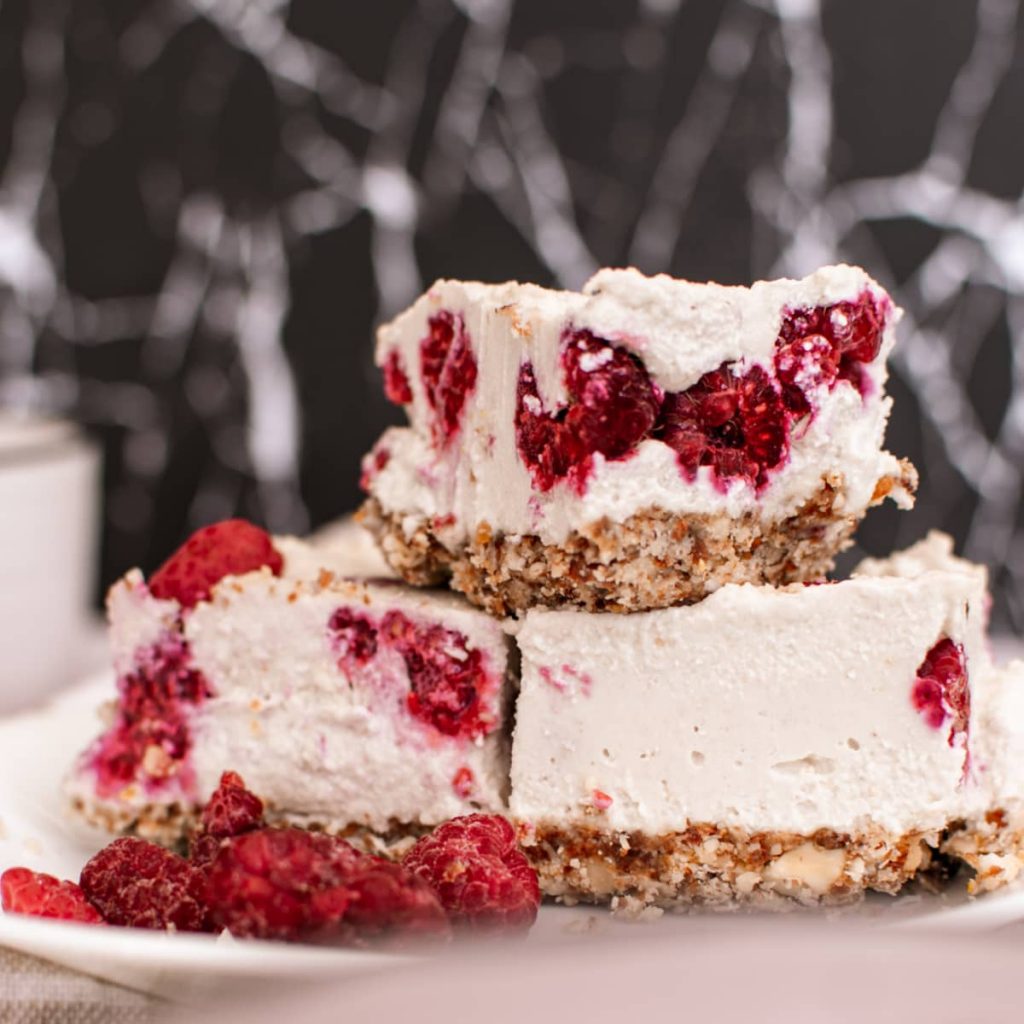 Ingredients For Raw Vegan Cheesecake
One of the best parts about making a no-bake raspberry cheesecake is that every ingredient is delicious raw. Combined, the flavors only get better. This entire recipe takes about 20 minutes of hands-on work and then sets up in the freezer. It's the perfect make-ahead, low demand dessert!
As an added bonus to this cheesecake being vegan, it's also naturally gluten-free and free of refined sugars. 
To make your cheesecake, you'll need:
Almonds
Walnuts
Desiccated coconut
Medjool dates
Lemon zest
Raw cashews, soaked
Coconut yogurt
Coconut milk
Maple syrup
Vanilla extract
Frozen Raspberries
All of these ingredients are easy to find at most grocery stores. And, since we're making this with frozen raspberries, it can be made any time of year; whenever the craving strikes.
To make sure your crust blends correctly, don't forget to double check that your dates are pitted before making this. Also, for optimal creaminess, soak your raw cashews overnight before you make your filling.
If you're in a pinch and forgot to soak them, you can boil water and pour it over the cashews. Let them sit for 2 hours and then proceed with the recipe instructions.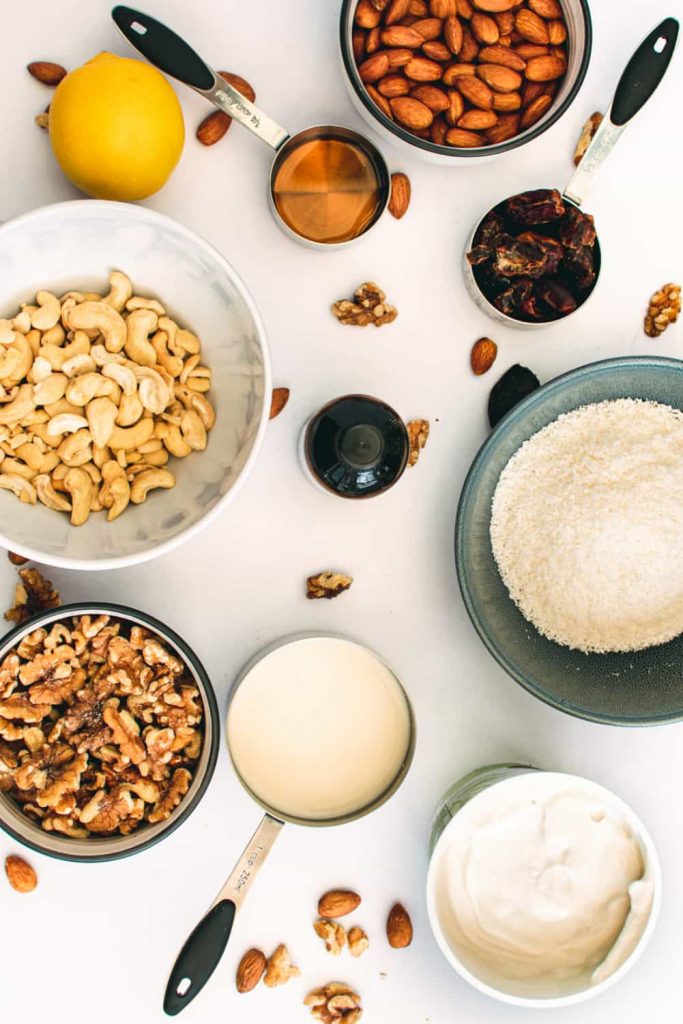 Can I make any substitutions?
This recipe uses a combination of different nuts, non-dairy milk, and unrefined sugars to make it tasty. If you choose to make a swap, it may affect the overall texture or flavor, but that can be delicious too!
If you have an allergy to one of the nuts used, or simply prefer a another one, you can use a different nut to replace the walnuts or almonds.
For the milk, while coconut milk will give you the best creaminess, you can also use your preferred non-dairy milk. You can also use agave instead of maple syrup.
How To Make A No-Bake Raspberry Cheesecake
In order to make this perfect, you'll need to use a food processor and a high powered blender. When it comes to achieving the creaminess in the filling, a blender for the cashews is key.
To begin, line your pan of choice with parchment paper. Either a square baking dish or cake pan are great options.
Next simply place all the crust ingredients in your food processor and blend. When you can pinch the mixture between your fingers and it sticks together, it's ready.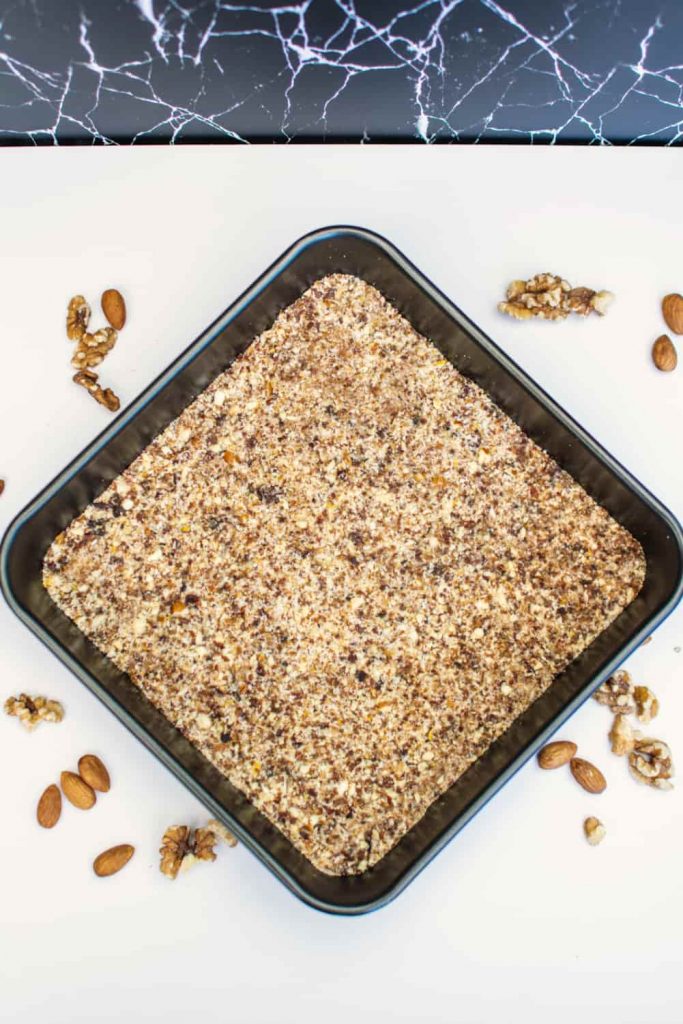 If you're have trouble getting the crust to stick together once blended, add one or two more dates and blend again until it sticks properly.
Place the crust mixture in your lined pan and press it flat. You can use the back of a spoon or wet fingers to get it pressed in firmly and evenly. Place the pan in the fridge while you prepare the filling.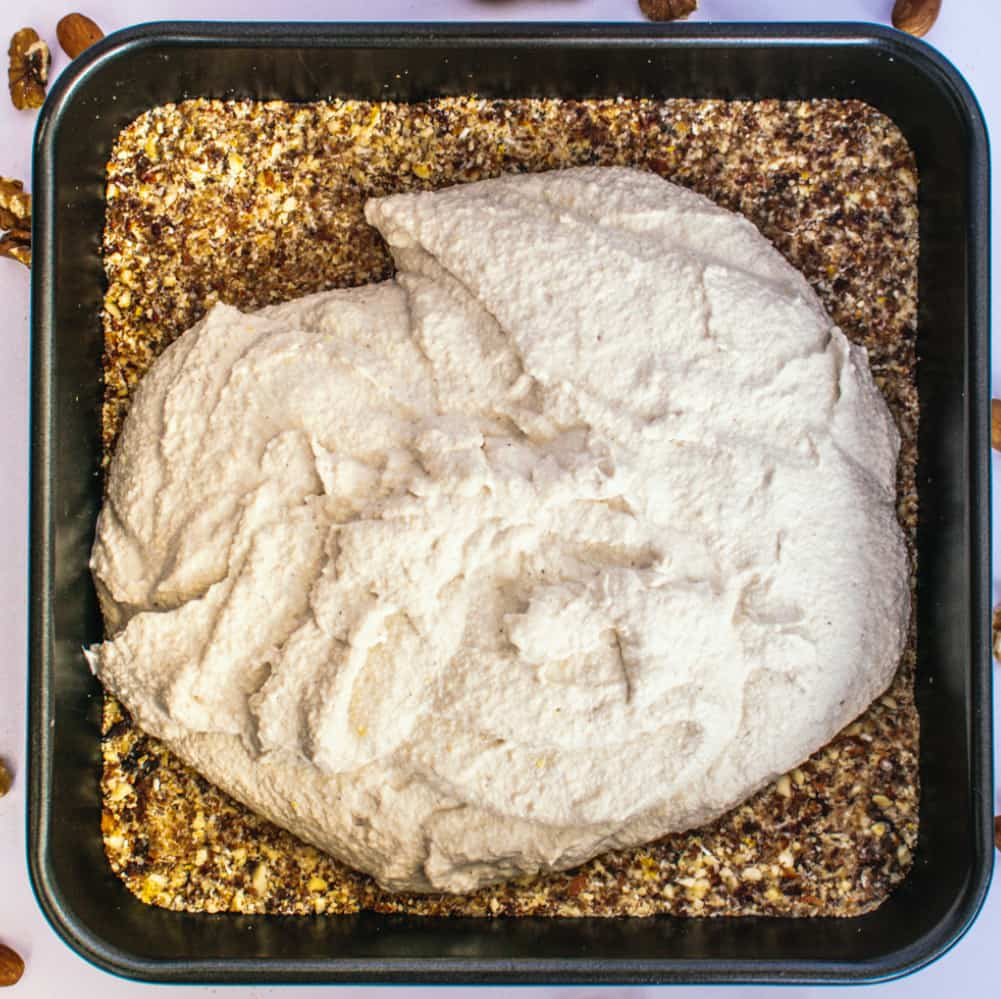 To make your raw cheesecake cashew filling, drain and rinse your cashews. Then combine the cashews with all the remaining ingredients except the raspberries in a high speed blender.
Blend until smooth and creamy. Pour the blended filling over the crust and smooth it out evenly. Gently press the raspberries into the cashew cheesecake filling and pop it all in the freezer overnight, or until set.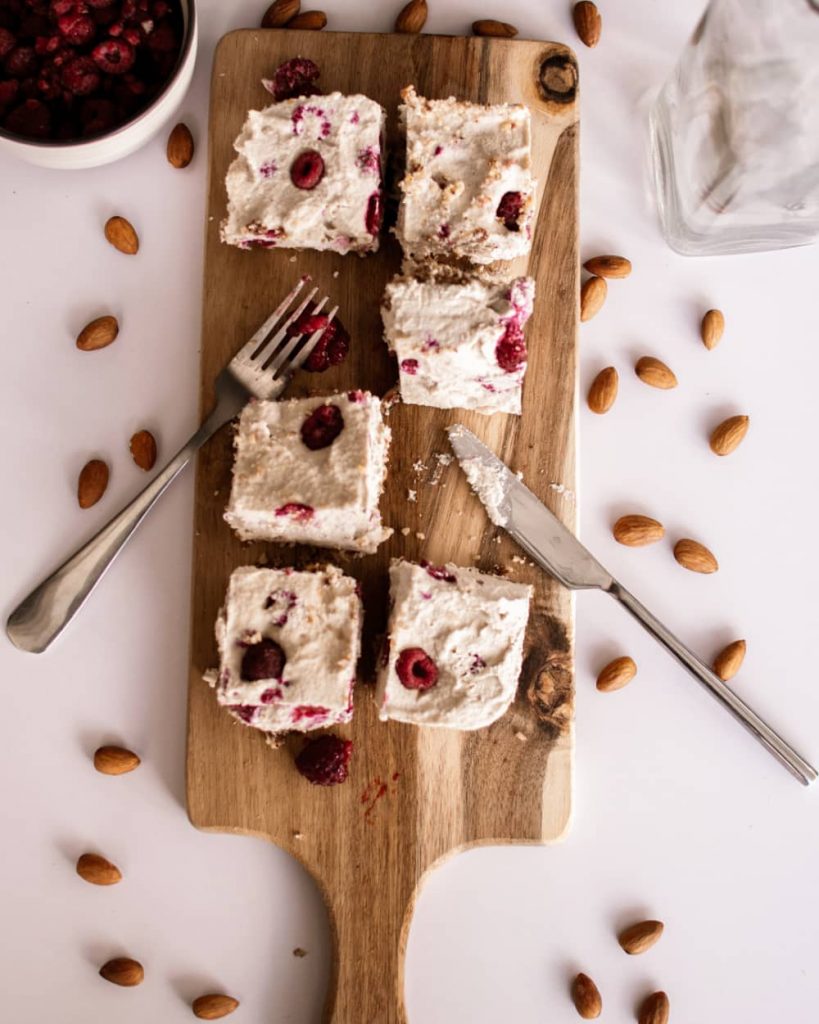 Serving and Storage
It's best to keep your vegan cheesecake in the freezer until you're ready to serve. It's also the best place to store it long term. Store it up to a month, or more, without losing quality in the freezer by keeping covered properly.
Once sliced, this yields up to 9 generous servings. Since it keeps so well in the freezer, you can make this once and indulge in a slice of cheesecake heaven whenever you're in the mood. To serve, simply pull it from the freezer about 10 minutes before you'd like to eat so it can soften.
I like to serve it with a drizzle of raspberry syrup, or a dollop of coconut whipped cream. Those are also delicious on my easy raw chocolate cake and my vegan apricot galette so don't forget to check out those recipes too.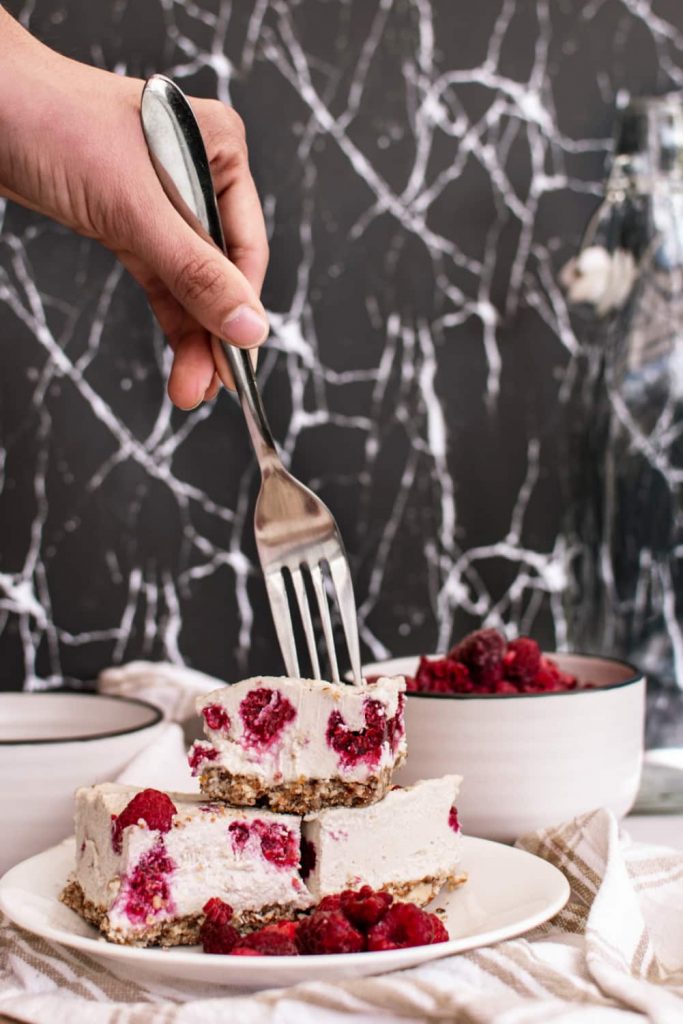 Layered Raw Cheesecake Option
If you'd like to make a really unique layered look, blend half of the filling mixture as described in the instructions. Place it on top of the nut crust and then place the pan into the freezer for 30 minutes to an hour.
Then blend the remaining filling mixture along with some raspberries or other fruit. This will turn the filling pink. Remove the pan fro the freezer and add this filling on top of the other filling. You want the different layers of filling to be somewhat frozen before adding another layer so that they don't mix together.
Freeze overnight so the entire cheesecake sets. If you wanted, you could do a few different fruit blended filling layers for a unique striped cheesecake side profile that's sure to wow everyone.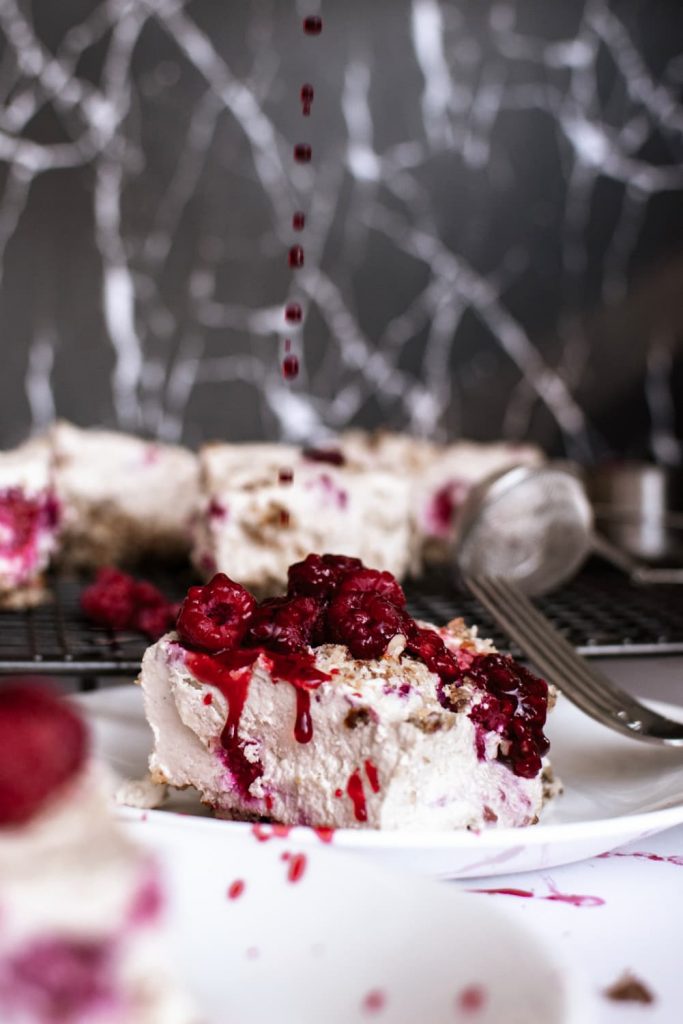 Final Thoughts
Just because you're vegan doesn't mean you have to give up creamy delicious cheesecake. This raw raspberry version is an easy to make plant-based alternative. All you really need is a blender and some time for the cheesecake to freeze. The base filling can be used with any fruits you have on hand and would make to change the flavor based on what fruit is in season.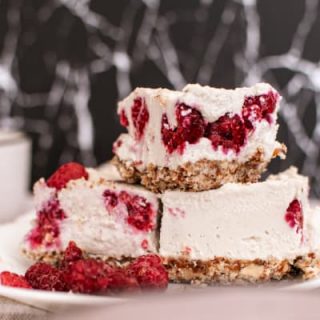 Raw Raspberry Cheesecake (Vegan, No Bake)
Additional Time:
12 hours
Total Time:
12 hours
20 minutes
A surprisingly easy no-bake and vegan raw raspberry cheesecake. Filled with nuts and fruit, this cheesecake will wow even non-vegans.
Ingredients
Crust
1 cup Almonds
½ cup Walnuts
½ cup desiccated coconut
1 cup Medjool dates, pit removed
Zest of 1 lemon
Filling
2 ½ cups raw cashews, soaked overnight
½ cup Coconut yogurt
¾ cup Coconut milk
1 cup maple syrup
2 ¼ Tsp pure vanilla extract
Zest of 1 large Lemon
2-3 handfuls of frozen raspberries
Instructions
Place all of the crust ingredients into a food processor and blend until the mixture sticks between your fingers when pressed. If it's not clumping together, add another date or two until you get the proper consistency.
Line a square baking pan or cake pan with parchment paper and place the crust mixture into the pan. Press down with the back of a spoon or damp fingers. Place the pan into the fridge whilst you make the filling.
Rinse and drain the cashews. Place all filling ingredients into a high-speed blender EXCEPT the raspberries. Blend until smooth and creamy.
Pour onto the crust and add raspberries, gently pushing them down into the filling.
Place into the freezer overnight. Take out 10 mins before serving.
Notes
The base cheesecake recipe can be used for other fruits like strawberries and blueberries if you prefer.
Nutrition Information:
Yield:

9 slices
Serving Size:

1
Amount Per Serving:
Calories:

581
Total Fat:

33g
Saturated Fat:

9g
Trans Fat:

0g
Unsaturated Fat:

22g
Cholesterol:

0mg
Sodium:

109mg
Carbohydrates:

67g
Fiber:

7g
Sugar:

47g
Protein:

13g
Nutrition information isn't always accurate and is for estimation purposes only.