Fudgy Vegan Black Bean Brownies with Chocolate Chips and Walnuts.
If you've ever wished for a brownie that you could guiltlessly enjoy seconds and thirds of, these are it. Black bean banana brownies are the healthy vegan answer to all your fudgy chocolate brownie cravings.
It's pretty amazing how a combination of common baking staples and black beans turn into a healthy, protein rich snack that feels decadent enough to be a treat. Loaded with cocoa, chocolate chips, and nuts these really feel like a fudgy brownie.
Even your kids will be happy to eat their protein when you hand them one of these. And you can do so happily, knowing that they're loaded with nutritious ingredients like beans, bananas, and can even be sugar-free!
This post may contain affiliate links. That means if you purchase an item through these links, I may earn a commission at no additional cost to you. Please read the full disclosure policy for more info.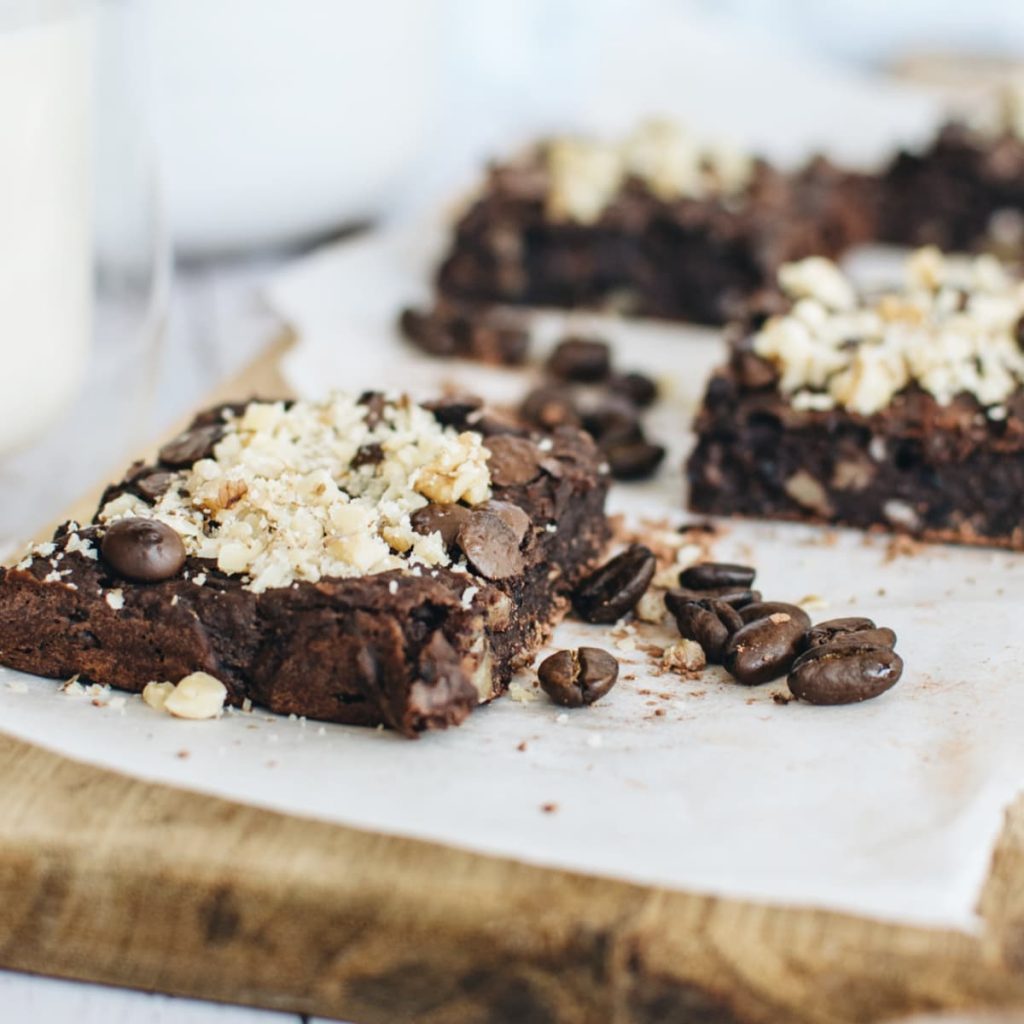 How are these different from regular brownies?
Traditional brownies rely on a lot of sugar, butter, and eggs to create the fudgy chocolate texture we all love. By making a vegan black bean brownie, you're cutting out a lot of unhealthy sugars and fats, and replacing them with a blend of better ingredients like beans, banana, coconut oil, and unrefined sugar.
Although this recipe utilizes different ingredients than a traditional brownie, the perfect blend allows us to recreate something that's similar in texture and richness. Black bean brownies are healthy snacking at it's finest, but still feels like the indulgence of a traditional brownie.
Ingredients for Black Bean Banana Brownies
This particular recipe is for black bean brownies with flour. Flour in brownies is a huge factor in texture. Too much and you get cakey brownies, too little, and you have no structure at all. Using just a small amount of flour gives these brownies fudgy, perfect middles. Either gluten-free or traditional all-purpose flour work just as well in this recipe.
Walnuts are also a delicious part of these brownies, but are optional. You can swap them out for a different nut if you prefer, or leave them out entirely.
To get started baking, you'll need:
Canned or cooked black beans
Cocoa Powder
Banana
Maple Syrup
Sea Salt
Coconut Oil
Vanilla Extract
Baking Powder
Dark chocolate chips
Walnuts (optional)
Flour, gluten free or all purpose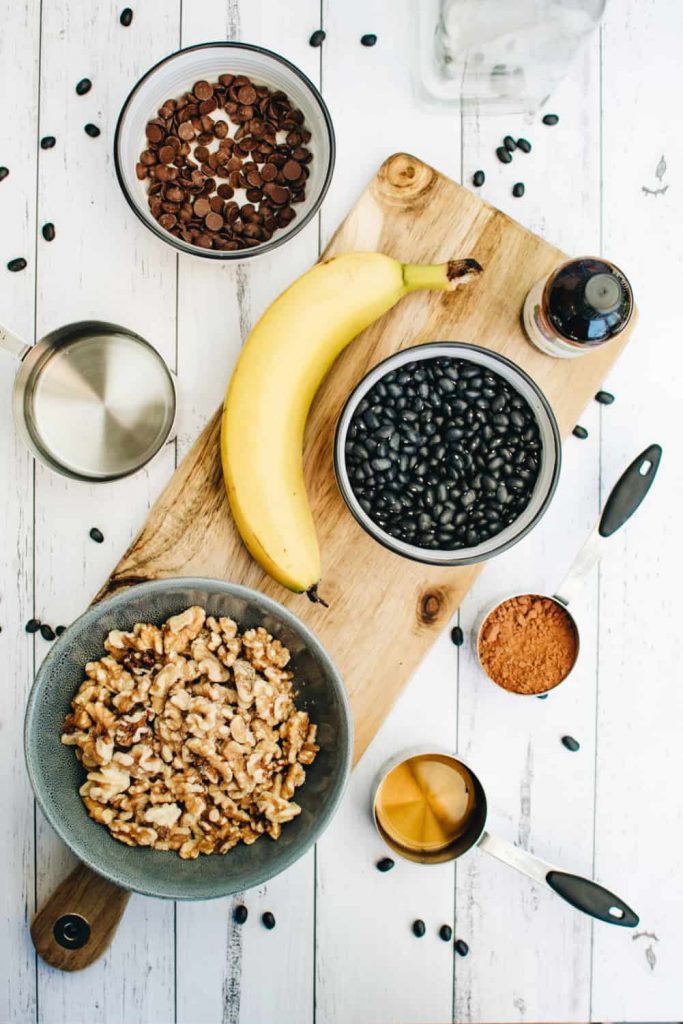 How do I make these sugar free?
Make these sugar free by swapping the maple syrup with a sugar free sweetener alternative. For truly sugar free brownies, make sure to look for sugar free chocolate chips as well.
While it may be tempting to just leave a sweetner out, it rounds out the cocoa powder to create that chocolate flavor. It also provides moisture and gives us that soft texture we want in a brownie.
How to Make Simple Black Bean Brownies with Flour
To get things started, we'll need an oven preheated to 350°F (177°C) and either a food processor or immersion blender. You'll also need to grease or line an 11×7 baking pan.
Get the batter started by combining all the brownie ingredients, except for the walnuts and chocolate chips in the bowl of your food processor. If you're using an immersion blender, just use a large bowl. Blend the ingredients until they're completely smooth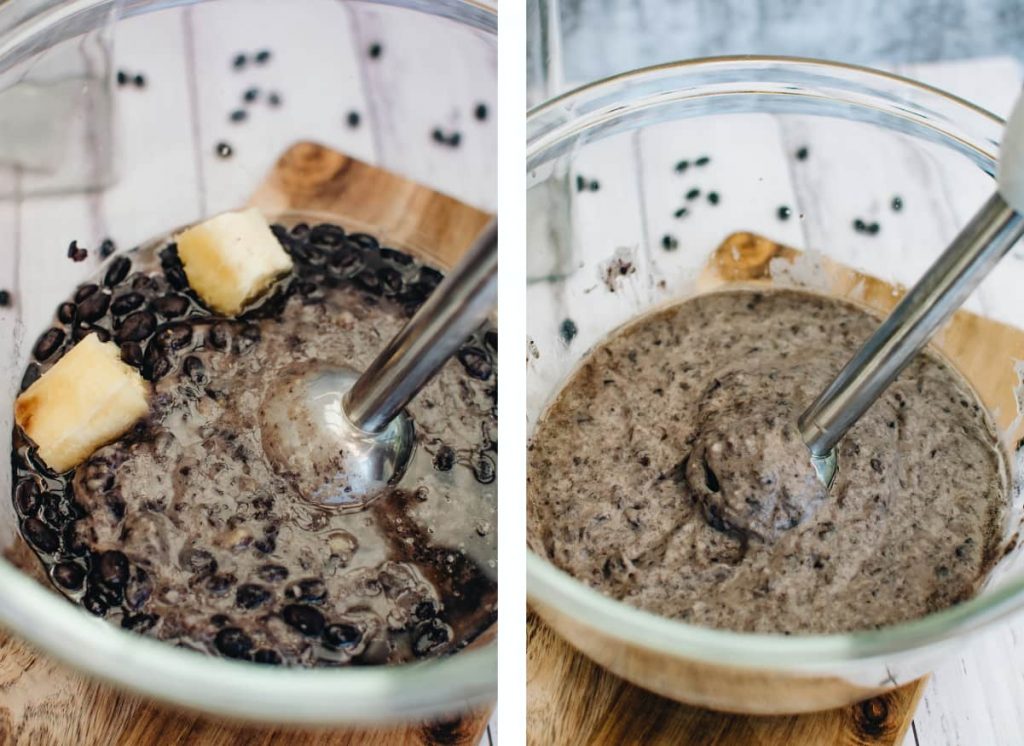 Next, add in the chocolate chips and 1 cup of walnuts to the batter, folding gently until they're all combined.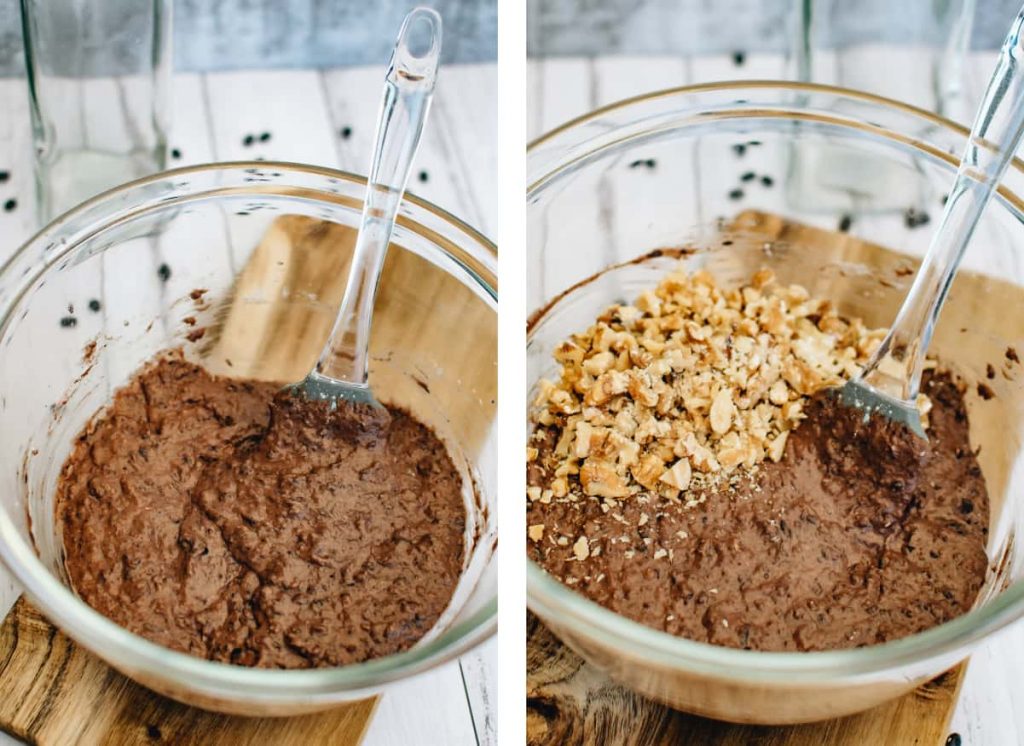 Pour it into your prepared pan and use a rubber or offset spatula to smooth the top. If you're a chocolate lover like myself, go ahead and sprinkle some extra chocolate chips on top. Totally optional, and totally delicious.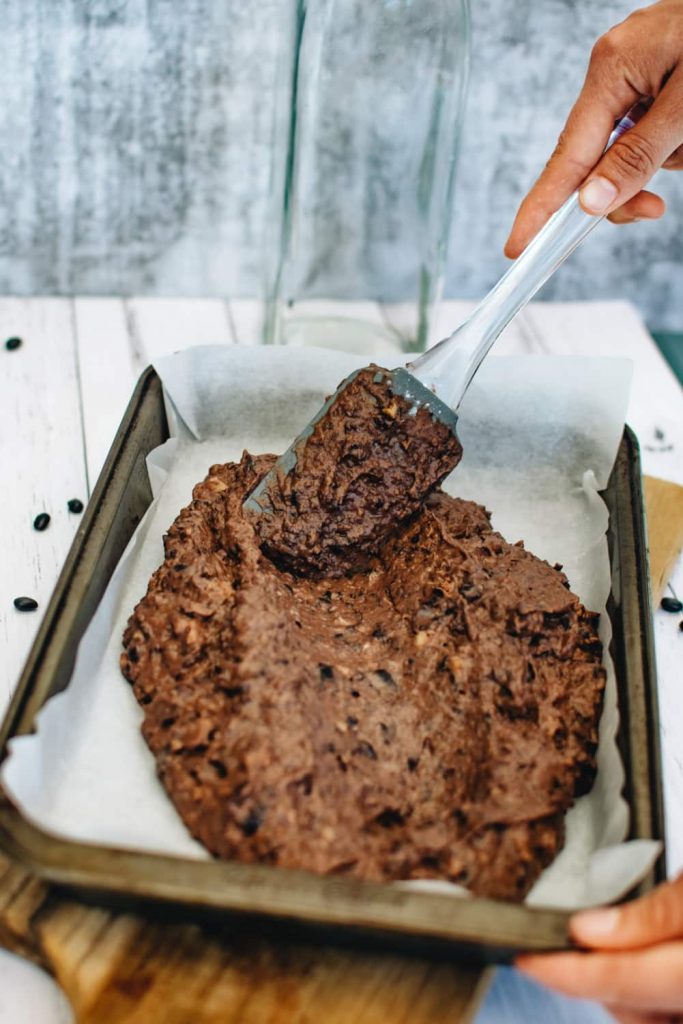 Place the pan in the oven and let them bake for 20 minutes before checking doneness. For vegan black bean brownies, the best test for doneness is to slide the tip of a knife into the center of the pan.
Unlike traditional brownies, we don't want any crumbs or batter clinging to the knife. If it comes out clean, your brownies are ready to come out of the oven.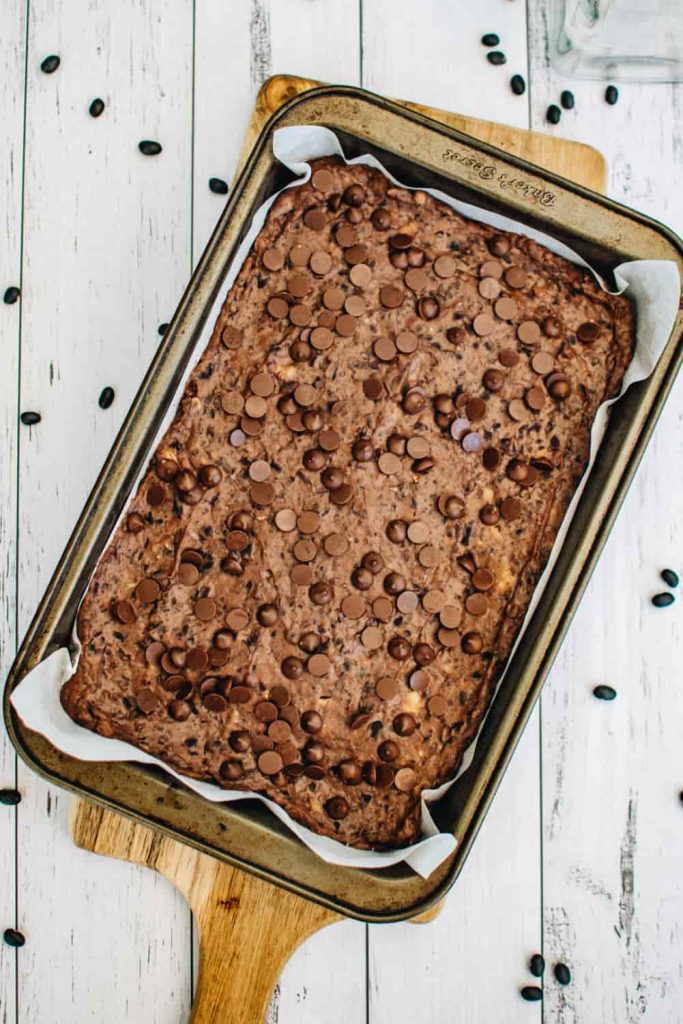 Let them cool for at least 10 minutes before you dig in. Serve with a final sprinkle of chopped walnuts for the perfect finishing touch.
Can I Use a Different Size Pan?
If you don't have an 11×7 pan, you can most easily use a 9×9 pan. This recipe will work with other sizes as well but may result in thicker brownies that require a longer bake time. For best results, stick with the two pan sizes I recommend here.
Let them cool for at least 10 minutes before you dig in. Serve with a final sprinkle of chopped walnuts for the perfect finishing touch.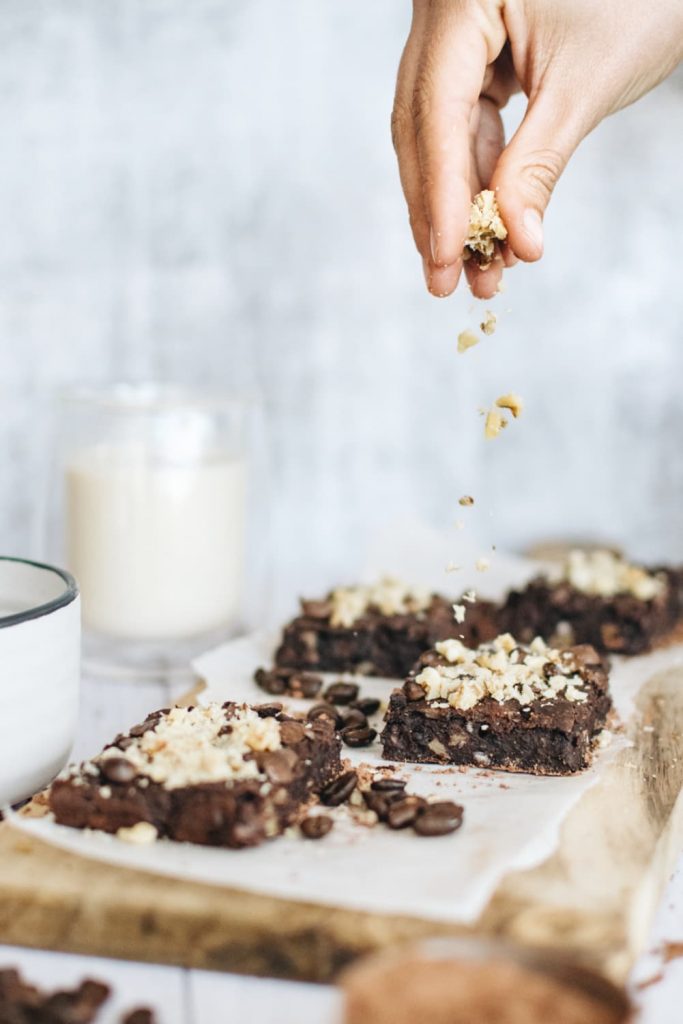 Storing your Black Bean Banana Brownies
Even though these are delicious, nutritious black bean brownies, I'm guessing you probably won't eat the whole pan in the first sitting (but maybe by the second). For any leftover brownies, let them cool completely then store at room temperature, tightly covered or in an airtight container for up to 1 week.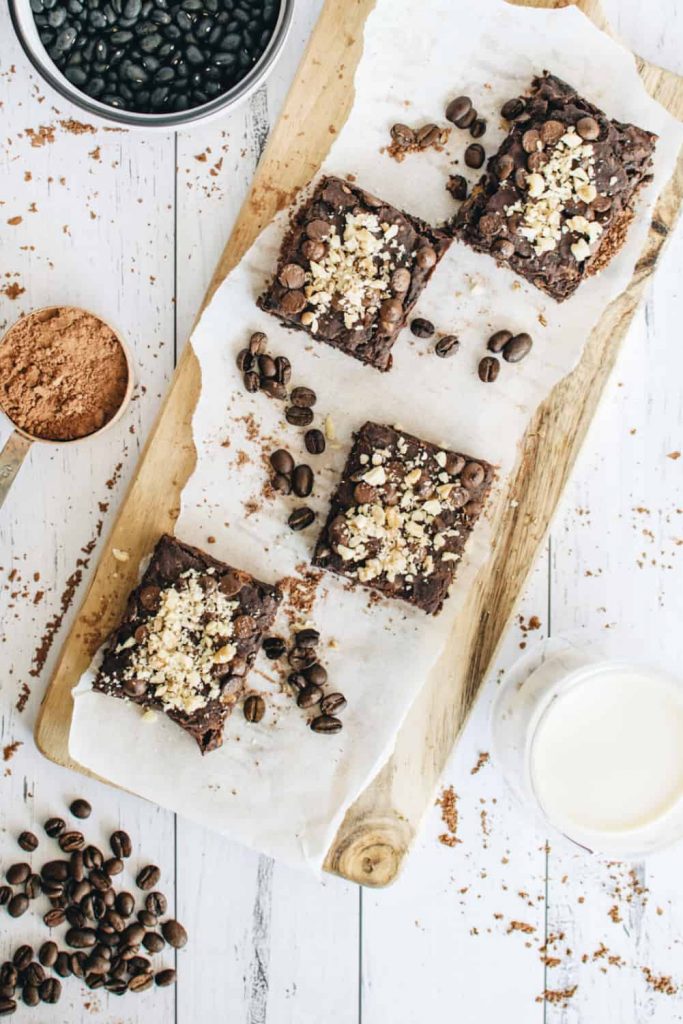 You can also freeze leftovers if you'd like. Just freeze them on a baking sheet or plate then transfer to a freezer bag. This stops them from freezing to each other and leaving you with one giant brownie.
Once frozen transfer to a freezer-safe container or bag and freeze for up to 3 months. Just pull a brownie out and let it thaw to enjoy a healthy snack whenever you like.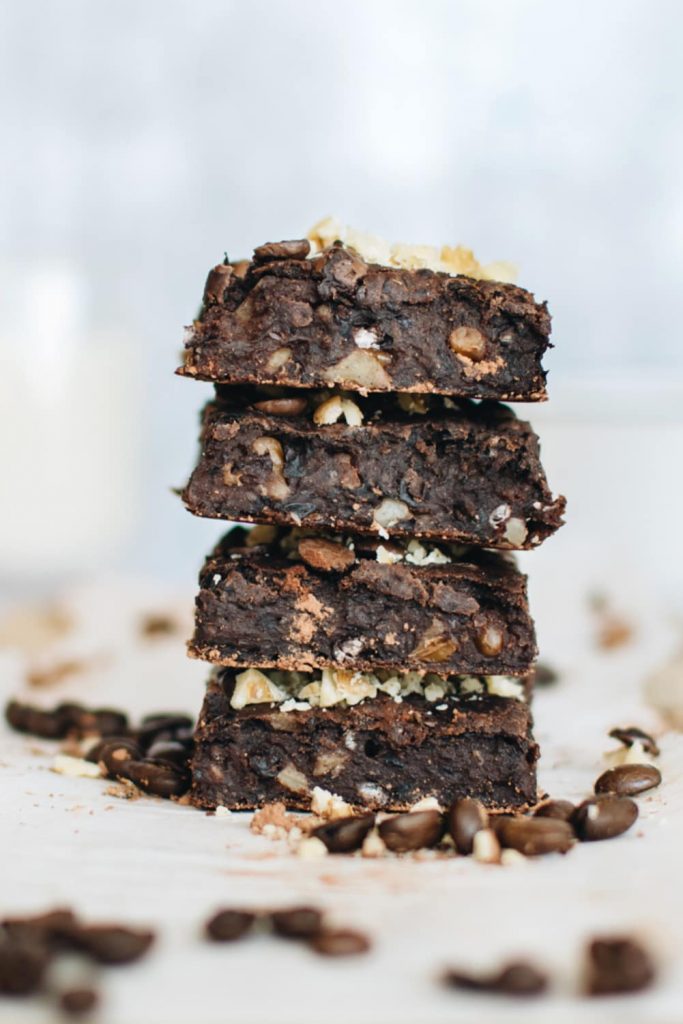 Final Thoughts
Both new vegan families and old pros will love this vegan brownie. Black bean and banana brownies are a ridiculously delicious and still healthy chocolate treat that we can indulge both ourselves and our kids with.
Once you get that first bite of sweet, chocolate fudge brownie, you'll see why black bean brownies are here to stay. I hope you and your family enjoy this recipe, and I'd love to hear what you thought below.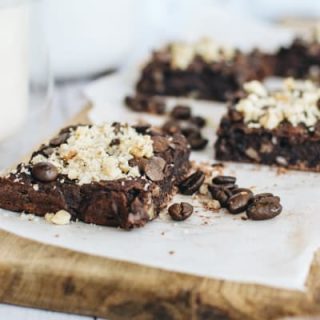 Simple Black Bean Banana Brownies
Additional Time:
5 minutes
A healthy sugar-free and vegan version of black bean brownies. This recipe is sweetened with bananas and a little maple syrup. The entire recipe can be ready to eat in 30 minutes.
Ingredients
1 15oz can black beans, drained (or 1 3/4 cups cooked black beans)
¼ cup of cocoa powder
1 ripe banana
½ cup maple syrup
¼ tsp sea salt
¼ cup of coconut oil
1 tsp vanilla extract
1 tsp baking powder
½ cup dark chocolate chips (sugar-free version optional)
1 cup walnuts
½ cup gluten-free flour (or any all-purpose flour)
½ cup chopped walnuts (optional)
Instructions
Preheat the oven to 350 F.
Combine all ingredients except the chocolate chips and walnuts into a food processor or use an immersion blender and blend until completely smooth.
Add the chocolate chips and walnuts. Gently fold them into the batter. If you don't like nuts, you can omit them.
Line a pan with parchment paper or lightly grease an 11"x7" pan. Pour the batter into the pan and spread it out evenly using a spatula. Optional: sprinkle extra chocolate chips over the top.
Cook the black bean brownies for 20 minutes. To test whether fully cooked, insert a clean knife into the center of the pan. No batter should stick to the knife if it is fully cooked.
Once cooked, remove the pan from the oven and let the brownies cool at least 10 minutes before serving.
Sprinkle with additional chopped walnuts on top after serving. (optional)
Notes
To make the brownies gluten-free, use your favorite gluten-free flour.  
To make the brownies sugar-free, use a sugar-free sweetener instead of maple syrup and sugar-free chocolate chips.
Nutrition Information:
Yield:

12
Serving Size:

1
Amount Per Serving:
Calories:

271
Total Fat:

16g
Saturated Fat:

6g
Trans Fat:

0g
Unsaturated Fat:

9g
Cholesterol:

1mg
Sodium:

229mg
Carbohydrates:

28g
Fiber:

5g
Sugar:

13g
Protein:

6g
Nutrition information isn't always accurate and is for estimation purposes only.