Easy Vegan Vegetable Lasagna with Beet, Pumpkin, and Spinach
Sometimes you come across something so beautiful, you just have to try your hand at creating it. When I first saw the rainbow colors of the lasagna from Rainbow Nourishments I knew I had found one of those dishes.
This version of vegan rainbow lasagna has no tofu and uses a few key shortcuts to reduce your prep and cook time. With gorgeous layers of spinach cashew ricotta, beet puree, creamy pumpkin, and a non-dairy béchamel that's perfectly delicious, you'll have a gorgeous dish that looks like hours of work, done in about one.
Beyond being beautiful, vegan vegetable lasagna is a fantastic hearty dish for family dinners, or as a lunch prep meal. Don't hesitate to whip it out at your next dinner party either. Its stunning layers and perfect blend of flavors make it a show stopper on every occasion.
There is no better dish to celebrate the love of vegetables in a vegan diet than this. Every layer is simple, but together they're lovely and complex. Print off or bookmark this recipe right away because it's sure to become a family favorite!
This post may contain affiliate links. That means if you purchase an item through these links, I may earn a commission at no additional cost to you. Please read the full disclosure policy for more info.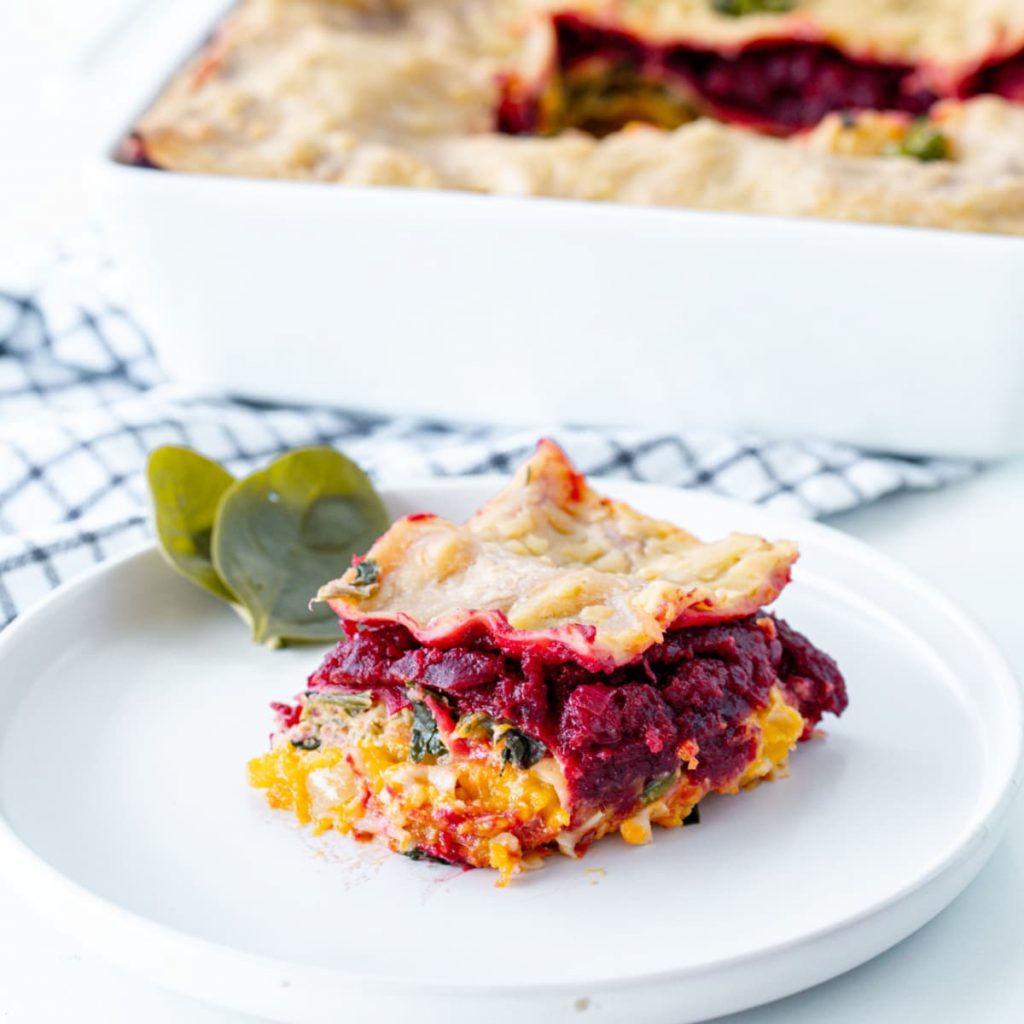 The Layers of Vegan Rainbow Lasagna
When testing out this recipe, I found it easier to think about in components. Once I had each layer ready, the lasagna was ready for assembly and baking.
There are five layers in this rainbow vegetable lasagna:
Tomato Sauce – store bought and ready to go
Pumpkin puree – canned or fresh pumpkin with onions
Cashew Ricotta with spinach – cashews, nutritional yeast, non-dairy milk, and spinach
Beet puree – canned, frozen, or freshly roasted beets pureed with onions
Non-dairy Béchamel – corn flour, non-dairy milk, and olive oil
In addition to those layers you'll need a few key components that go into several layers:
Onions
Garlic
Salt and pepper
Oven ready lasagna sheets
To make this accessible to even the busiest vegan families, there are tons of ways to take shortcuts without sacrificing flavor.
The onions for the pumpkin, beet, and ricotta layers are sauteed together, saving time and dishes! Store-bought staples like tomato sauce, canned pumpkin puree, and canned or frozen beets can save a lot of time in prep work and roasting. 
Or, if you have the time, you can use fresh beets and fresh pumpkin just as easily! Acorn and butternut squash also make lovely substitutions for the pumpkin layer. 
Recently run out of nutritional yeast or don't really want to buy any? While nothing truly mimics it completely, one of these nutritional yeast substitutes can be used for a similar flavor profile.

How to Make Vegan Vegetable Lasagna
To make this you'll need prep bowls for keeping your layer components nearby, a deep 8×8 casserole dish, and a food processor. If you're feeding a large group, feel free to double the recipe and use a deep 12×9 casserole dish instead.
For best success, don't forget to soak your cashews overnight and let your frozen spinach thaw completely ahead of time. In a pinch, pour boiling water over the cashews and let them sit for a few hours before using.
Prepping The Layer Filling
Preheat your oven to 350°F and start your prep work. If you're using fresh pumpkin and beets, this may include a bit more chopping for you. Once those are chopped, steam the pumpkin in a basket over simmering water, covered, until tender. For the beets, roast those in the oven until tender if using fresh.
Once that's working, or if you're using canned beetroot and pumpkin, dice your onions and garlic. Saute them in a pan over medium heat with olive oil, until the onions are soft and translucent. If you like garlic, feel free to amp up the flavor by adding more here. Separate the mixture into 3 equal portions and set aside.
First puree the pumpkin with one third of the onions, season it with salt and pepper to taste and set aside. Rinse out your blender if needed and repeat with the beets until you have a smooth puree for the beet lasagna layer. Set it aside with the pumpkin.
Then prepare the ricotta layer. For my vegan lasagna, the cashew ricotta has no tofu. Instead, we pulse the soaked and drained cashews, nutritional yeast, and some milk in the food processor to form ricotta. Then fold in the spinach, the final third of onions, and salt and pepper to taste. 

Finally make your béchamel. This is as easy as whisking the remaining milk, corn flour, salt, pepper, and olive oil over medium heat until the mixture smooths out and thickens. Whisk until it comes off the heat to prevent burning and sticking.
Assembling The Rainbow Lasagna Layers
Now you're ready for assembly! Begin by spreading a layer of store-bought tomato sauce on the bottom of your baking dish. Layer the oven-ready noodles over that and begin adding your layers in the desired order. I chose pumpkin next, followed by noodles, cashew ricotta, noodles, beetroot, noodles, and finally bechamel.

I love this pattern of layering for the beautiful gradient of colors in each slice, but whatever you choose, finish with bechamel. Make sure it coats the entire surface of the top layer of noodles for perfect baking.

A quick tip for those baking in a larger casserole dish, your layers are going to look thinner than mine does in the pictures. They'll be just as tasty!

Once assembled, bake for 30 minutes or until the top is golden brown. Serve it right away and store any leftovers in the fridge for up to 4 days.

How to Store and Freeze Vegan Lasagna
As with any leftovers, keep them in an airtight container in the fridge for a few days if you plan on eating them. If not, freeze until you're ready.
I recommend freezing individual squares on a baking sheet. Once frozen, store in a bowl or bag for easier reheating of just the right portion. If you know you're baking ahead of a family gathering, go ahead and freeze a whole vegan spinach lasagna! It'll reheat beautifully in your oven when you're ready.

Final Thoughts
It's hard to imagine a more beautiful way to serve a vegan dinner, especially since it's rich with vegetable nutrition and big, satisfying flavor. Even little ones will be excited for their vegetables when you serve them a rainbow for dinner!
I hope you enjoy this simplified, easy adaptation of a vegan rainbow lasagna. I'd love to hear how it went for you in the comments below.

Vegan Rainbow Lasagna With Cashew Ricotta
An easy-to-make rainbow lasagna filled with pumpkin, spinach cashew ricotta, and beets topped with a white bechamel sauce.
Ingredients
10 oz lasagna oven-ready sheets
1 cup store-bought tomato sauce
3 medium onions
3 cloves garlic
3 cups pumpkin puree (~1 ½ 15 oz cans)
2 cups beetroot, cooked
Cashew Ricotta
1 cup raw cashews, soaked
¼ cup non-dairy milk
¼ nutritional yeast
8 oz frozen spinach, defrosted
Bechamel Sauce
1 ½ cup non-dairy milk
⅓ cup cornflour
Salt & pepper to taste
1 tbsp olive oil
Instructions
Set out an 8x8 deep casserole dish and preheat the oven to 350°F.
Chop onions and garlic in small pieces. Sauté them in a heated pan with olive oil until the onions are translucent. Separate them into 3 parts, one for each layer.
For the pumpkin layer, use canned pumpkin or cook the fresh pumpkin in a steamer or boiling water. Set the cooked pumpkin in a medium bowl with 1 part of the sautéed onions and blend until you get a smooth puree. Add salt and pepper to taste.
For the spinach-ricotta layer: Set the previously soaked cashews in a food processor with nutritional yeast and non-dairy milk. Mix this "ricotta" with the spinach (already defrosted) in a medium bowl. Add another portion of the sautéed onions. Stir until combined. Add salt and pepper to taste.
For the beetroot layer: Set the beetroot slices in a medium bowl with the last part of the sautéed onions and blend until you get a smooth puree. Add salt and pepper to taste.
To make the bechamel sauce: Add the non-dairy milk, cornflower, olive oil, and salt/pepper to a small pot on high heat and whisk for 5-10 minutes. Is normal to have some lumps, just keep on whisking and add more milk if needed being sure to not let it burn or stick. Set aside once thickened.
Using a deep 8x8 inch casserole dish, coat the bottom of the dish with tomato sauce, then add a layer of noodles. Then set the layers as desired, alternating filling and noodles. The final layer of noodles should be completely covered with bechamel sauce. If you're using a larger dish your layers will be thinner.
Bake in the oven for 30 minutes or until the top is golden brown. Serve immediately or store leftovers in an airtight container in the fridge for up to 4 days.
Notes
If you like a lot of garlic flavor, add extra cloves or garlic powder to the layers.
You can substitute acorn squash or butternut squash for the pumpkin.
You can substitute canned or frozen beets for fresh beets.
Double the recipe if you'd like to use a larger 12x9 inch baking dish.
Nutrition Information:
Yield:

9
Serving Size:

1
Amount Per Serving:
Calories:

243
Total Fat:

12g
Saturated Fat:

3g
Trans Fat:

0g
Unsaturated Fat:

7g
Cholesterol:

17mg
Sodium:

374mg
Carbohydrates:

26g
Fiber:

6g
Sugar:

12g
Protein:

11g
Nutrition information isn't always accurate and is for estimation purposes only.