Easy Vegan Raw Chocolate Fudge Cake Made From Dates
This quick and easy raw vegan flourless chocolate fudge cake lives up to its name. A truly decadent cake that requires no baking at all. The entire preparation and assembly of this chocolate cake can be done in 15 minutes.
You can easily dress up this cake by placing berries, fruit, or cacao nibs on top. Perfect for a vegan's birthday or any celebratory get together. Check out how easy this recipe is below.
This post may contain affiliate links. That means if you purchase an item through these links, I may earn a commission at no additional cost to you. Please read the full disclosure policy for more info.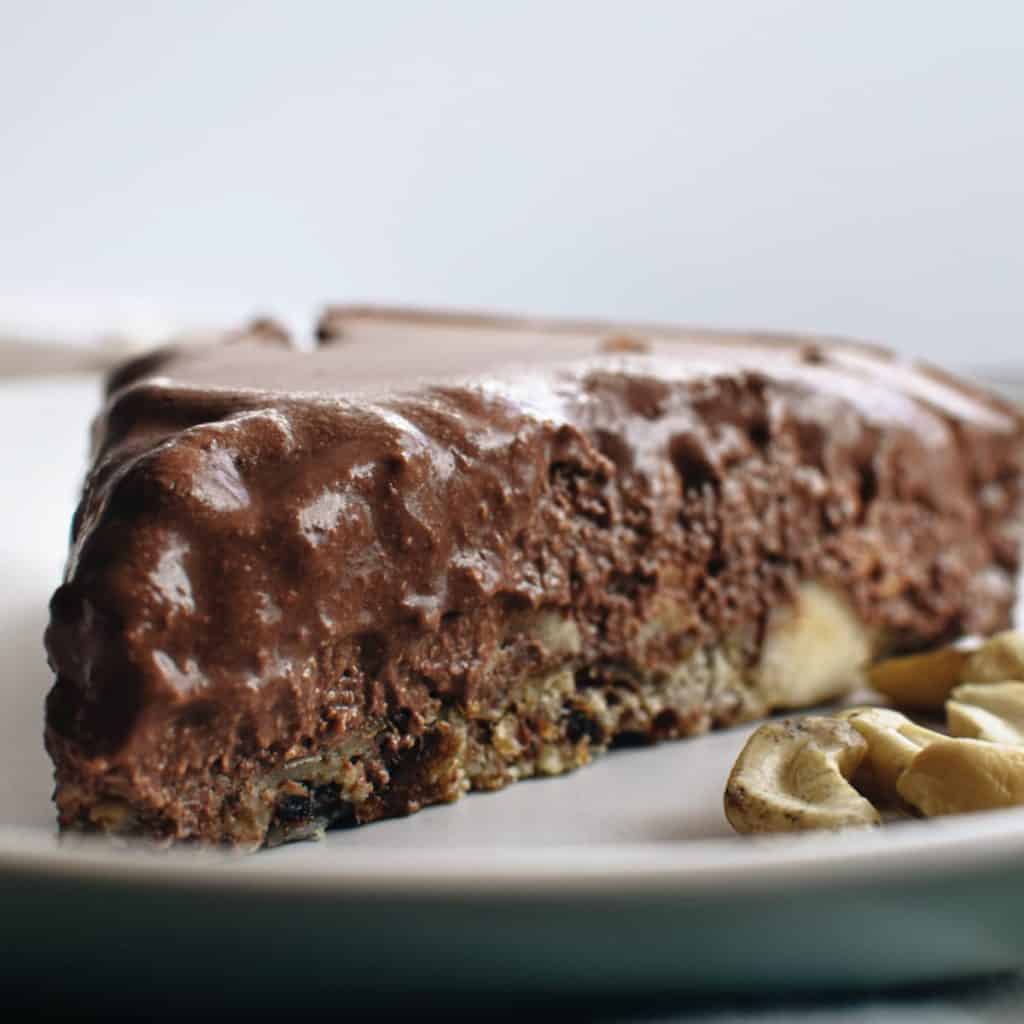 What Is A Raw Dessert?
A raw dessert, like this vegan cake, is full of unprocessed raw ingredients like fruits and nuts. Raw desserts typically don't contain flour since flour needs to be heat treated in order to be safe to eat.
Raw desserts are usually sweetened by dried fruits, natural sweeteners, and nectars. Many times, raw desserts have to be refrigerated in order to firm up since it's not going through the cooking process.
Are Raw Desserts Healthier?
Raw desserts can be healthier than traditional baked goods but it depends on whats in them. If the raw dessert has a lot of high calorie fats and sugars, it may not be any better than a dessert using flour.
As with any dessert, it should be saved for a celebratory event and not be a part of your normal everyday diet.
---
Flourless Raw Chocolate Cake Ingredients
This raw cake recipe has three separate items you'll need to make separately before assembling the cake: nut crust, raw chocolate filling, and chocolate coconut ganache.
The first is the nut crust, which blends almonds and brazil nuts.
For the main raw cake filling, you'll use cashews and dates as the main ingredients but also flavor it with cocoa powder, vanilla extract, agave nectar, and coconut milk.
The final topping is a chocolate ganache made from coconut milk, cocoa powder, and coconut oil. It's what gives this raw cake a lot of richness.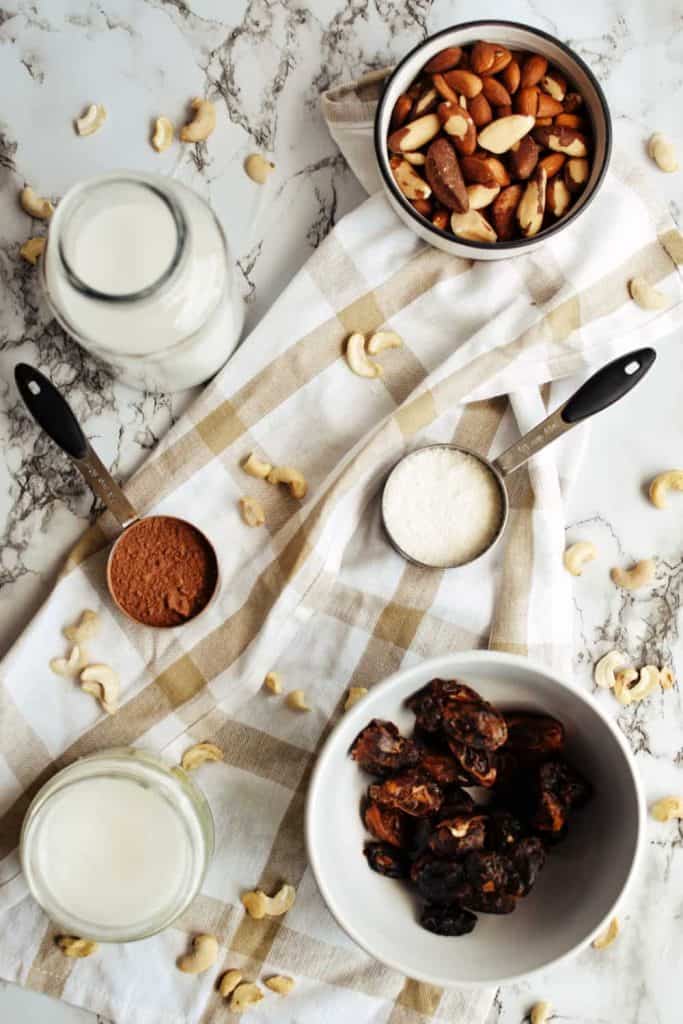 How To Make Raw Nut Cake Crust
This nut crust uses a mixture of almonds and brazil nuts but any nuts will do. If you don't have brazil nuts on hand, using only almonds is a great alternative.
For the crust, the nuts into a blender or food processor. Pulse the nuts until they become a finely ground nut paste.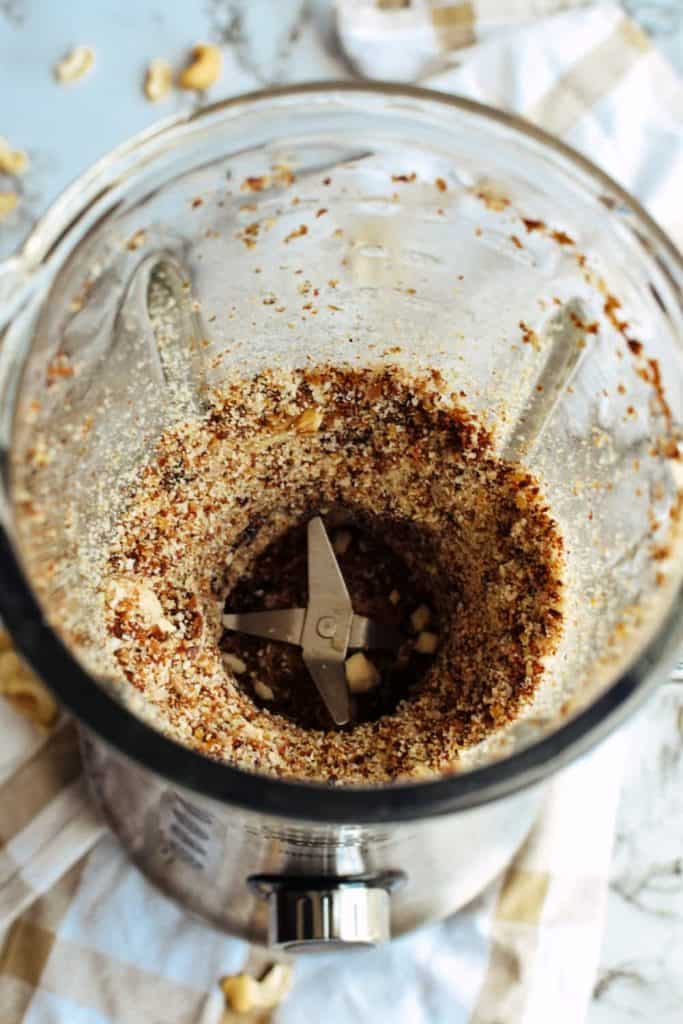 Press the nut paste onto the bottom of an 8-inch springform cake pan. Make sure that the nuts are distributed evenly.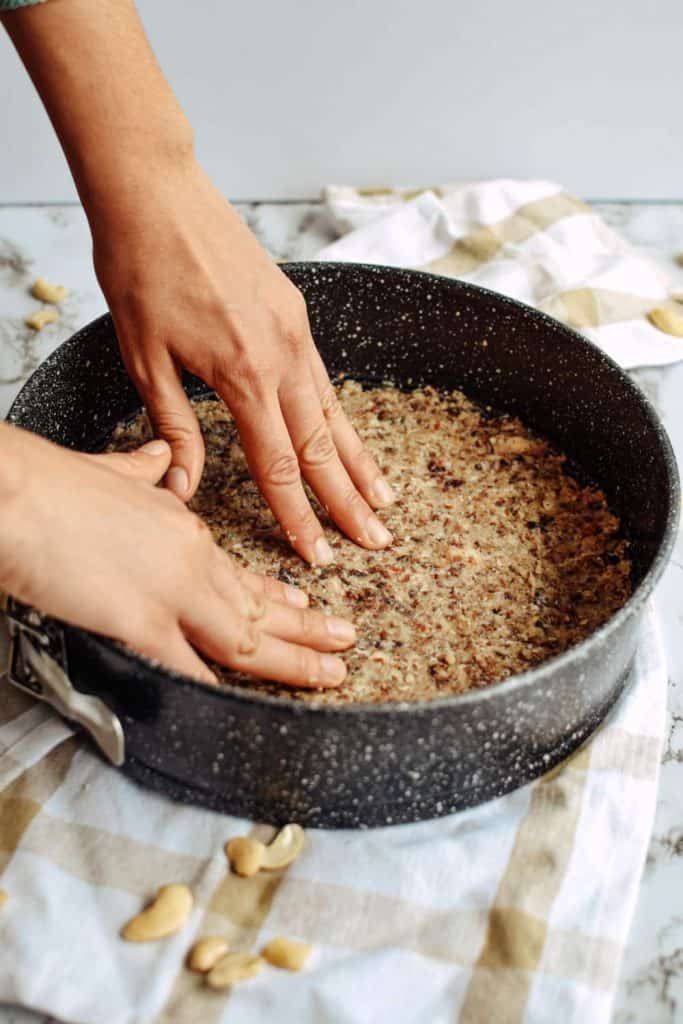 ---
How To Make Date Chocolate Filling
The dates and cashews should be soaked in water for a few hours before use. You can start soaking them overnight or in the morning if you don't plan on making the cake until later.
Once the dates and cashews are done soaking, drain them and add them to a bowl along with the coconut milk, cocoa powder, vanilla, and agave syrup. Use an immersion blender to blend until smooth.
It's alright if there are a few chunks still. If you prefer a completely smooth filling it's better to blend in a high-powered blender.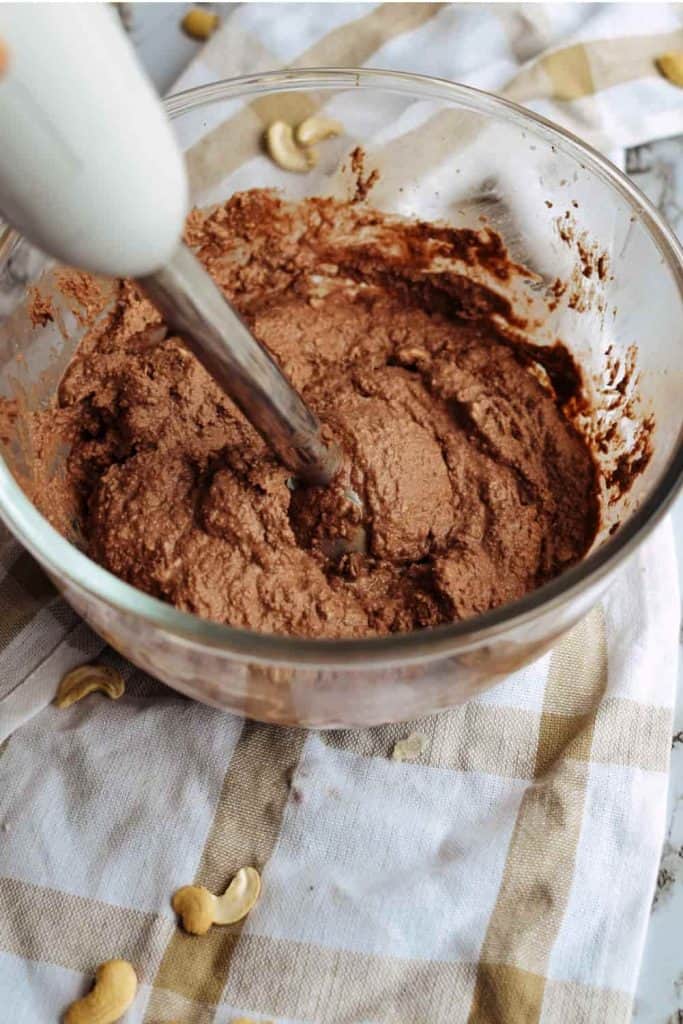 Once blended, gently spread the filling over top the nut crust in the spring form cake pan. Make sure that you aren't lifting up the crust as you're spreading the filling.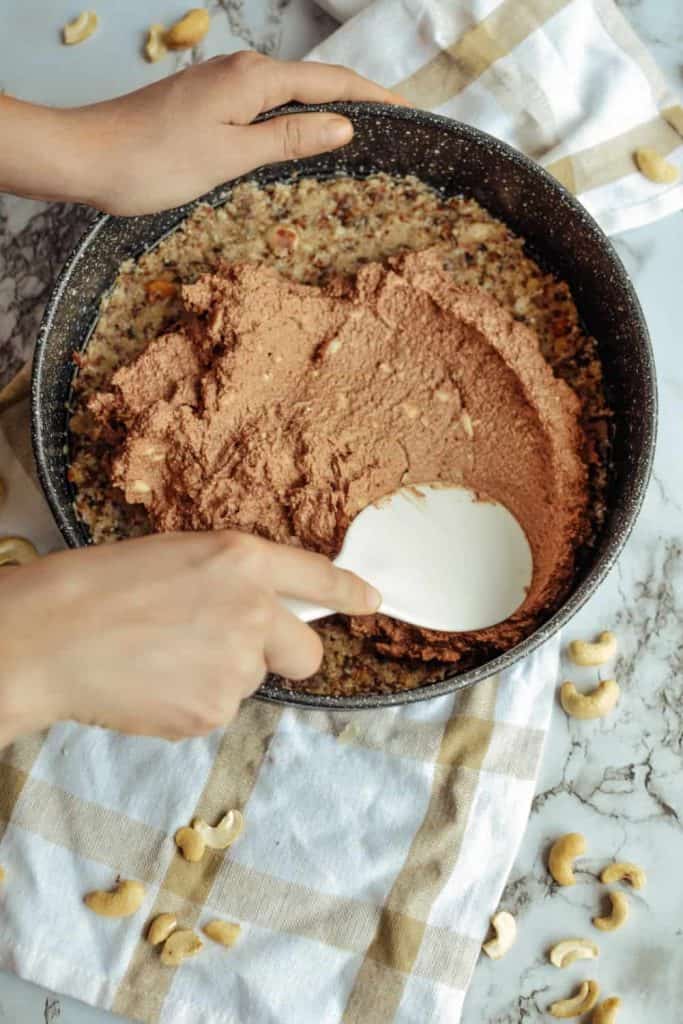 ---
How To Make Raw Chocolate Ganache
The final topping of the cake is a raw chocolate ganache. To make the ganache, warm the coconut milk and coconut oil in a saucepan on low. This is a raw dessert so you don't want to cook this; merely get it into a liquid state.
Once warm, remove it from heat and add in the cocoa powder. Let sit for a minute before stirring with a whisk until well blended.
When the ganache has completely cooled, add it to the top of the cake.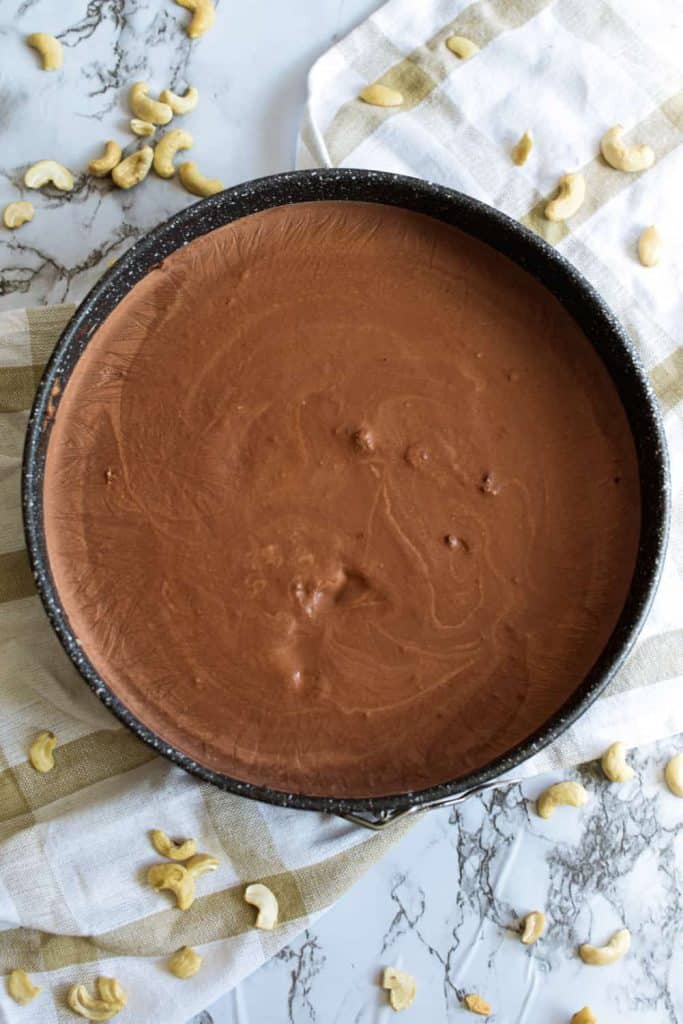 Now it's time to let the cake firm up. Place the cake into the fridge for 2 hours before serving. Another option is to put the cake into the freezer for a frozen treat.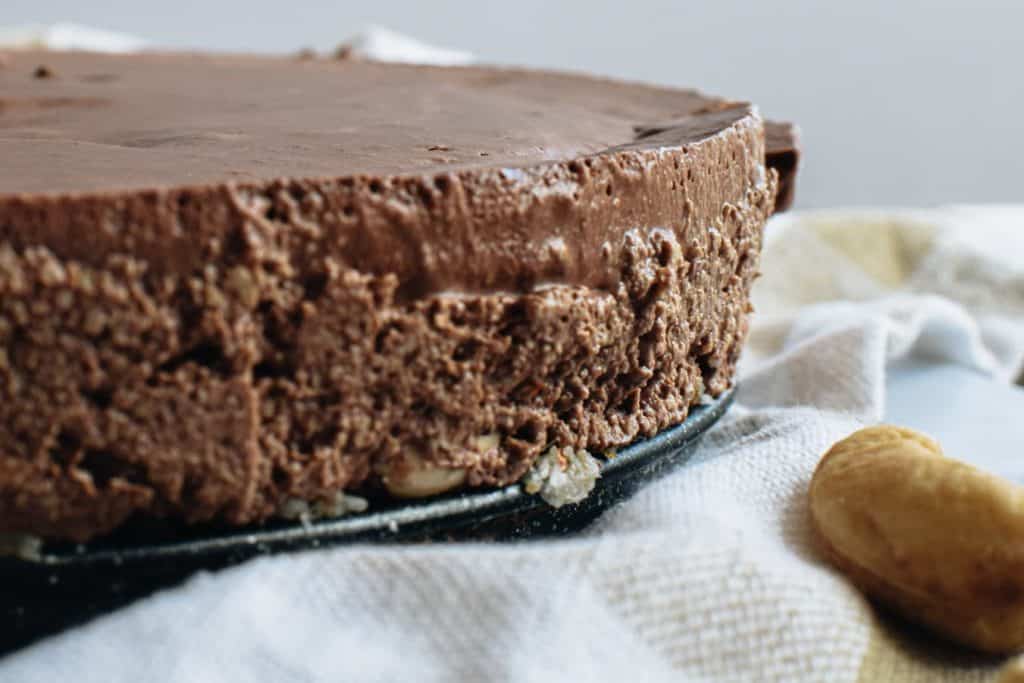 If not eating the cake immediately, leave it in the fridge or the ganache will start melting. Enjoy as-is or add berries on top.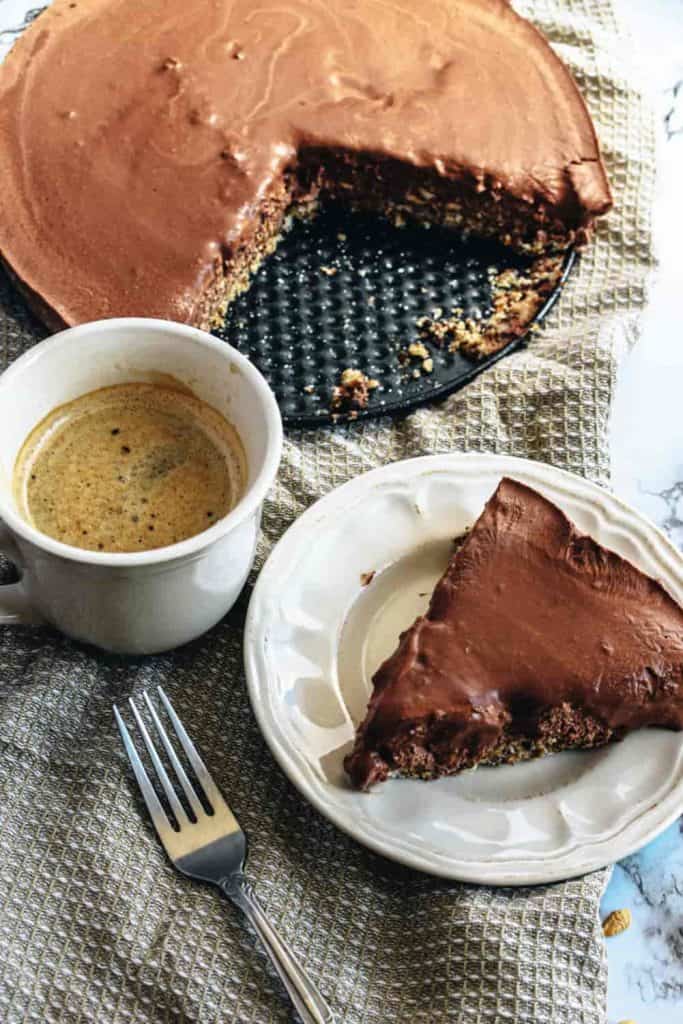 How To Store Raw Chocolate Cake
This raw vegan chocolate cake can be stored covered in the fridge in its cake pan for up to 5 days. If you prefer your cake frozen, you can store it in the freezer for up to 2 months.
More Recipes You May Like: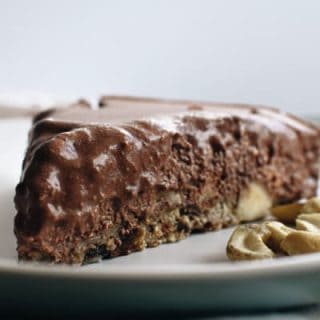 Easy Raw Chocolate Cake
Total Time:
2 hours
15 minutes
A quick and easy raw chocolate fudge cake made from dates and nuts. This cake is healthy and takes less than 15 minutes to assemble.
Ingredients
Crust
1 cups of pitted Medjool dates
1 ½ cups almonds and brazil nuts
¼ cup shredded coconut
1 tablespoon coconut oil
Filling
2 cups cashews
½ cup dried dates
¼ cup coconut milk
¼ cup cocoa powder
1 teaspoon vanilla extract
3 tablespoon raw agave syrup
Chocolate Ganache
¾ cup canned coconut milk
2 tablespoon coconut oil
1 tablespoon cocoa powder
Instructions
For The Crust
Process all the ingredients to form a paste. Put it at the bottom of an 8-inch springform pan and spread it with your hands. Make sure to press it down.
For The Filling
Let the cashews and dates soak in water for several hours.
Drain and place in the blender with the rest of the ingredients.
Blend until you get a smooth cream.
For The Ganache
Just warm the milk and coconut oil. You don't want to cook it; only get the oil to be completely liquid.
Add the cocoa powder to the milk and oil mixture, let it rest for 1 minute.
Mix with a wire whisk until integrated.
Assembling The Cake
After covering the mold with the crust, add the filling mixture, and put it in the fridge for 2 hours to cool.
Once cool, place the ganache.
Store in the fridge for several hours to get consistency.
It can also be stored in the freezer, it will be firmer like a frozen cake.







Notes
The cake will stay fresh in the fridge for up to 5 days.
Nutrition Information:
Yield:

12 slices
Serving Size:

1
Amount Per Serving:
Calories:

405
Total Fat:

28g
Saturated Fat:

10g
Trans Fat:

0g
Unsaturated Fat:

17g
Cholesterol:

0mg
Sodium:

240mg
Carbohydrates:

36g
Fiber:

5g
Sugar:

22g
Protein:

9g
Nutrition information isn't always accurate and is for estimation purposes only.