Easy Loaded Sweet Potato Bites Appetizer
Whether it's for game days or fun get-togethers with family, I absolutely love serving my friends and loved ones a delicious vegan canape like these sweet potato bites.
They're so easy to make that I don't stress myself out trying to get them served, they take less than 30 minutes to get prepped, baked, and assembled. Plus my sweet potato canapes are naturally gluten-free as well, so everybody can enjoy them, no matter the crowd!
I'm going to show you my version of loaded sweet potato rounds, topped with an easy avocado mash and marinated tomatoes that make a perfect bite. Then I'll share tons of fun ideas to help you customize them to your family's tastes. It'll be easy to get your party off to a delicious start.
This post may contain affiliate links. That means if you purchase an item through these links, I may earn a commission at no additional cost to you. Please read the full disclosure policy for more info.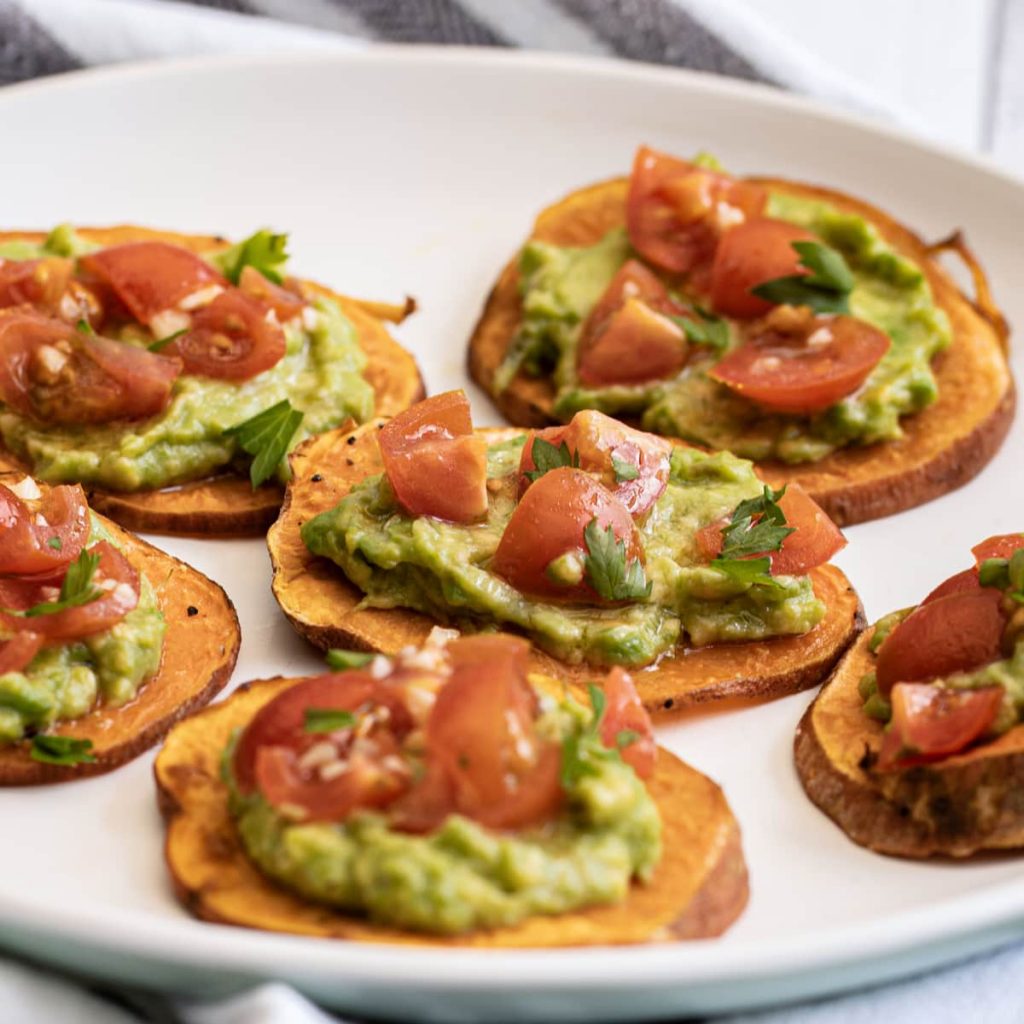 What Is A Canapé?
A canape is a hors d'oeuvre, or an appetizer, that is small enough to be eaten in a bite or two and traditionally made with a base of crackers, bread, or a baked pastry dough. They're often made to be beautiful, and the toppings are thoughtfully arranged on top of the base layer to create delicious but striking starters.
My sweet potato canapes are a vegan and gluten free version of a traditional one. By simply swapping out the base layer for a sweet potato round that's baked in the oven, we end up with a beautiful, veggie based appetizer.
Ingredients for Loaded Sweet Potato Rounds
Making these sweet potato bites is really simple and only requires a few easy ingredients to get baked and assembled. Aside from salt, pepper, and oil, you'll need just 5 ingredients to get your canapes made.
Sweet potato
Avocados
Cherry tomatoes
Garlic
Olive oil
Lemon, or lime, juice
Salt
Pepper
I used an orange fleshed sweet potato for my appetizer, but you can definitely use sweet potatoes of any color like white, yellow, or red. You can also easily chop large tomatoes if cherry tomatoes aren't available to you, and feel free to choose either lemon or lime juice.
I also opted to add fresh parsley to my loaded sweet potato bites for that perfect finishing touch and I recommend you give it a try as well.

How To Make Vegan Sweet Potato Canapés
To make your vegan sweet potato bites in less than 30 minutes, you'll need to get your oven preheated to 400°F and oil a baking sheet.
Start by getting your sweet potato sliced into thin rounds. There's no need to peel the potato, just aim for even thin slices so they'll bake evenly and get tender in about 20 minutes. If you prefer to use a mandoline, it can be very useful in ensuring you have consistent slices.
Place the slices in a single layer on the oiled baking sheet and put them into the oven for 10 minutes. After that, pull them out and flip each round over, then place them back into the oven for another 10 minutes to finish baking.

While your potatoes bake, prep your avocado and tomatoes. Peel each avocado and mash it all together in a small bowl and set aside.
Then get your garlic minced finely and dice your tomatoes. Combine both the garlic and tomatoes in another small bowl with the salt, pepper, oil, and whichever citrus juice you chose.

Pull your potatoes out of the oven and allow them to cool for a few minutes so you can transfer them to a serving tray or dish. Top each of your sweet potato bites with a dollop of avocado, and a small spoonful of tomatoes. 
Garnish with parsley if you like, and serve them to the hungry crowd that's waiting.

Sweet Potato Bites Topping Ideas
If avocado and tomatoes aren't your thing, but you love the idea of loaded sweet potato bites, I have a few suggestions for alternate toppings that taste great and keep our canapes vegan and gluten free.
Instead of creamy avocado, you could swap in a vegan cheese, vegan sour cream, or a thick non-dairy yogurt. Coconut goes particularly well with sweet potatoes.
Then to top them, choose a flavor that works with what you chose. Top vegan cheese or sour cream with savory ingredients like vinaigrettes or fresh herbs, roasted peppers, caramelized onions, or sauteed seasoned greens.
For topping non-dairy yogurt, try any number of fruits like pomegranate seeds, a slice of mandarin, or apples. You could also opt for chopped nuts and a drizzle of maple syrup.
Or, serve up a modern version of a popular side, and top them with torched vegan marshmallows and a toasted pecan!

Final Thoughts
These vegan sweet potato bites are a really fun and easy appetizer to serve to any crowd, vegan or not. They'll even make the gluten free guests happy!
Since they only take 30 minutes to prepare you can even whip them up as a fun snack for your kids and family whenever the craving strikes. That combination of sweet, tender potatoes with creamy avocado and a scoop of garlicky, marinated tomatoes is a delicious blend of textures and flavors everyone will enjoy
When your family is done devouring them, I'd love to hear your feedback, and about any fun toppings you came up with, in the comments below.

Healthy Loaded Sweet Potato Bites
Additional Time:
10 minutes
Surprisingly easy-to-make and healthy loaded sweet potato bites. This appetizer, or canapé, uses baked sweet potatoes topped with mashed avocado and a tomato garlic mixture. Works great as an everyday snack as well.
Ingredients
1 large sweet potato
2 medium ripe avocados
1 cup cherry tomatoes
2 cloves garlic
1 tbsp olive oil
1 tbsp lime or lemon juice
Salt & pepper to taste
Instructions
Preheat the oven to 400 F.
Chop the sweet potato in thin slices without peeling it. You can also use a mandoline if you want thinner slices.
Place the rounds on an oiled baking sheet. Bake them ten minutes on one side, flip them, and bake another 10 minutes on the other side.
In a small bowl, mash the avocado and set it aside.
Dice the tomatoes and mince the garlic. Mix them together with olive oil, lemon juice, salt, and pepper.
Finally, place the sweet potato rounds on a tray and put 1 tablespoon of mashed avocado with half a tablespoon of the tomato mix on top.
Garnish with fresh parsley (optional).
Nutrition Information:
Yield:

20
Serving Size:

1
Amount Per Serving:
Calories:

48
Total Fat:

4g
Saturated Fat:

1g
Trans Fat:

0g
Unsaturated Fat:

3g
Cholesterol:

0mg
Sodium:

20mg
Carbohydrates:

4g
Fiber:

2g
Sugar:

1g
Protein:

1g
Nutrition information isn't always accurate and is for estimation purposes only.