Healthy High-Protein Vegan Nice Cream
We've all had those days where we wish we could just sit down with a pint and a spoon and have ice cream for dinner. Unfortunately, most ice cream is fairly unhealthy for us, loaded with sugar, and really only suitable for a dessert.
Enter this banana almond milk ice cream recipe. Want ice cream guilt-free? This is for you! 
The secret to healthy, delicious homemade ice cream is this banana almond butter nice cream. With no added sugar, three different sources of almonds, and bananas it's super healthy, while still ticking that ice cream craving box. 
With just a blender you can have ready to eat, creamy, and sweet banana nice cream. It's not only healthy but naturally gluten-free, free of added sugars, and vegan. Ditch the ice cream binge guilt, and serve yourself a decadent indulgent bowl of healthy almond milk ice cream.
This post may contain affiliate links. That means if you purchase an item through these links, I may earn a commission at no additional cost to you. Please read the full disclosure policy for more info.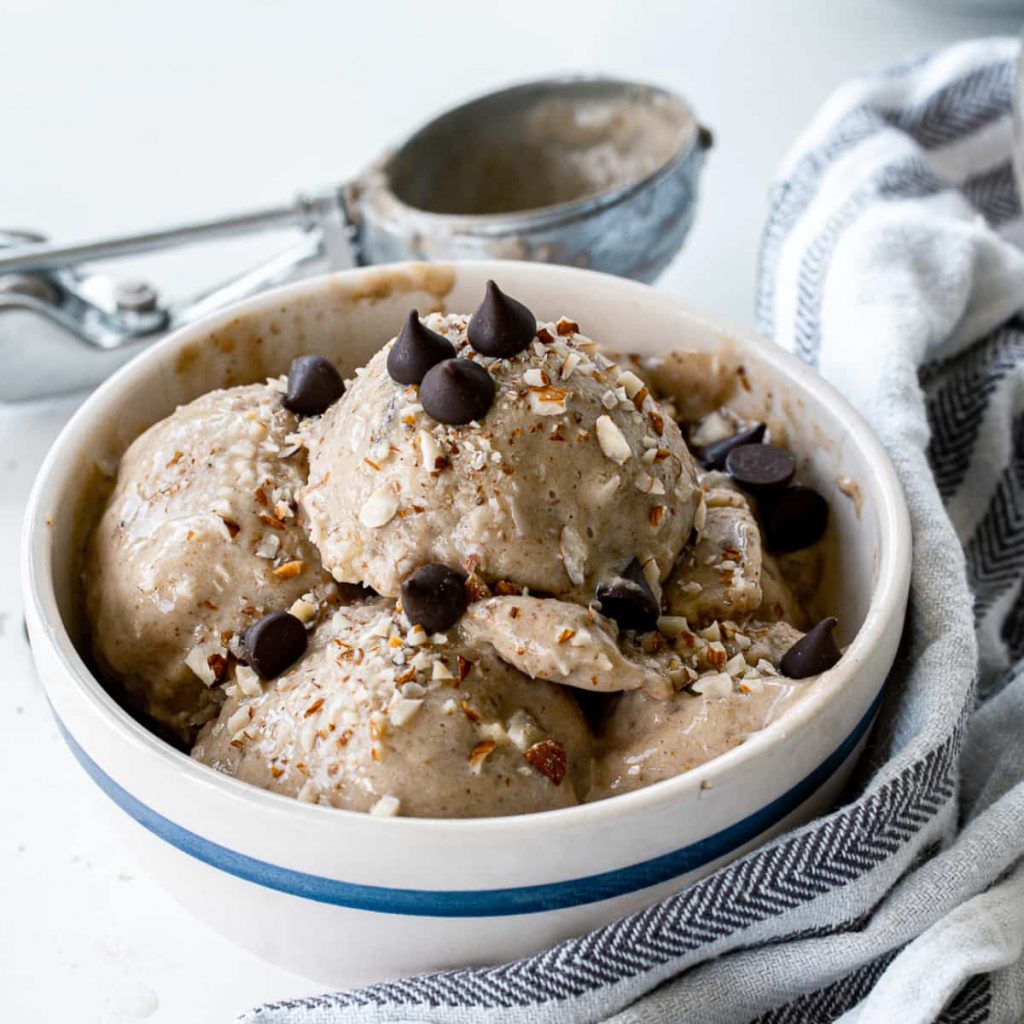 What Is Nice Cream?
Recipes like this vegan ice cream have earned themselves the nickname 'nice' cream because unlike traditional ice cream it's 'nice' for your body. It's also "nice" to the animals since no animal products are used.
Because we're using healthy ingredients you get all the delicious satisfaction of ice cream but still feel like you're treating your body well. It's full of protein, healthy fats, and antioxidants. That's as nice as it gets with dessert!
Ingredients for Banana Almond Butter Nice Cream
I'm always delighted to share easy vegan recipes like this. They'll satisfy the whole family but use such simple ingredients. The trick to perfect nice cream is just three key ingredients.
Frozen, overripe bananas
Almond milk
Almond butter
That's it, really. As a finishing touch, I highly recommend also including chopped almonds and chocolate chips in your ingredient list. The creamy, frozen nice cream is delicious with them sprinkled on top. Your kids will love making themselves nice cream sundaes, and you can let them pile on the toppings with no guilt.
Why Do You Need Overripe Bananas?
It's important that your bananas are overripe, however. Underripe, or bananas that still have yellow peels, aren't going to provide the creaminess or the sweetness we need for your vegan ice cream.
Go for bananas that have a healthy amount of black spots on the peel. They should smell very sweet, and be softer than a ripe banana. The more ripe a banana is, the more natural sugars it has.
Using bananas you have saved in the freezer for banana bread work perfectly here. You can also use fresh overripe bananas, but make sure to chop them and freeze for 3 hours before trying to make your ice cream.

How Can I Tell If Frozen Bananas Are Bad?
Bananas are notoriously sturdy, even in the freezer. Overripe bananas keep extremely well frozen; for up to 6 months when stored properly. 
Aim for airtight containers when you freeze bananas. It's also a good idea to peel them first. While the bananas are often just fine, if they're exposed to air in the freezer they will turn brown.
Rotten bananas have a strong off-putting smell, are often slimy, and are black even in the middle.
So long as your bananas still smell sweet even the brown ones from the freezer are just fine to use. Some bakers even prefer them for their increased sweetness.
How To Make Banana Almond Milk Ice Cream
This recipe is so very easy that you can be serving up bowls of nice cream in just a few minutes. To get started, you just need a blender or food processor.
Combine the frozen bananas, almond milk, and almond butter in your blender and let it run on high for 2 minutes.
You'll want to pause it every 30 seconds or so to scrape down the sides. This ensures evenly blended, creamy ice cream.

If your blender struggles, add a few tablespoons of almond milk to help loosen things up. Once everything is blended, it's ready to eat.
Serve it straight away with a sprinkle of chopped almonds and chocolate chips. If, however, you find your banana ice cream is too soft for your tastes, just pop it in the freezer for 30 minutes to firm up before serving. 

Storing Homemade Banana Nice Cream
The great news for your homemade almond milk ice cream is that it can be stored just like traditional ice cream. Store any leftover nice cream in an airtight container for up to 3 months in the freezer. 
Like many non-dairy ice creams out there, you'll find it's creamiest and easier to scoop if you let it thaw on the counter for 15 minutes before enjoying.

Final Thoughts
There are just so many good things to say about making banana ice cream. I can't express enough how deliciously creamy this is, and how great it is to know you're enjoying ice cream that's actually good for you.
The natural sweetness from bananas paired with the nuttiness from almonds creates something that's satisfying for our sweet tooth. Even your kids will be delighted when you serve up bowls of this for dessert.
Whipping up vegan ice cream has never been easier, and I think it'll be an addition to the regular dessert rotation in no time. Or, serve it up any time of day and enjoy that sweet nutrition.
Let me know how you and your family enjoy it in the comments section below. 

High-Protein Banana Almond Milk Ice Cream
Additional Time:
15 minutes
An easy vegan nice cream that can be made in 15 minutes. Full of protein, this banana ice cream uses almond butter and almond milk for a creamy treat.
Ingredients
3 overripe bananas, frozen
4 tbsp almond milk
½ cup almond butter
¼ cup chopped almonds
¼ cup of chocolate chips
Instructions
You'll need your bananas frozen for this recipe. If using fresh bananas, chop them and freeze for 3 hours or until completely frozen.
Put the frozen bananas, almond milk, and almond butter in a food processor or blender. Blend on high for 1 to 2 minutes, stopping to scrape the sides every so often. You may notice a bit of resistance at the beginning. Add a few more tbsp of almond milk if needed.
Serve while still chilled with chocolate chips and chopped almonds.
If the ice cream isn't thick enough for you, place it in a container in the freezer for 30 minutes for it to firm up before scoping.
For longer-term storage, store in an air-tight glass container in the freezer. Thaw for around 15 minutes before scooping and serving.
Nutrition Information:
Yield:

5 scoops
Serving Size:

1
Amount Per Serving:
Calories:

297
Total Fat:

20g
Saturated Fat:

3g
Trans Fat:

0g
Unsaturated Fat:

15g
Cholesterol:

0mg
Sodium:

34mg
Carbohydrates:

28g
Fiber:

6g
Sugar:

15g
Protein:

8g
Nutrition information isn't always accurate and is for estimation purposes only.