Creamy And Quick Plant-Based Tomato Coconut Soup With Curry
Soups are some of my favorite meals to make. They can be hearty or light, creamy or stew-like. Soups are fast to make and are foods perfect for families since even kids love them.
One of my favorite soups a blended vegan tomato coconut curry soup. It still has some texture but has coconut milk added for creaminess. The addition of Indian curry spices makes this soup flavorful and warming.
The recipe can easily be doubled to feed a large family or have leftovers for freezing. Even better is that this entire meal can be made in 30 minutes or less.
This post may contain affiliate links. That means if you purchase an item through these links, I may earn a commission at no additional cost to you. Please read the full disclosure policy for more info.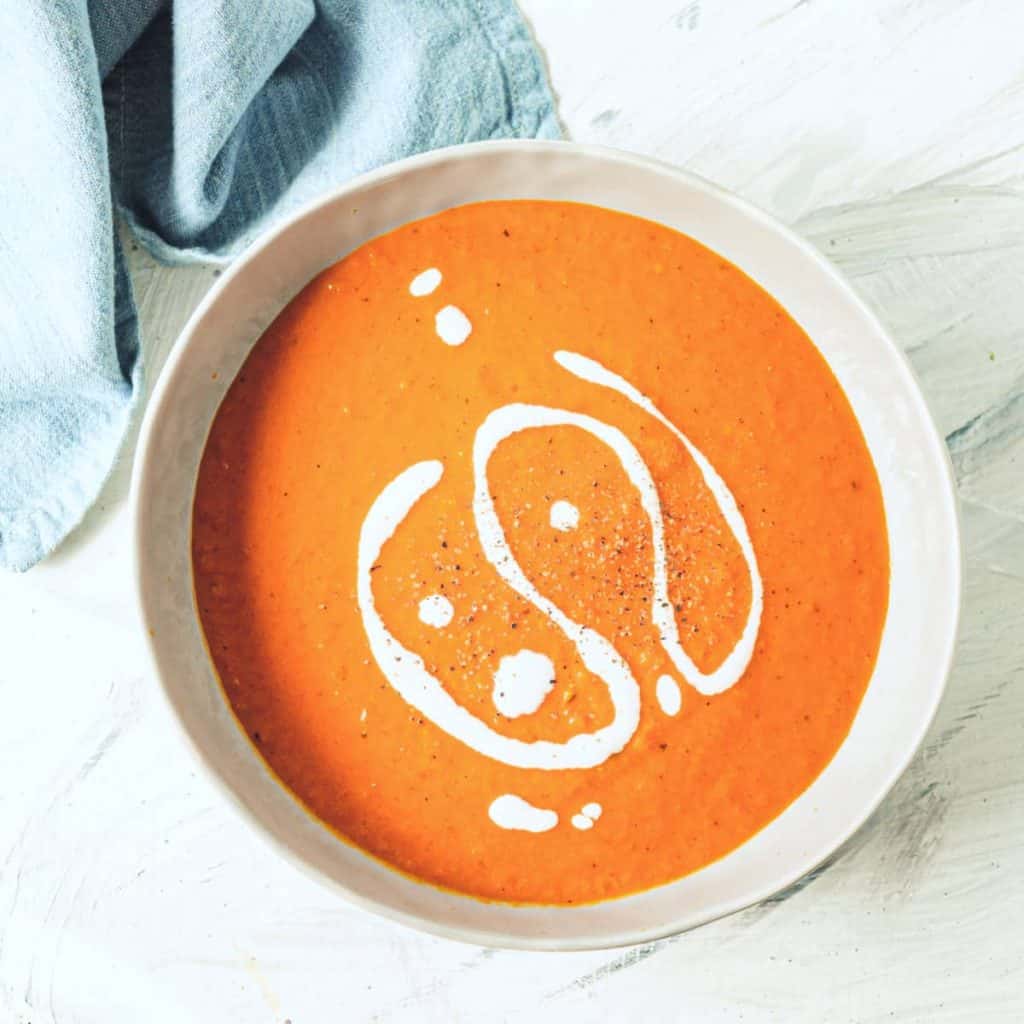 How To Make Tomato Coconut Curry Soup
This vegan soup is as easy as tossing everything into a pot. This recipe moves quick so to start, grab all of your ingredients and have them ready to go.
This means chopping the onion, garlic, and making sure all of the spices are prepared.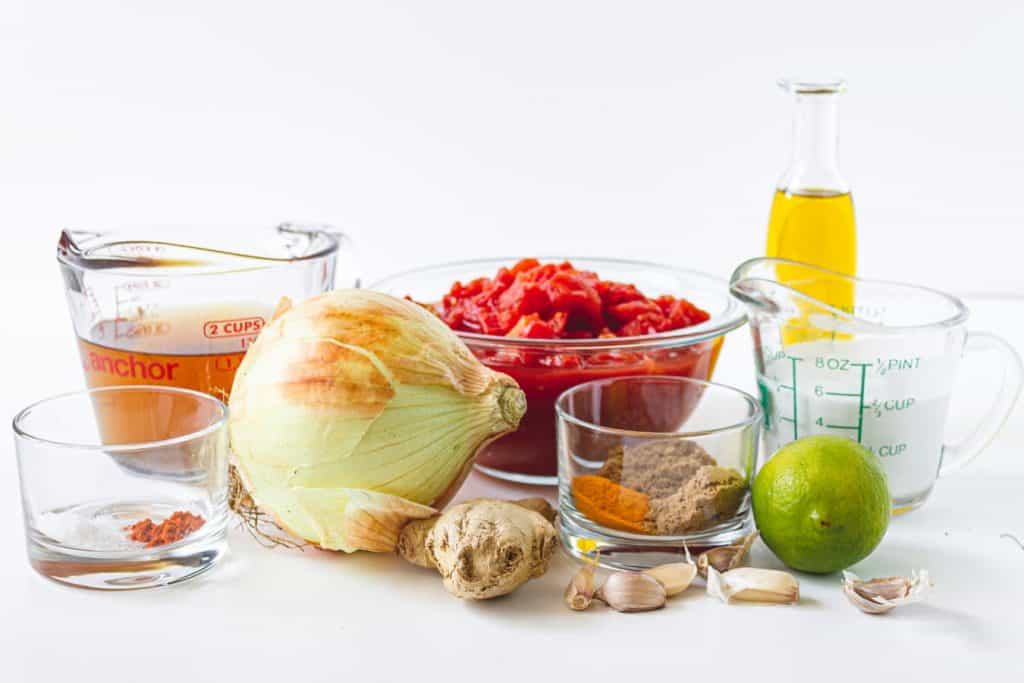 Brown the onion in the stock pot until it's lightly brown. Then add the ginger, garlic, and spices letting each cook slightly.
Deglaze the pan using vegetable. Add in the tomatoes and sugar. Then let the soup simmer for 20 minutes for all the flavors to meld.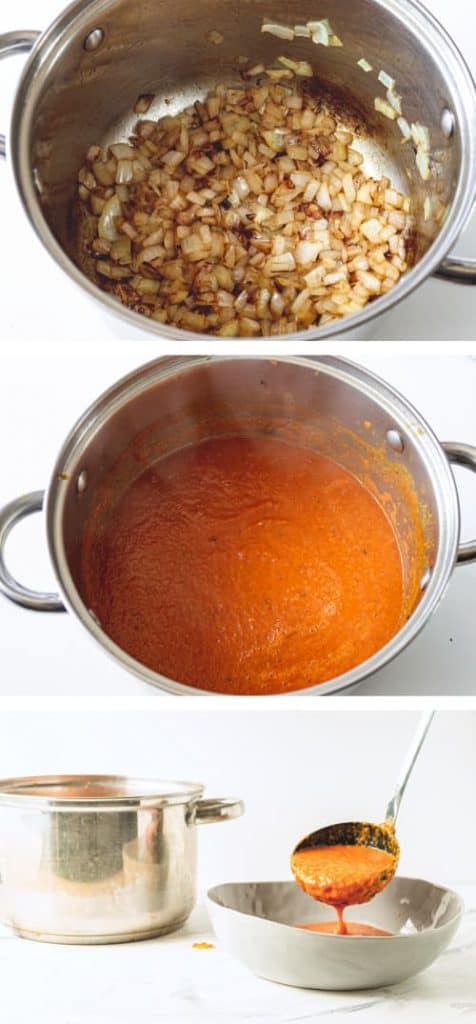 Once the soup is done cooking, remove the pot from heat and puree using an immersion blender. You can also do batches in a regular blender.
Mix in the coconut milk and reheat slightly if needed. Right before serving, add in the lime juice and drizzle a little coconut milk on top.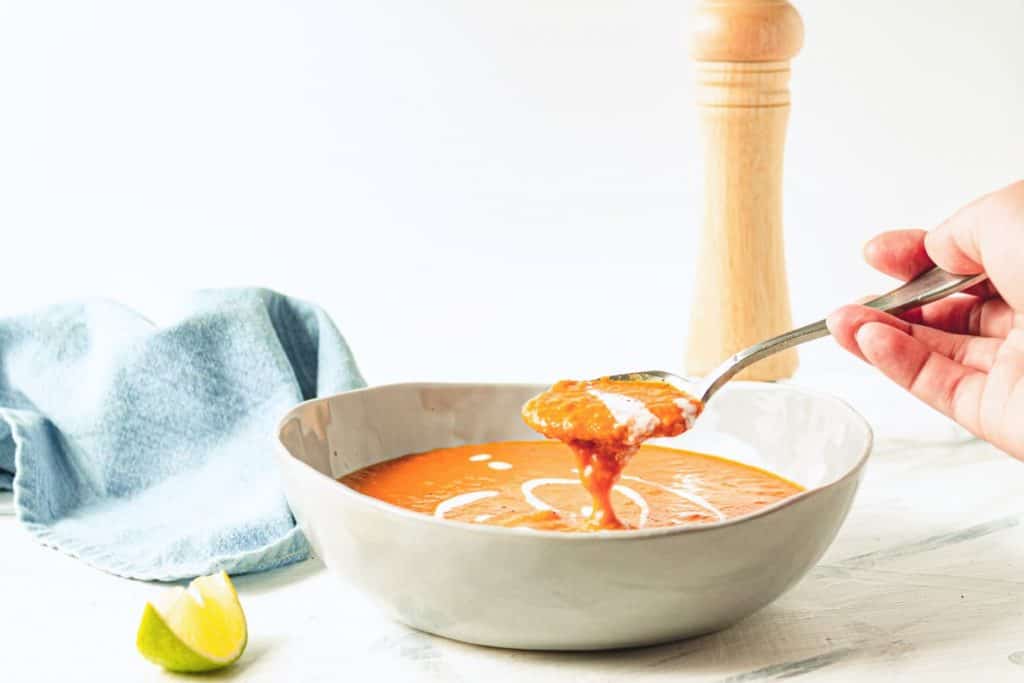 ---
How To Store Tomato Coconut Curry Soup
This soup is extremely versatile and tastes great as leftovers. You can store this soup in the fridge for 3-4 days.
It also holds up well frozen. If you'd like to have freezer meals for the future, double up the soup batch and put half into freezer-safe containers.
When you're ready to eat it, defrost the soup and reheat it on low. Make sure to not add the lime to the soup before freezing since it tastes best added fresh.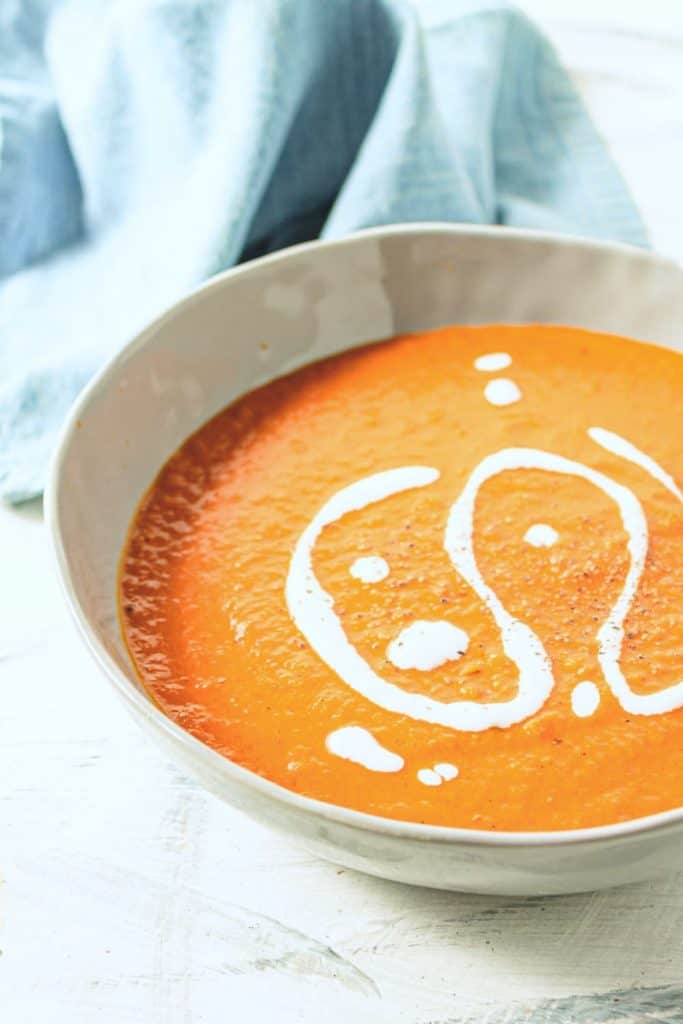 Can I Make The Soup Using Fresh Tomatoes?
Yes, fresh tomatoes are a great option! If you have a prolific garden, this healthy soup is a tasty way to use up your garden tomatoes.
I recommend waiting until the tomatoes are almost overripe so that they'll taste sweeter. It's up to your personal preference though.
When swapping in fresh tomatoes, you'll want to replace the equivalent 28 oz can of diced tomatoes. This will equate to around 2 lbs or 1 kg of chopped fresh tomatoes.
Can I Substitute Out The Coconut Milk?
The coconut milk is what gives this soup it's creaminess. If you don't have any coconut milk or simply prefer not to use it, that's fine. The soup will still taste delicious but will be lighter and not creamy.
If you plan on blending the soup in a high powered blender like a Blendtec, you can toss a 1/4 cup of raw cashews into the soup at the beginning of the 20 minute cook time. Then when the soup gets blended, the cashews will be blended in and add creaminess.
To keep some texture in your soup, ladle out half of the tomato soup to blend with an immersion blender while the remaining soup and cashews are blended in the stand blender.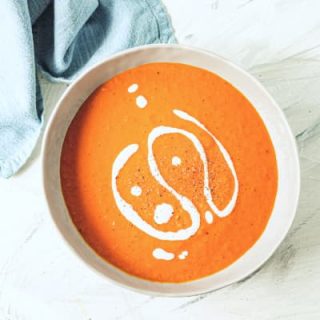 Vegan Tomato Coconut Curry Soup
Additional Time:
5 minutes
A flavorful tomato coconut curry soup that's vegan. This meal cooks up in less than 30 minutes, freezes well, and is family-friendly.
Ingredients
28 oz/795g canned tomatoes, diced
1 med/260g yellow onion, diced
3 cloves/15g minced garlic
4 tbs/50g minced fresh ginger
1 tbs/15ml olive oil
1 tbs/5g ground cumin
2 tsp/3g ground coriander
2 tsp/4g ground turmeric
¼ tsp cayenne
½ tsp/3g salt
2 tsp/4g sugar
1 ½ c/355ml vegetable broth
½ c/120ml coconut milk
2 tbs/30ml lime juice
Instructions
Heat oil over medium heat in a large pot. Add onion and cook for 5 minutes until translucent and lightly browned, stirring regularly.
Add ginger and garlic. Cook for an additional 1 minute. Add cumin, coriander, turmeric, salt, and cayenne. Cook for 30 seconds.
Pour in vegetable broth all at once. Stir vigorously to deglaze pan.
Reduce heat to medium-low and add tomatoes and sugar. Bring to a simmer and cook for 20 minutes.
Remove from heat and puree with an immersion blender or in batches in a regular blender. Return to pot and add coconut milk. Return to heat if necessary.
Just before serving, stir in lime juice.
Notes
Double the batch for leftovers or serving a large group of people.
Soup freezes well but don't add lime juice before freezing. That tastes best added fresh before serving.
Nutrition Information:
Yield:

4
Serving Size:

1
Amount Per Serving:
Calories:

189
Total Fat:

11g
Saturated Fat:

6g
Trans Fat:

0g
Unsaturated Fat:

4g
Cholesterol:

0mg
Sodium:

785mg
Carbohydrates:

23g
Fiber:

6g
Sugar:

10g
Protein:

4g
Nutrition information isn't always accurate and is for estimation purposes only.