Most Delicious And Best Ever Vegan Banana Bread Recipe
Do you want a banana bread recipe that is vegan but doesn't taste dry? If so, then you have to try out this recipe!
I'm biased but I think it's the best vegan banana bread recipe around. Not only is it super moist from the bananas and brown sugar, it's downright addictive.
My entire family agrees that this is their favorite version of vegan banana bread. Even the leftovers are still good multiple days later instead of being dry and hard.
The recipe is easy and only takes 10 minutes to mix. Even kids can help with making this foolproof banana bread.
This post may contain affiliate links. That means if you purchase an item through these links, I may earn a commission at no additional cost to you. Please read the full disclosure policy for more info.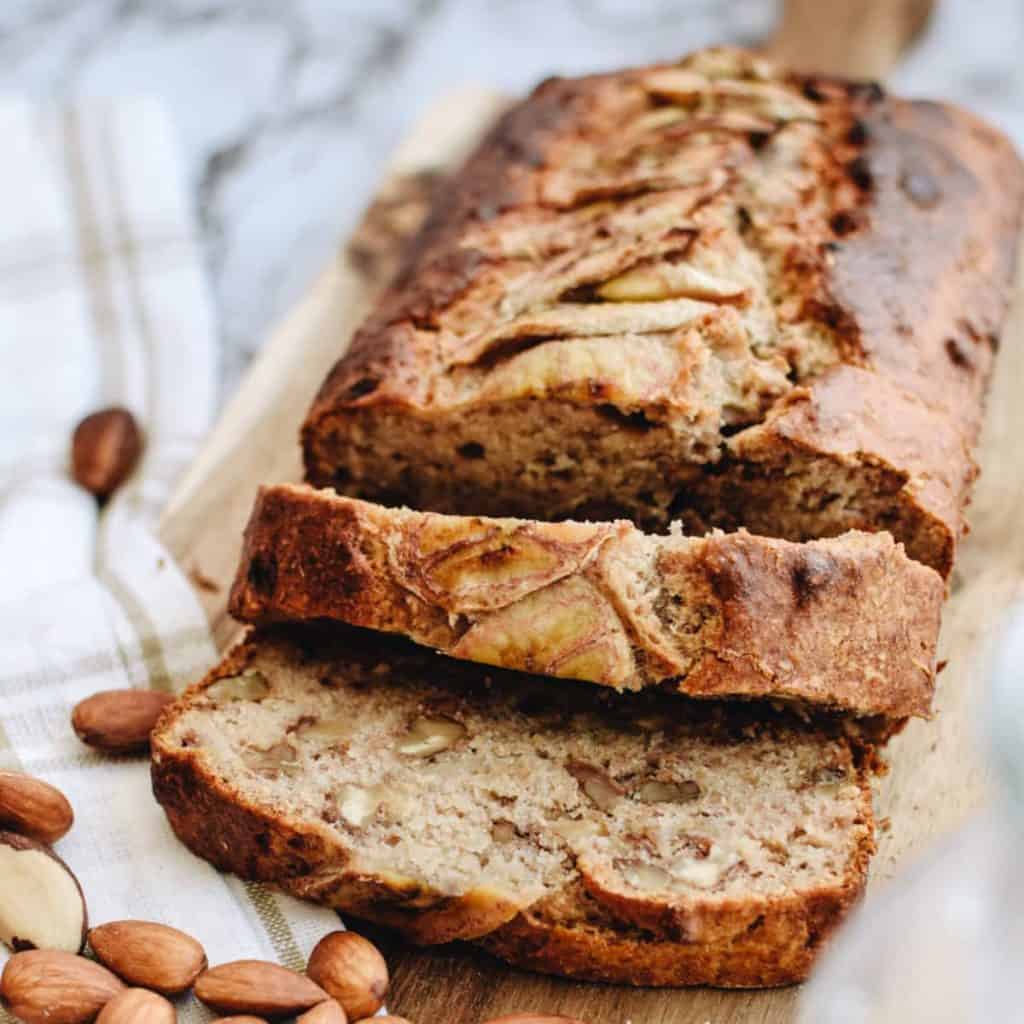 Ingredients In Vegan Banana Bread
Banana bread has a few standard ingredients including bananas, vanilla, and flour. Since this is a vegan version, all of the ingredients will be plant-based.
While this recipe uses walnuts in the bread, you can swap them out for almonds, your favorite nuts, or leave them out altogether. I'm also using almond milk but you can use any plant-based dairy-free milk that you like.
The vegan banana bread ingredients include:
Overripe bananas
Flour
Brown Sugar
Baking Powder
Salt
Oil
Vanilla Extract
Almond Milk
Cinnamon
Walnuts
The recipe specifies the use of overripe bananas because the more ripe a banana is, the higher its sugar content due to the starches breaking down. While there is a little brown sugar added to the batter, most of the bread's sweetness comes from the natural banana sugars.
If you're following a vegan diet, you'll want to make sure your brown sugar is vegan. Many sugars use bone char but I show you how to know for sure whether your brown sugar is vegan here.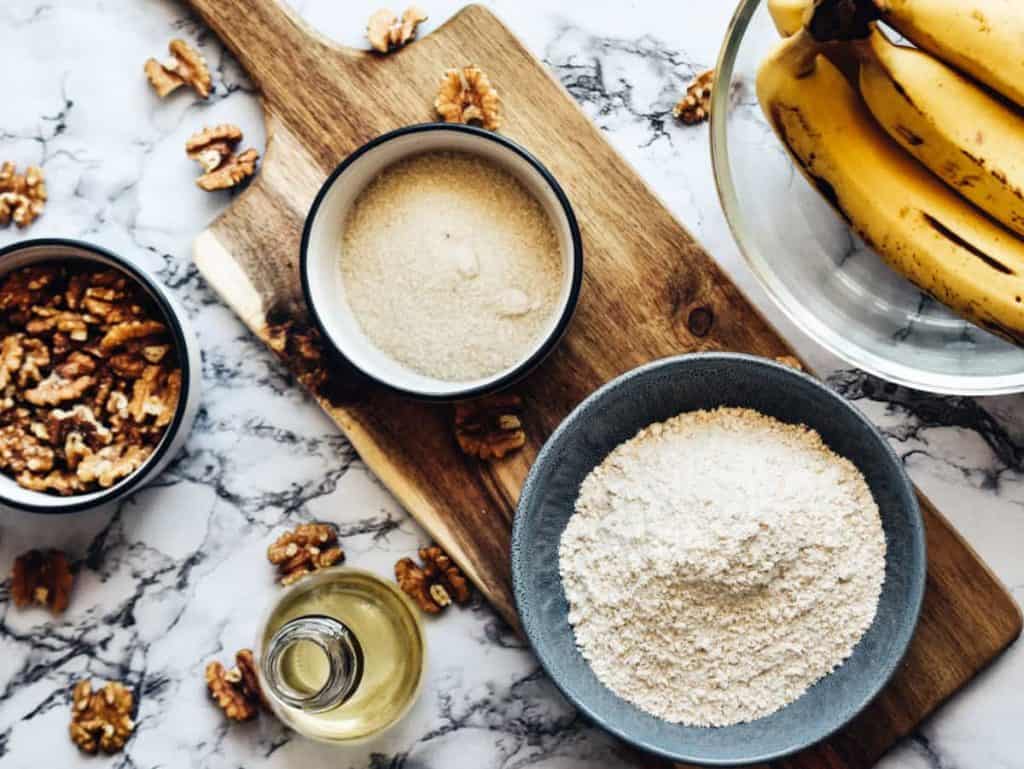 Can Vegan Banana Bread Be Made Oil-Free?
Yes, you can make this vegan banana bread oil-free by swapping out the oil for applesauce. It will be a 1:1 ratio so since the recipe calls for 1/3 cup of oil, you'd instead use 1/3 cup of unsweetened applesauce.
How To Make Super Moist Vegan Banana Bread
The banana bread batter can be entirely mixed in one bowl so that you don't dirty a lot of dishes. To start, mash the bananas using a fork in a medium-sized mixing bowl.
Then add in the oil, vanilla extract, and sugar. Mix well. Next, add in the flour, baking powder, and salt. Make sure the batter is mixed well without lumps before continuing.


Finally, add in the roughly chopped nuts of your choice and cinnamon. I'm using walnuts in this recipe but almonds work well also.
Fold the nuts and cinnamon into the batter until well-combined. Once mixed, pour the batter into a greased loaf pan and top the batter with banana slices. To have a crunchy brown sugar crust, sprinkle additional brown sugar on top of the batter.
If you're going oil-free, you can use parchment paper to line the loaf pan instead so that the bread doesn't stick.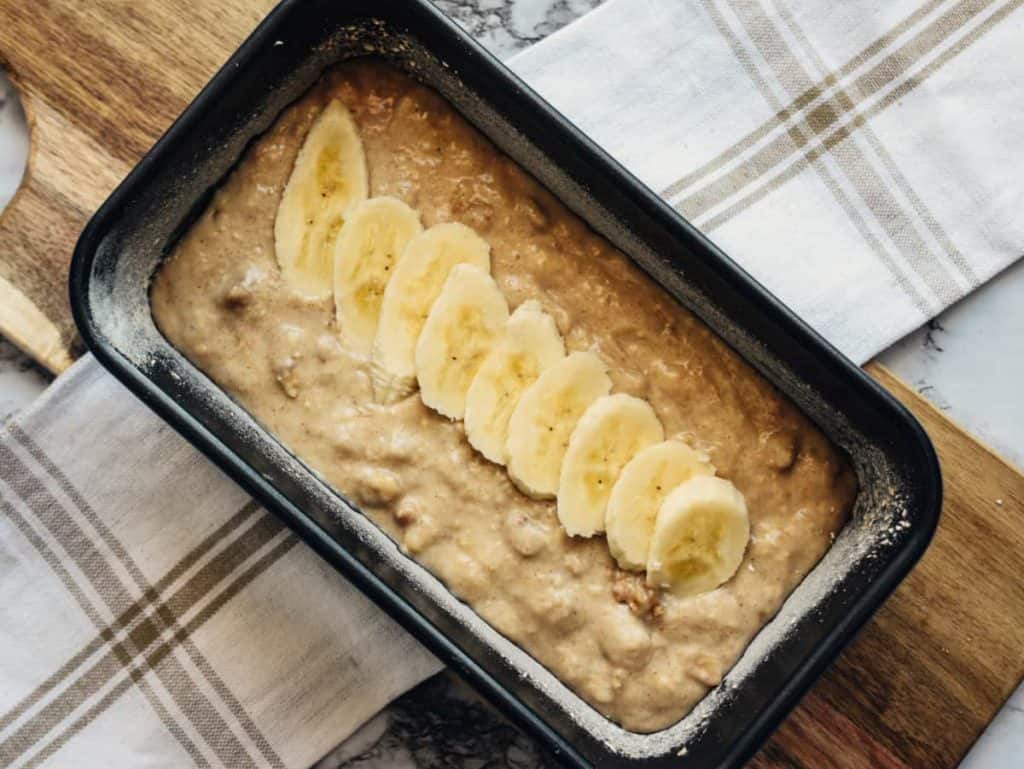 You'll then place the loaf pan into a preheated oven to cook for around 50 minutes at 350°F. The bread may need to cook 10 minutes longer depending on your oven. You'll want the top to be a nice golden brown.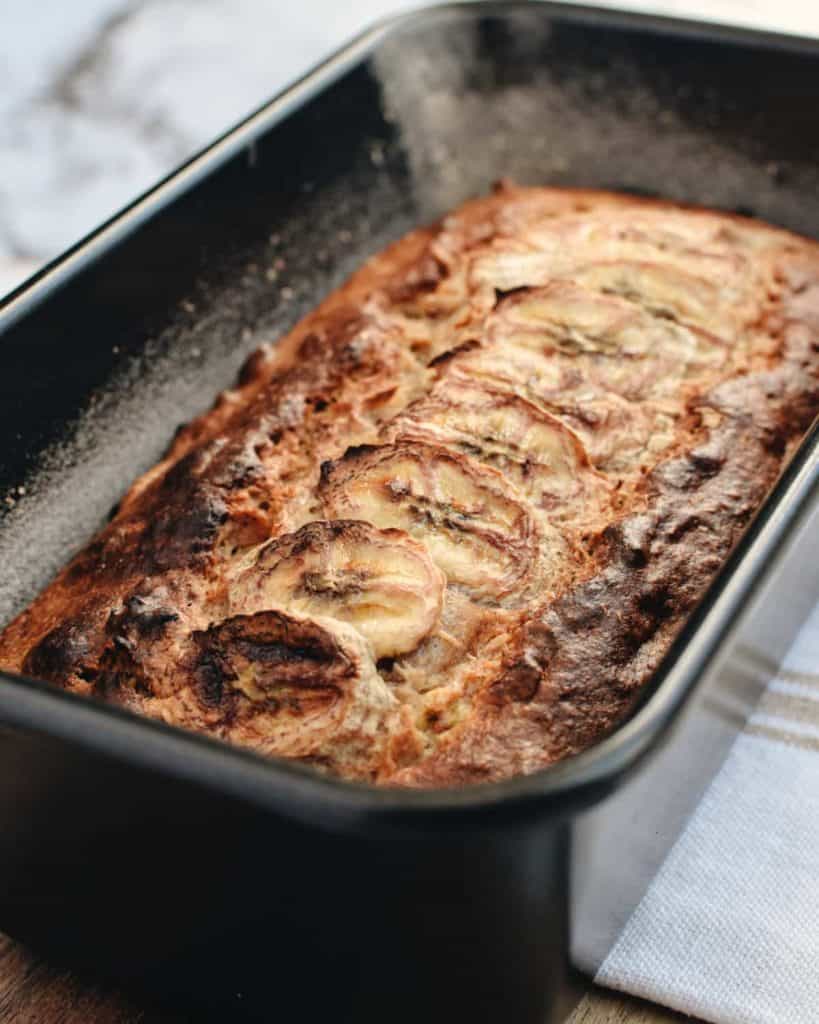 Leave the loaf in the pan for 15 minutes to cool before removing it. Then let the loaf cool completely on a cutting board or cooling rack.
Once cooled, slice, serve, and enjoy!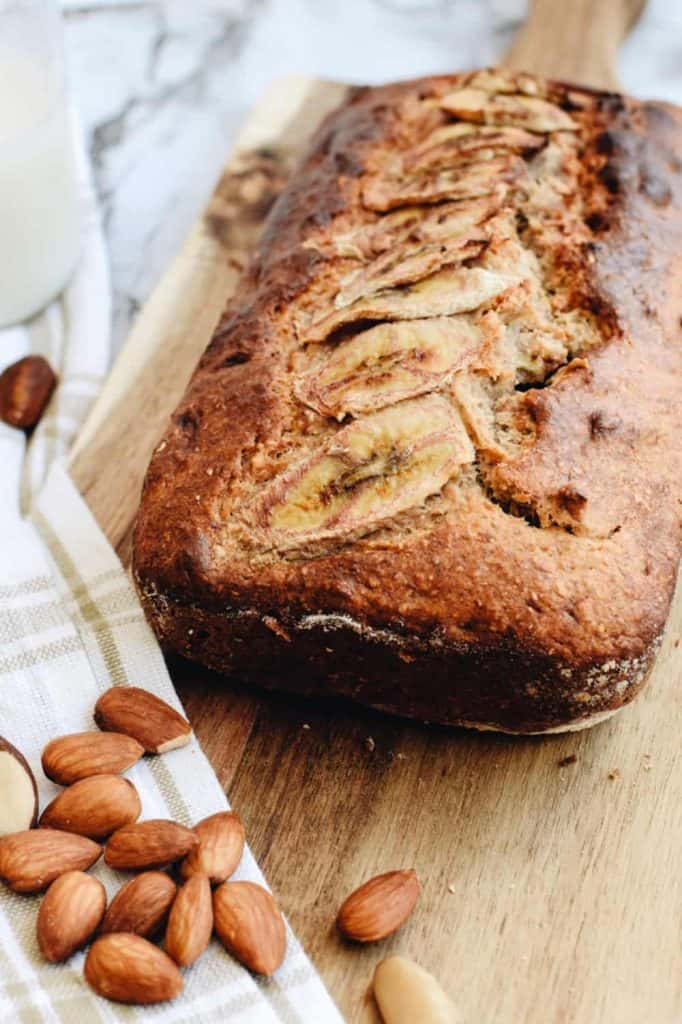 How To Store Vegan Banana Bread
This banana bread is very moist but will start to dry out by day 5 and 6. For the best taste, I recommend storing the banana bread in an airtight container in the fridge for up to 4 days.
This bread freezes well so if you double or triple the recipe for multiple loaves, wrap the loaves individually and store them in an airtight freezer bag. They should last in the freezer for 2 months.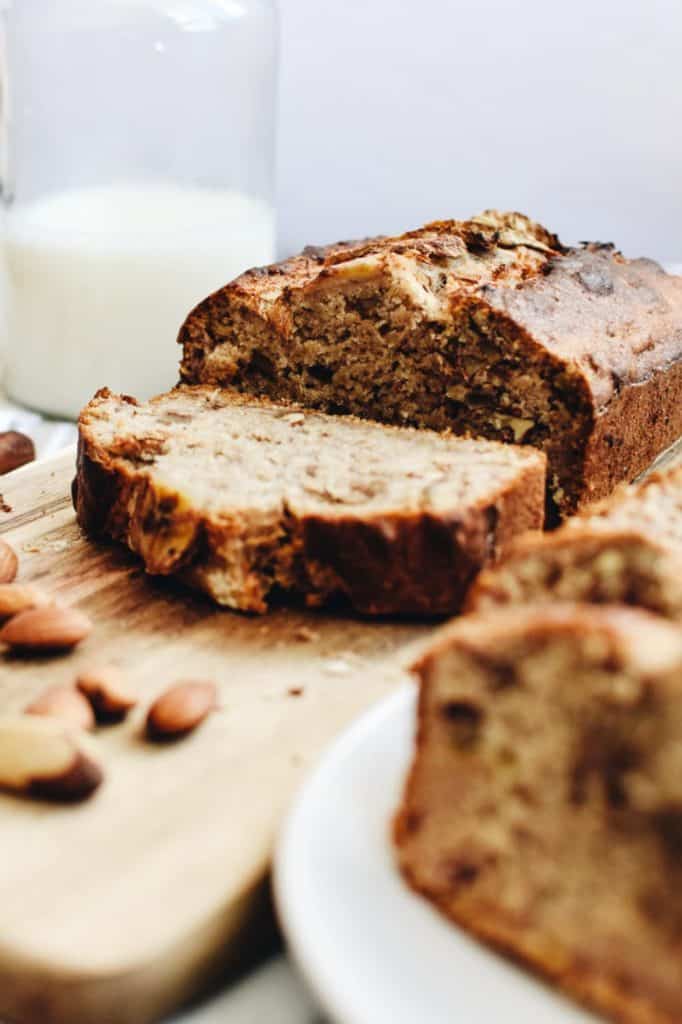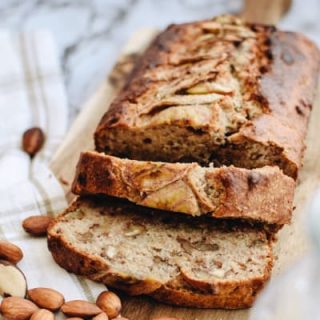 Best Ever Vegan Banana Bread
A super moist and easy to make vegan banana bread. A staple recipe that you can easily customize to suit your tastes.
Ingredients
3 overripe bananas
2 cups all-purpose flour
⅓ cup brown sugar
2 teaspoons baking powder
pinch of salt
⅓ cup canola oil
1 teaspoon vanilla extract
1 teaspoon cinnamon
⅓ cup unsweetened almond milk
1 cup of chopped walnuts
Instructions
Mash 2 1/2 bananas in a mixing bowl. Save the other 1/2 banana to be used as slices on top of the loaf.
Add in the oil, vanilla extract, and brown sugar to the bowl and mix well.
Next add the flour, baking soda, and salt. Mix until the batter no longer has lumps.
Lastly, add the cinnamon and chopped nuts. Fold this into the batter gently making sure not to over mix.
Place the batter into a greased or parchment lined loaf pan. Top with the remaining slices of banana.
Cook for 50-60 minutes in an oven that's been preheated to 350°F. You want the top of the bread to be a golden brown.
Once done cooking, remove the loaf pan from the oven and let it sit for 10 minutes. Afterwards, remove the loaf from the pan and let it cool on a cutting board or cooling rack.
Once cooled, cut and enjoy.
Notes
To make oil-free, swap out unsweetened apple sauce for the oil at a 1:1 ratio.
Omit the nuts or use any nuts you'd like.
For a crunchy crust, sprinkle some additional brown sugar over the top of the loaf batter before baking.
Store in an airtight container in the fridge for up to 4 days.
Store in the freezer for up to 2 months.
Nutrition Information:
Yield:

12 slices
Serving Size:

1
Amount Per Serving:
Calories:

242
Total Fat:

13g
Saturated Fat:

1g
Trans Fat:

0g
Unsaturated Fat:

11g
Cholesterol:

0mg
Sodium:

95mg
Carbohydrates:

29g
Fiber:

2g
Sugar:

9g
Protein:

4g
Nutrition information isn't always accurate and is for estimation purposes only.
Related Articles: