Easy Matcha Marble Pound Cake With Lemons
Pound cake is an easy-to-make dessert that is extremely versatile. In this recipe, I'll walk you through the steps for making vegan lemon matcha marble pound cake with lemon coconut frosting.
It's sure to wow your friends at your next get together and no one will even realize that it's vegan. Once you know how to make the base pound cake and frosting, you'll be able to add your own twist. I love using the lemon coconut frosting on other baked goods like cupcakes.
This post may contain affiliate links. That means if you purchase an item through these links, I may earn a commission at no additional cost to you. Please read the full disclosure policy for more info.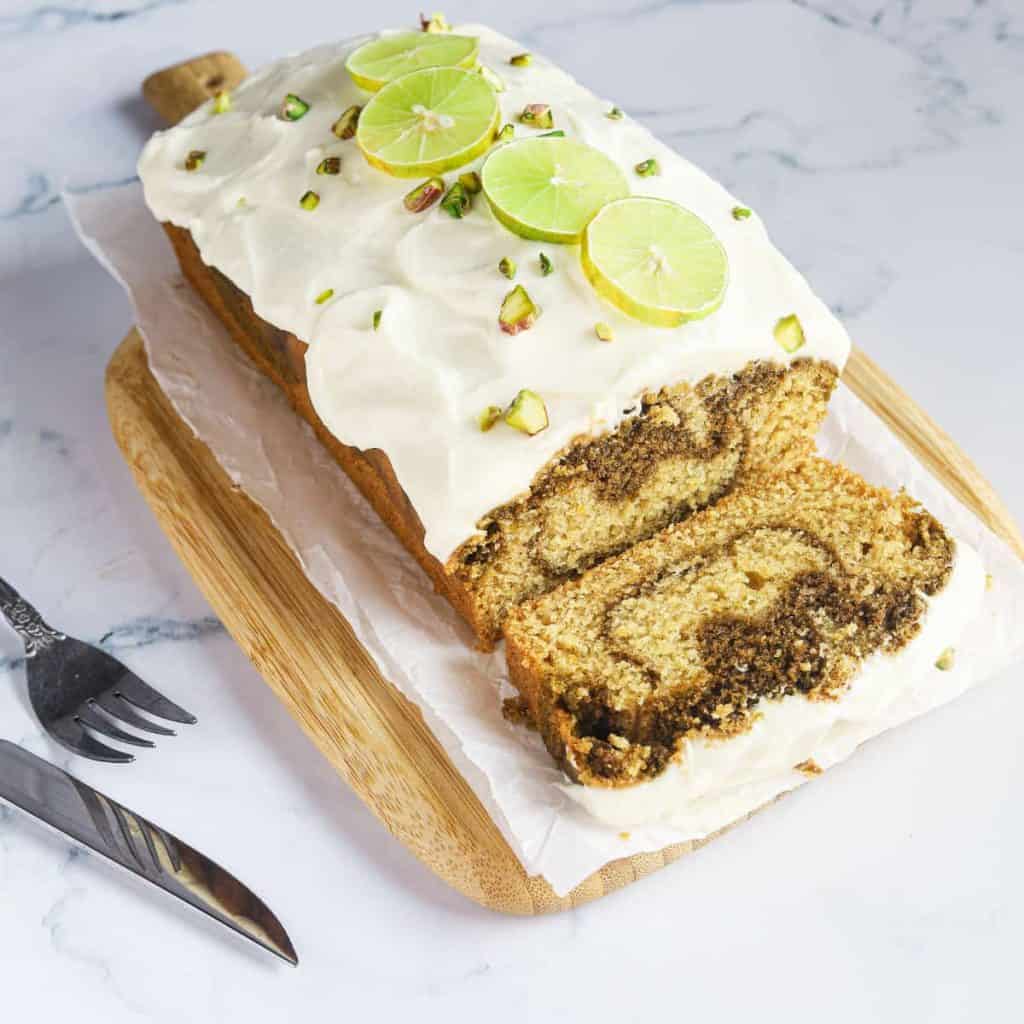 What Is Matcha?
Matcha is a type of green tea that originated in Japan. It takes green tea leaves and grinds them into a very fine bright green powder.
Like all tea, matcha has an earthy taste that pairs well with lemon and vanilla flavors. When used in baked goods, it adds a green color.
Learn more about the flavor of matcha and how to store it here.
Why Does Matcha Turn Brown When Baked?
Matcha does turn more of a dark greenish-brown when it oxidizes. The longer the baking time, the more likely the matcha will take on a brown color. It still tastes just as delicious though.
Another factor depends on how fresh your matcha is and how much you use when baking will determine how bright of a green your baked goods are. I recommend sticking with ceremonial grade matcha for baking for the best color.
Ingredients In Lemon Matcha Pound Cake
This pound cake only has a few staple ingredients. You probably already have most of them at home already.
While the cake I'm showing you is a marble version, you could make the entire cake green by not separating out a portion of batter. Simply add the matcha to the entire batter for a vegan matcha pound cake.
All-Purpose Flour
Caster Sugar: This is a super-fine sugar that dissolves easily. You can use regular sugar granules and grind them finer. This will help the sweetness dissolve throughout.
Almond Milk
Corn Starch
Lemon Juice
Lemon Zest: Use a fine grater on the lemon rinds.
Matcha (this is what I use)
Vanilla Extract
Baking Powder
Vegetable Oil
Salt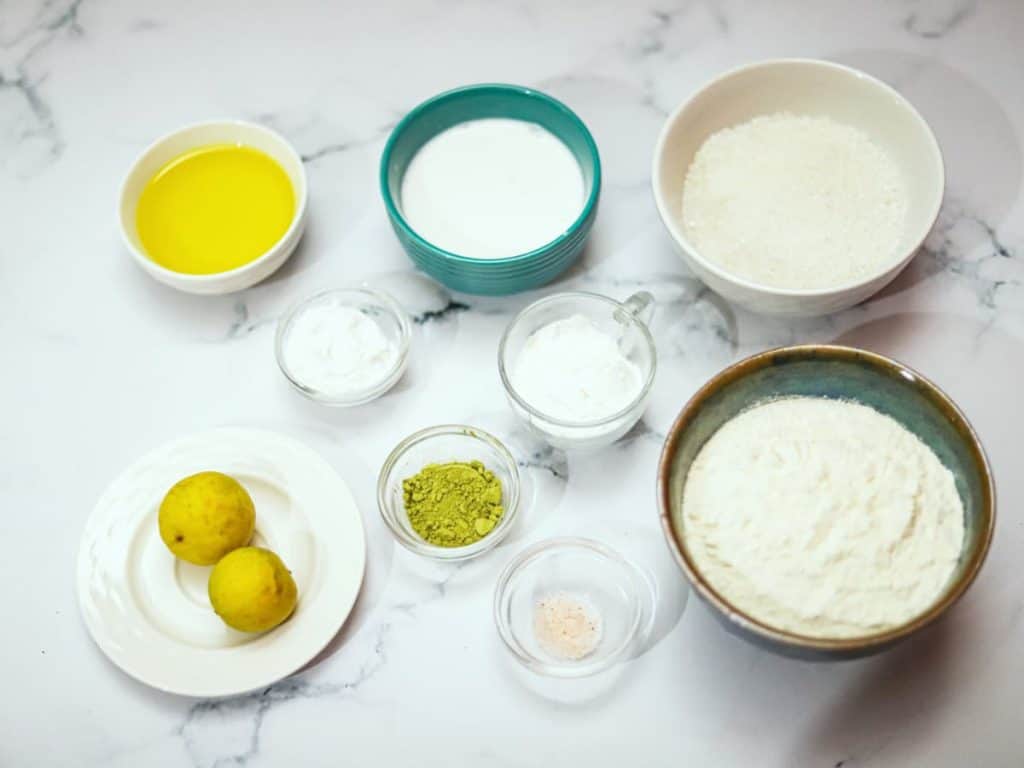 ---
How To Make Vegan Matcha Marble Pound Cake
In one bowl sift together the flour, cornstarch, baking soda, and salt. In a separate bowl, whisk together the sugar, oil, and almond milk until it's frothy. Add the lemon juice and vanilla extract. Mix well.
Gradually add both bowl's mixtures together until the batter is smooth. Put a portion of the batter into a separate bowl and add the matcha. This will be used for the green marble effect. Add the lemon zest to the batter without matcha.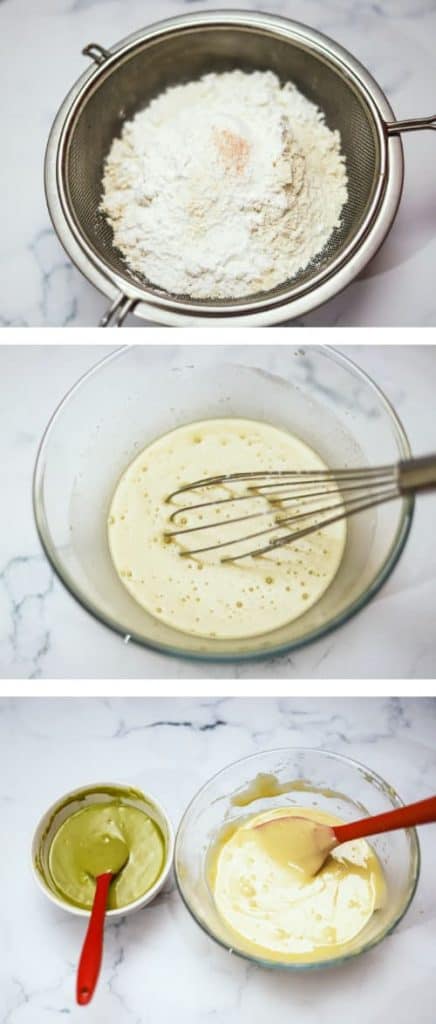 In a greased or lined loaf pan, add a layer of lemon batter and then drizzle some matcha batter. Continue doing these layers until all of the batter is used.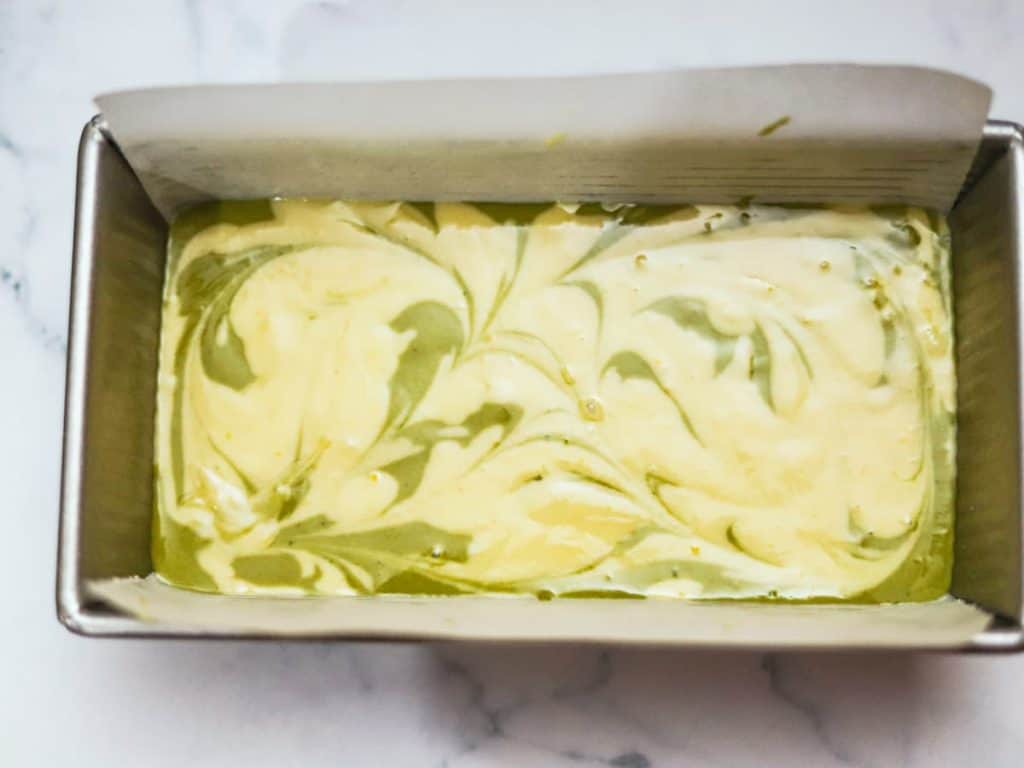 Bake in the oven at 350° F for 40 minutes until an inserted toothpick comes out clean. Let it cool at room temperature before icing it.
How To Make Vegan Lemon Coconut Frosting
This lemon coconut frosting is extremely simple to make. All you do is toss the following ingredients into a blender or food processor:
Chilled Coconut Cream
Soaked Cashews
Lemon Zest
Salt
Powdered Sugar
Once it's blended, place dollops of the frosting onto the cooled matcha loaf and serve. This lemon coconut frosting is versatile and tastes great on many other baked goods too.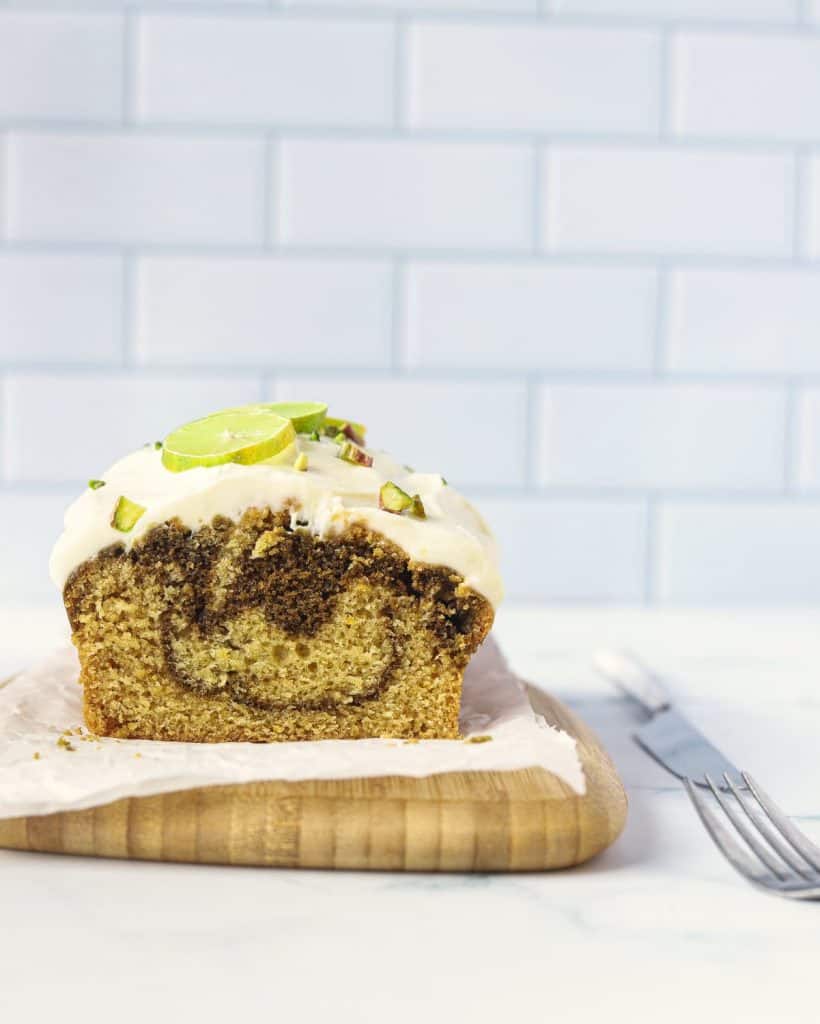 More Recipes You May Like: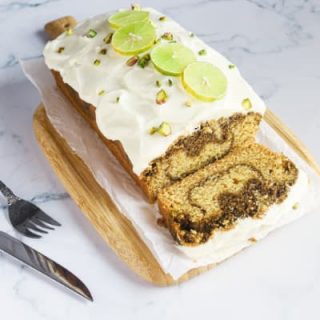 Lemon Matcha Marble Pound Cake With Lemon Coconut Frosting
Total Time:
1 hour
15 minutes
A moist vegan pound cake with a matcha marble twist. The addition of lemon in the loaf and in the coconut frosting adds a light citrus taste to this delicious vegan dessert.
Ingredients
Lemon Matcha Pound Cake
2 cups - All-purpose flour
1 cup - Caster sugar
1.5 cup - Almond milk
¼ cup - Corn starch
¼ cup - Lemon juice
1 tsp - Lemon zest
1 tbsp - Matcha
1 tsp - Vanilla extract
1.5 tbsp - Baking powder
½ cup - Vegetable oil
¼ tsp - Salt
Lemon Coconut Frosting
½ cup - Chilled coconut cream
½ cup - Soaked cashews
½ tsp - Lemon zest or lemon extract
¼ tsp - Salt
2 tbsp - Powdered sugar
Instructions
For The Cake:
In a bowl sieve together flour, corn starch, baking powder, and salt.
In another bowl, take the sugar, oil, and almond milk, give it a whisk until the mixture starts to get frothy.
Add in the lemon juice and the vanilla extract and give it another mix.
Now gradually add the dry mixture into the wet and using a spatula, mix it until a smooth batter forms.
Take out ⅓ of the batter, put it in another bowl, and add the matcha to this bowl.
Mix it until matcha is well combined into the batter.
To the remaining ⅔ of the batter, add the lemon zest and fold it until evenly mixed.
Take a greased and lined loaf pan and add a little bit of the lemon batter into the pan.
Now add a layer of matcha batter into the pan.
Repeat this alternating between the lemon batter and matcha batter until all the batter is added to the pan.
Bake the loaf in a preheated oven at 350° F for about 40 minutes or until a skewer inserted in the middle comes out clean.
Let the loaf cool to room temperature.
For The Frosting:
Place all the ingredients into a blender jar and process it for around 3-5 minutes until you get a smooth mixture.
Add it all over the top of the loaf in dollops. Spread it as evenly as you can.
Slice and enjoy the cake!

Nutrition Information:
Yield:

10 slices
Serving Size:

1
Amount Per Serving:
Calories:

388
Total Fat:

17g
Saturated Fat:

4g
Trans Fat:

0g
Unsaturated Fat:

13g
Cholesterol:

0mg
Sodium:

389mg
Carbohydrates:

56g
Fiber:

1g
Sugar:

31g
Protein:

4g
Nutrition information isn't always accurate and is for estimation purposes only.