Creamy And Comforting Vegan Mushroom Stroganoff
One of the coziest dinners to prepare on a cold day is a pan of creamy, healthy mushroom stroganoff. It's delicious ladled over fresh pasta and topped with your favorite vegan garnishes.
It's just a bonus that it also happens to be quick and easy to make. A pan of tender mushrooms, caramelized with onions and garlic, then mixed with a few key goodies transforms into a richly flavored sauce. It really makes for a hearty meal, but comes together in 20 minutes or less.
This healthy vegan mushroom stroganoff recipe uses the perfect blend of ingredients to capture the rich and satisfying nature of a classic beef stroganoff recipe. Mushrooms are ideal when cooking for a mixed crowd of vegans and non-vegans since they're meaty in texture and provide that earthy, rich flavor that rounds out the sauce.
While I love it just the way it is, there are also a lot of ways to customize this to your diet and tastes. By making just a few minor changes this recipe can become nut free, oil free, or gluten free and still be a vegan mushroom stroganoff masterpiece.
This post may contain affiliate links. That means if you purchase an item through these links, I may earn a commission at no additional cost to you. Please read the full disclosure policy for more info.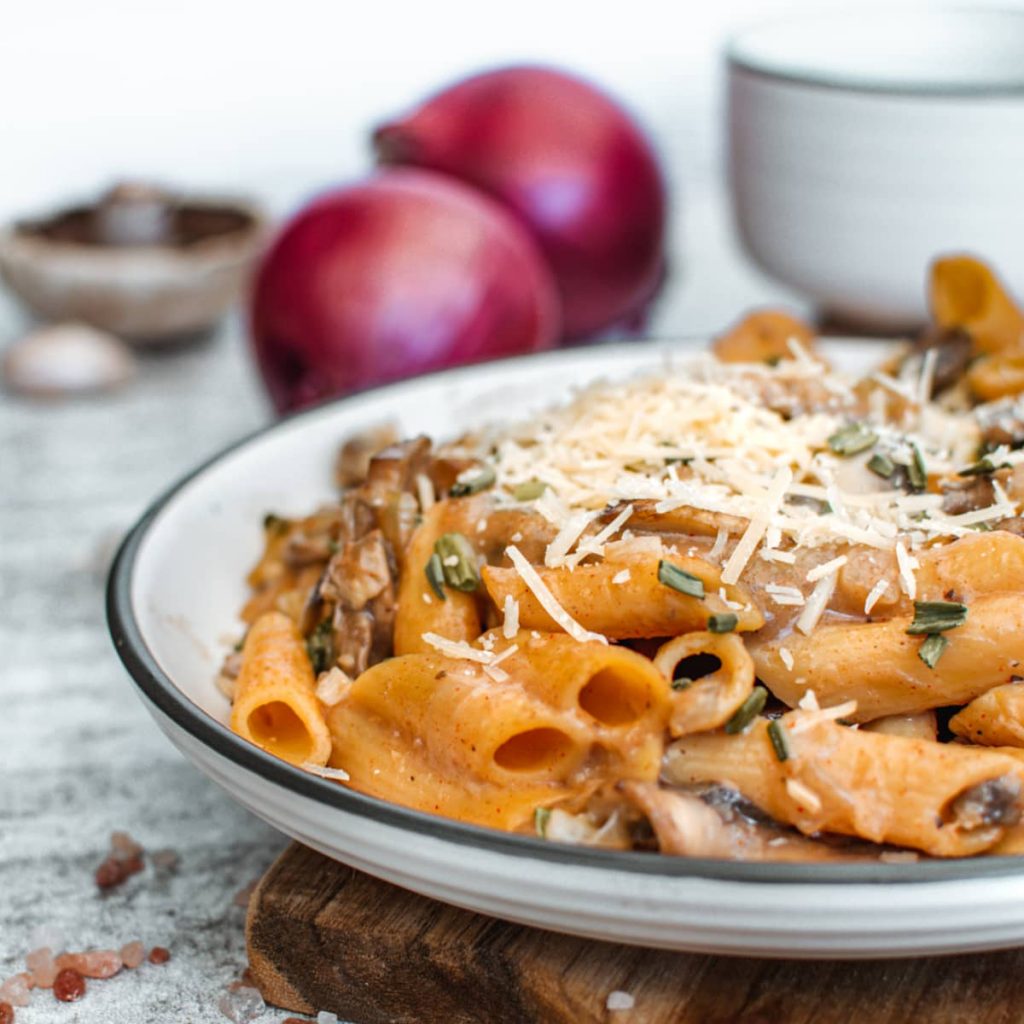 What Is Stroganoff?
To many people, stroganoff means a dish of egg noodles topped with a creamy beef and mushroom sauce heavily flavored with sour cream. Whether or not that's anything like the original Russian dish is a bit of a contested issue.
Through decades, Stroganoff traveled from Russia all around the world, and there have been many variations made. It was easy to be inspired to make my own take on a perfect vegan version.
This variation is full of umami and depth, which makes it the perfect dish to get your vegan cooking off to a fabulous start, or to add to your growing repertoire of delicious dinners.
Ingredients To Make Healthy Mushroom Stroganoff
Making stroganoff vegan means we have to deviate from the traditional American ingredient list. Every ingredient compliments the mushroom earthiness, aids to the final creamy texture of sauce, and adds layers of big flavor.
But what really rocks about this ingredient list, is that they combine to make something that feels luscious, but is actually healthy. Hearty comfort food without the guilt is always a win.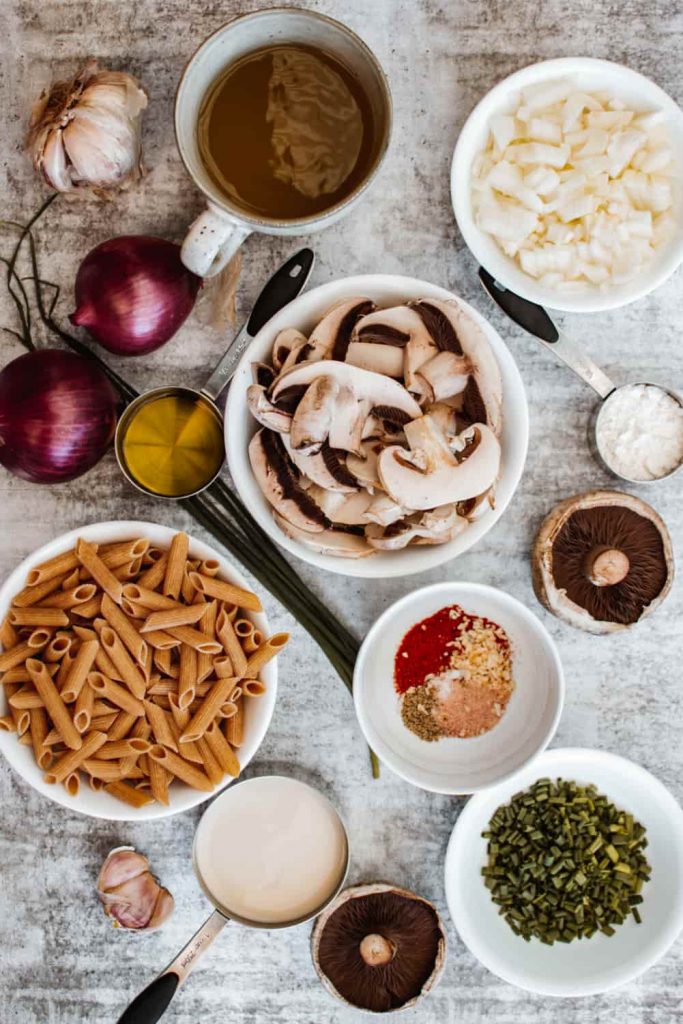 To make healthy vegan mushroom stroganoff you'll need:
Cooked pasta of choice, I liked penne.
Olive oil
Onions, chopped
Garlic, minced
Mushrooms of choice sliced, portobellos are great!
Vegetable broth
Tamari or soy sauce
Cornstarch
Nutritional yeast flakes
Paprika powder, optional
Salt & pepper
Non-dairy milk
Once you've built your vegan stroganoff sauce, I like to top it off with vegan parmesan, parsley, or chives. You can also grate cashews over the top as a great substitute for vegan parmesan. 
If you don't have nutritional yeast, try out one of these substitutions that you may already have at home for a similar flavor profile.
To make this nut free, simply make sure you use oat milk instead of a nut based milk, and skip the vegan parmesan.
For a gluten-free stroganoff, opt for gluten-free pasta, or serve it over a nice whole grain like farro or rice. You could even use mashed potatoes instead.
What If I Don't Have Nutritional Yeast?
Nutritional yeast is what gives the stroganoff sauce a slightly cheesy umami flavor. It pairs well with the meatiness of the mushrooms to round out the flavor profile. Traditional stroganoff uses Worchestershire sauce and beef stock to get this taste.
If you've never used nutritional yeast or simply ran out, you could substitute miso or vegan Worchestershire sauce. You'd need to taste the sauce as you add it to determine how much you'd need. Don't have either of these? Check out these other nutritional yeast substitutes.
How To Make Vegan Stroganoff
Dinner can be on the table in 20 minutes with this recipe. In the time it takes you to boil water and cook your pasta, the sauce will be ready to go!
Start by cooking your pasta according to the package instructions. Meanwhile, prepare the sauce. Heat the oil in a large skillet over medium heat and saute the onions and garlic until softened and lightly caramelized.

If you're aiming for oil free cooking, swap the olive oil for the occasional addition of a tablespoon of water or broth. Start with a hot pan and add a couple of tablespoons of water just before you add your onions.
As you cook the onions and garlic, add more liquid as needed to keep the pan moist enough for the onions to soften, without making them wet or soupy. This is a great opportunity to add more flavor by using vegetable broth. Next add the mushrooms, cook them with the onions and garlic until softened.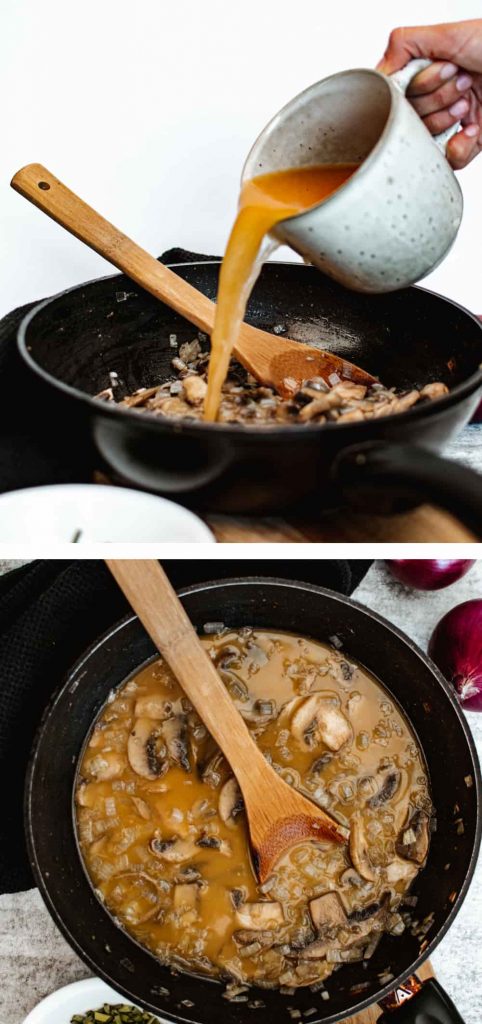 As they cook, whisk together the vegetable broth, soy sauce, and cornstarch in a separate container. Once whisked, add it to the pan with the nutritional yeast. Add in the non-dairy milk and stir to combine.
Bring the whole pan to a simmer and cook for 5 to 10 minutes. Once it's thickened to a point you're happy with, season with salt, pepper, and paprika if desired.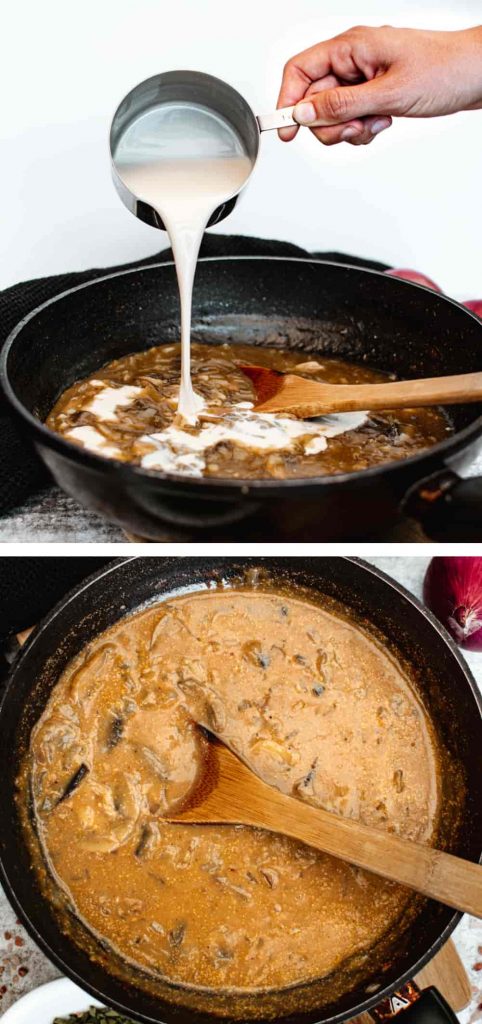 Add in the cooked pasta and toss until combined. Serve, topped with vegan parmesan, grated cashews, chives, or parsley. Then enjoy tucking into a delicious, creamy bowl of healthy mushroom stroganoff.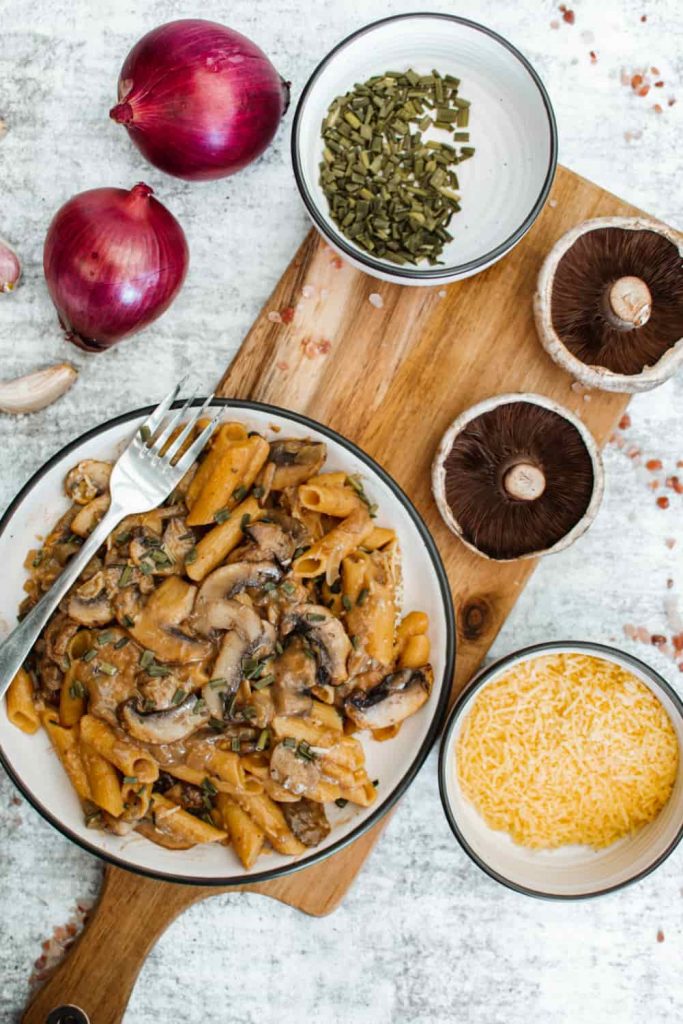 How to Store & Freeze
Once cooked, you can store your leftover stroganoff in an airtight container in the fridge for two to three days. If possible, storing the sauce separately makes for tastier leftovers later.
You can also freeze this. Freeze the pasta and the sauce separately. Or, simply make extra sauce and freeze that alone for freshly cooked pasta at a later date. When you're ready to eat, thaw it in the fridge then warm and serve over pasta.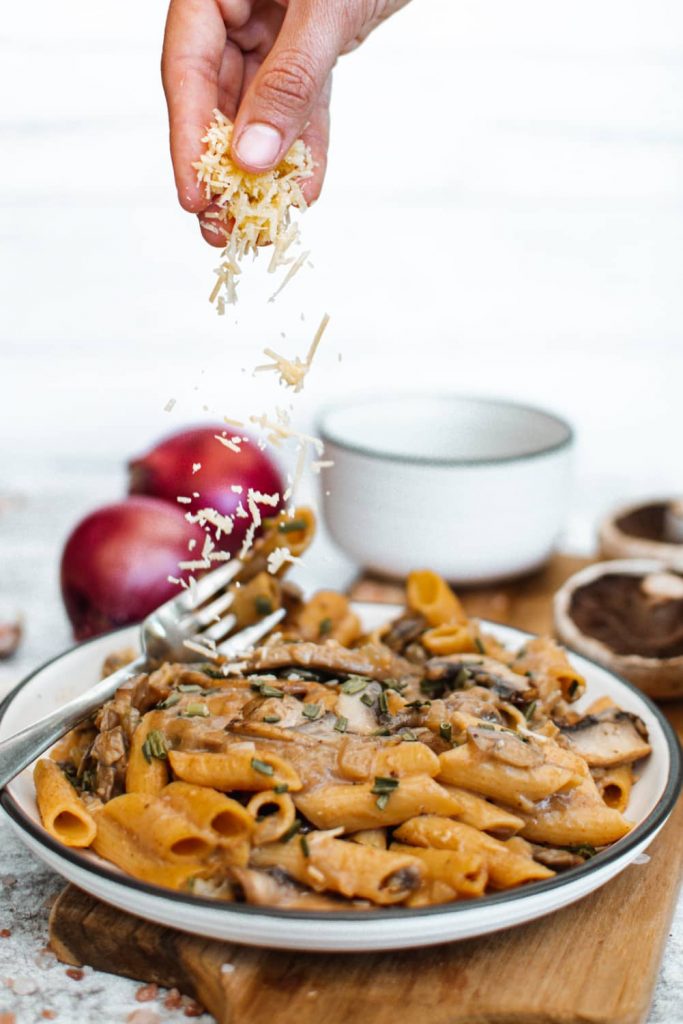 Final Thoughts
Stroganoff doesn't have to be unhealthy and can in fact be a fast vegan meal with healthy mushrooms. The earthiness of the mushrooms makes even meat eaters love this flavorful pasta dish.
This dish can easily be made gluten-free, nut-free, and oil-free with some slight alterations. Since this stroganoff sauce isn't filled with sour cream, this is a healthier version you can feel good about eating.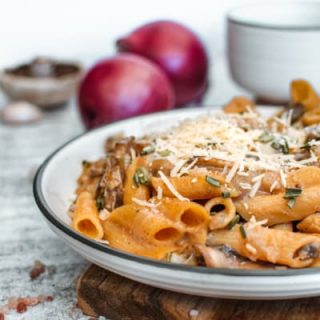 Healthy Vegan Mushroom Stroganoff
A cheesy and creamy vegan mushroom stroganoff that's actually healthy. Your entire family will clamor for this easy pasta recipe.
Ingredients
Cooked pasta of choice, I used penne
2 tbsp olive oil
1 big or 2 medium onion chopped
4 cloves garlic minced
Mushrooms of your choice 500g sliced, I used baby portobello
2 cups vegetable broth
3 tbsp soy sauce or tamari sauce
2 tbsp cornstarch
2 tbsp nutritional yeast flakes (for cheese flavor)
1 tsp paprika powder, optional
salt and pepper
1 cup non-dairy milk, for nut-free use oat milk
Instructions
Start cooking your pasta according to the directions on the box while making the sauce.
Sauté the onions and garlic for 3 minutes, or until slightly browned, stirring occasionally. Add the mushrooms, and stir to combine. Continue sautéing until the mushrooms are tender.
In a jar, whisk together the vegetable broth, the soy sauce and cornstarch until smooth. Pour it into the pan, along with the nutritional yeast. Stir in the non-dairy milk until combined.
Bring it to a simmer and cook for 5-10 minutes, or until thickened to desired consistency. Season with paprika powder, salt, and pepper to taste.
Add in the pasta, toss well to combine.
Serve with vegan parmesan, fresh chives, or parsley.
Nutrition Information:
Yield:

4
Serving Size:

1
Amount Per Serving:
Calories:

373
Total Fat:

14g
Saturated Fat:

3g
Trans Fat:

0g
Unsaturated Fat:

10g
Cholesterol:

5mg
Sodium:

1388mg
Carbohydrates:

50g
Fiber:

7g
Sugar:

14g
Protein:

16g
Nutrition information isn't always accurate and is for estimation purposes only.