Dairy-Free & Healthy Cocoa Hazelnut Butter That's Ready In 30 Minutes
Imagine a hot cup of coffee and warm toast, slathered with a lightly sweetened, chocolate hazelnut butter that's melting deliciously on the bread. It's enough to make your stomach growl right?
Nutella is a condiment phenomenon, once you taste it, the craving will always be there. Sadly, traditional Nutella isn't friendly for a vegan diet. It's also loaded with sugar that may make you cringe about spreading it on your kids' sandwiches.
But that's all okay because it's actually really easy to make my healthy hazelnut spread. It's the best Nutella recipe for vegans – completely dairy-free and sweetened with your choice of natural sugar sources.
It results in a deliciously creamy chocolate butter, that's bound to become a staple in your kitchen. You'll love treating yourself and your kids to it, completely guilt free.
This post may contain affiliate links. That means if you purchase an item through these links, I may earn a commission at no additional cost to you. Please read the full disclosure policy for more info.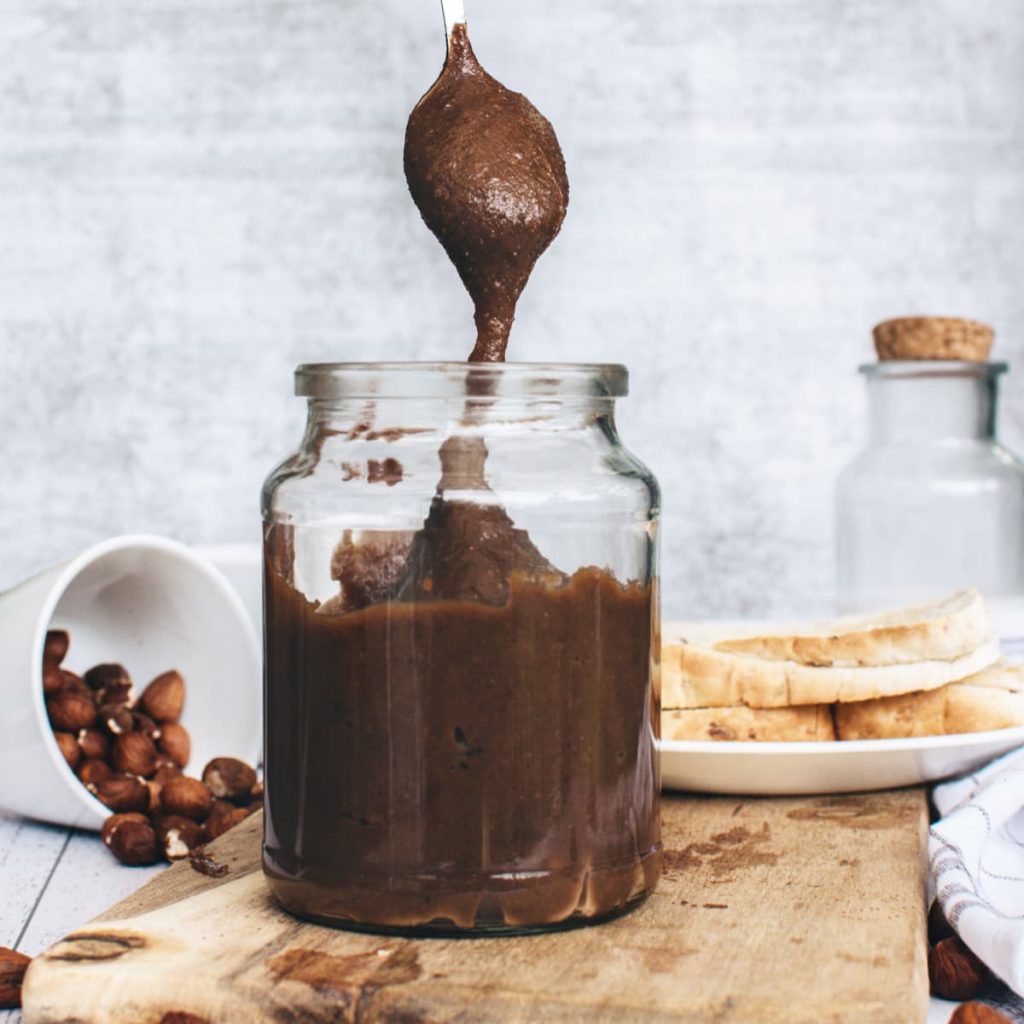 Vegan Nutella Ingredients
Replicating nutella as a vegan spread actually uses a lot of the same ingredients. Hazelnuts and chocolate are still the stars of the show!
With this recipe you have choices. I recommend melted chocolate for the creamiest hazelnut spread, but you can also use cocoa powder if that's what you have.
You can also choose to sweeten your homemade Nutella with either maple syrup or date puree. They're both lovely flavor combinations with the nuts and chocolate. It's also completely up to you which plant based milk you use here.
The ingredients you'll need to make a vegan chocolate hazelnut spread are:
Raw, unsalted hazelnuts
Dark Chocolate
Coconut oil, melted
Maple Syrup or date puree
Plant Milk
Vanilla Extract
Sea Salt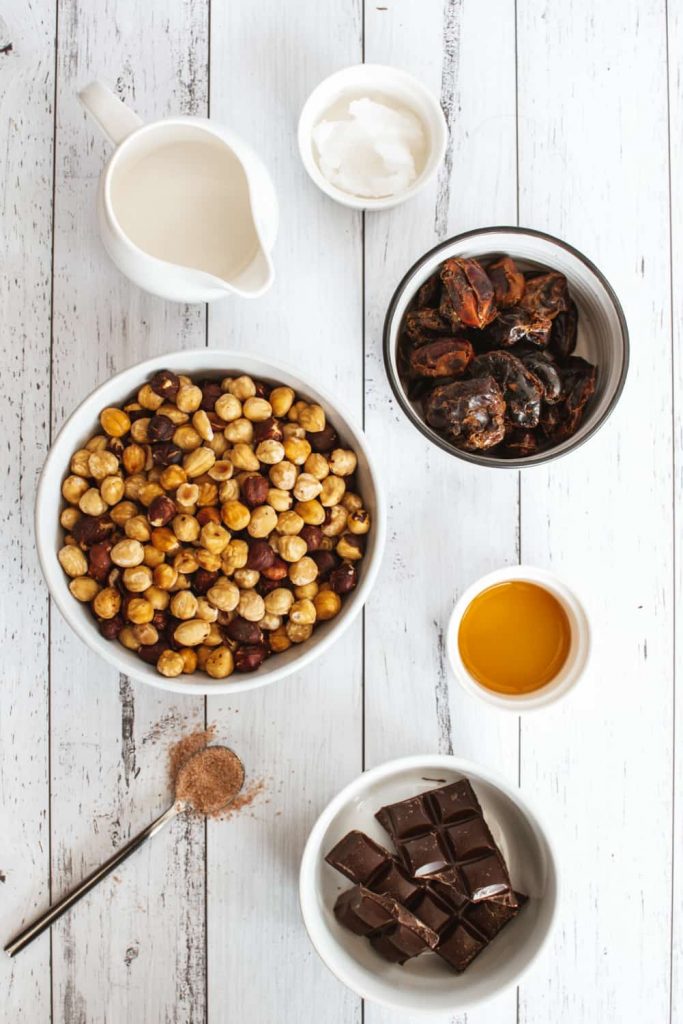 Does it matter what kind of chocolate I use?
For the most authentic flavor and sweetness, I recommend using a dark chocolate with no more than 60% cocoa. A higher percentage chocolate may make your spread more bitter.
How to Make Homemade Nutella with Cocoa Powder or Chocolate
When you're ready to make Nutella from scratch, you'll need to preheat your oven to 350°F (176°C) and get a baking sheet, a towel, a saucepan, and your blender ready to use. 
Start by roasting your hazelnuts in the hot oven for about 15 minutes. Spread them evenly on the baking sheet so they toast evenly. Once they're toasted, pull them out and let them cool slightly.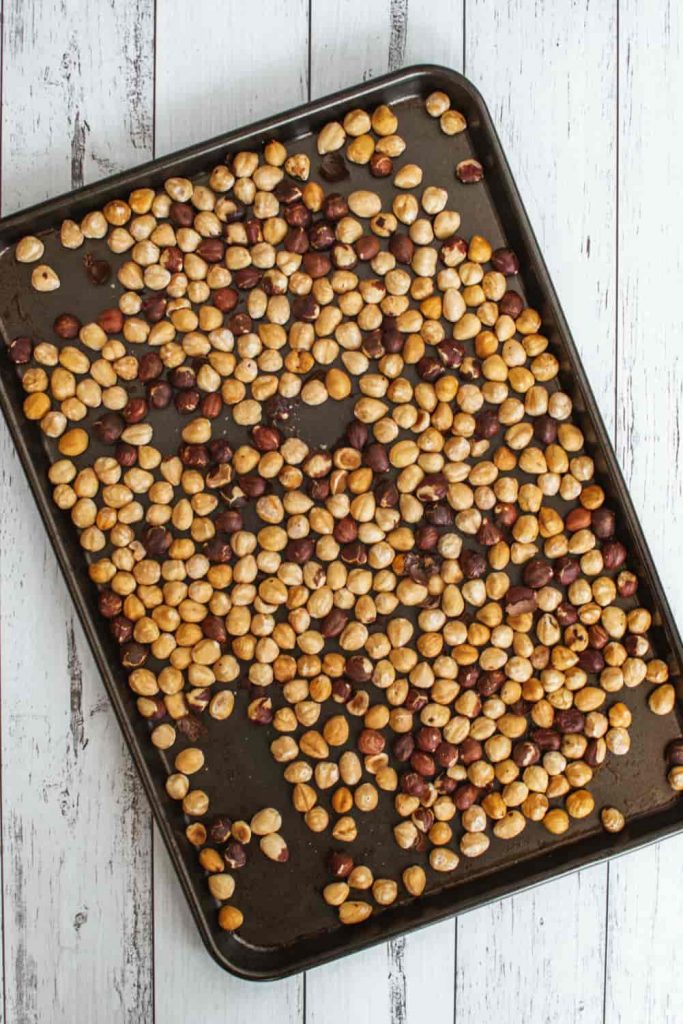 When they're cool enough to handle, use a clean kitchen towel and roll the hazelnuts around. This should loosen up the skins so you can remove them and have the creamiest vegan Nutella possible.
Transfer the hazelnuts to your high powered blender and let them blend for about 8 minutes until they break down into a thick, smooth nut butter. Stop to scrape down the sides of your blender once or twice so the hazelnuts get blended evenly.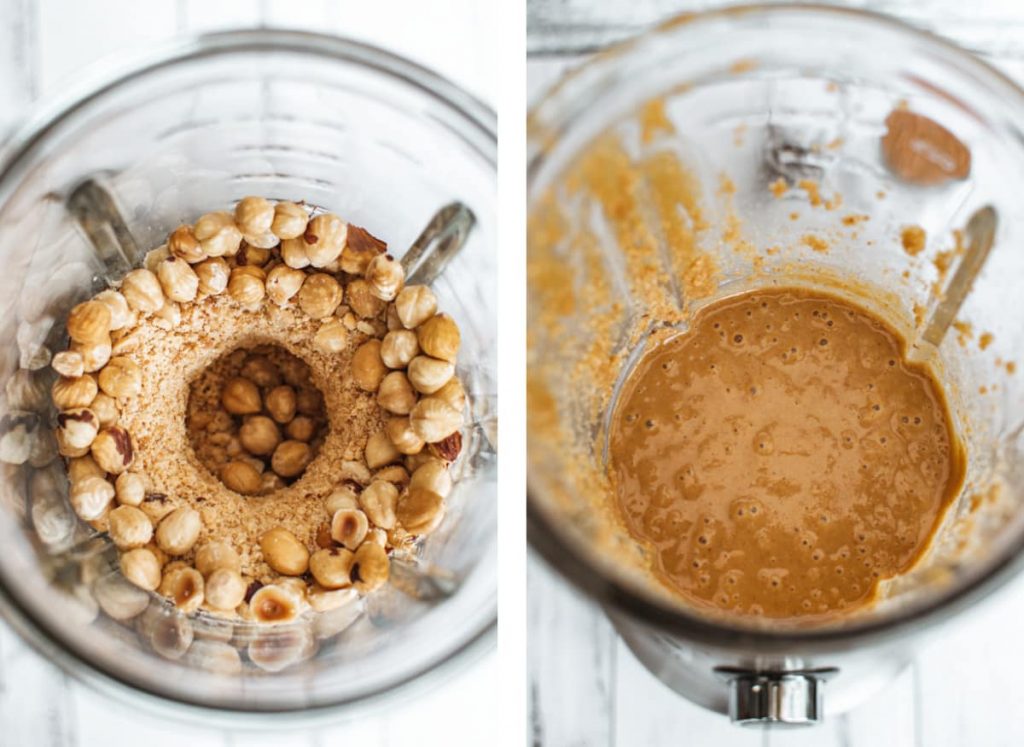 While the nuts are blending, start melting your coconut oil on the stove. If you're using a chocolate bar, break it into small pieces and melt it with the oil. To make your nutella with cocoa powder, combine it with the oil as it melts. If your cocoa powder is lumpy, help it dissolve more quickly and smoothly by sifting it first.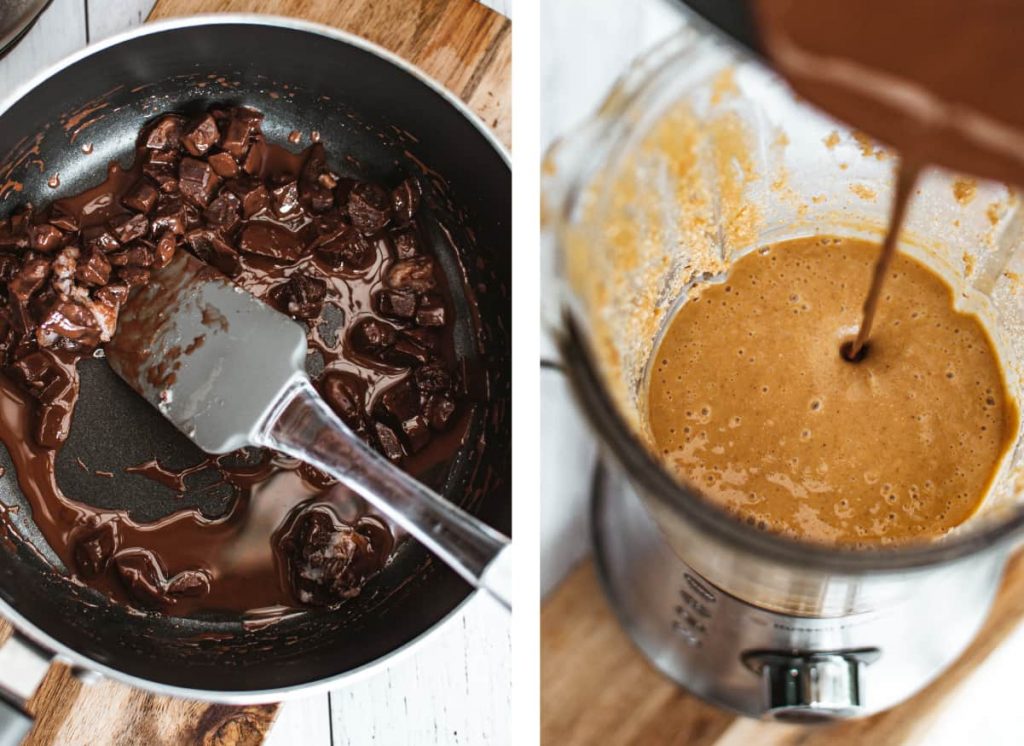 When the chocolate and nut mixture are both ready, combine the chocolate coconut oil and all remaining ingredients in the blender with the hazelnuts. Blend everything together until it's completely smooth and creamy.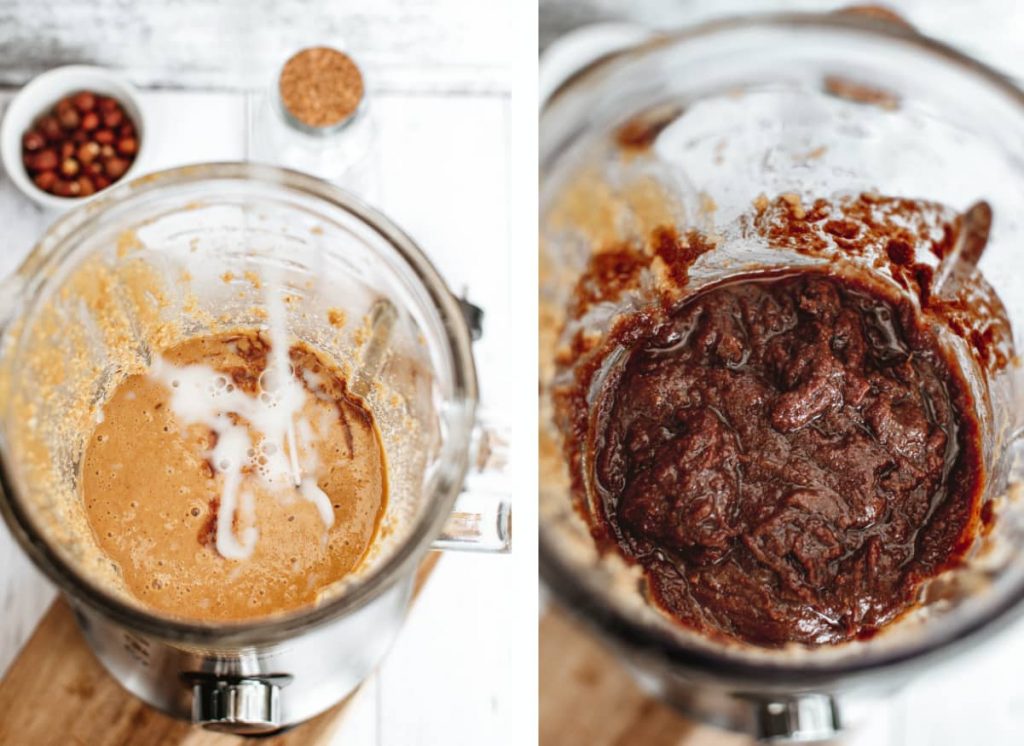 Storing Homemade Nutella
To store your finished Nutella, pour it into a sterilized jar. It's important to sterilize the storage jar first to make sure your chocolate hazelnut butter stays good for as long as possible. It can be stored either at room temperature or in the fridge for 3 to 4 weeks. Storing in the fridge will give it a thicker texture.

How do I sterilize a storage jar?
Your first option is to submerge a mason jar into boiling water for 10 minutes. Do this by using a canning rack or small washcloth at the bottom of your pot. Place the jar in, and fill both the pot and jar so the jar is submerged by 1 inch of water. Bring to a boil and boil for 10 minutes.
Or, you can place the jar upright on a clean baking sheet and bake it in a 225°F oven for 20 minutes. Either way, the jar will be very hot so handle with care. Once sterilized, it's ready for vegan Nutella!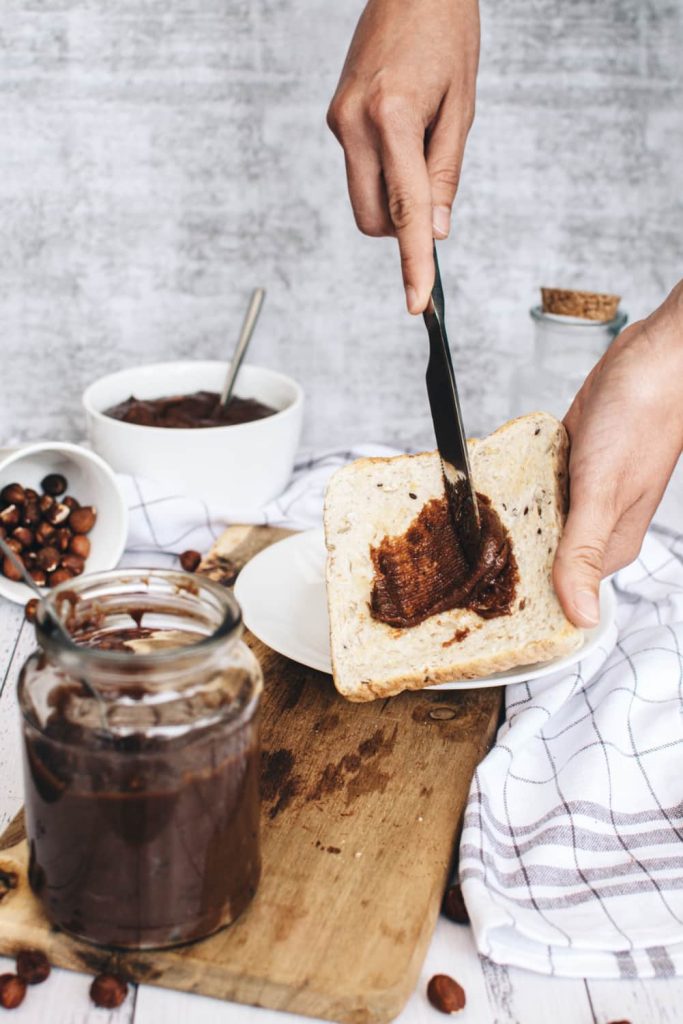 Final Thoughts
Now that you have the best nutella recipe at hand, you can easily enjoy this delicious, dairy-free nutella copycat whenever the craving hits. It's a great joy to know that eating a vegan diet doesn't mean missing out on the non-vegan treats we used to enjoy, and we can treat our kids to these food memories too.
Enjoy a healthier vegan Nutella and all the creamy, chocolate hazelnut butter goodness on, well, pretty much anything you like! I'd love to hear how it went for you in the comments section below.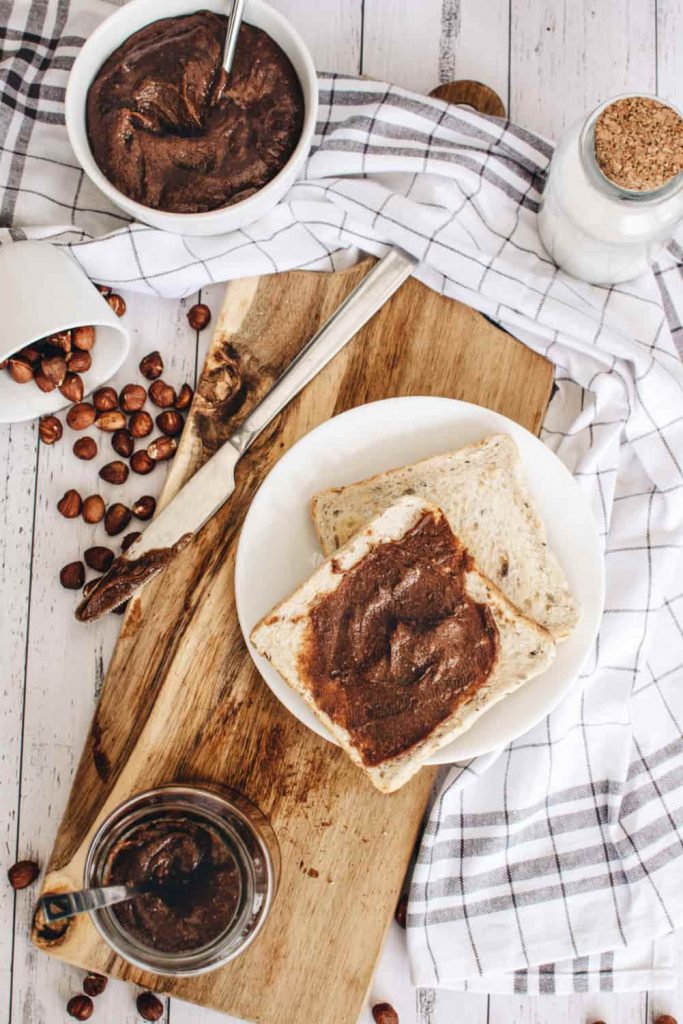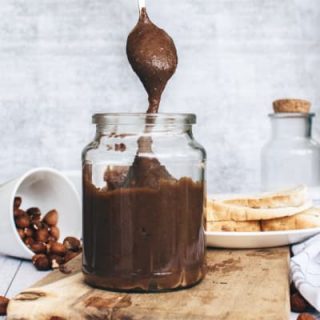 Homemade Vegan Chocolate Hazelnut Spread
Additional Time:
15 minutes
A healthier and dairy-free version of the much-loved Nutella spread. This versatile nut butter spread is made in 30 minutes or less.
Ingredients
2 cups (400g) raw unsalted hazelnuts
½ cup (100g) 60% dark chocolate or ⅓ cup cocoa powder
2 tbsp coconut oil melted
4 tbsp maple syrup or 3 tbsp date puree
½ cup of plant milk
1tsp vanilla extract
¼ tsp sea salt
Instructions
Heat your oven to 350°F (175°C).
Spread the hazelnuts in a baking tray, and roast for 15 minutes.
Remove the hazelnuts from the oven and let them cool slightly.
Then roll the hazelnuts around using a towel to remove the skins. This will create a creamier hazelnut spread.
Place the skinned hazelnuts into a food processor or high-speed blender and blend them for around 8 minutes until you have a thick and creamy nut butter. You'll probably need to stop and scrape down the sides of the bowl or jar a few times.
While the nuts are processing, break the chocolate into small pieces and melt with the coconut oil in a small saucepan on low heat. If using cocoa powder instead, mix the powder into the melting coconut oil.
Once the nut butter is ready, add the melted chocolate and coconut oil, maple syrup, vegetable milk, vanilla extract, and salt. Blend for another couple of minutes, until everything is completely mixed together and smooth.
Transfer to a sterilized jar, and store at room temperature or in the fridge for a thicker texture. It will remain good for 3-4 weeks.
Notes
If you don't have a chocolate bar you can substitute cocoa powder instead.
When using date puree instead of maple syrup, add the equivalent of 3Tbsp of dates to the blender.
Nutrition Information:
Yield:

20
Serving Size:

1
Amount Per Serving:
Calories:

58
Total Fat:

4g
Saturated Fat:

1g
Trans Fat:

0g
Unsaturated Fat:

2g
Cholesterol:

1mg
Sodium:

33mg
Carbohydrates:

6g
Fiber:

1g
Sugar:

4g
Protein:

1g
Nutrition information isn't always accurate and is for estimation purposes only.