Healthy Vegan Cheesy Vegetables
One of those comfort foods that is universally loved is a cheesy, gooey sauce. It only gets better when that sauce is tossed over delicious, tender vegetables.
The fabulous news is that you can still serve a vegetable cheese bake to your family on a vegan diet. This recipe will show you how to make a creamy vegan cheese sauce for broccoli, potatoes, and any other vegetable your heart desires.

We'll pour it over a mixture of some of the best vegetables to serve with cheese sauce. It's a delicious cheesy vegetable medley that balances texture and flavor by combining both delicate and sturdy vegetables, cooked to tender perfection.
Get all the tips and tricks for cooking a variety of vegetables together, and how to make a luscious vegan cheese sauce to finish them off. When we're done, cheese vegetables will be a regular on your vegan dinner table.
This post may contain affiliate links. That means if you purchase an item through these links, I may earn a commission at no additional cost to you. Please read the full disclosure policy for more info.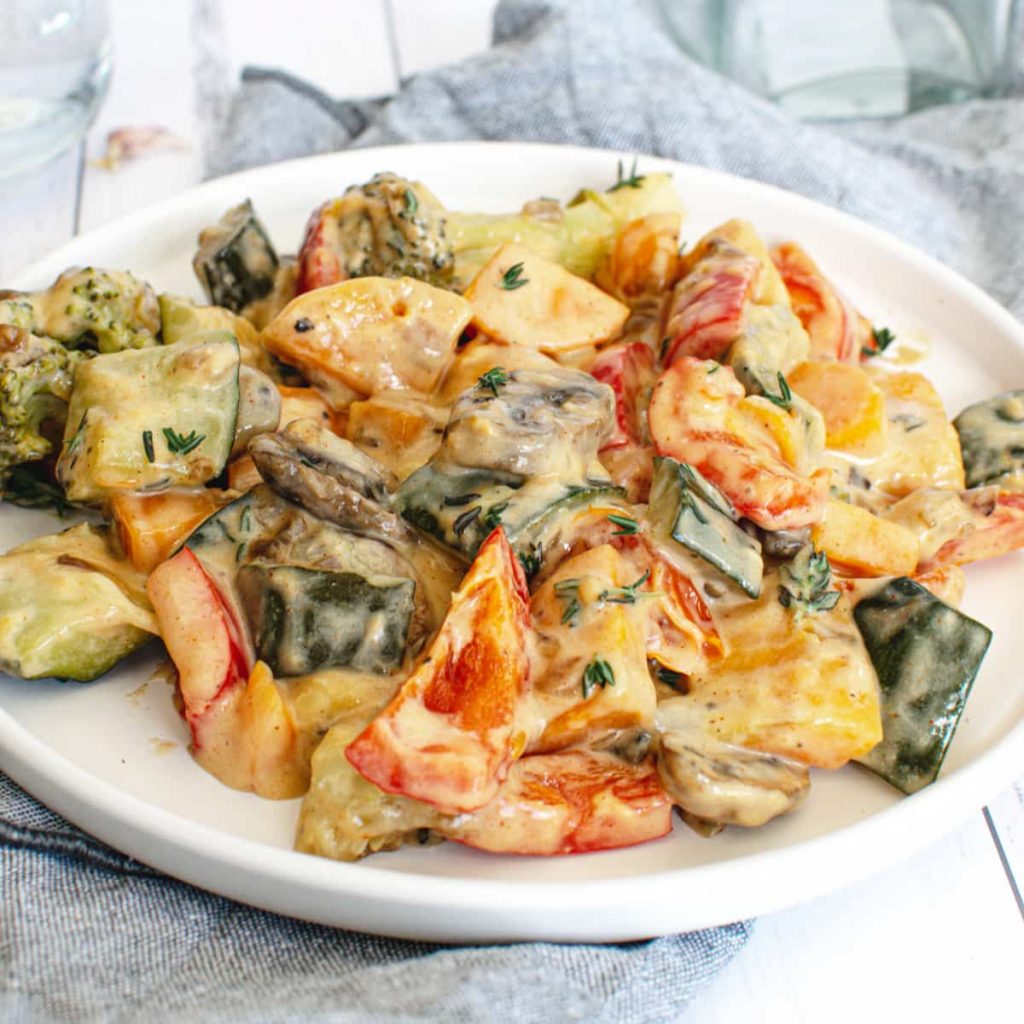 Ingredients for a Cheesy Vegetable Medley
The ingredient list for recipes like a cheesy vegetable medley is always flexible. Medley is merely another word for an assortment or a mixture of things. You can make substitutes to both the cheese sauce and the vegetables you cook. Especially if you have your favorites! Here is my ideal ingredient list for a vegetable cheese bake served at my house.
For the Vegan Cheese Sauce:
Vegan cheese shreds
Non-dairy milk
Nutritional yeast
Smoked paprika
Oregano, dried
Olive Oil
For the Vegetables:
Garlic
Onion
Sweet potato
Carrots
Zucchini
Broccoli
Red bell pepper
Cherry tomatoes
White button mushrooms
Your medley of vegetables could include any of your favorites. Swap Yukon gold for the sweet potato, and maybe brussels sprouts make an appearance. Perhaps yellow peppers are more your thing, and you're always up for a nice Portobello mushroom. Whatever your ideal mixture is, go for it!
The key to vegetables working successfully together in a medley is in the prep work. Different vegetables cook at different times for instance, and the size of your cuts matter. You may need to dice veggies like potatoes smaller and par cook them, while tomatoes need no prep and little chopping.
As for the cheese sauce, you can make a quick and easy vegetable substitution for the vegan shreds if you don't have them. You'll need to add a medium to large potato and half a carrot to the ingredient list, cooked soft.
Don't have nutritional yeast? Check out this list of nutritional yeast substitutes you probably have in your pantry.

How to Make Cheesy Mixed Vegetables
Since my ideal medley for my cheesy baked vegetables is a wide variety of vegetables that cook differently, there are a few extra steps. We're ensuring the final bite is tender and delicious, no matter which vegetable you go for first.
Start by preheating your oven to 400°F and placing a saute pan on the stove to heat. Saute the onion in the hot pan with olive oil for 2 to 3 minutes. Second, add the sliced mushrooms and minced garlic, and cook until the onions are translucent. Set it aside.
After that, tackle the denser vegetables by chopping the carrot, sweet potato, and zucchini into bite sized pieces. Break the broccoli down into florets as well, and cook everything together for 10 minutes, either in boiling water or a steamer. Don't cook the vegetables soft here, just to the beginning of tender. The rest of the cooking will happen in the oven.
Pat them gently dry and combine them and all the other remaining vegetables on a sheet pan. Don't overcrowd the pan, they need space to caramelize, and crowding will just lead to a mushy steamed mess. If necessary, use two sheet pans!
Drizzle them with olive oil and season with salt and pepper, and pop it all in the oven to roast for 10 to 15 minutes. If you happen to have a convection oven, you can also use the convection setting to enhance the browning of the vegetables as they roast

While your veggies are roasting, get to work on the cheese sauce for vegetables. Combine all the ingredients in a pan and place over low heat. Stir continuously until the shreds have melted, and you have a creamy cheese sauce.
To substitute the vegan shreds for carrot and potato, simply make sure they're cooked very soft and then blend them together with the other cheese sauce ingredients before placing it over heat. Taste and adjust the seasoning if you go this route; a potato-based vegan cheese sauce may need more.

Remove your vegetables from the oven when they are roasted and the red pepper and tomatoes are tender. Next, toss them with a generous amount of your cheese sauce. After that, they go straight into the casserole dish to bake for another 10 to 15 minutes, or until everything is fork tender.
For added texture, sprinkle a layer of breadcrumbs to the top of the casserole dish before the final bake.

Storing and Reheating Cheesy Vegetables
Serve this right away for best results. Once stored, the vegetables will lose some texture. If storing, eat it within the first two days or so if possible. You may need to add a splash of liquid to get everything smooth and creamy while reheating.
That being said, this is such an easy dish to prep ahead! Make the cheese sauce, and prep the vegetables to the point of adding them to the casserole dish. Combine the two and bake when you're ready. You may need a few additional minutes of bake time if baking from cold.
Feel free to make extra cheese sauce for vegetable dipping and drizzling the rest of the week!


Final Thoughts
I'm so happy to share a real comfort food classic like a vegetable cheese bake for those transitioning themselves and their families into a vegan diet. This is a big, tasty dish of gooey and tender cheese vegetables they'll be happy to eat. The whole family can dig into it knowing you're eating a lot of nutritional goodness, that feels decadent and indulgent.
Remember, there are no hard or fast rules on your vegetable medley, adapt my cooking techniques and tips to your favorites. Be generous with that sauce! If you make it, I'd love to hear your thoughts below.

Vegan Roasted Vegetable Cheese Bake
A healthy vegan side dish featuring sauteed and oven-roasted vegetables covered in a creamy vegan cheese sauce before baking.
Ingredients
Vegetables
4 cloves garlic
1 onion
1 large sweet potato
2 carrots
1 zucchini
½ head broccoli
1 red bell pepper
1 cup cherry tomatoes
2 cups button white mushrooms
Vegan Cheese Sauce
½ cup vegan cheese shreds
1 non-dairy milk (soy, almond, or cashew)
2 tbsp nutritional yeast
1 tsp smoked paprika
1 tsp oregano
2 tbsp olive oil
Salt and pepper to taste
Instructions
Preheat the oven to 400°F.
Chop onion and sauté for 2-3 minutes in a heated pan.
Add chopped garlic and mushrooms sauté until onion is translucent and mushrooms are cooked. Set aside.
Chop carrots, zucchini, and sweet potatoes in bite-size pieces. Also, chop the broccoli into florets.
Bring those vegetables to boil or steam for 10 minutes (not the red pepper or cherry tomatoes). They don't need to be totally cooked, the cooking will finish in the oven. Set aside to cool and dry off.
For the cheese sauce, place all the ingredients into a saucepan on low heat stirring continuously until you get a thick-cheesy sauce.
Place all the vegetables (including now the red pepper and cherry tomatoes) on a baking sheet, drizzle with the oil, and season with salt and pepper.
Roast the vegetables in the oven for 10-15 minutes until the red pepper and tomatoes are tender. Then remove the vegetables from the oven.
Coat the veggies with the cheesy sauce and place them into a casserole dish. Place them back into the oven to cook until everything is fork-tender.
Optional: sprinkle the top of the casserole dish with bread crumbs before putting it in the oven for a crunchy au gratin.
Notes
If you don't have vegan cheese shreds, add a ½ cup of cooked potato and ½ of a cooked carrot.  Blend in blender until smooth.   Increase the remaining seasonings to taste.
Nutrition Information:
Yield:

6
Serving Size:

1
Amount Per Serving:
Calories:

177
Total Fat:

7g
Saturated Fat:

2g
Trans Fat:

0g
Unsaturated Fat:

5g
Cholesterol:

3mg
Sodium:

172mg
Carbohydrates:

24g
Fiber:

6g
Sugar:

11g
Protein:

7g
Nutrition information isn't always accurate and is for estimation purposes only.