Vegan Chocolate Hazelnut "Nutella" Pudding
Hazelnuts and chocolate are one of the most delicious combinations for a dessert. Which is why I'm always excited to share a vegan dessert featuring them like this gorgeous chocolate hazelnut pudding.
It begins with a no-cook hazelnut crust and is topped with a creamy chocolate filling, made from a vegan cashew base mixed with two forms of chocolate. The combination gives you the best of pudding and pie in a glass. Trust me, this Nutella-inspired pudding is something both kids and adults will happily enjoy.
We like to finish them with fun toppings and serve them in a clear glass, so everyone can see the layers of crust and creamy chocolate as they dig in. It's perfect for prepping ahead and since they're so beautiful once assembled, these vegan hazelnut chocolate puddings are perfect for your next party as a showstopper dessert.
This post may contain affiliate links. That means if you purchase an item through these links, I may earn a commission at no additional cost to you. Please read the full disclosure policy for more info.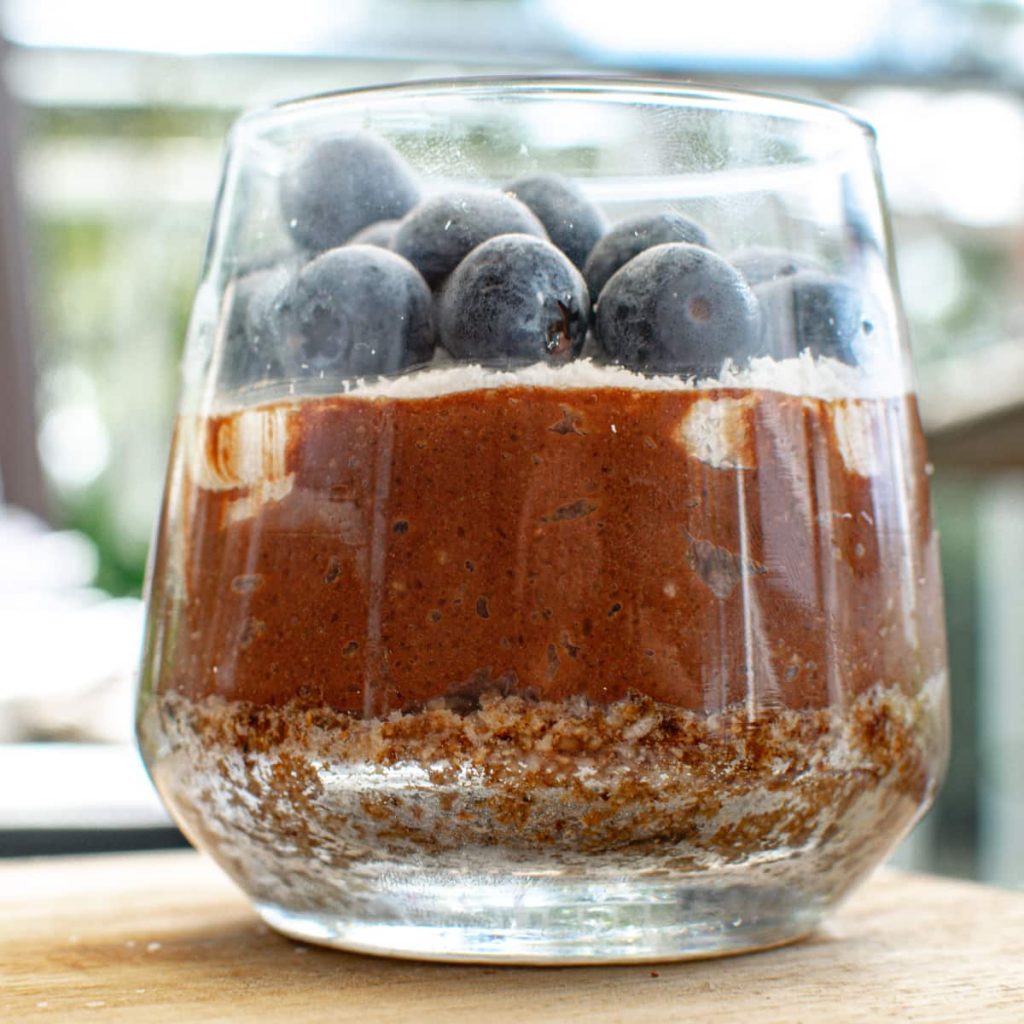 Ingredients for Chocolate Hazelnut Pudding
Much like my homemade vegan Nutella, this pudding features chocolate, hazelnuts, and maple syrup to create a lightly sweetened, chocolate Nutella flavor through the crust and filling.
For the base, we used…
Hazelnuts, raw
Dates, soaked
Shredded coconut
Just like soaking cashews to soften them before blending, the dates need to be softened before we use them. It's very easy to do, just submerge them in boiling water for 10 minutes. Then drain off the water and they're ready to go.
To make our vegan chocolate pudding, we'll also need….
Cashews, soaked
Maple syrup
Dark chocolate chips
Cocoa powder
Vanilla extract
Salt
Your cashews will need to be soaked and softened before blending as well. Do that in cool water overnight, or in boiling water for at least 1 hour.
If you prefer a different sweetener, any liquid sweetener like brown rice syrup, agave, or date syrup will work just as well. You can also use either Dutch-processed or natural cocoa powder in this, just choose one you like to bake with.

How To Make Vegan Nutella Pudding
In order to make vegan chocolate hazelnut puddings, first, you'll need a baking sheet, a blender, a food processor, glasses or ramekins for assembling, and either a microwave-safe bowl or pot for the stovetop.
To begin, toast off the hazelnuts and remove the skins. This takes about 10 minutes in a 360°F oven. Once they're browned, let them cool and remove the skins. This is usually pretty easy to do by wrapping them in a towel and rubbing the skins free.
Add the hazelnuts into the bowl of your food processor. Pulse until they've been ground down to a fine, flour-like consistency. Then add in the dates and coconut and blend again until the mixture is more of a sticky paste. Set that aside for assembly later.

To start the filling combine the cashews, maple syrup, and the vanilla extract in your blender. Blend until creamy, and set aside for a moment while you melt the chocolate.
There are two methods for this, either by stovetop or by microwave. I prefer the stovetop method for the gentle, indirect heat which reduces the risk of scorching your chocolate.
Just add the chocolate chips into a heat-safe bowl or double boiler and set it on top of a pot with a few inches of simmering water. Stir gently, until the chocolate is smooth and creamy. Be sure to keep any water out of the chocolate or it will seize and separate. 
For a microwave, just add the chocolate to a microwave-safe bowl and cook it for 30 seconds on high power. Give it a stir and repeat once. After the second thirty seconds, if the chocolate is still not melted, cook in 10-second intervals. Stir after each interval until it's melted.
Combine the melted chocolate with the cashew base and cocoa powder in a medium bowl and mix it together to form the creamy pudding layer.

With the crust and pudding prepared, it's time to assemble our adorable pudding pies in their glasses. Press 3 tablespoons of the hazelnut crust into the bottom of your chosen glasses with your fingertips. Level it as best you can, so the filling is about the depth of a fingertip.
Then add in the pudding. If you're like us and love the idea of colorful and tasty toppings, just be sure to leave space at the top for those.

Topping Ideas
Chocolate pairs so well with different flavors that there are many topping ideas for finishing your vegan chocolate hazelnut puddings.
Fresh berries, like the blueberries featured on ours, strawberries, or raspberries are all delicious. Or, add more coconut on top to enhance the flavor from the crust.
You can also try your favorite vegan ice cream, dolloped right on top, or a handful of toasted nuts, chopped up.
Storing the Mini Pudding Pies
As promised these are the perfect make-ahead desserts for entertaining, or to have ready when your kids are begging for something sweet.
Once assembled, your chocolate hazelnut puddings keep well in the fridge for 2 to 3 days. Simply keep them covered, then top and serve when you're ready.
If you're after longer storage, you can keep the topping and the crust mixture in the freezer for up to 2 months. Be sure to store them separately, then thaw and assemble to enjoy.

Final Thoughts
This won't be a dessert that lingers in the back of your fridge, if anything you'll wish you whipped up more of them. This chocolate hazelnut pudding is a great example of a delicious vegan dessert that even non-vegans will enjoy.
It's loaded with chocolate and has a creamy, dreamy texture. With that hazelnut base at the bottom, it's like a pudding pie in a glass, and everyone will be scraping around for the last bits once it's gone.
I hope you and your family enjoy this easy Nutella-inspired pudding. I would love to hear how it went if you'd like to leave a comment below. 

Healthy Chocolate Hazelnut Pudding
Additional Time:
5 minutes
A vegan and healthy Nutella-style pudding dessert. The base is a date coconut crust, followed by a toasted hazelnut chocolate pudding, topped with fresh coconut and blueberries. This is a pudding pie in a glass that your entire family will love.
Ingredients
Crust
1 cup raw hazelnuts
½ cup soaked dates
¼ shredded coconut
Pudding
1 ½ cup soaked cashews
½ cup maple syrup or liquid sweetener of choice
⅓ cup dark chocolate chips
⅓ cup of cocoa powder
2 tbsp vanilla extract
¼ tsp salt
Instructions
Preheat the oven to 360 F.
For the crust, put the raw hazelnut on a baking sheet and toast them for 10 minutes or until they get slightly brown.
Once cool, peel the hazelnuts.
Place the hazelnuts into a food processor, and blend into a flour consistency.
Add the soaked dates and shredded coconut. Pulse a few times until you get a sticky paste. Set aside.
For the filling, blend together the soaked cashews, maple syrup and vanilla extract. Set aside.
Melt the chocolate. To melt chocolate on the stovetop, place the chopped chocolate on the top of a double boiler over barely simmering water. This method keeps the chocolate away from direct heat, which allows it to melt at a low enough temperature to prevent scorching and separating. (see notes for microwave option)
In a medium bowl, combine the melted chocolate, cashew filling and cocoa powder. Stir to combine.
In a glass of your choice, place 3 tbsp of the mix for the crust and press with your fingers to level it. This base should be one finger high.
Fill the glass with the chocolate filling.
Optional: leave room for toppings. The ones that work well with this recipe are berries, coconut, or vegan ice-cream.
To store, cover, and put in the fridge for 2-3 days. For longer-term storage, keep the crust and pudding separate in the freezer for 1-2 months.
Notes
Microwave option for melting chocolate: Place the chocolate chips in a microwave-safe bowl. Put the bowl of chocolate chips into the microwave for 30 seconds on high power. Remove the bowl from the microwave and stir the chocolate. Place the bowl back for another 30 seconds on high power. After this, keep microwaving the chocolate chips on high power for 10-second increments, stirring in between every time until the chocolate is smooth and fully melted.
Nutrition Information:
Yield:

3
Serving Size:

1
Amount Per Serving:
Calories:

1025
Total Fat:

62g
Saturated Fat:

13g
Trans Fat:

0g
Unsaturated Fat:

46g
Cholesterol:

1mg
Sodium:

665mg
Carbohydrates:

105g
Fiber:

11g
Sugar:

66g
Protein:

19g
Nutrition information isn't always accurate and is for estimation purposes only.