Fluffy and Healthy Egg-Free Vegan Banana Pancakes
Getting a healthy, satisfying, and delicious breakfast on the table in the morning can be a challenge for modern families. Thankfully, it gets a lot easier when you have a quick and easy recipe for vegan almond flour banana pancakes at hand.
This powerhouse vegan banana pancake recipe uses almond flour, nut milk, and flaxseed to deliver tasty protein in every bite. Opt for a gluten free baking blend and this recipe adapts perfectly to make vegan gluten free pancakes that are just as fluffy and delicious.
As an almond flour banana pancake recipe that uses no egg, I'm sharing all my tips to making perfect vegan pancakes. These lightly sweet, healthy pancakes are family-friendly, so easy to make, and tick all the pancake must-haves: fluffy, golden, and fantastic when drizzled with syrup.
This post may contain affiliate links. That means if you purchase an item through these links, I may earn a commission at no additional cost to you. Please read the full disclosure policy for more info.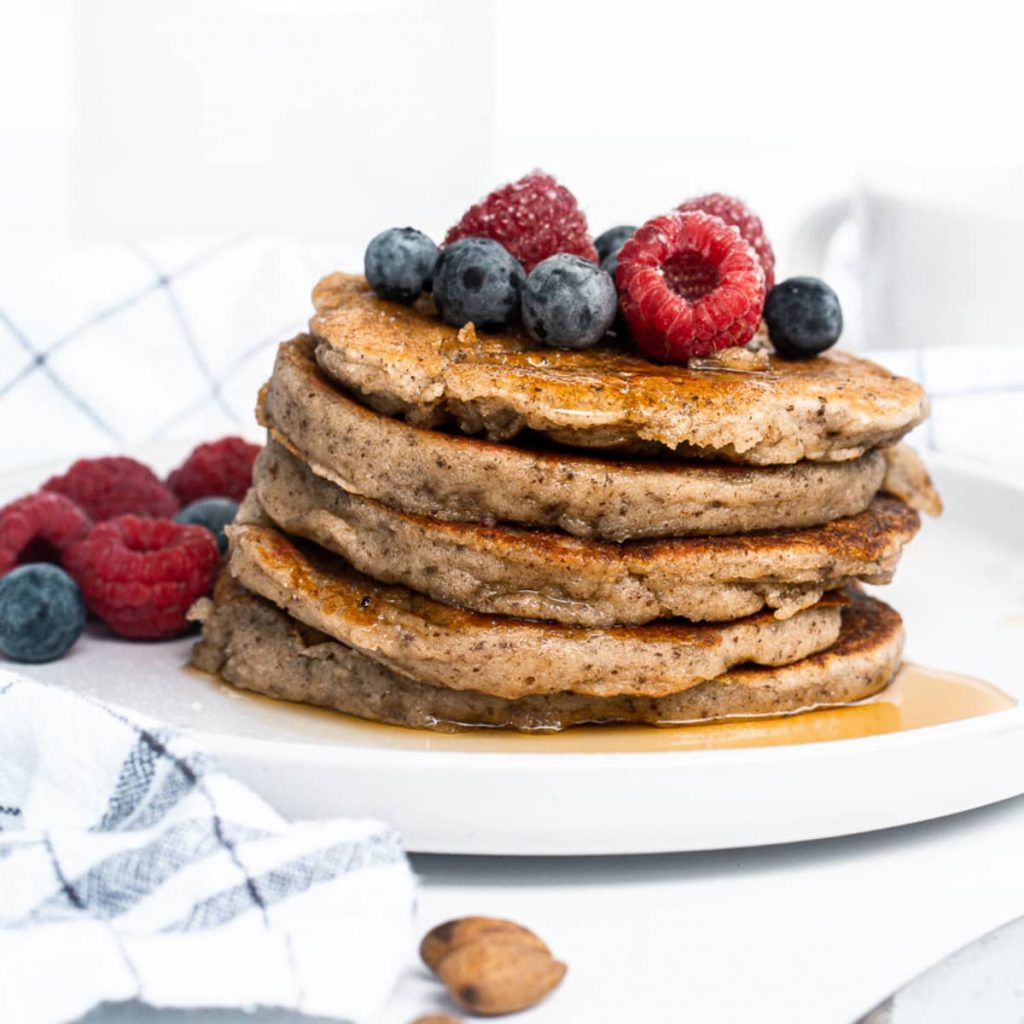 Ingredients for Making Almond Flour Banana Pancakes
Making pancakes the traditional way requires eggs and sugar to achieve the taste and texture you expect. Swap those out for healthier or vegan alternatives and you have almond flour pancakes with both nutrition and flavor packed into one.
Almond flour
All-purpose or gluten free flour
Vanilla extract
Baking powder
Salt
Overripe banana
Almond milk
Flaxseed
Warm water
As with most of the vegan recipes I share, you can easily make a few substitutions to make this work for your family's tastes and diet.
Gluten-Free Substitution & Flavor Options
To easily make these vegan gluten-free pancakes, just swap your preferred gluten-free baking flour blend for the all-purpose flour. That's the only change you need to make!
You can also opt for different non-dairy milk if you prefer, but almond really enhances the flavor of almond flour. 
I love to recommend a few optional additions too. Cinnamon and banana is a really tasty combination, and you can add that directly to the batter. You can also top your pancakes generously with fresh berries and chopped nuts for a beautiful and yummy finish.

What vegan egg alternatives can I use?
The way we get these almond flour pancakes right without egg is to use an alternate binder, which is the banana here. In many baking recipes, you can also use applesauce as a successful egg replacement. 
For this recipe, and with most others, the swap is easy. 1 egg is equivalent to one banana or ½ cup of applesauce. 
Are banana pancakes sweet?
The key to healthy and sweet pancakes is, again, that banana. It's key to use an overripe banana if at all possible.
The riper it is, the sweeter it becomes. If you're using a banana that simply isn't sweet enough, you can add a teaspoon or two of coconut sugar or maple syrup to the batter. 
How to Make Almond Flour Pancakes with Banana
I promised quick and easy, and these are exactly that. In about 5 to 10 minutes you'll be cooking up the first almond flour pancake. 
To get started, combine the warm water, flaxseed, almond milk, and vanilla extract. and stir well to combine. Next mash up the banana and stir that into the mixture. This should turn it into a smooth batter.
Add both of your flours, salt, and cinnamon if you're using it, to the batter. Keep mixing until everything is combined into an even, thick batter.

Preheat your skillet and add a light layer of oil. When hot, cook your vegan banana pancakes in the oil, using a ¼ measuring cup to spread circles of batter into the pan. They'll need to cook over low heat for 2 to 3 minutes on either side, until golden brown.
How To Keep Pancakes Warm While Cooking More
As you cook, you can keep finished pancakes warm by heating your oven to 200°F. Just transfer pancakes to a baking sheet in the warm oven as they finish.
When you're done, you'll have a sheet pan of warm, fluffy vegan pancakes ready to go. 

Storing Banana Pancakes
Even though the batter only takes minutes to come together, you may not want to flip pancakes every morning for hungry children. This recipe is perfect for meal prep and leftovers!
Once cooked, almond flour banana pancakes store beautifully in the fridge for up to a week. Just keep them in an airtight container and reheat in the oven or toaster for a quick breakfast. 
They also freeze well too. Simply thaw and reheat to enjoy. In the freezer, cooked banana pancakes will keep for about 2 to 3 months without losing any quality. I wouldn't recommend freezing uncooked batter. 

Final Thoughts
Whether you were looking for a healthy swap for traditional pancakes, or a breakfast recipe your kids would enjoy on a new vegan diet, I'm happy you found your way here.
These almond flour banana pancakes with no egg are full of flavor from the blend of almond flour and subtly sweet banana. But, they're still so healthy that you can guiltlessly add a little syrup on top. 
Kids and parents will be happy to tuck into this family friendly vegan pancake recipe on any morning of the week. Plus, the family cook will be happy to have leftovers ready to reheat. Let me know how your family liked these in the comments below.

Almond Flour Banana Pancakes
Delicious gluten-free and vegan almond flour banana pancakes that are easy to make. Completely egg-free and dairy-free.
Ingredients
1 cup almond flour
½ cup gluten-free flour or all-purpose plain flour
1 tsp vanilla extract
1 tsp baking powder
¼ tsp salt
1 overripe banana, mashed
½ -¾ cup of almond milk
1 tbsp flaxseed + 3 tbsp warm water
Optional: ½ tsp ground cinnamon, fruits to garnish
Instructions
In a medium bowl mix the vanilla extract, almond milk, and flaxseed with 3 tbsp of water. Stir well to combine.
Add the mashed banana and stir again until a smooth batter forms.
Add the almond flour and gluten-free flour with the ground cinnamon and salt. Mix until combined. The batter should be thicker.
Using a skillet with a light layer of oil, pour ¼ cup of the batter for each pancake. Cook on low heat for around 2 to 3 minutes on each side.
Serve immediately. Top with maple syrup, fruits, or nuts.
Nutrition Information:
Yield:

6 pancakes
Serving Size:

1
Amount Per Serving:
Calories:

270
Total Fat:

11g
Saturated Fat:

1g
Trans Fat:

0g
Unsaturated Fat:

9g
Cholesterol:

0mg
Sodium:

181mg
Carbohydrates:

38g
Fiber:

5g
Sugar:

7g
Protein:

8g
Nutrition information isn't always accurate and is for estimation purposes only.