Easy 30-Minute Jam Thumbprint Cookies
Biting into a freshly baked cookie filled with sweet, gooey jam is a treat I always enjoy sharing with my family. As a vegan family, that also means breaking free from the traditional butter based cookie and swapping it for a delicious and tender almond flour thumbprint cookie.
What I'm delighted to share with you is a gluten, egg, and dairy free vegan cookie that will more than satisfy that old-fashioned jam thumbprint cookie craving. I'll even be sharing how to make a quick jam so you can whip up a batch the moment you want too.
This is a great recipe to make with your kids. Fill the thumbprints with your favorite jam, a variety of them, or even opt for something more decadent. Whatever you choose, everyone will be happy to enjoy one, or more likely, several. Classic thumbprint cookies just got a vegan makeover that's here to stay.
This post may contain affiliate links. That means if you purchase an item through these links, I may earn a commission at no additional cost to you. Please read the full disclosure policy for more info.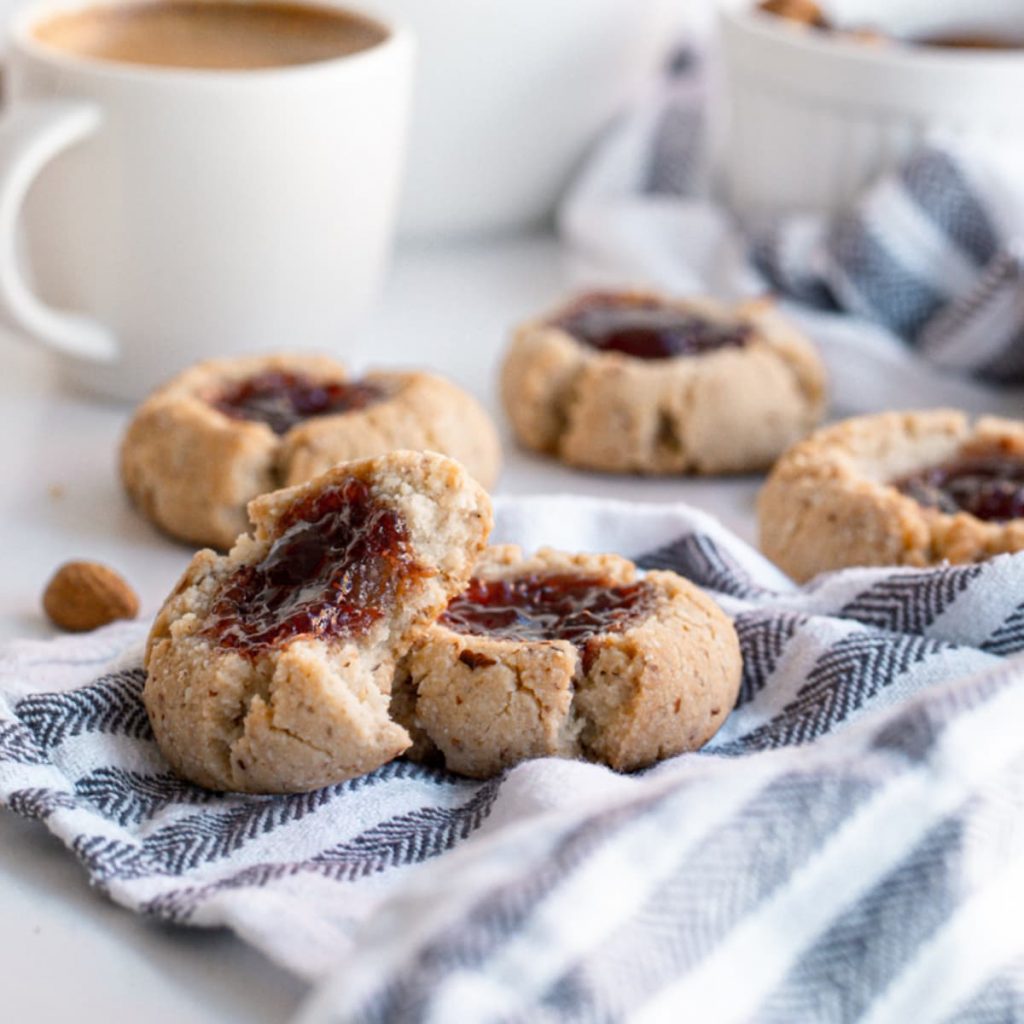 What Do I Need To Make Jam Thumbprint Cookies?
For these almond flour thumbprint cookies to be allergen free and vegan, we'll be using this tested combination of ingredients.
Almond flour
Maple syrup
Coconut oil
Vanilla extract
Store-bought berry jam
Salt
What Filling Can You Put In Thumbprint Cookies?
I genuinely love a berry jam on top of my thumbprint cookies, but this recipe does work with any flavor of jam you like.
Store-bought, homemade, or even jam whipped up just before will work just fine. If you're feeling adventurous, switch the jam filling for vegan chocolate or caramel instead.

How to Make Almond Flour Thumbprint Cookies 
To get started on your cookies, preheat your oven to 350°F and line a baking sheet with parchment paper or a silicone baking mat. Then gather a bowl, whisk, and all of your ingredients.
Begin with the maple syrup, oil, and vanilla in the bowl. Whisk them together to combine, then add in the almond flour and salt. After a few moments of mixing and folding, you should have a soft dough formed.

Next separate the dough into 12 even pieces and roll them into balls. Arrange them on the baking sheet, leaving about 2 inches of space between each cookie.
Then, using either your thumb or the back of a very small spoon, like a ½ teaspoon, indent the top of every cookie. If any of the cookies develop large cracks as you make the circle, take a moment to pinch the dough back together.

Use that same ½ teaspoon to fill every cookie with your jam of choice. Pop the tray into the oven for 15 minutes to bake.
You'll know the cookies are done when they begin to lightly brown around the edges. This vegan version of classic thumbprint cookies will feel very soft, even when baked. Simply allow them to cool entirely on the baking sheet.
As they cool, they'll harden and will be easier to both store and eat.

How to Make a Quick Homemade Jam
If you don't have any jam ready to go, don't worry, you can still make old fashioned thumbprint cookies right today. A quick and easy jam can be whipped up in just a few minutes on the stove. 
To make the homemade jam, combine a cup of berries in a pot with one tablespoon each of water and a sweetener of choice.
Bring it to a boil and let it cook on the stove for 5 minutes while whisking continuously. You can use frozen berries here, but your cook time will be a little longer.  
When it's done, remove it from the heat and set it aside while you proceed with the thumbprint cookies as directed. 

Storing Jam Thumbprint Cookies
These cookies keep well in the refrigerator for 7 to 10 days when stored in an airtight container. You'll find that as the days go by, the cookies will soften slightly.
If you'd rather pop them in the freezer, be sure to let them cool completely then transfer them into a freezer safe container. Place parchment paper between each layer of cookies and freeze them for up to 2 months

Final Thoughts
Once your cookies are cooled and ready to eat, cozy up with your kids and a cup of warm cocoa. They're perfect for that afternoon sweet treat on a vegan diet.
Thumbprint cookies are a truly delicious and the almond flour makes them an allergen-friendly alternative to old fashioned thumbprint cookies. This version delivers on that essential cookie texture and jammy flavor of classic thumbprints. 
I hope your family has fun experimenting with your favorite fillings. I'd love to hear how these turn out for you!

Almond Flour Thumbprint Cookies
Grain-free and vegan jam thumbprint cookies made from almond flour. This recipe can quickly be made in 30 min or less and tastes great with whatever jam you have on hand.
Ingredients
2 cups almond flour
¼ cup maple syrup
¼ coconut oil
1 tsp vanilla extract
⅓ cup store-bought berry jam
Pinch of salt
Instructions
Preheat the oven to 350 degrees F. Line a baking sheet with parchment paper or a silicone mat.
In a medium bowl whisk the wet ingredients (coconut oil, vanilla extract, and maple syrup).
Add dry ingredients (almond flour, and salt) and mix well until the mixture forms a soft dough consistency.
Roll the dough into 12 balls, place on a rimmed baking sheet, about 2 inches apart.
Using your thumb or the back of a ½ teaspoon measuring spoon, press the center of each cookie to make space for the jam. Pinch together any large cracks around the sides of each cookie. Fill that space with ½ teaspoon of jam.
Bake the cookies for 15 minutes or until they get brownish in the edges. Once done, the cookies will be soft. Don't remove them from the baking sheet until completely cool since they'll harden while cooling.
Keep them in a covered container in the refrigerator for 7 – 10 days. The cookies will get soft with time. To freeze, let cool and store in freezer-safe containers with parchment paper between each layer. They will keep for up to 2 months.
Notes
Instructions for making a quick homemade jam:  Put 1 cup of berries with 1 tbsp of water and 1 tbsp of the sweetener of choice (optional) in a pot over the stove for 5 minutes whisking the entire time.
Nutrition Information:
Yield:

12
Serving Size:

1
Amount Per Serving:
Calories:

136
Total Fat:

10g
Saturated Fat:

1g
Trans Fat:

0g
Unsaturated Fat:

8g
Cholesterol:

0mg
Sodium:

13mg
Carbohydrates:

10g
Fiber:

3g
Sugar:

6g
Protein:

4g
Nutrition information isn't always accurate and is for estimation purposes only.