Simple Crispy Baked Apple Slices That Are Gluten-Free
Nothing says autumn like apples and cinnamon. It's a delicious combination that this dish does well replicating. The typical holiday desserts focus on comfort food. Unfortunately, those are usually high in calories.
Thankfully, these crispy baked apple slices are healthy and low calorie. They're also completely vegan and gluten-free which makes them a diet-friendly shareable dessert.
This entire dessert can be ready in around 30 minutes. Even though it's full of healthy ingredients, kids love the warm, sweet apples. You can top a bowl with vegan butter of ice cream if you'd like but they're tasty enough on their own if you want to keep it healthy.
This post may contain affiliate links. That means if you purchase an item through these links, I may earn a commission at no additional cost to you. Please read the full disclosure policy for more info.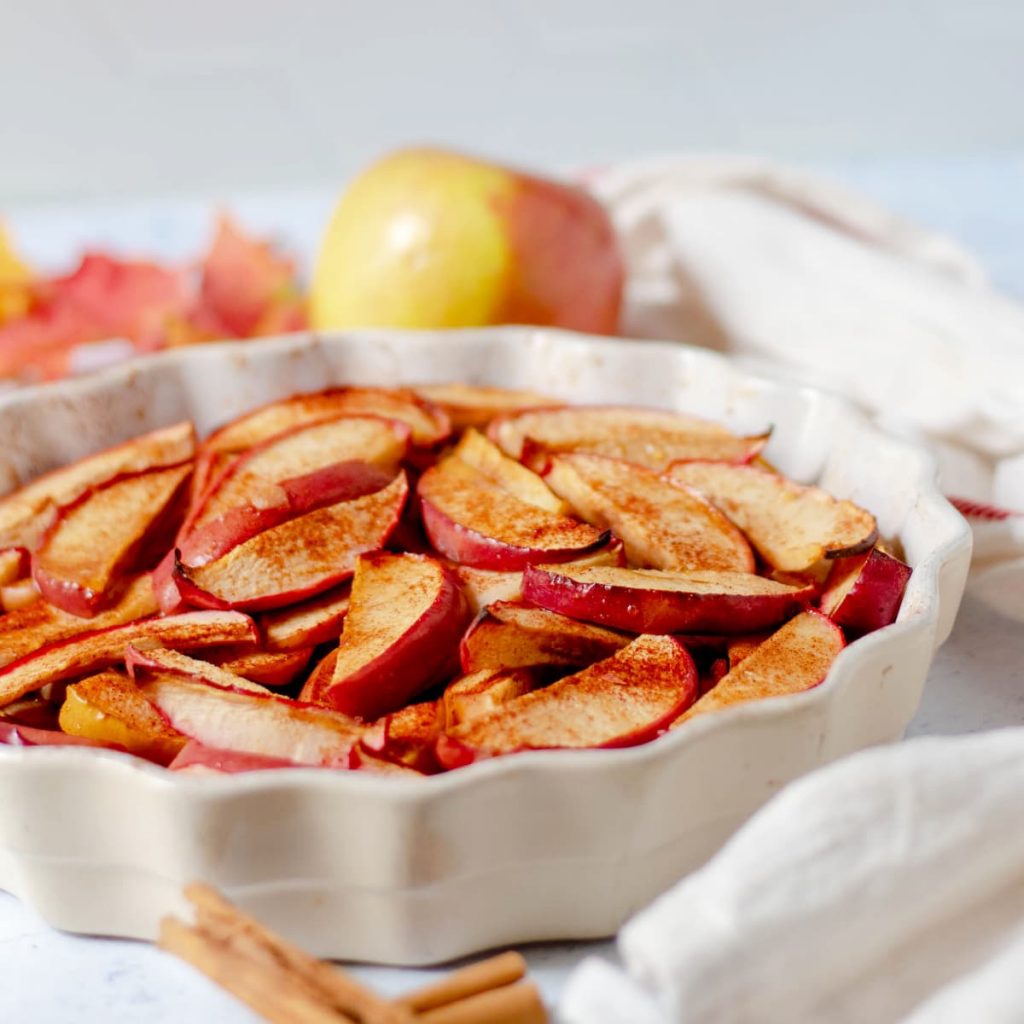 Ingredients for Simple Baked Apple Slices
The great thing about this baked apple slice recipes that it doesn't require a lot of ingredients and is healthy. It takes less than 10 minutes to chop up the apples and make the sauce. Simply bake it in the oven for 30 minutes until crispy, and then serve.
You'll need the following ingredients:
Honeycrisp, Fuji, Gala, or Sweet Tango apples
Cinnamon
Maple Syrup
Tapioca Flour
Lemon Juice
Coconut Oil
Vegan Butter (optional)
Dairy-Free Ice Cream or Coco Whipped Cream (optional)
If you don't have tapioca flour, you can substitute corn starch or arrowroot powder at a 1:1 ratio. Really, this can be made with any apple variety you have on hand. The ones listed above tend to be sweeter and are most commonly found in grocery stores.
If you decide to use a tarter apple such as a Granny Smith, you may want to add slightly more maple syrup to make it sweeter, unless you prefer the tart taste.
These baked apples are crispy but can be made crispier by leaving them in the oven for 5 minutes longer. It's important to keep an eye on them though so you don't accidentally burn them.
They're pretty healthy as-is. If you want a more indulgent dessert, top your baked apples with a pat of vegan butter, dairy-free ice cream, or coco whipped cream.
How To Make Cinnamon Baked Apple Slices
This autumn dessert is fast to make and only requires one bowl and one pie plate. It's also extremely versatile since you can substitute out whatever apples you have on hand.
The first step is going to be preheating your oven to 350 F. Then core and slice 5 medium apples. You want to make sure that all stems and seeds have been removed so there's no hard inedible bits.
Make sure the apple slices aren't too thick or else they won't bake through and will still be raw. If you want really crispy apples, slice your apples super thin. If you go the ultra-thin slice route, keep an eye on them during baking since they'll cook quicker and be done faster.
Once your apples are cut, place them into a lightly greased 8×8 pie dish or glass baking dish.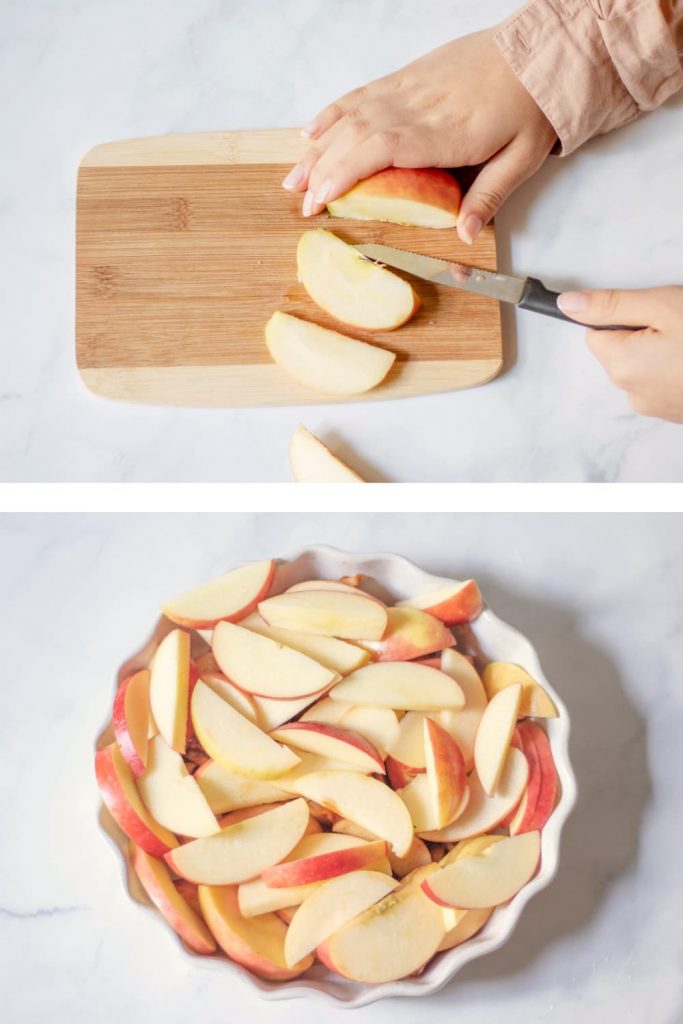 Next, it's time to make the cinnamon maple sauce. In a separate bowl, mix the maple syrup, lemon juice, cinnamon, and tapioca flour. Mix well until completely combined. Then pour this mixture over the apples in the pie dish. Mix the apples to that all of them get coated evenly.


Bake the apples in the oven for 25-30 minutes. The cooking time may vary 5 minutes depending on how crispy you want your apples and how thin your apples are sliced. Thick apple slices will require a longer cooking time. You want the apples to be caramelized and soft.

Once the apples are cooked through, remove them from the oven and serve immediately.
Some optional toppings for the baked apples include:
Vegan Butter
Dairy-Free Ice Cream
Coconut Whipped Cream
Baked Oats
Chopped Walnuts
Brown Sugar
This is a great base apple recipe that could be expanded into an apple crisp easily. All you'd need to do is crate a topping of oats, sugar and nuts that goes on the top before baking.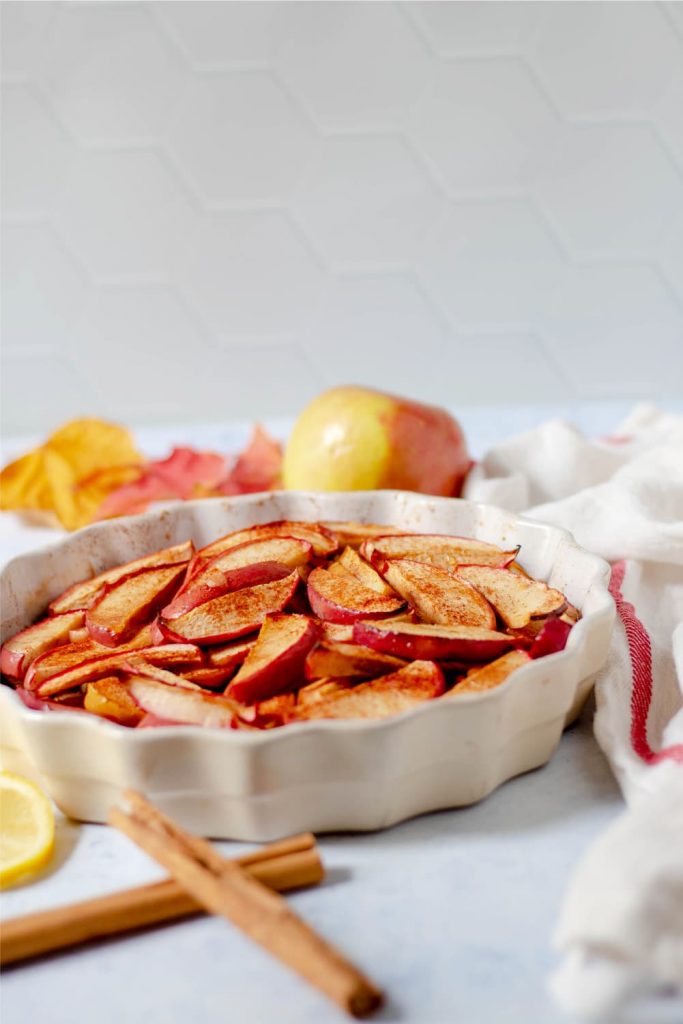 Final Thoughts
The warm cinnamon of these baked apples makes it the perfect healthy dessert recipe for fall. It's naturally vegan and gluten-free so that all members of your family can enjoy it.
If you want to make the dish heartier, you can add chopped nuts and oats to the top before baking. Let me know your favorite way to eat this in the comments below.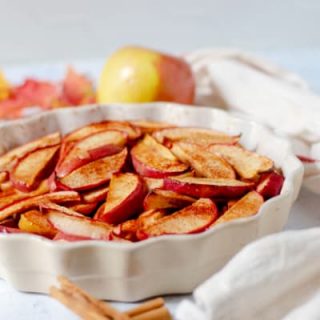 Healthy Baked Apple Slices With Cinnamon
Guilt-free healthy baked apple slices that are vegan and gluten-free. A healthy fall dessert that is done in 30 minutes.
Ingredients
5 medium Apples
1 Teaspoon Cinnamon
1/3 cup of Maple Syrup
2 Tablespoon Tapioca Flour (alternatively, Corn Starch or Arrowroot Starch)
2 Tablespoon Lemon Juice
1 Tablespoon Coconut Oil
Instructions
Preheat oven at 350 F. Peel, core, and thinly slice the apples.
Lightly grease a pie dish or baking dish (approx 8 x 8 inch) then add the sliced apples.
In a separate bowl, add maple syrup, lemon juice, cinnamon, and tapioca flour. Mix the ingredients until well incorporated.
Take the mixed ingredients and pour over the sliced apples, stirring and mixing to make sure the apples are coated. Mix until all apples are covered.
Bake the apples for about 25 to 30 mins, until the apples are soft and tender and caramelized.
Serve warm with dairy-free ice-cream or coconut whipped cream.
Notes
You can use any type of apples. Great choices are Honeycrisp, Fuji, Sweet Tango, or Gala.
You can bake them without the peel if you prefer. 
Adding vegan butter is optional; it will give the apples a richer taste.
Top with oats, chopped nuts, dairy-free ice cream, or coconut whipped cream.
Nutrition Information:
Yield:

5
Serving Size:

1
Amount Per Serving:
Calories:

187
Total Fat:

3g
Saturated Fat:

2g
Trans Fat:

0g
Unsaturated Fat:

0g
Cholesterol:

0mg
Sodium:

6mg
Carbohydrates:

43g
Fiber:

5g
Sugar:

32g
Protein:

1g
Nutrition information isn't always accurate and is for estimation purposes only.