Vegan Mushroom Bites with Homemade Aquafaba Vegan Aioli
Whether it's for a quick snack or an appetizer served to friends, vegan breaded mushrooms are an easy win. Crispy breadcrumb coating and juicy, tender mushrooms, dipped in an easy homemade vegan aioli sound pretty dreamy, don't they?
It takes just a bit of coating and baking to prepare these little mushroom nuggets for munching. Once baked, it's only a few more minutes of your time to make a garlic lemon aioli in the blender.
By utilizing vegan egg wash made from chickpea flour and water and the aquafaba from canned chickpeas for the aioli, we've taken a well loved appetizer staple, and turned it into vegan snack heaven.
Once you see how easy these are to prepare, and how delicious a vegan dipping sauce can be, I have a feeling that these healthy breaded mushrooms will be on your snack and party menus often. 
This post may contain affiliate links. That means if you purchase an item through these links, I may earn a commission at no additional cost to you. Please read the full disclosure policy for more info.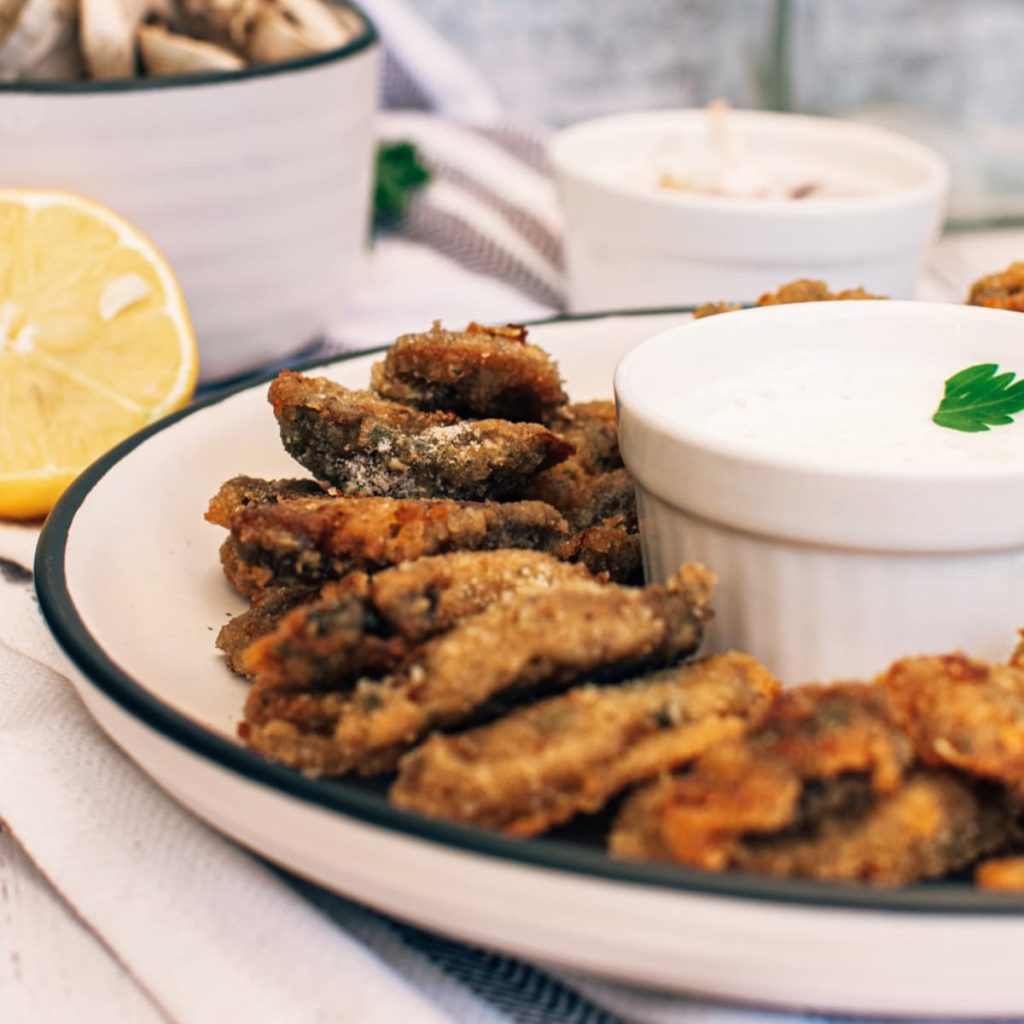 Ingredients for Vegan Breaded Mushrooms & Aioli
Reworking traditional egg wash into a vegan form uses a few different ingredients. They all combine together easily, and turn out the most perfect crispy breaded mushrooms.
I like white cap mushrooms for this, but if those aren't available, I recommend using mushrooms of similar shape and texture. Baby bella, cremini, or brown button mushrooms would all work. Buying pre-sliced mushrooms can save you some time on the prep later.
You can also use whichever breadcrumbs you prefer, so long as they're unseasoned. Panko delivers a lovely crunch.
For the mushrooms you'll need:
White Cap Mushrooms
Breadcrumbs
Fresh Parsley
Garlic
Chickpea flour
Water
Salt

Making a vegan aioli with aquafaba is very simple too, you'll need only 4 ingredients, 5 if you opt for the lemon juice. I like the zing, but you can leave it out for a more traditional garlic aioli flavor.
The aioli ingredients are:
Aquafaba
Garlic
Vegetable Oil
Salt
Lemon Juice
Aquafaba is the liquid found in a can of chickpeas. It's a wonderfully useful ingredient that usually gets discarded. Not only does it work for this creamy thick aioli but you can also use it to make things like vegan meringue cookies!
If you're opening a can just for this recipe, don't worry, chickpeas are a fabulous ingredient for vegan eating. They'll stay good in the fridge about 3 to 4 days after opening. As for any leftover aquafaba, it'll keep in the fridge for a week. Both chickpeas and aquafaba freeze well too.
How to Make Healthy Breaded Mushrooms
When you're ready to make these crispy bite-sized nuggets, start by preheating your oven to 400°F (or 200°C). If you need to slice your mushrooms, do that first.
Next prepare your breading station. You'll need two bowls, one for the chickpea flour, water, chopped parsley, salt, and minced garlic; and one for the breadcrumbs.
Once your chickpea flour and water mixture is smoothly combined into a vegan egg batter, begin dipping the sliced mushrooms. Using tongs or a fork will make this an easier and cleaner step. After the mushrooms are dipped, transfer them to the breadcrumbs and coat them thoroughly.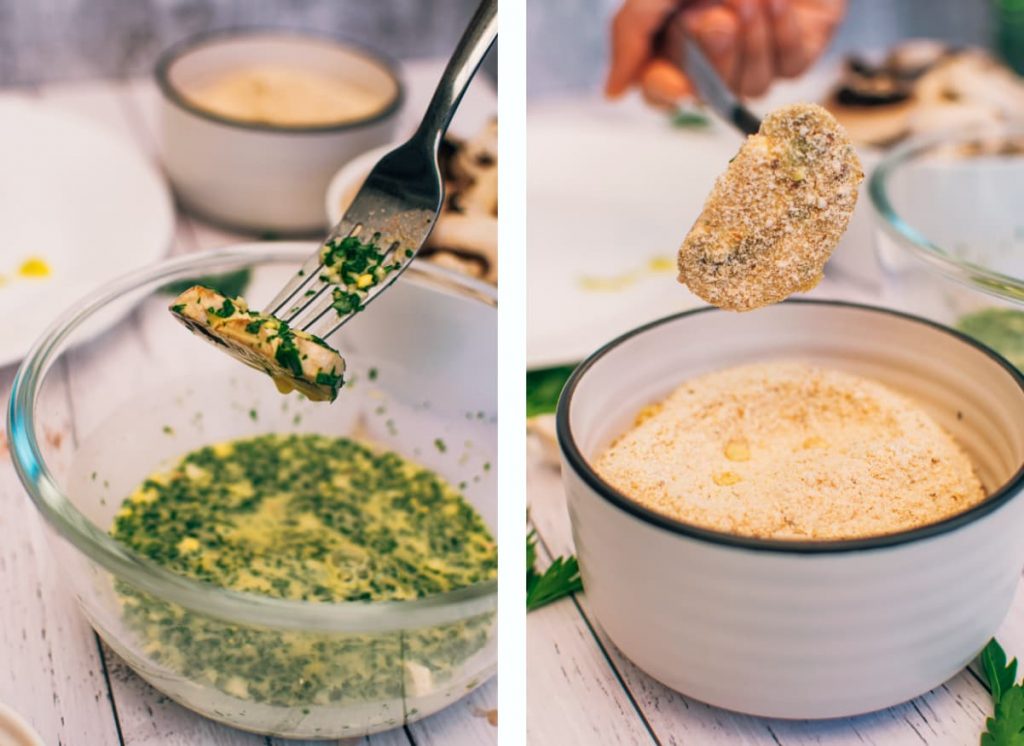 Spray down a baking sheet with oil or line it with parchment paper, and arrange the mushrooms in a single layer on top. Be sure not to overcrowd them, we want them to crisp not steam. Spray the tops of the mushrooms with oil to help with browning.
Bake your mushrooms for 16 to 20 minutes, or until brown and crispy. Give them a check about halfway through to make sure there is no burning.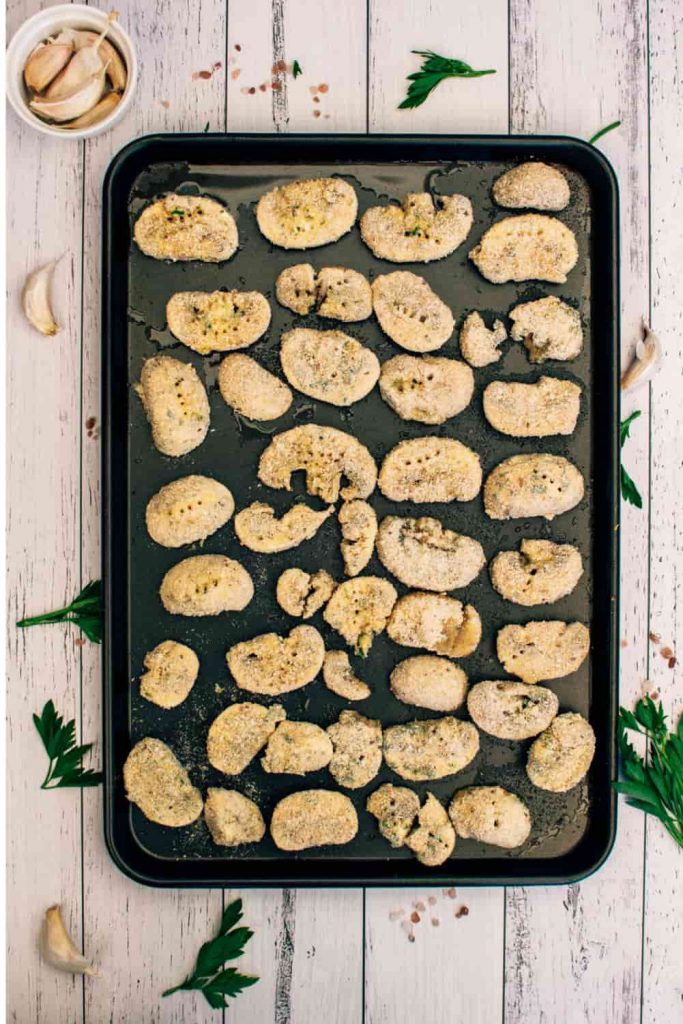 How to Make Vegan Aioli with Aquafaba
While your mushrooms are roasting, you can easily whip up your vegan aioli. You'll need a blender or an immersion blender to get started.
Begin with just the aquafaba and salt, blending them together until well combined. Then, with the blender still running, start to drizzle in the oil very slowly.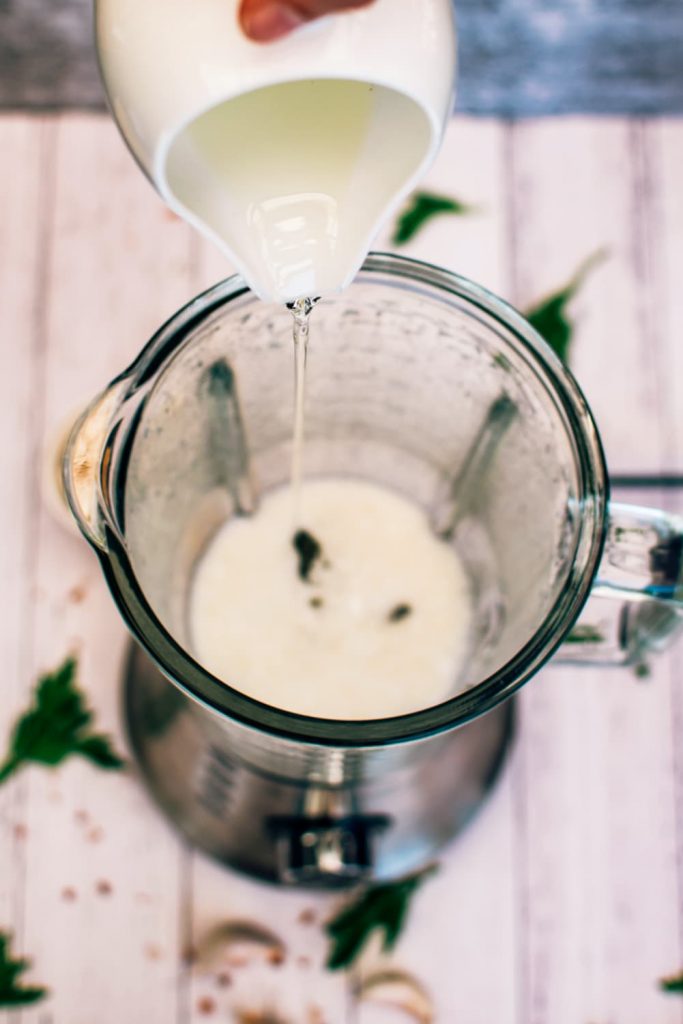 It's so important to do this slowly if you want a thick, creamy aioli. Adding the oil too fast will result in a runny liquid. Just go slow, and if you happen to notice any oil resting on top, stop adding oil and let the blender catch up. Once it gets mixed in, you can start adding the remaining oil again.
As you add the oil, the mixture will quite suddenly thicken. Add any remaining oil, continuing to do so slowly. After that, add in your garlic and lemon juice if using. Now you have a beautiful vegan dipping sauce for breaded mushrooms.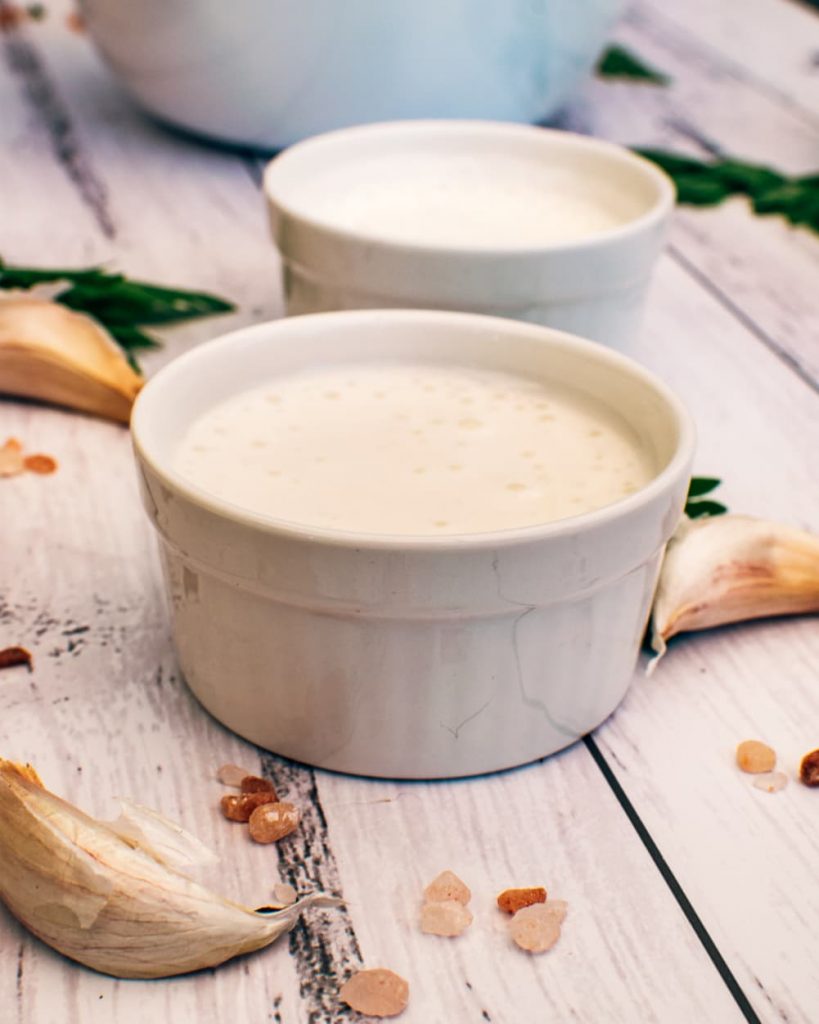 How to Store
If by some chance you have any leftovers, you can store mushroom nuggets in the fridge for 2 to 3 days. To reheat and get some crisp back, use your oven or toaster oven.
The vegan aioli will keep in the fridge for about a week. I actually find that as the garlic infuses, the flavor gets better, so prepping your aioli a day ahead of serving the mushrooms is a great idea.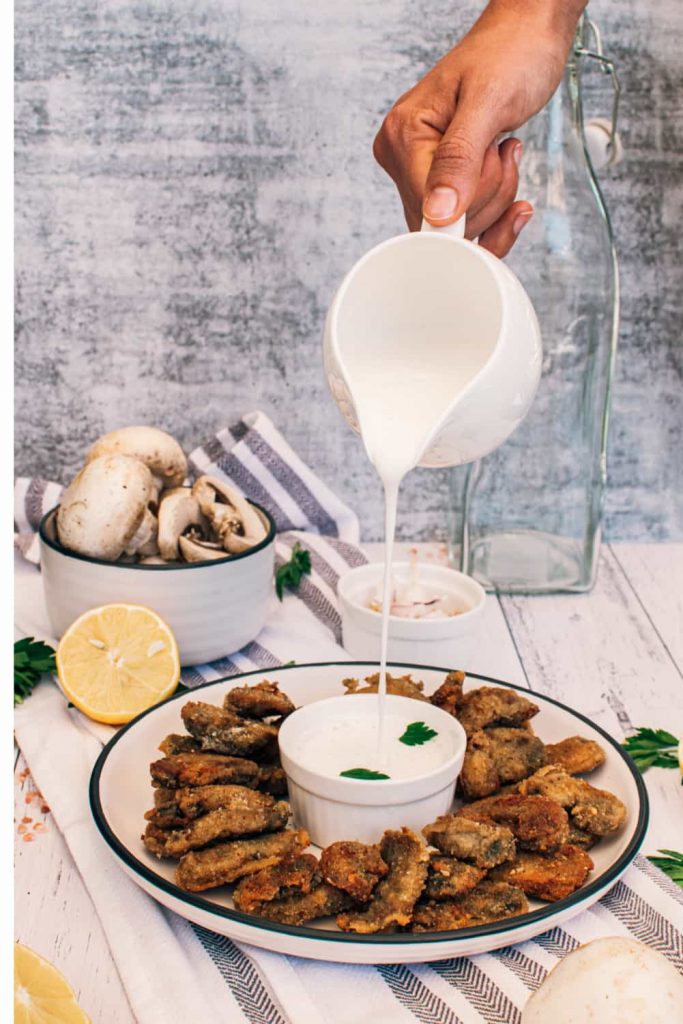 If you're interested in having these mushrooms ready to go at a moment's notice, breaded mushrooms freeze well. You can even double or triple the batch just to prep some for freezing.
Simply bread and arrange them on a baking sheet and freeze. Once the mushrooms are partially frozen, you can transfer them to a freezer container or bag.
When you're ready to bake, arrange on an oiled or lined baking sheet, spray the tops with oil, and bake as directed. You'll likely need to add a few minutes to the baking time.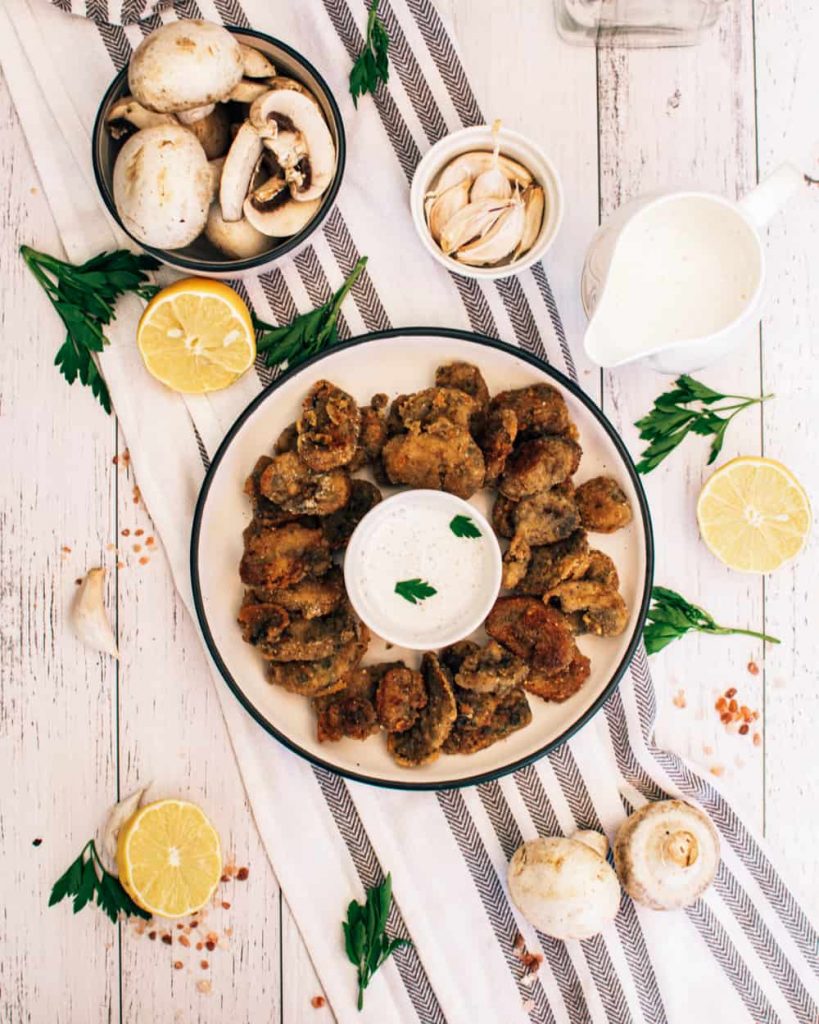 Final Thoughts
Adding crispy breaded mushroom nuggets and an aioli recipe to your vegan cooking repertoire is sure to be a hit with your family and friends. Breaded mushroom nuggets are a favorite appetizer and snack for a lot of people, and this vegan version hits all the key notes – flavorful, crispy, and best of all healthy.
Enjoy serving these low fat bites to your family, and don't forget to check out my vegan peanut butter protein balls for another healthy snack option.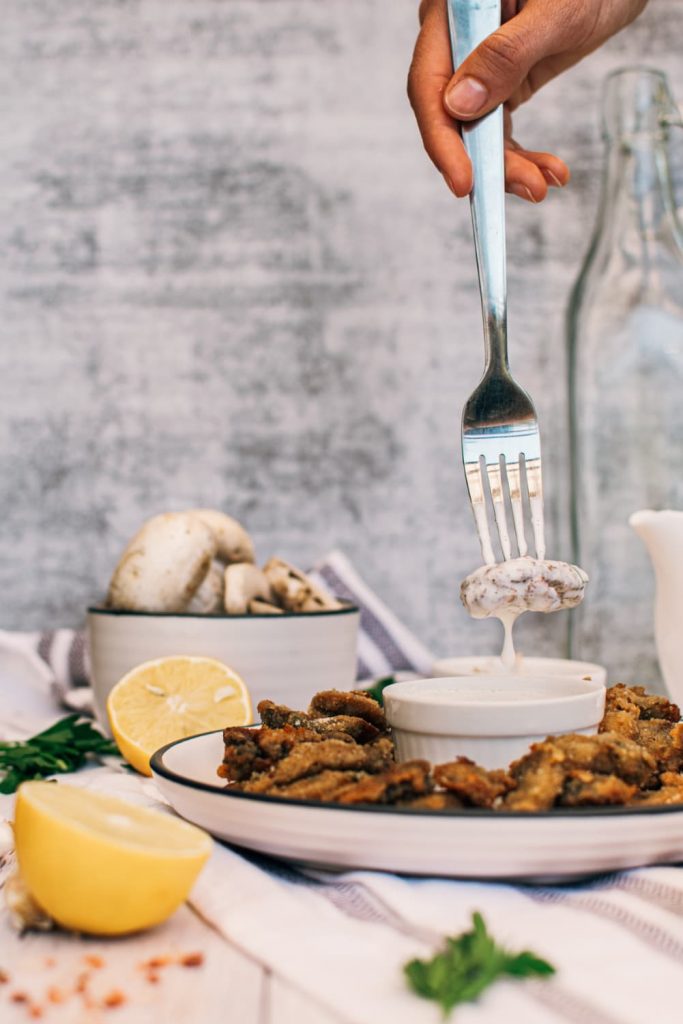 Crispy Breaded Mushroom Nuggets with Vegan Aioli Dipping Sauce
Additional Time:
5 minutes
Healthy baked breaded mushrooms with an easy to make garlic aioli dipping sauce. This recipe is great as an appetizer or a party snack.
Ingredients
Mushroom Nuggets:
8 oz package/ 300 g white cap mushrooms, sliced
1 cup of breadcrumbs or panko
2 Tbsp fresh parsley, finely chopped
1 clove garlic minced
⅓ cup of chickpea flour
Salt to taste
Garlic Aquafaba Aioli
3 tbsp aquafaba (liquid drained from a can of chickpeas)
2 cloves garlic minced
1 cup of vegetable oil
Salt
2 tbsp lemon juice (optional)
Instructions
Making Mushroom Nuggets:
Preheat your oven to 400F/ 200C.
If you purchased whole mushrooms, slice them. Use a fork or tongs to coat each mushroom in a vegan egg made out of chickpea flour and water, salt, fresh parsley, and minced garlic.
Batter the mushrooms in breadcrumbs or panko.
Place the breaded mushrooms on a baking sheet sprayed with cooking oil or lined with parchment paper. Then spray a small amount of oil on top of the mushrooms.
Bake for about 16-20 min. Check them halfway through cooking to make sure they aren't burning.

Making Garlic Aioli:

Add the aquafaba and the salt into a blender (or immersion blender). Blend until combined.
Keep the blender running constantly and VERY slowly drizzle in the oil, making sure it is fully combined as you go.
If you add it too fast, the whole thing will turn liquidy and isn't redeemable. If you find you're getting a bit of oil on the top, stop adding the oil and let the blender run for a little while before continuing.
The mayonnaise will suddenly turn thick. Once all the oil is combined and thoroughly mixed, add in the lemon juice and garlic and mix thoroughly.



Nutrition Information:
Yield:

4
Serving Size:

1
Amount Per Serving:
Calories:

671
Total Fat:

57g
Saturated Fat:

5g
Trans Fat:

1g
Unsaturated Fat:

49g
Cholesterol:

0mg
Sodium:

547mg
Carbohydrates:

34g
Fiber:

4g
Sugar:

5g
Protein:

8g
Nutrition information isn't always accurate and is for estimation purposes only.