Easy-to-Make Quinoa Patties with Sauce
Today I'm sharing a great any day recipe. It's perfect for any time of the year when you're in need of a kid-friendly, but healthy, protein packed meal you can whip up really easily.
My baked quinoa patties are so easy to make, and they use up the leftover quinoa I often have in my fridge from dinners earlier in the week. The best part is that kids love these quinoa patties, so getting some healthy protein and nutrients into them will be a breeze.
They only take 20 minutes in the oven, and while they bake you can easily whip up the herbed cashew sauce for your quinoa patties. It adds a gourmet and flavorful finishing drizzle to make the meal complete, and if the kids object, ketchup tastes great too.
With my suggestions on additions and substitutions, you'll see why this is a regular way for us to use leftover quinoa to get a quick and easy healthy vegan dinner on the table.
This post may contain affiliate links. That means if you purchase an item through these links, I may earn a commission at no additional cost to you. Please read the full disclosure policy for more info.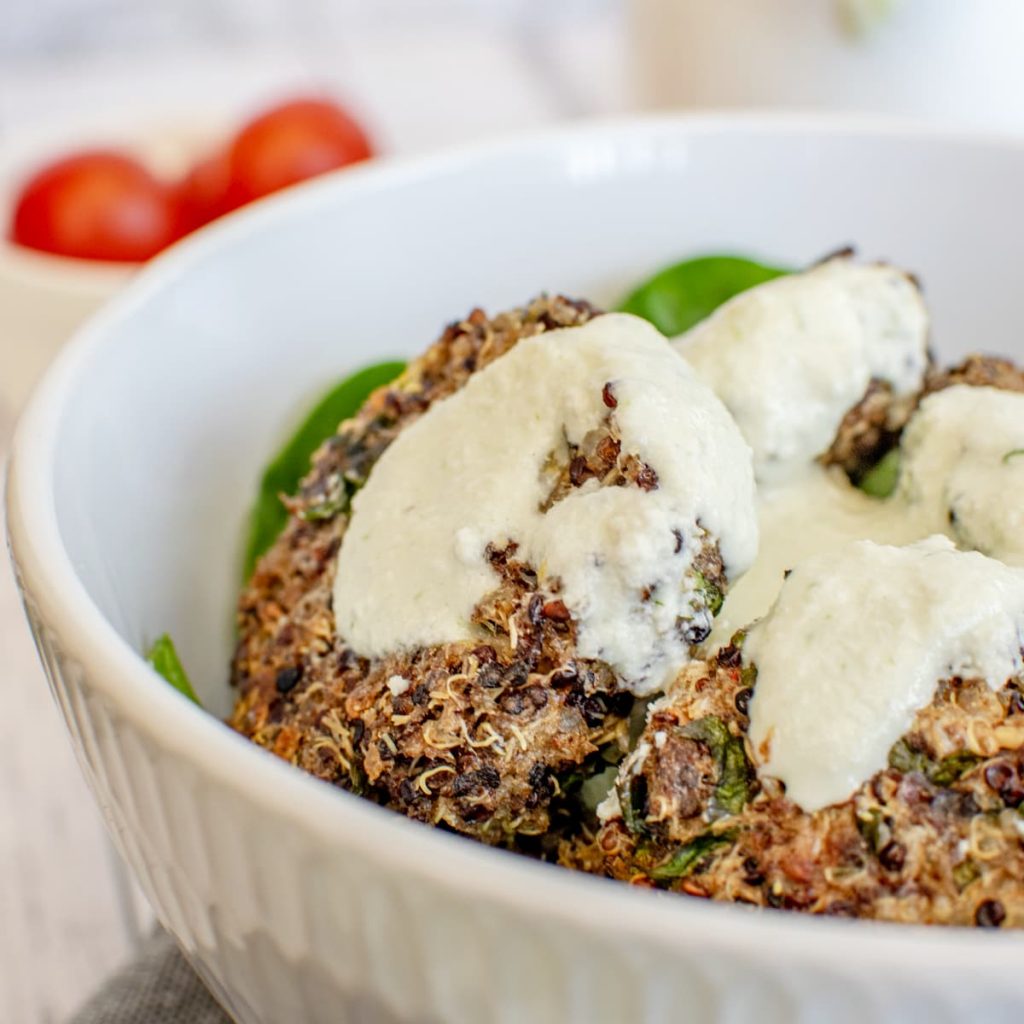 Ingredients in Baked Quinoa Cakes
A great feature of these baked quinoa patties is just how little cooking you have to do. With leftover quinoa the rest of the ingredients come together to make a meal in a snap.
Quinoa, cooked
Olive oil
Garlic, minced
Salt
Onion powder
Parsley, chopped
Paprika
Flaxseed, ground
And, while your kids may be happiest dipping their quinoa patties in ketchup, to make the quick herbed cashew sauce you'll also need a few more ingredients.
Cashews, soaked
Olive oil
Water
Chives
Parsley
Salt & pepper
When it comes to using up your leftover quinoa, you can use whatever color and variety your family eats most often, as long as it's cooked.
If you've forgotten to soak your cashews overnight, just pour boiling water over them about an hour before you plan to cook. That will soften them enough to allow your creamy sauce for quinoa patties to blend easily.
This recipe is also a great opportunity to add some extra vegetables. Add things like shredded zucchini or carrots, cooked sweet potato, or chopped greens like spinach or kale to boost the already healthy baked quinoa cakes. You could also add fun spices to switch things up now and again. Indian spices like a good curry powder is one of our favorite ways to enjoy them.

How to Make Healthy Quinoa Patties
When you're ready to get your baked quinoa cakes started, you'll need a large baking sheet that's been lightly oiled, and an oven preheated to 350°F.
First combine all the ingredients for the quinoa patties into a large bowl. The quinoa does bind together with the other ingredients better if it's warm. Leftover quinoa can simply be microwaved a tiny bit until it's warmed slightly.
All the ingredients should mix together to form a sticky paste, and from there you can use a small spoon or a cookie scoop and wet hands to shape the quinoa mixture into patties. This recipe yields about 12 to 15 depending on how big you make them.
Place them on the oiled sheet and then into the oven to bake. The first side should bake for up to 15 minutes, just long enough for them to brown and form a crust before you try to flip them over.
Once they've been flipped, allow them to bake for another 5 minutes to finish cooking. When they're out of the oven, allow them to cool just enough to handle and serve hot with your choice of sauces for quinoa patties.

Making Cashew Herb Sauce for Quinoa Patties
There are many sauces that would be delicious with these baked quinoa patties, but my best recommendation is this herbed cashew sauce. It's creamy, full of herb flavor from chives and parsley, and comes together in just minutes with a blender.
To make it, just add everything into the blender. I like to leave chive or two out, then I chop and garnish my final plate with them, but the rest goes in together.

Blend until everything is a smooth creamy sauce. If it's too thick, feel free to add small splashes of water until your sauce is the texture you like. Then, serve over your warm quinoa patties and garnish with those chive pieces. We like to dip them into the sauce, or sometimes I serve them up over salad greens for a healthy, filling vegan dinner salad.

If 12 to 15 patties seem like a lot for your family, you can freeze them. In fact, you may wish to double them and keep them ready in your freezer for a quick snack or lunch.
Quinoa keeps really well in the freezer and these patties should taste delicious for at least 2 months.

Final Thoughts
This is one of those recipes that's so healthy and easy, you won't mind that your kids are covering them in sauce, because they're getting so much healthy nutrition while they're at it.
Adults will love the herb cashew sauce for their quinoa patties. You can easily serve them up as a starter, a main, or a light lunch to any crowd.
Since they're so easy to make, you can try out this sauce and more, as well as different additions like veggies, greens, and spices to change up the flavor profile of your quinoa patties.
With this healthy, easy recipe in your hand, you'll have a quick go to vegan meal that everyone will enjoy for even the busiest of nights. I hope you enjoy it, and I'd love to hear what variations you try and enjoy.

Healthy Baked Quinoa Cakes with Herbed Cashew Sauce
Additional Time:
5 minutes
A healthy and tasty baked quinoa cake topped with a creamy herb-infused cashew sauce. These patties are versatile and taste good on top of a salad or on their own.
Ingredients
Quinoa Cakes
2 cups cooked quinoa
2 tbsp olive oil
1 clove garlic
½ tsp salt
1 tbsp onion powder
¼ cup chopped parsley
¼ tsp paprika
2 tbsp ground flaxseed
Cashew Sauce
1 cup soaked cashews
1 tbsp olive oil
⅓ cup of water
Fresh chives & parsley
Salt & Pepper to taste
Instructions
For the quinoa cakes, set all the ingredients in a medium bowl and stir to combine. You should have a sticky paste. It's better to use the quinoa while still warm, otherwise, it's harder to combine.
Use wet hands and a spoon to form the quinoa paste into 10 quinoa cakes or 12-15 tiny sized cakes.
Set the cakes on a baking sheet with a little oil so they don't stick. Bake them in a heated oven at 350 degrees for 10-15 minutes, taking care to let them brown and form a crust before flipping. Cook them for 5 more minutes on the other side.
For the cashew sauce, you'll want the cashews soaked in water overnight. Another option is to have the cashews soak in boiling water for 1 hr before use.
Put all the ingredients in a food processor (except for a handful of chives to garnish at the end) and blend until it's a smooth sauce. Add extra water for a more liquid consistency.
Serve the quinoa cakes with the herbed cashew sauce on their own or on a bed of lettuce.
Nutrition Information:
Yield:

10
Serving Size:

1
Amount Per Serving:
Calories:

172
Total Fat:

12g
Saturated Fat:

2g
Trans Fat:

0g
Unsaturated Fat:

9g
Cholesterol:

0mg
Sodium:

239mg
Carbohydrates:

14g
Fiber:

2g
Sugar:

1g
Protein:

4g
Nutrition information isn't always accurate and is for estimation purposes only.