5-Minute Coconut Milk Chia Pudding That You Won't Believe Is Vegan
This overnight chia pudding with coconut milk is the perfect healthy breakfast or snack that you can make ahead of time. In less than 5 minutes of prep time, you can have delicious vegan chia seed pudding in your fridge all week.
If you don't like coconut milk, no problem! This is a base recipe that all of the ingredients, except for the chia, can be substituted to suit your needs.
Instead of coconut milk, use almond milk, soy milk, or even oat milk. Any milk substitute will do. Mix up the pudding flavor by adding cocoa, protein powder, and other spices. Top with your favorite fruits or healthy additives.
Once you make this you'll be hooked and won't believe that it's vegan. Even kids love it. For a thick and creamy overnight pudding, follow the recipe below.
This post may contain affiliate links. That means if you purchase an item through these links, I may earn a commission at no additional cost to you. Please read the full disclosure policy for more info.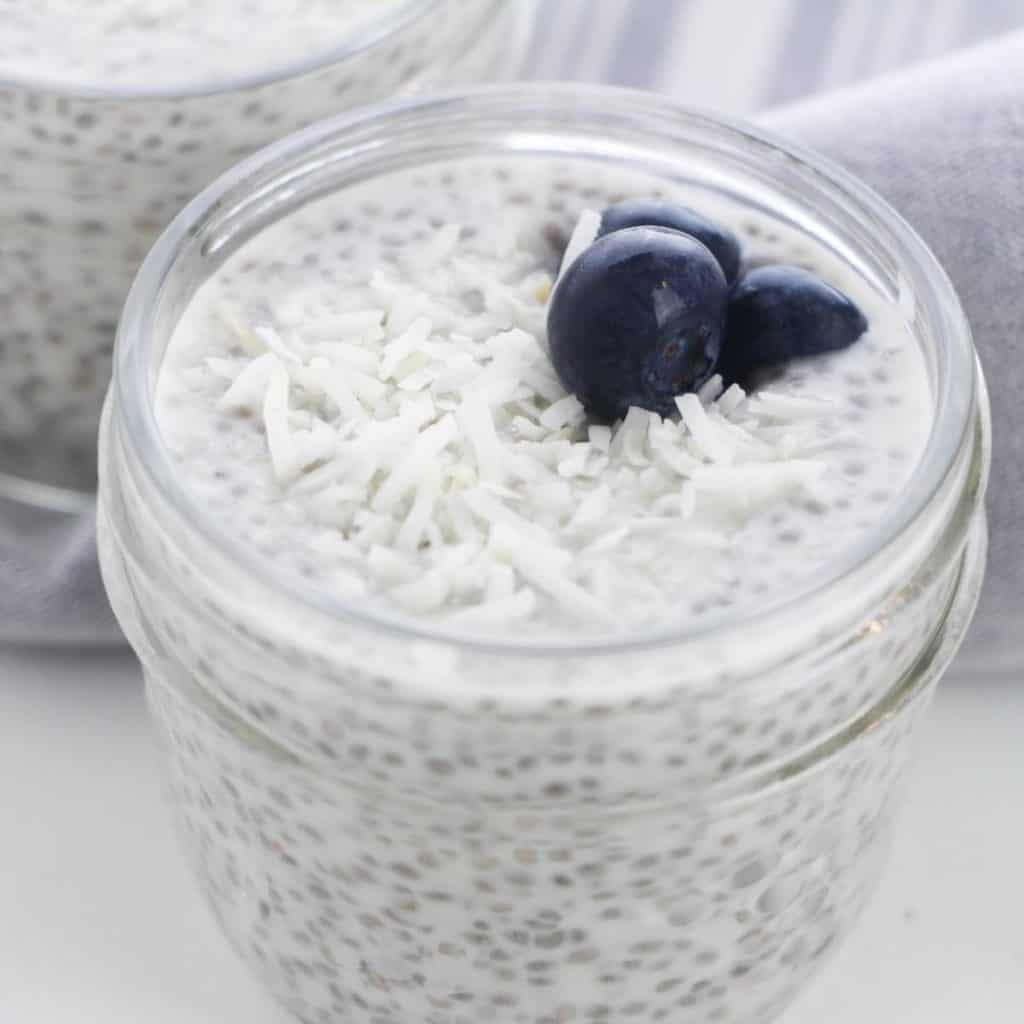 What Does Chia Pudding Taste Like?
Chia seeds don't have a flavor on their own which makes this pudding a great base recipe. The chia pudding will take on the flavor of the other ingredients that you add.
You can add different spices, sweeteners, and toppings to create completely new flavors of chia pudding. Some of my favorites are chocolate, berry, and even pumpkin spice chia pudding.
After chia has been sitting for an hour or two, it becomes gelatinous. It's similar to the texture of thick tapioca pudding.
Even after the chia has been sitting overnight, you will still feel some slight texture from the seeds. If you want a truly smooth pudding, place it in a high-speed blender to mix. This will make the chia pudding into a chia mousse.
Ingredients In Overnight Chia Pudding
This overnight chia pudding recipe only has 4 required ingredients and a few optional ingredients for toppings.
The required ingredients for this vegan chia seed pudding are:
Coconut Milk
Chia Seeds
Maple Syrup
Vanilla Extract
The optional ingredients include:
Shredded Coconut
Blueberries
Sliced Strawberries
Or any other fruit you'd like as a topping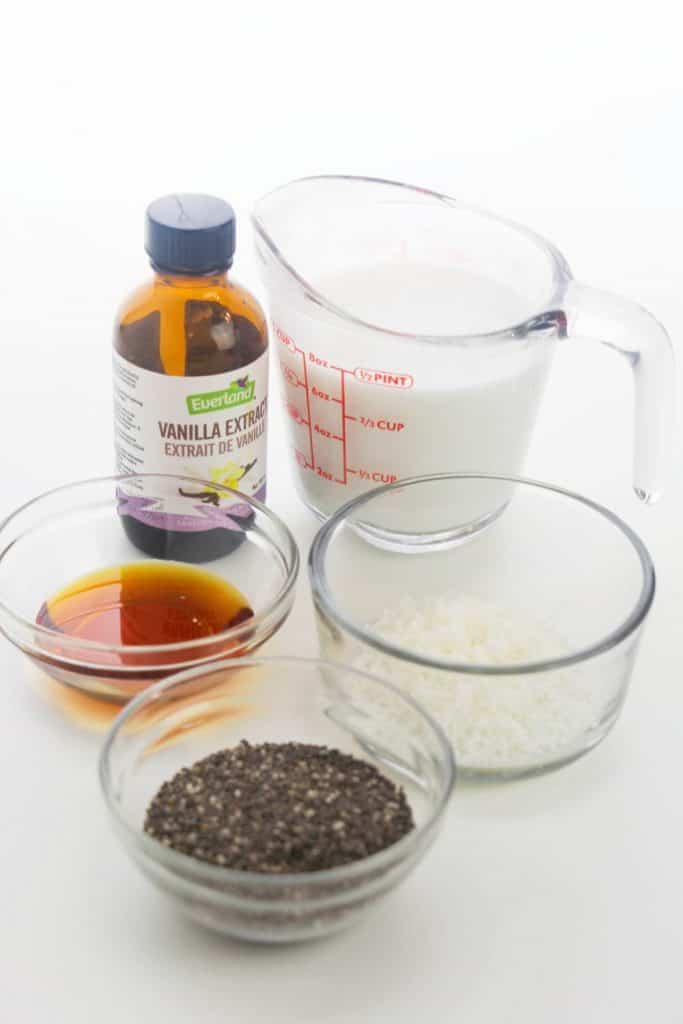 Chia Pudding Coconut Milk Ratio
The ratio of chia seeds to coconut milk is important. Too much milk and the pudding will turn out runny. Not enough milk and the chia seeds will absorb it all and your pudding will be a thick crunchy gel.
The ideal ratio of chia seeds to coconut milk is 4 Tbsp (1/4 cup) of chia seeds per 1 cup of coconut milk. Also known as a 4:1 ratio of coconut milk to chia seeds.
This will give you an ideal chia pudding texture that is gelled but not too firm or runny. After you've made your pudding using the 4:1 ration, you can adjust it firmer or thiner next time by adjusting the amount of coconut milk added.
---
How To Make Coconut Milk Chia Pudding (3 Easy Steps)
The prep time for chia seed pudding can be done in less than 5 minutes. It does require some wait time before consumption though.
For maximum liquid absorption from the chia seeds, let the pudding sit in the fridge overnight. If you're on a time-crunch, you can enjoy the pudding with almost the same consistency as an overnight soak after only 1-2 hrs.
Place the coconut milk into a bowl followed by chia seeds, maple syrup, and vanilla extract.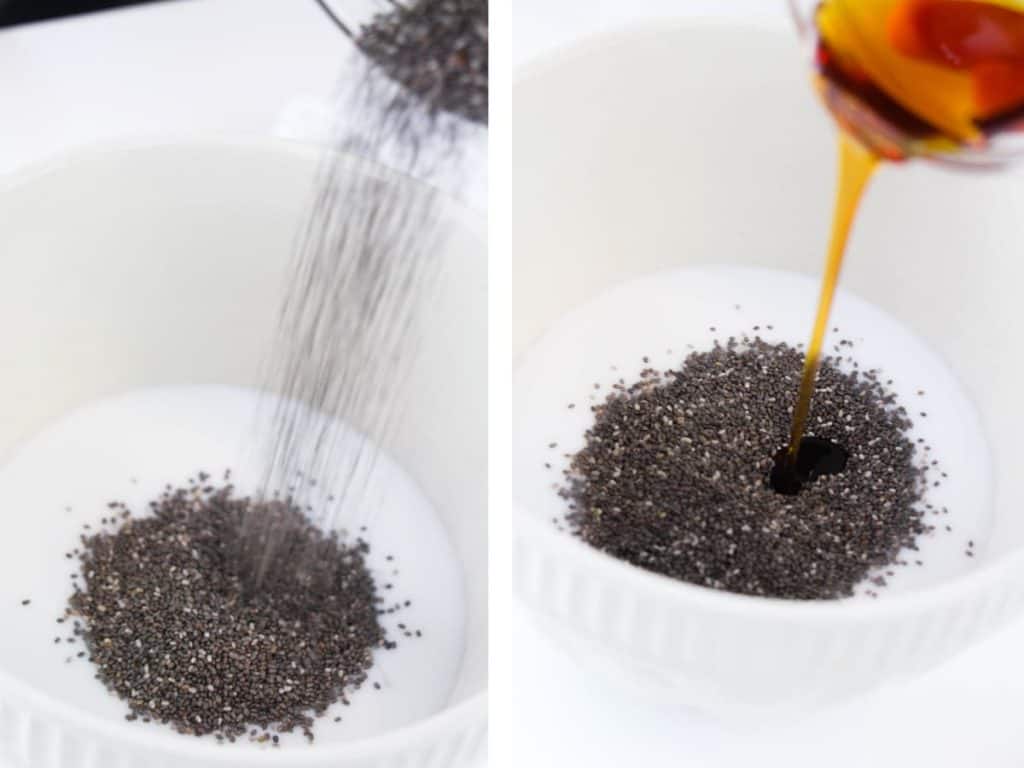 Once the ingredients are mixed together well, place the mixture into an airtight jar. I prefer to use a wide-mouth mason jar because I can see how the chia seeds are absorbing the coconut milk and it's easy to pour from.
If you don't like coconut milk, you can use any non-dairy milk that you like. You can also substitute out the maple syrup and vanilla for different sweeteners and spices.
For the fall, you can do almond milk with cinnamon, cloves, and maple syrup. Then top with apples before eating.
Or for extra protein, mix in a scoop of your favorite protein powder. Using calorie-free sweeteners like monk fruit sweetener is a good way to keep calories under control.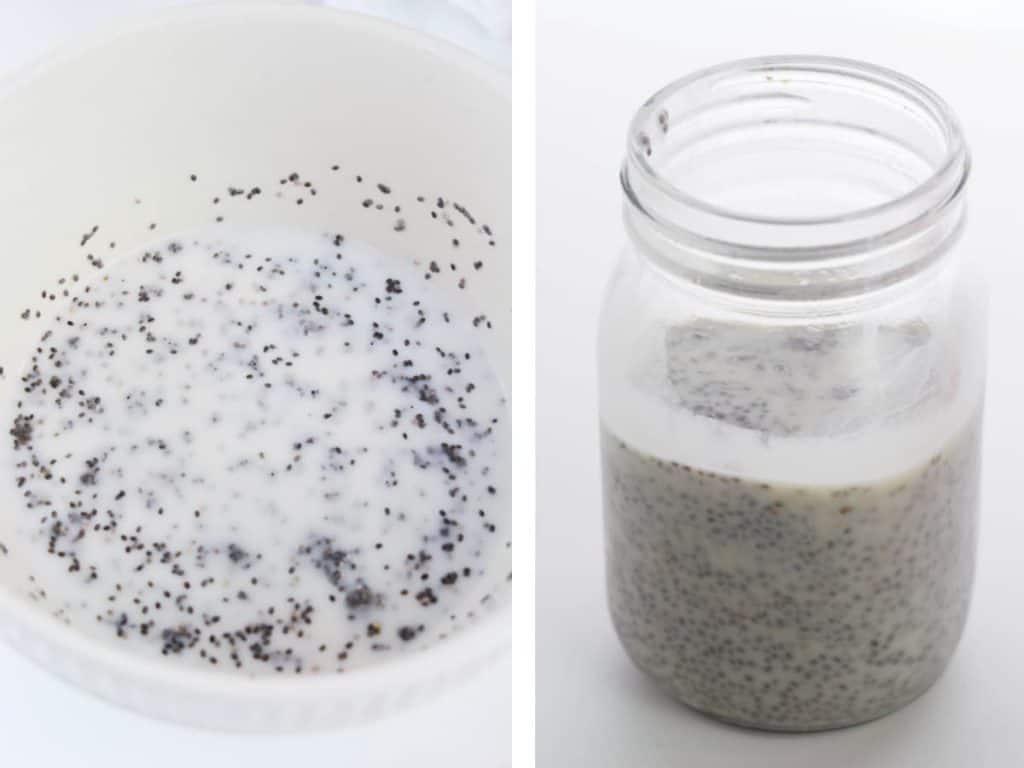 Place the jar into the fridge for a minimum of 1-2 hours but ideally overnight. The chia seeds should start to absorb the liquid and form a thick gel. Before eating, portion the chia pudding into smaller jars and top with your favorite toppings.
Here are some chia pudding topping ideas:
Blueberries
Sliced Strawberries
Shredded Coconut
Chopped Apples
Sliced Almonds
Chopped Walnuts
Sliced Banana
Mango Chunks
Cacao Nibs
Really the ideas are endless and are whatever you and your palette are craving. Basically anything you'd put on top of oatmeal would be ideal for chia pudding as well.
For additional ideas, check out this post on ways to sweeten oatmeal without added sugars. Works for chia pudding too! The neutrality of the chia seeds makes most toppings taste delicious.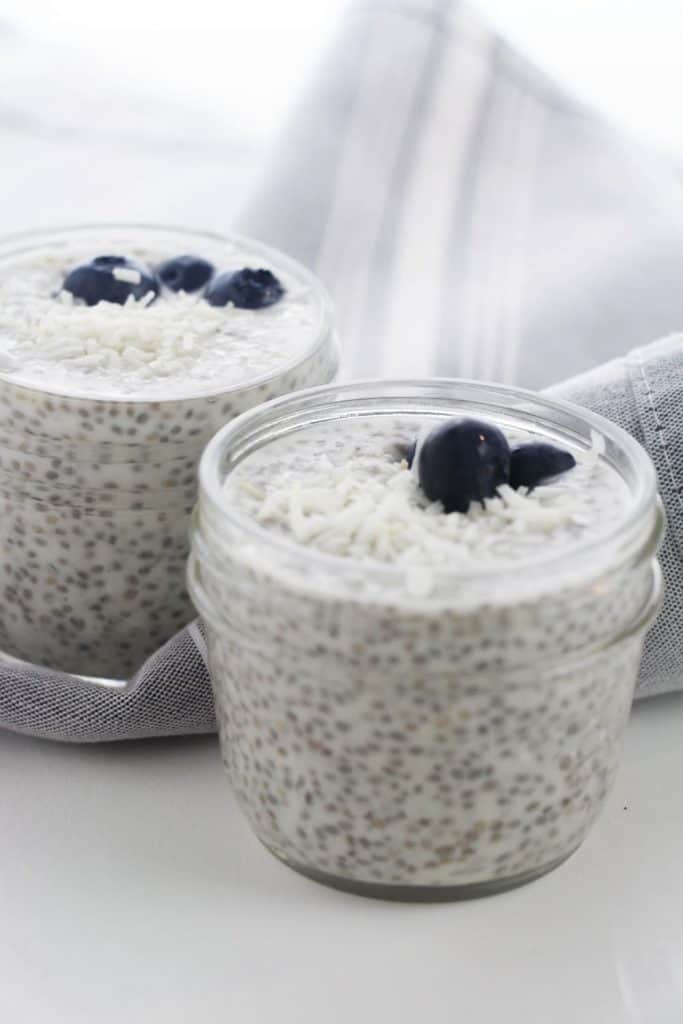 Do You Eat Chia Pudding Hot Or Cold?
This is a common question I'm asked regarding chia pudding. While most puddings Americans are used to are cold, there are some hot puddings.
Chia pudding can be eaten both hot and cold, depending on the season and your preference. If you're eating it for breakfast during the winter, warming it up as you would oatmeal is ideal. Otherwise, you can eat the pudding cold straight from the fridge.
Is Chia Pudding Good For Weight Loss?
Chia seeds contain 137 calories per oz (2 Tbsp), 4.4g of protein, and 10.6 g of dietary fiber. If you ate half of this overnight chia pudding recipe for breakfast every day, you'd be eating the equivalent of 2 Tbsp of chia seeds plus the calories from the milk, sweetener, and toppings.
While chia seeds are calorie-dense, they're high in fiber which can help keep you full, which prevents overeating. So if you watch your portion sizes and avoid high-calorie toppings, eating this chia pudding can assist you in eating fewer calories.
Are You Supposed To Chew Chia Seeds?
Chia seeds are supposed to be chewed. Since chia seeds can absorb liquid at 10 times their dry weight, they can be potentially dangerous if consumed dry.
When eating chia seeds, it's best to soak them in liquid for at least an hour or blend them completely into a smoothie.
The problem with consuming dry chia seeds is that if they get stuck in your throat, they'll absorb liquid and expand, potentially making it difficult to breathe. While this seems outlandish, a chia seed blockage landed someone in the emergency room.
Better safe than sorry, always soak your chia seeds in liquid and chew lots.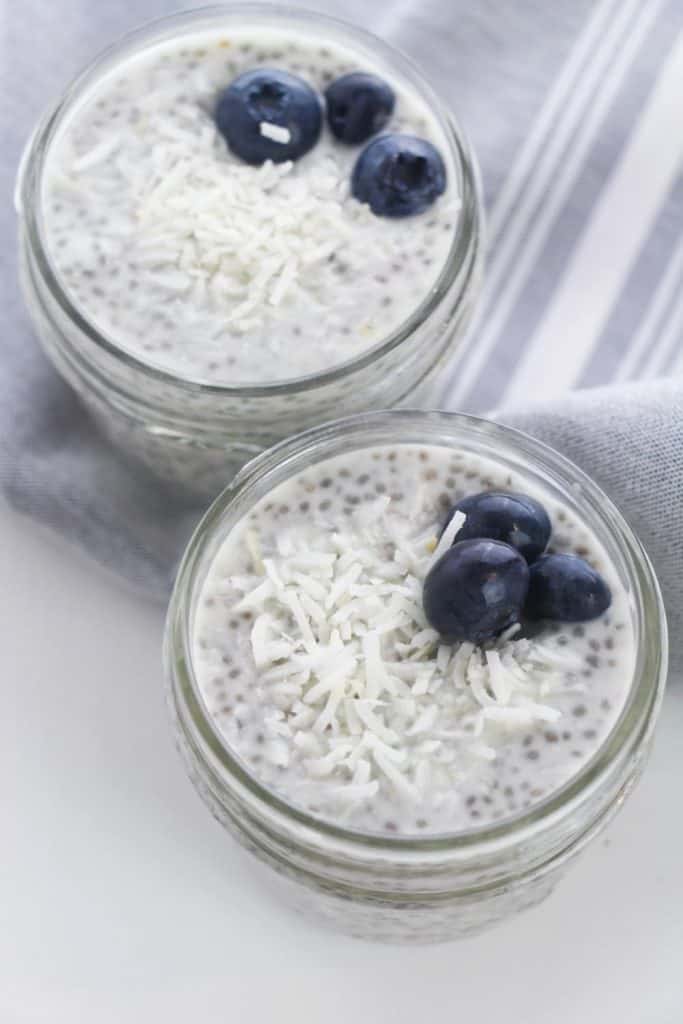 You can incorporate chia seed pudding into a smoothie for a thick and creamy snack. Check out this dragon fruit chia pudding smoothie that's a favorite.

Overnight Chia Pudding With Coconut Milk
Total Time:
2 hours
5 minutes
Simple overnight chia pudding made with coconut milk. A base recipe that's easy to customize for a healthy snack or vegan breakfast option.
Ingredients
1 cup carton coconut milk, or other dairy-free milk
1/4 cup chia seeds
2 Tablespoon maple syrup, to taste
1 teaspoon vanilla extract
Pinch salt, optional

Shredded coconut, optional garnish
Sliced blueberries or strawberries, optional garnish
Instructions
Place the coconut milk, chia seeds, maple syrup, vanilla extract, and salt into a bowl. Mix well.
Transfer the chia mixture to an airtight jar and place it in the fridge overnight. At a minimum, let the chia pudding sit for 1-2 hrs before eating. Overnight will give it the most pudding-like consistency.
The next morning, put half of the chia pudding into a bowl. Top with shredded coconut, blueberries, or other toppings.
Notes
For a smoother mousse, blend the chia pudding in a high-speed blender until completely smooth.
Change flavorings, sweeteners, and toppings for a completely different flavor profile.
Nutrition Information:
Yield:

2
Serving Size:

1
Amount Per Serving:
Calories:

668
Total Fat:

46g
Saturated Fat:

35g
Trans Fat:

0g
Unsaturated Fat:

9g
Cholesterol:

10mg
Sodium:

272mg
Carbohydrates:

59g
Fiber:

13g
Sugar:

30g
Protein:

12g
Nutrition information isn't always accurate and is for estimation purposes only.