Vegan & No Chill Version Of The Classic Crinkle Cookie
Come this time of year, there's nothing better than a homemade baked good, especially a really good cookie. If chocolate peppermint crinkle cookies haven't been a part of your holiday platter before, they should be.
Holiday crinkle cookies are hands down one of the most delicious cookies out there. Not only are they gorgeous from the iconic crinkles and snowy white powdered sugar-coating, but they're absolutely decadent. Crisp cookie exteriors melt into a fudgy, brownie-like center.

This particular recipe is a winner for even more reasons. I've made the perfect vegan chocolate crinkle cookies here and for added holiday flavor, infused them with just the right amount of peppermint. Chocolate, peppermint, sugary coating, what's not to love?
As if that wasn't enough, by making this recipe for chocolate crinkle cookies, no chill time is required. That's right, just mix, bake, and eat. Cookie paradise awaits.
This post may contain affiliate links. That means if you purchase an item through these links, I may earn a commission at no additional cost to you. Please read the full disclosure policy for more info.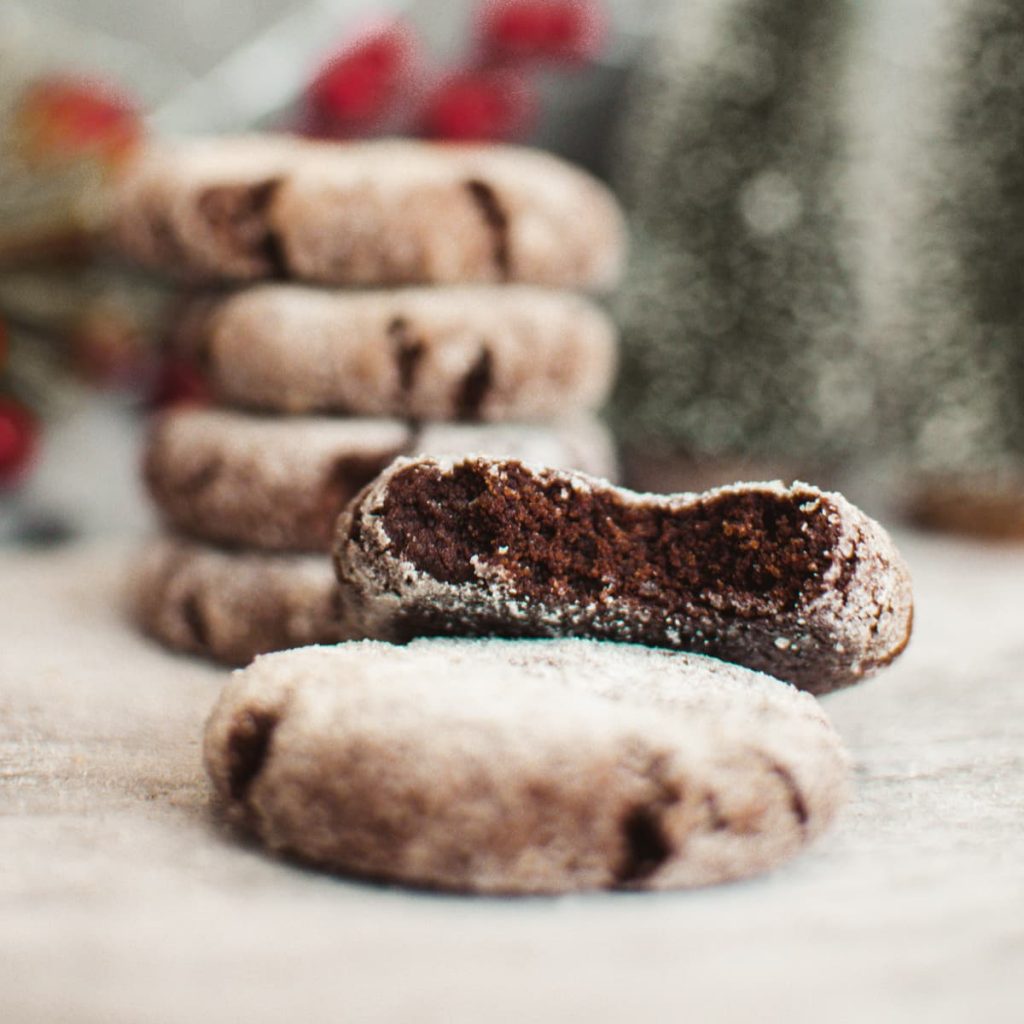 So What are Holiday Crinkle Cookies?
Crinkle cookies are just how they sound, cookies that crinkle, or crack, while baking. This is achieved by the all-important step of rolling them in the powdered sugar before they're baked. 
As they cook, the sugar dries and splits, pulling the cookie dough along with it and creating those gorgeous cracks. The stark contrast between the dark chocolate cookie and the powdered sugar is what makes these so beautiful and recognizable.
Ingredients for Chocolate Peppermint Crinkle Cookies
These may be vegan chocolate crinkle cookies, but the ingredients are all very easy to find at any grocery store and maybe even in your pantry right now.
While I call for canola oil as an easy, neutral flavored fat for these cookies, you can also substitute melted coconut oil if you prefer. You can also use whichever non-dairy milk you like for this recipe.
To make these you'll need:
Granulated sugar
Canola oil
Ground flax seeds
Non-dairy milk
Pure vanilla extract
Peppermint extract
All-purpose flour
Cocoa powder
Baking powder
Salt
Powdered sugar
If you're new to flax seed, it's a great item to add to your vegan pantry. They're full of nutrition and can replace the binding nature of eggs in baking.
You can purchase flax seed pre-ground, or as whole seeds. Once ground, they spoil faster, so buy just what you'll use, or as whole seeds and grind them yourself in a spice grinder. Whether whole or ground, once open, store in the fridge.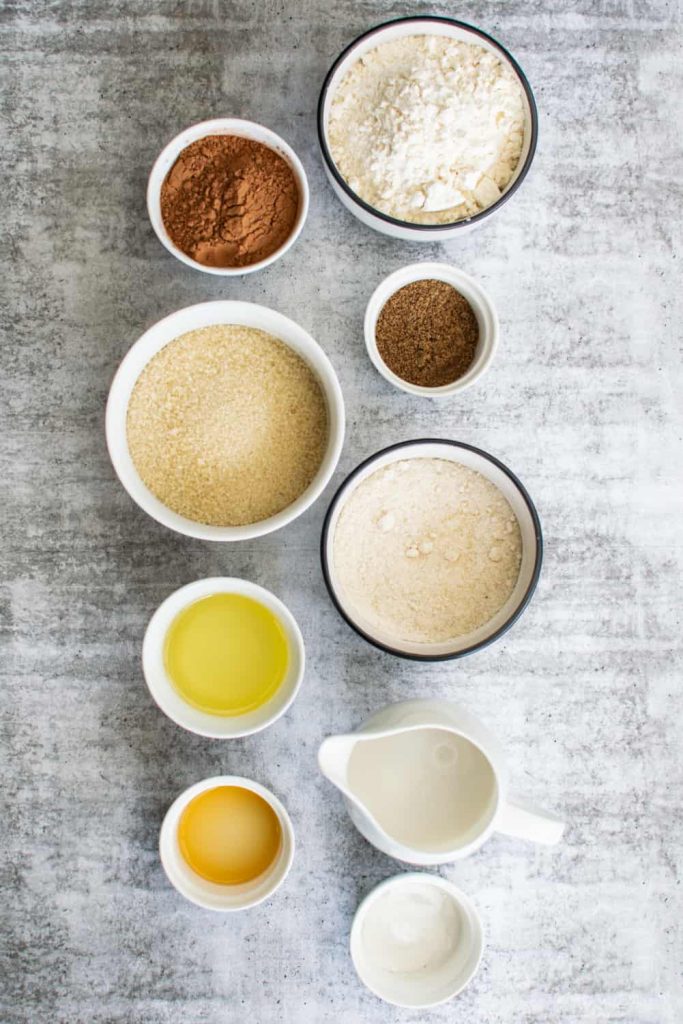 What makes these cookies chewy and crispy?
To create the perfect crisp outside and chewy middle, it's important to use the right sugar. White, or granulated sugar, is best. It doesn't contain the added moisture that brown does, and dries out faster in the oven for that perfect crisp exterior.
For that chewy middle, it's really important not to skip the oil, to use the right amount of flour, and to avoid over-baking them.
How to Make No Chill Chocolate Crinkle Cookies
Not only are these holiday cookies adorable, but they're also great for last minute baking. In about 30 minutes, you can have beautiful crinkle cookies ready to eat. To get started you'll need a preheated oven, two baking sheets with parchment paper, a sifter, and a few bowls.
Start by combining the white granulated sugar and the canola oil in a bowl. You'll want to stir this until it's well combined and the mixture is smooth. Then add the ground flax seed, the extracts, and milk. Stir those to combine as well.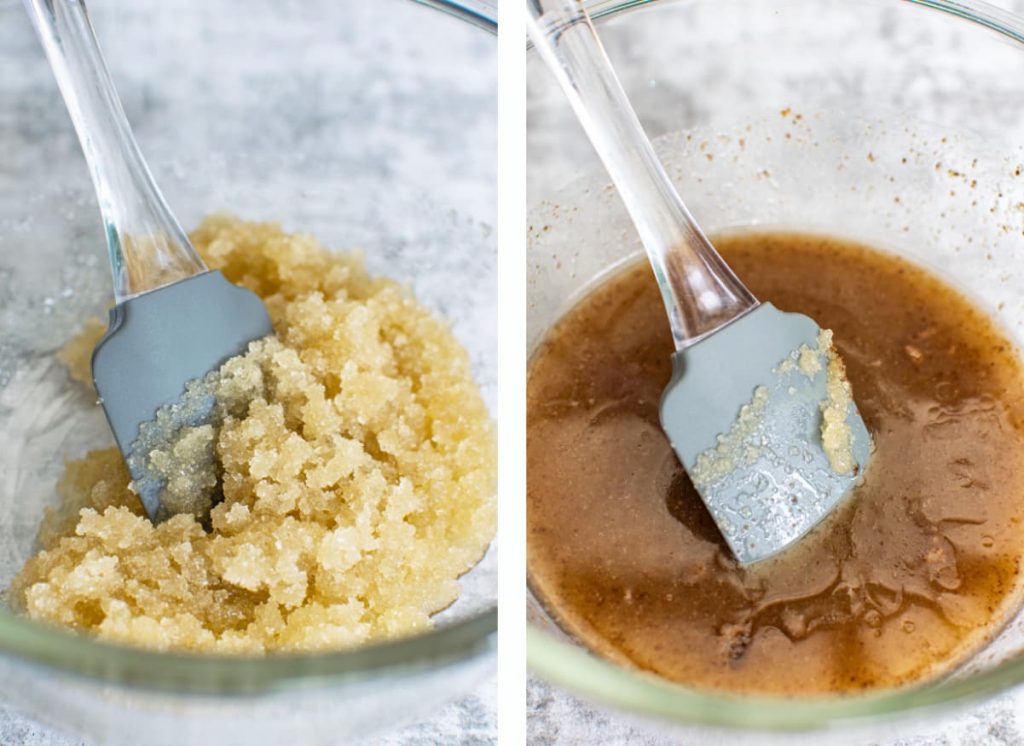 Using a sifter, or a fine mesh strainer, sift the flour, cocoa powder, baking powder, and salt together. Then combine that with the wet ingredients until you have a uniform, soft dough.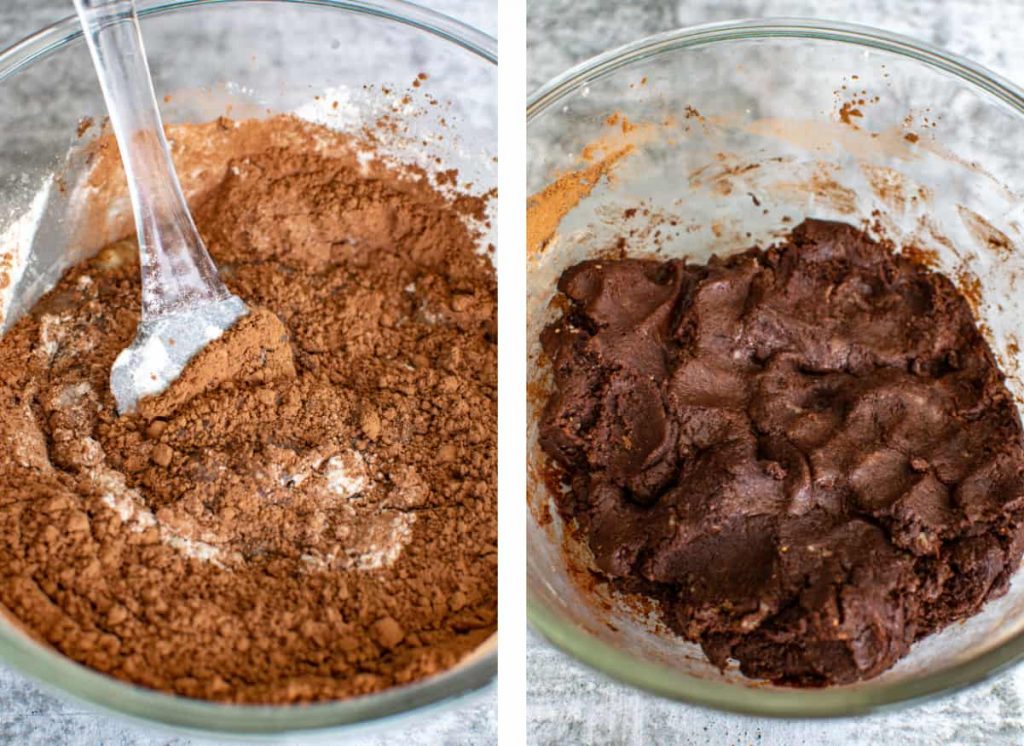 Set up your powdered sugar in a bowl near your baking sheets and begin shaping your dough. Generous tablespoon sized balls are just right.
Roll them in the powdered sugar and place them 2 inches apart on the baking sheet. Be generous with the powdered sugar, not only does it make them prettier, but it's essential for that crinkle effect.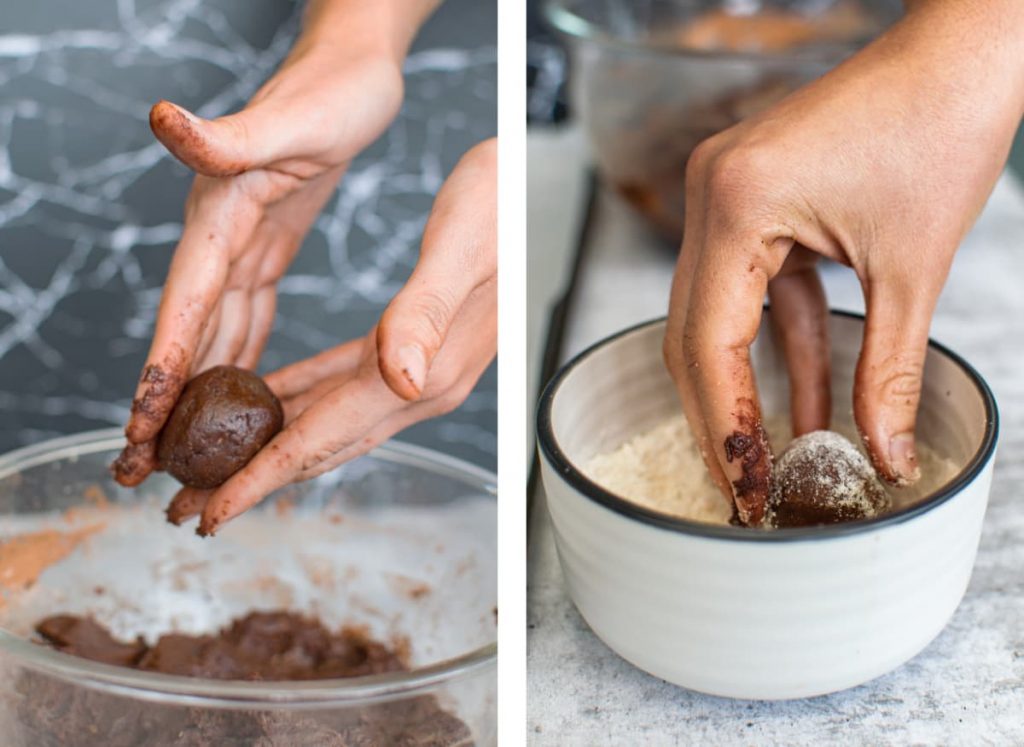 Press each dough ball dough gently into a thick disc. Don't press too hard or they'll be too flat and lose some of that fudgy brownie texture during baking.

Bake them for 10 to 12 minutes. Err on the lower side of baking time if you're in doubt. The cookies will look under baked, but they firm up as they cool. Overbaking will dry out the fudgy middle. Let them cool on the baking sheet for a full 12 minutes, then dust with more powdered sugar, and serve.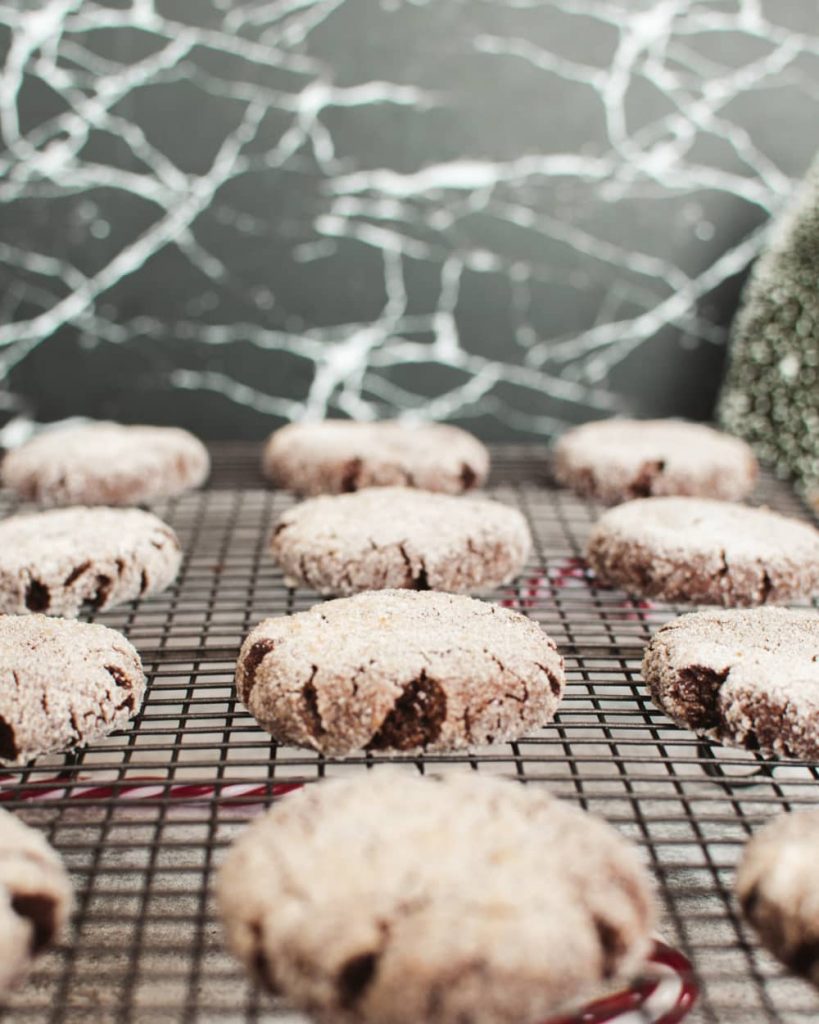 Troubleshooting Your Crinkle Cookies
One of the most common issues with crinkle cookies is that they go flat in the oven. Usually, this is an issue of lack of chill time, but not for this no chill recipe. That being said, make sure you properly measure your oil, flaxseed, and flour. Too much oil or too little flax seed or flour can lead to flat cookies simply because there wasn't enough structure to hold them up.
If you wind up with cookies that are deflating as they cool, make sure you didn't make them too large, and that you properly measure your baking powder. Too much leavening agent can cause them to deflate as they cool, and too large cookies can be too heavy to stay puffy.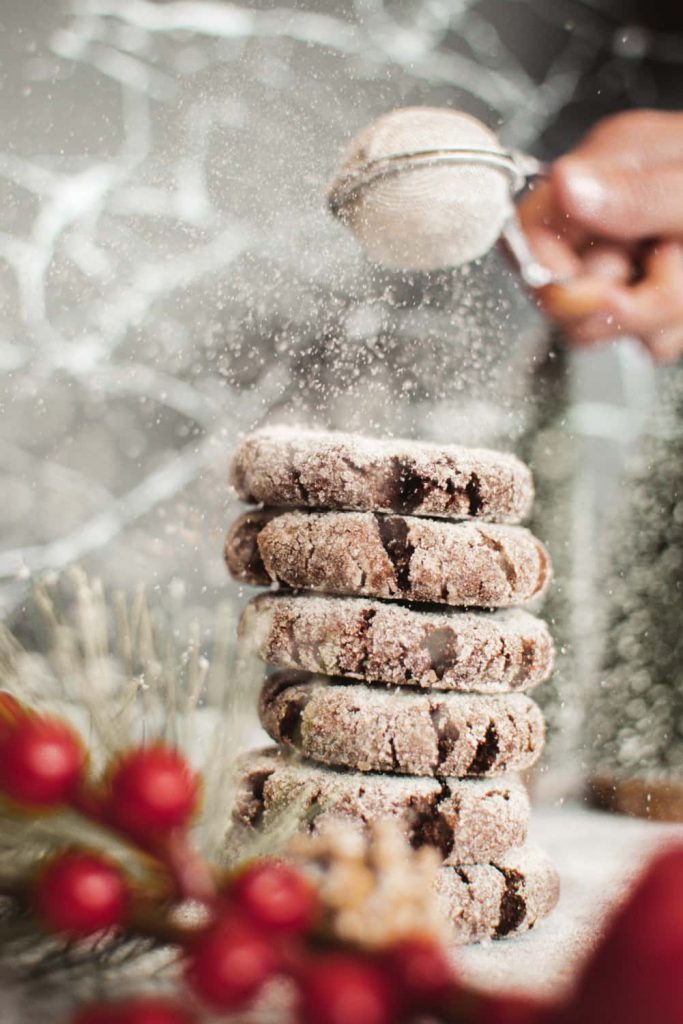 Storage and Freezing
These cookies really are great for gift-giving, they last for several days on the counter in an airtight container. Wait until they're completely cool to store, then keep them sealed for up to 5 days. 
If you fall in love with these cookies and want to freeze some for an easy dessert later, make the recipe all the way to the point of shaping them into balls, skipping the powdered sugar. Then place them on a baking sheet to freeze. Once frozen, transfer the cookies to an airtight, freezer-safe container and keep there for up to 3 months. 
To bake, roll the frozen cookies in a generous amount of powdered sugar, and add 3 to 4 minutes to your baking time. Then enjoy as usual.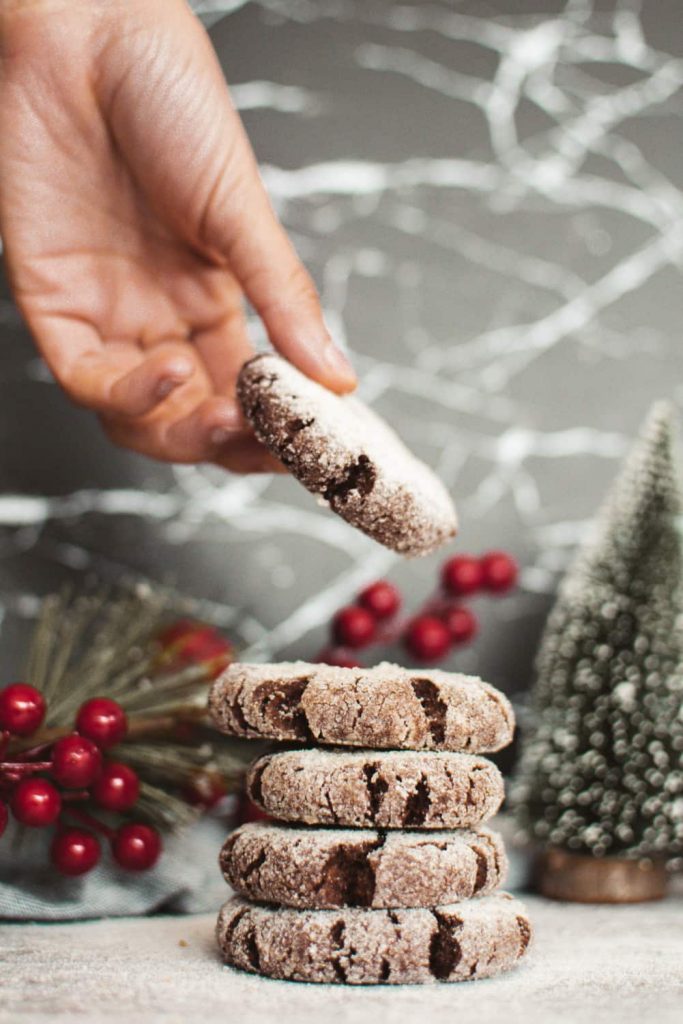 Final Thoughts
I truly believe that these cookies will quickly become a family favorite. They're the kind of cookie that both your vegan and non-vegan friends and family can enjoy together. You really would never know these are made without the traditional cookie ingredients.

Have fun whipping these up and get the kids involved. Rolling cookie dough in copious amounts of powdered sugar is fun for all ages! I'd love to hear what you think in the comments below.

Vegan Chocolate Peppermint Crinkle Cookies
Additional Time:
10 minutes
Delicious vegan holiday cookies with a fudgy brownie center and a crispy cookie exterior. The addition of peppermint makes a nice twist on these classic no chill cookies.
Ingredients
1 cup granulated sugar
1/3 cup canola oil OR melted coconut oil
1 tablespoon ground flax seeds
1/3 cup non-dairy milk
1 teaspoon pure vanilla extract
1 teaspoon peppermint extract
1 1/4 cups all-purpose flour
1/2 cup cocoa powder
1 teaspoon baking powder
1/4 teaspoon salt
1 cup powdered sugar, for rolling
Instructions
Preheat the oven to 350 degrees F. Line two baking sheets with parchment paper.
In a large bowl, add the sugar and canola oil. Mix with a spoon until well combined and smooth. Add the ground flax seeds, non-dairy milk and vanilla, peppermint, and mix well to combine.
Sift in the flour, cocoa powder, baking powder, and salt using either a sifter or fine mesh strainer. Stir until combined with the wet ingredients and a soft dough has formed.
Place the powdered sugar in a small mixing bowl. Scoop out a heaping tablespoon of dough at a tim, and shape into a ball. Roll the ball in the powdered sugar very generously, making sure to cover all sides. The more powdered sugar, the prettier the cookies will be.
Place the balls onto the prepared baking sheet, about 2 inches apart so they have room to spread. Gently press the balls flat. You don't want to press them too flat though.
Bake for 10-12 minutes until set. They will appear slightly undercooked and soft but will firm up as they cool.
Cool on the baking sheet for at least 10 minutes. Sprinkle with additional powdered sugar before serving.
Nutrition Information:
Yield:

12 cookies
Serving Size:

1
Amount Per Serving:
Calories:

233
Total Fat:

8g
Saturated Fat:

1g
Trans Fat:

0g
Unsaturated Fat:

6g
Cholesterol:

1mg
Sodium:

89mg
Carbohydrates:

38g
Fiber:

1g
Sugar:

26g
Protein:

2g
Nutrition information isn't always accurate and is for estimation purposes only.