Pitaya Smoothie With Chia Coconut Pudding
If you've been ogling the gorgeous fuchsia smoothie bowls and smoothies on Instagram and want to try making your own version, then try out this dragon fruit chia coconut pudding smoothie.
Not only does it take less than 5 minutes to make, it's full of healthy fats, proteins, and antioxidants. Dragon fruit has a mild flavor that isn't overpowering even for newbie pitaya drinkers.
The addition of the coconut chia pudding gives this smoothie a unique thickness that is hard to find in vegan smoothies. Try it out for yourself!
This post may contain affiliate links. That means if you purchase an item through these links, I may earn a commission at no additional cost to you. Please read the full disclosure policy for more info.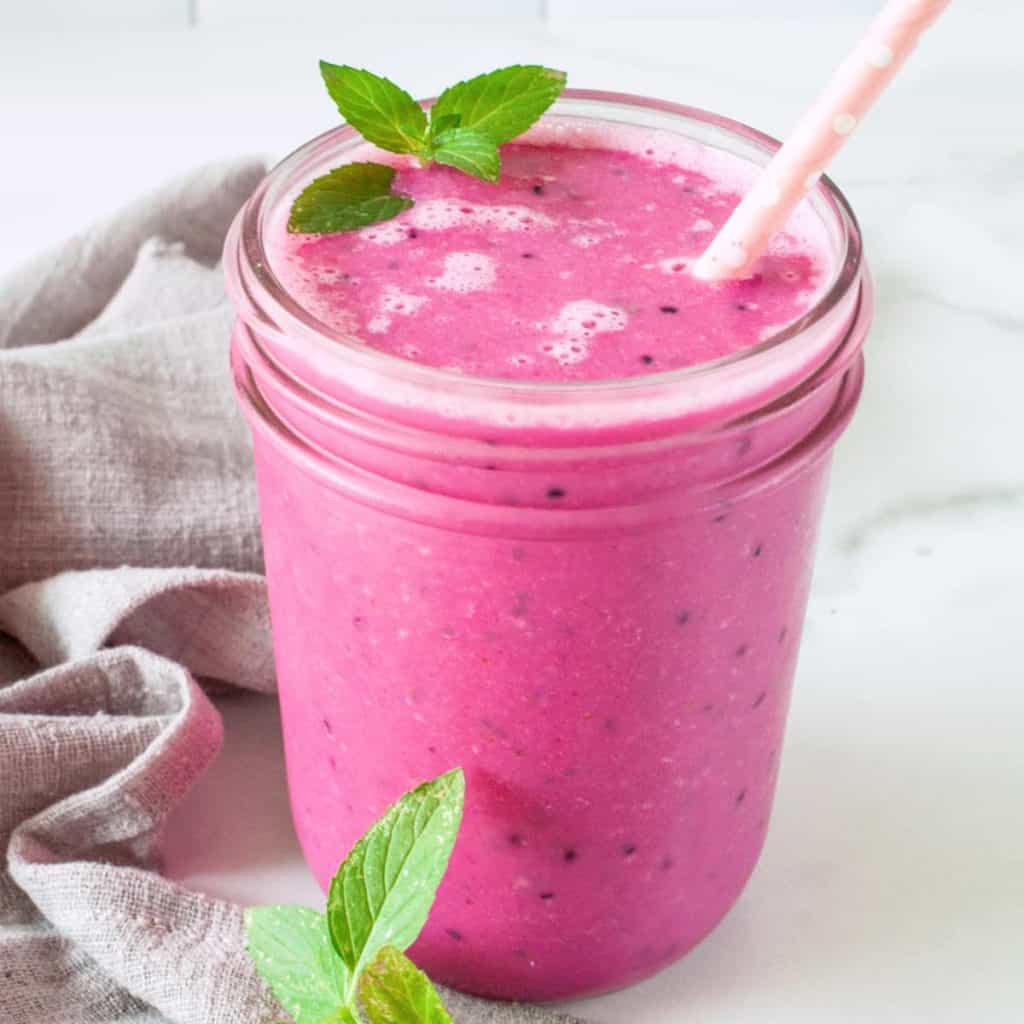 What Is Dragon Fruit?
Dragon fruit is a bright pink, white, or yellow fruit grown in Central America, South America, and Southeast Asia. It is also known as pitaya and is popular as a base in smoothie bowls.
Dragon fruit is mild in flavor and tastes similar to a cross between a kiwi and a pear. Due to the demand, it can be difficult to find fresh dragon fruit in stores. You can almost always find pureed pitaya or chopped dragon fruit in the frozen fruits section of a well-stocked grocery store.
What Are Chia Seeds?
Chia are seeds that were a diet staple in Central America. Due to their high omega-3 content, they've gained in popularity as a health food.
One unique thing about chia seeds are their ability to expand and hold 10 times their dry weight in liquid. As they expand, the seed coating rehydrates and creates a gelatinous liquid.
This makes chia seeds a great vegan thickening agent. They mimic the texture of tapioca pudding when fully rehydrated.
With chia seeds, a little goes a long way. Each tablespoon contains 60 calories and 2g protein. (source) Add too many spoonfuls and you've turned this smoothie into a high-calorie snack.
---
Pitaya Chia Seed Pudding Smoothie Ingredients
This smoothie only requires a handful of ingredients. You'll have most of them at home already but may need to go to the store for two ingredients: dragon fruit and chia seeds.
Frozen Banana
Dragon Fruit (Pitaya)
Coconut Milk (from a carton, not can)
Almond Butter
Agave Nectar
Chia Seeds
The coconut milk used in this smoothie is the type you can find in a carton. If you use canned coconut milk, the calories will be a lot higher and the smoothie a lot thicker.
If going nut-free, you can choose to use any plant-based milk you have on hand. The almond butter can be swapped for sunflower seed butter.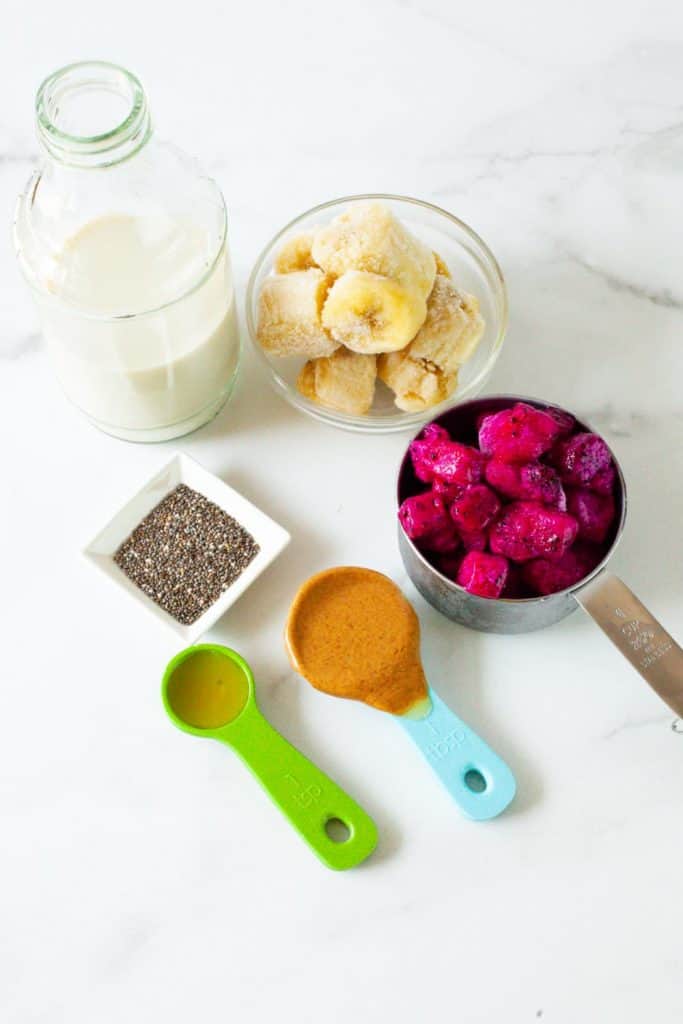 How To Make A Dragon Fruit Coconut Chia Pudding Smoothie
The name of this smoothie is quite the mouthful to say. Thankfully, the steps for making this smoothie are quite short.
There are two ways to make this smoothie: the fast way or the slightly longer way.
For the fast way, simply toss all of the ingredients into a high powered blender and blend until smooth.
If the smoothie isn't sweet enough, add more agave. Too thick? Then add more coconut milk.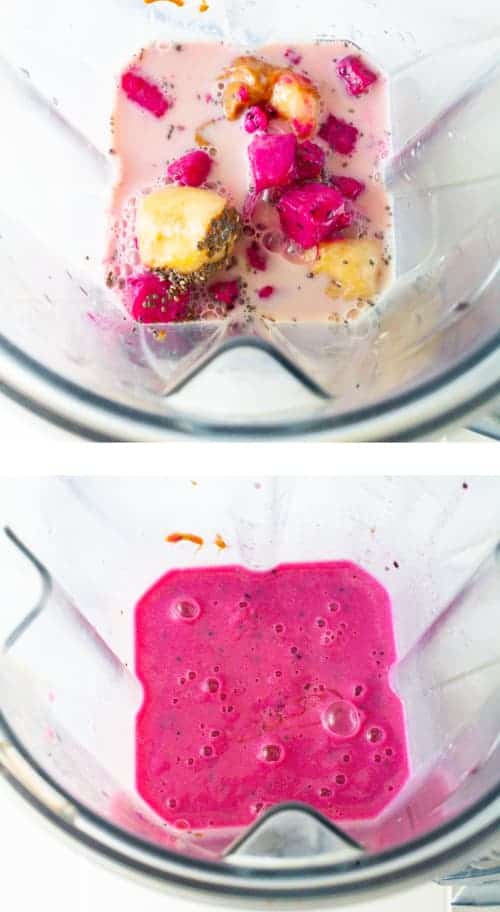 The slightly slower version of this smoothie involves letting the chia pudding sit to thicken. This will give you a thicker smoothie overall and less crunchy chia bits that get stuck in your teeth.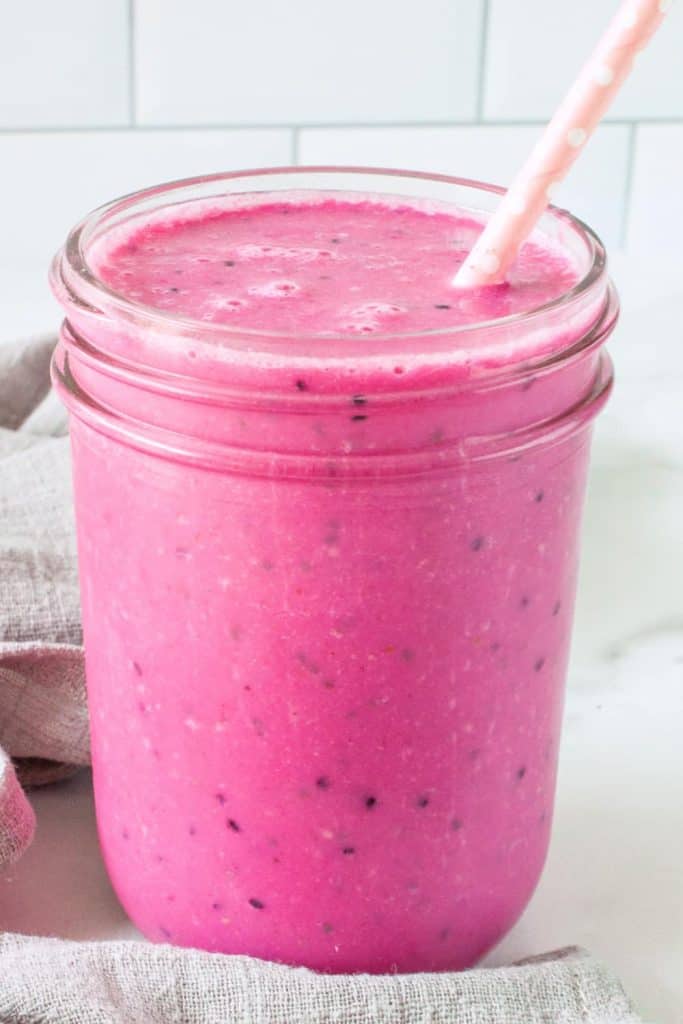 To make the thicker chia pudding smoothie version:
Place the chia seeds and coconut milk into a mason jar and stir. You can let this mixture sit in your fridge overnight so it's ready the next morning. If you're short on time, try to let the chia coconut mixture sit for 10-15 minutes.
During this time, blend the remaining ingredients in the blender. Since the chia seeds will be absorbing a lot more liquid, add just enough coconut milk to the blender to blend.
Once the dragon fruit mixture is blended smooth, pour it over top the chia coconut pudding mixture in the jar.
Drink it right out of the jar by adding an eco-friendly straw.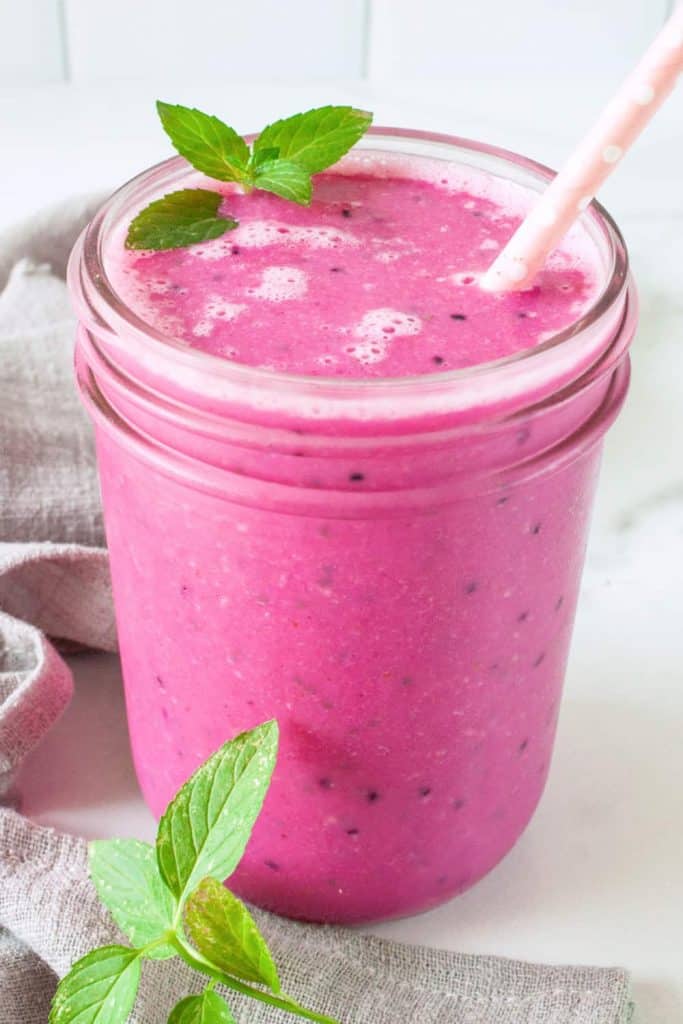 If you don't have dragonfruit check out this overnight chia seed pudding that can be made in less than 5 minutes.
How To Store A Dragon Fruit Smoothie
Smoothies are best drunk when fresh. The frozen fruits will keep the smoothie thicker. As they defrost, the smoothie will get less viscous.
Fruits oxidize in smoothies the longer they're exposed to air. If you need to save your smoothie for later, I recommend filling up the jar to the top with smoothie before closing the airtight lid. This will keep as much air out as possible.
I don't recommend storing your smoothie for longer than a few hours. It most likely will start turning a brown color and affect the taste slightly.
The part that you can make ahead an store is the coconut chia pudding part. The longer chia seeds are stored in liquid, the more gelatinous they get.
Chia seeds can be stored in liquid in the fridge for up to five days in an airtight container.

Dragon Fruit Chia Coconut Pudding Smoothie
Yield:
2 medium-sized smoothies
Additional Time:
15 minutes
A brightly colored pitaya smoothie with chia coconut pudding. Full of nutrients yet easy to make.
Ingredients
1 large banana, peeled, quartered, frozen
1 ½ cups pitaya, cubed, frozen
¾ cups plant-based milk
1 tablespoon almond butter
1 teaspoon agave
1 tablespoon chia seeds
Instructions
Fast Version
Add frozen fruits, plant-based milk, almond butter, agave, and chia seeds to a high-speed blender, and blend until very smooth.
Taste and adjust flavor as needed. Add more agave for more sweetness or add more almond milk to thin to desired texture.
Pour into a large glass or 2 medium glasses and serve immediately.

Slower Version
Place the chia seeds and coconut milk into a jar overnight or for at least 15 minutes.
Blend remaining ingredients in the blender until smooth adding only enough liquid to blend.
Pour the smoothie over top the chia coconut pudding in the jar. Drink immediately.
Notes
Add more plant-based milk to thin out the smoothie to the desired texture.
Feel free to use your favorite nut butter or nut-free butter of your choice.
The longer chia seeds sit in liquid, the more pudding-like they'll get.
Freeze for longer-term storage or freeze in ice cube mold to use in future smoothies.
Nutrition Information:
Yield:

2 medium smoothies
Serving Size:

1
Amount Per Serving:
Calories:

246
Total Fat:

9g
Saturated Fat:

2g
Trans Fat:

0g
Unsaturated Fat:

6g
Cholesterol:

7mg
Sodium:

56mg
Carbohydrates:

39g
Fiber:

7g
Sugar:

18g
Protein:

8g
Nutrition information isn't always accurate and is for estimation purposes only.