Vegan Lemon Curd Tartlets with Coconut Nut Crust
These cute little lemon curd tartlets look good enough to eat don't they? Of course they do! But don't worry, once you see how easy they are to make, you can satisfy that lemon dessert craving whenever it hits.
A creamy lemon curd tartlet is a special kind of dessert. It has a silky feeling and crisp crust, but the light and bright lemon flavor keep it from feeling heavy or too decadent. This is the kind of treat you'll want more than one of!
I personally love that I can make something reminiscent of a traditional egg heavy lemon curd with vegan ingredients. Better yet, as a vegan recipe, they're also dairy free lemon tartlets, making them super friendly for a range of eating preferences. If you have a mixed crowd of diets in your family or among your friends, these are perfect to serve.
The crunch of that coconut nut crust with the silky, tart, and sweet vegan lemon curd is the perfect bite. And, since these adorable treats are mini lemon tartlets, you can help yourself to a second, completely guilt-free. If you're a lemon lover, you may want to double this one.
This post may contain affiliate links. That means if you purchase an item through these links, I may earn a commission at no additional cost to you. Please read the full disclosure policy for more info.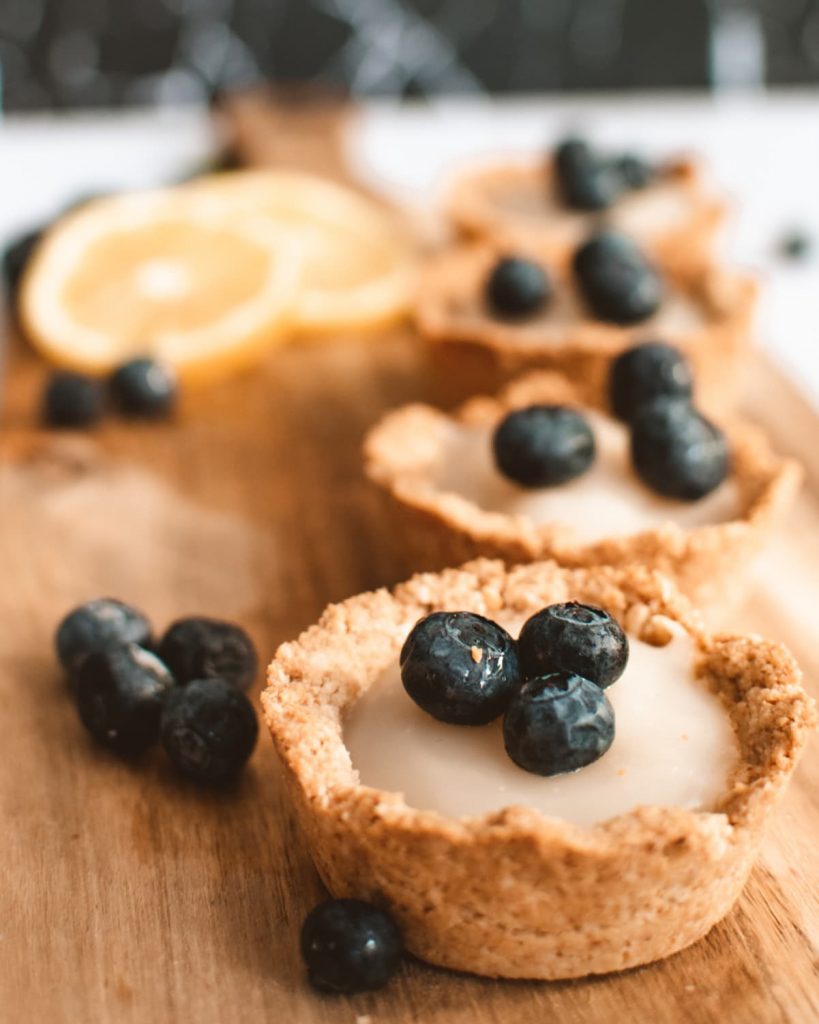 Ingredients for Coconut Lemon Tartlets
Traditional lemon tarts require eggs and butter to make them work, but this vegan version is a delicious alternative, and it's super easy. Get started by gathering these flavorful ingredients. 
While this recipe has a blend of nuts in the crust which offers a nice crunch. You can always substitute your favorite nuts if you prefer or if you have an allergy.
To make these you'll need:
Raw Almonds
Raw Cashews
Shredded Coconut
Oats
Sea Salt
Coconut Oil
Maple Syrup
Cold Water
Coconut Milk
Lemon Juice
Cornstarch
I do have a few quick tips to make sure you have success every time. Be sure to use full-fat coconut milk from a can. The fat in the milk is essential for creating both a thick and silky curd. Unfortunately, substituting for another non-dairy milk won't give you the results we want for our curd. 
I also suggest buying raw nuts when shopping for your vegan pantry. Roasted nuts go rancid much faster than fresh ones and it's easy to roast them at home. For this recipe, a quick stint in the oven toasts the raw nuts nicely.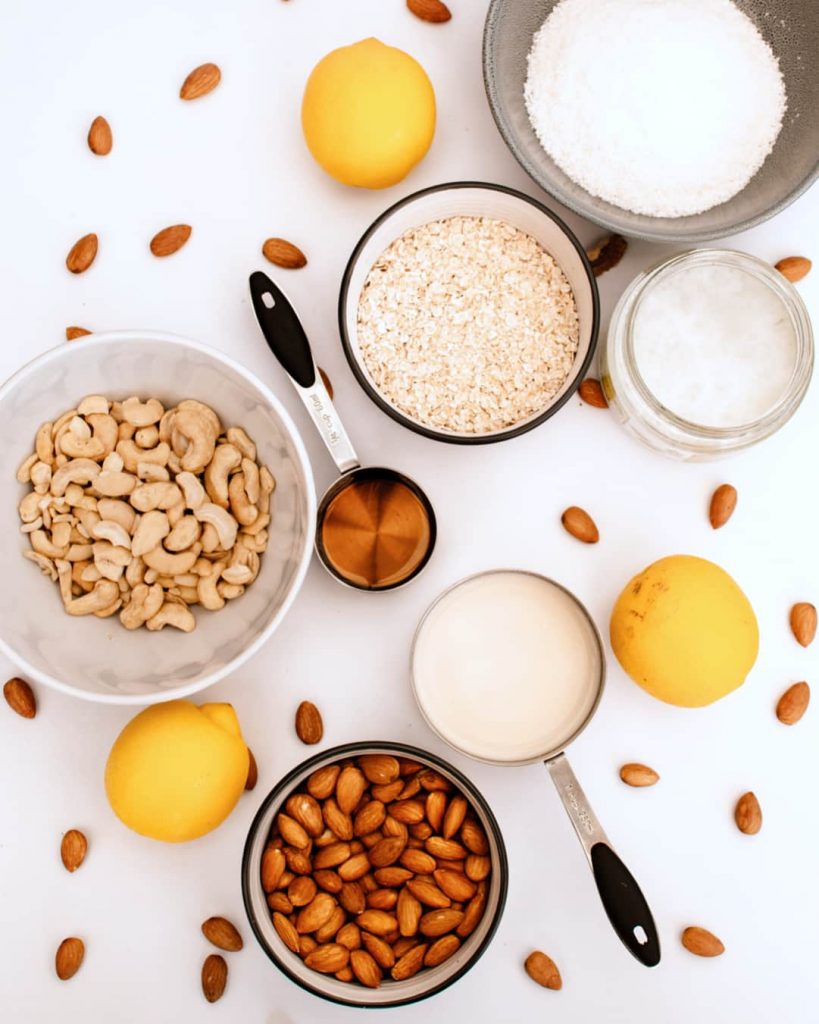 How to Make Easy Lemon Tartlets with a Nut Crust
Have I mentioned how easy these are? A food processor, a silicone or traditional muffin tin, and a saucepan are all you need for success.
We'll start with the crust. Get your oven preheated to 350°F or 175°C and if you're using a traditional metal muffin pan, lightly grease the muffin cups.
Place the almonds, cashews, oats and salt in your food processor's bowl and blend until the mixture looks like a granular flour. Then, while blending, slowly add in your coconut oil, maple syrup, and water until the mixture forms a dough that clumps together.
Press the dough into the muffin pan, using your fingers to mold them into cup shapes with an open middle. You should get 10 to 12 mini lemon tartlet shells.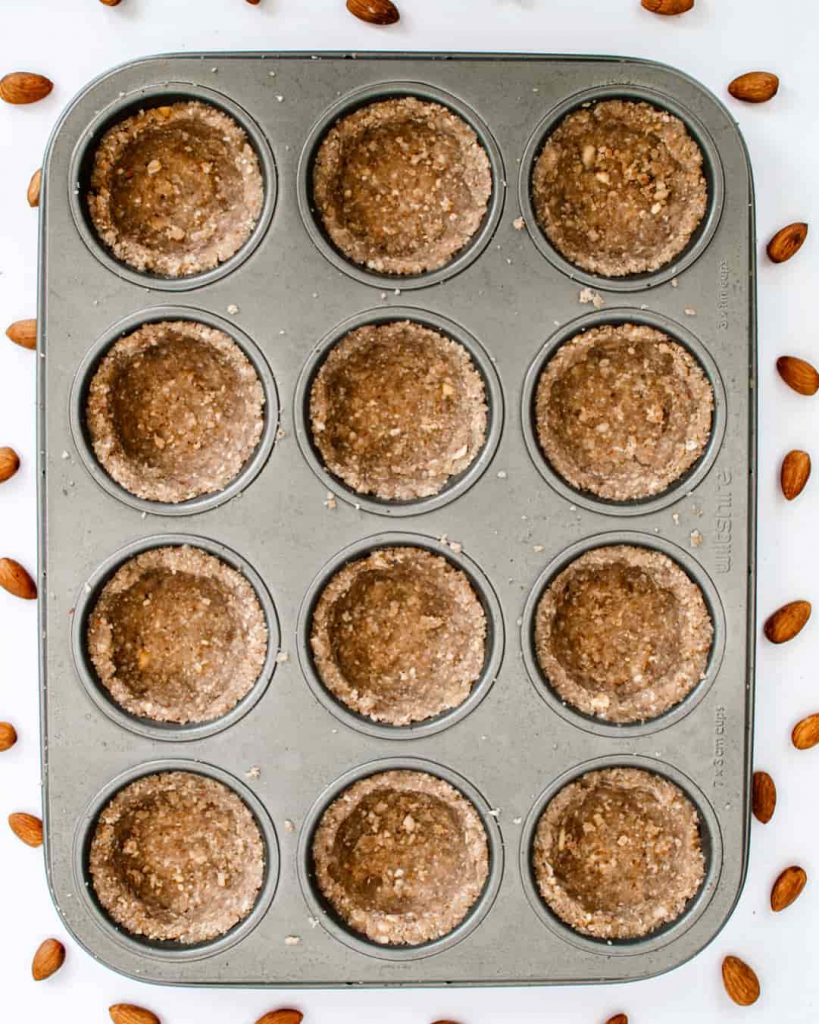 Pop those in the oven to bake for 10 to 12 minutes. They should be golden brown when they're done baking. Once out of the oven, let them cool completely in the muffin pan before trying to remove them.
While those are cooling, get started on your vegan lemon curd. Combine all the ingredients for the curd in a pan and whisk by hand until smooth. It's important that you do this before you put it over heat to prevent the cornstarch from clumping.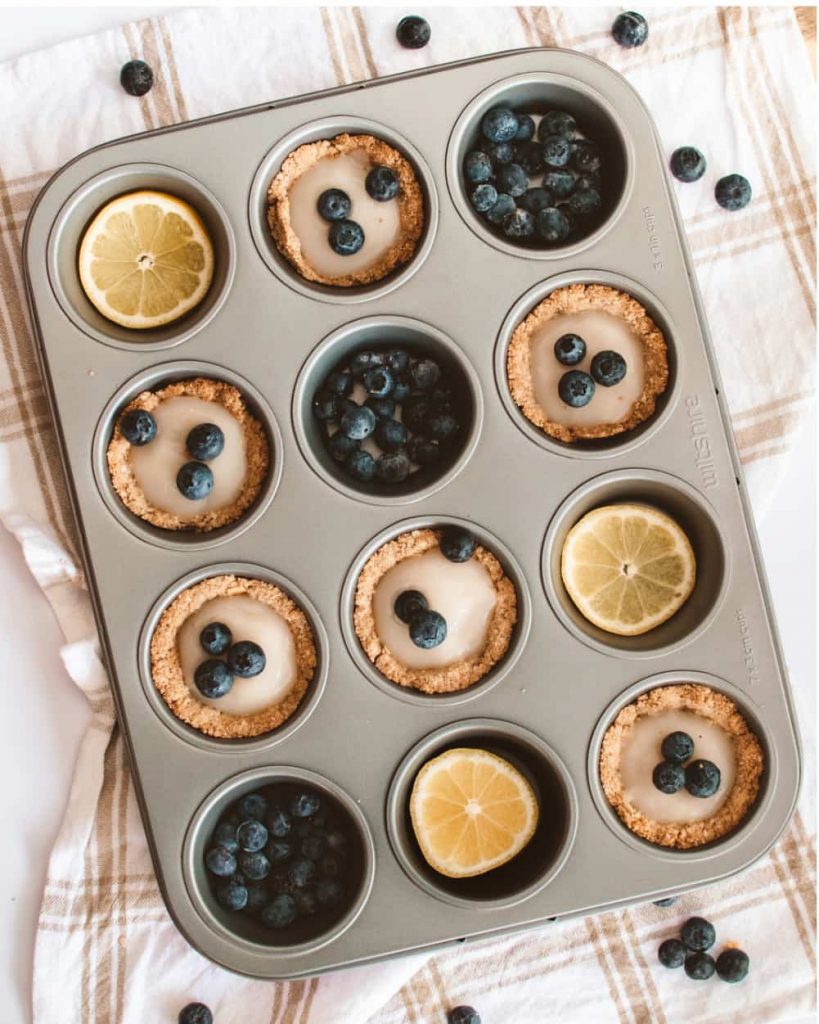 Next, place the pan over low heat and while whisking, bring it to a simmer. Once simmering, whisk continuously while cooking for 2 to 3 minutes, or until thick and smooth. Set your curd aside to cool completely before filling the shells.
Once your curd and crusts are cool, it's time to assemble your vegan lemon tartlets. Carefully remove each shell from the muffin pan and dollop a generous spoonful of curd in the middle. I like to top them with blueberries, but you can leave them as is, or top with another diced fruit that pairs with lemon. A swirl of coconut whipped cream is also a delicious choice.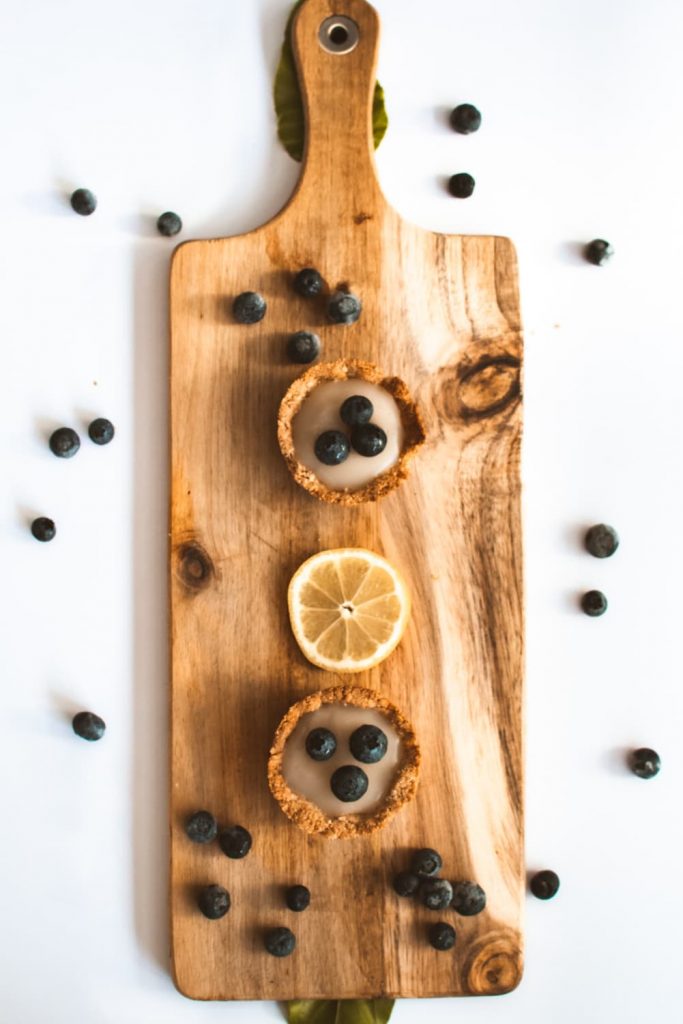 How To Store Lemon Coconut Tartlets
Once assembled you're free to snack away! If there happen to be any leftovers, it's best to store them in the fridge. They'll keep for 3 to 4 days.
If you're looking for long term storage, you can freeze these for up to 3 months in an airtight container. Simply thaw in the fridge before serving.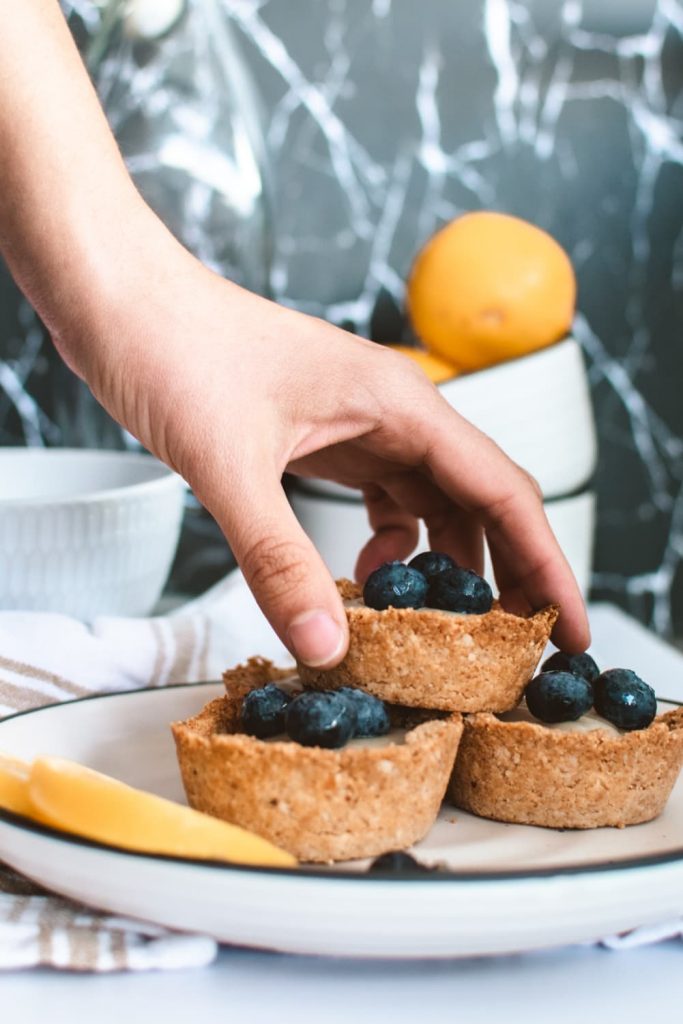 Can I Make These Ahead Of Time?
Absolutely! These are a great dessert for that. You can make them a day ahead and store them in the fridge. I recommend keeping the curd and crust separate until about ready to serve to prevent the crust from getting sotty.
Or, for prepping further ahead, prepare and freeze them once assembled. You can also make the curd and freeze that separately. Then all you'd have to do is bake fresh crusts and dollop in your thawed lemon curd for dessert perfection.
If you're looking for other vegan desserts to add to your party menu, I'm positive your guests would also love an Apricot Galette or Raw Raspberry Cheesecake alongside these creamy lemon beauties.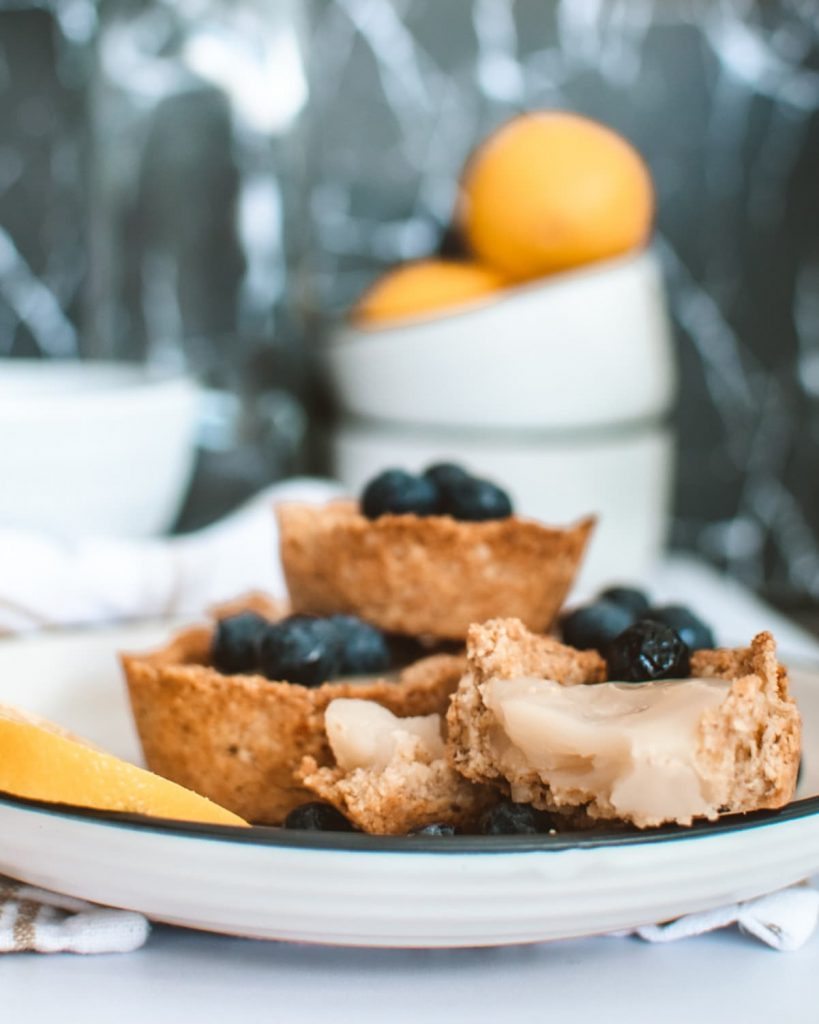 Final Thoughts
These lemon curd tartlets are extremely easy to make that even kids will have fun dolloping curd into the tiny nut cups. This recipe can be doubled or even tripled if serving large groups.
The crust and the curd can be made a few days in advance to help save time on baking closer to your event. Even though these are vegan, the lemon curd is creamy and silky smooth, exactly like their traditionally egg-filled counterparts.
Let me know how you like them down below.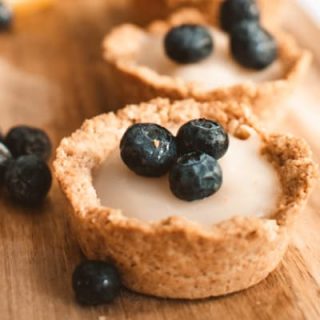 Easy Lemon Coconut Tartlets With Nut Crust
Additional Time:
10 minutes
These vegan lemon mini tartlets taste as good as they look. The hearty nut crust holds the delicious lemon coconut curd filling making it a light, creamy treat.
Ingredients
Crust
1/2 cup raw almonds
1/2 cup raw cashews
1/2 cup shredded coconut
1/2 cup oats
1/4 tsp of sea salt
2 tbsp of coconut oil
3 tbsp of maple syrup
1 tbsp of cold water
Curd Filling
1 cup full fat coconut milk
1/4 cup lemon juice
1/4 cup maple syrup
2 tbsp cornstarch
Instructions
Add the almonds, cashews, coconut, oats, and salt to a food processor. Blend until the mixture takes on a rough flour consistency.
While blending, slowly add coconut oil, maple syrup, and water.
Press the dough into silicone or regular (lightly greased) muffin molds, forming cup shapes with fingers.
Bake at 175C/ 350F for 10-12 minutes or until golden brown. Leave the tartlet cups to cool completely in the pan before removing them from the molds.
Add all of the lemon curd ingredients to a saucepan and whisk well with a hand mixer.
Bring curd to a simmer and let cook over low heat for 2-3 minutes or until thickened, whisking continuously. Let the lemon curd cool completely before transferring it into the baked crusts.
Once both the nut crust cups and the lemon curd have cooled, fill the mini tartlet with dollops of lemon curd. Top with blueberries (optional).
Nutrition Information:
Yield:

12 tartlets
Serving Size:

1
Amount Per Serving:
Calories:

179
Total Fat:

12g
Saturated Fat:

7g
Trans Fat:

0g
Unsaturated Fat:

4g
Cholesterol:

0mg
Sodium:

65mg
Carbohydrates:

17g
Fiber:

1g
Sugar:

9g
Protein:

3g
Nutrition information isn't always accurate and is for estimation purposes only.