Easy Plant-Based Grain Bowl with a Spicy Vegan Sauce
Glow bowls, grain bowls, Buddha bowls, these sweet potato quinoa bowls can go by many names. What matters, is that regardless of what you call it, a delicious bowl of grains, roasted veggies, and a fantastic jalapeno avocado sauce is nutrition and flavor in one easy meal.
Making a sweet potato grain bowl is so easy and even easier to customize. Assembling your grain bowls for dinner can even be a family affair. Let everyone add the toppings they prefer for a fun and healthy homemade dinner bar.
What you'll find is that each bite is a blend of textures and flavors that deliver a satisfying meal for both your taste buds and your health. Vegan grain bowls are a great addition to a vegan family meal plan, they're versatile, easy to prepare, and are truly a complete meal that you can feel good feeding to your loved ones.
This post may contain affiliate links. That means if you purchase an item through these links, I may earn a commission at no additional cost to you. Please read the full disclosure policy for more info.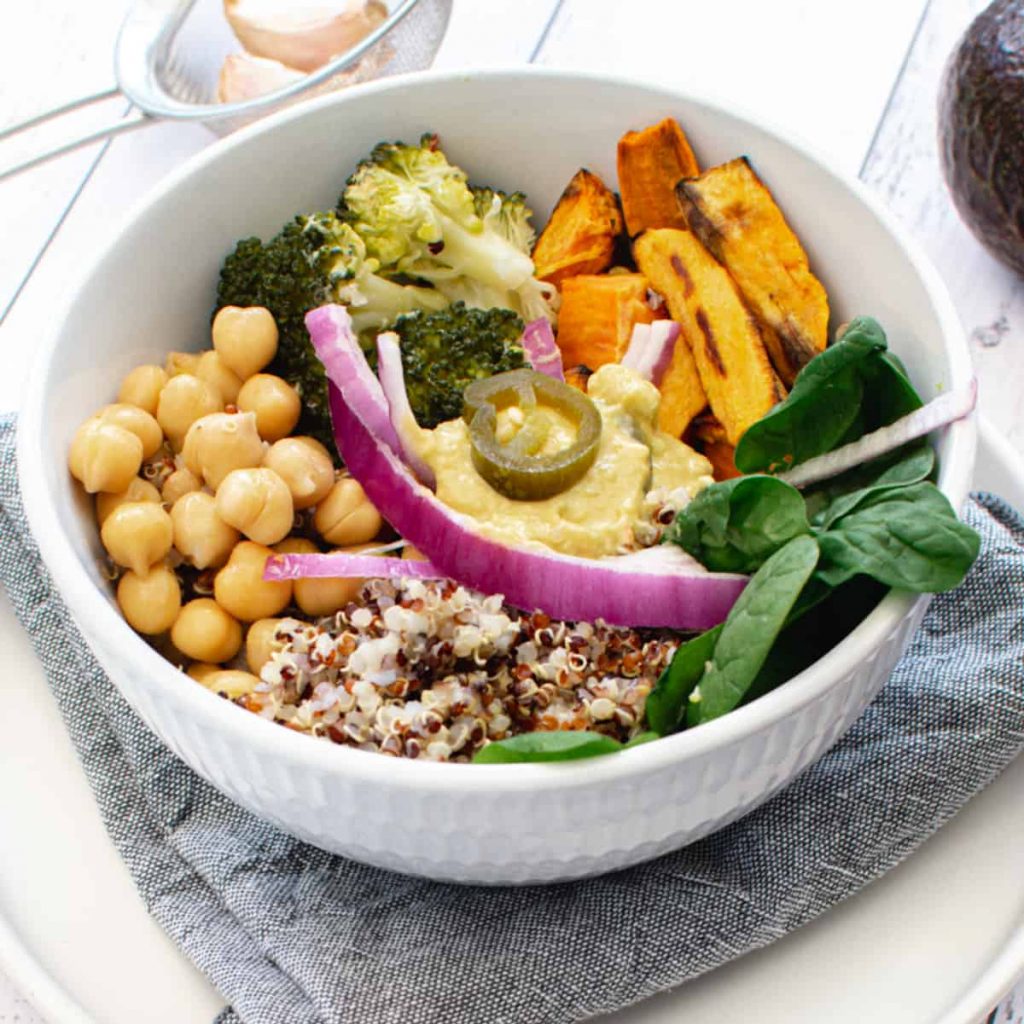 Ingredients for Sweet Potato Grain Bowls
Grain bowls really are so versatile that this ingredient list could look very different and still be delicious. As one of my favorite combos so far, I recommend giving this list a go if you can, it may be a favorite for you too!
Broccoli
Sweet potato
Red onion
Fresh spinach
Quinoa, cooked
Canned chickpeas
Olive oil
Once you have all your bowl ingredients gathered, you'll want to gather all the dressing ingredients too. They're so easy, and add a huge flavor to your grain bowl.
Avocado
Tahini paste
Olive oil
Lemon juice
Fresh parsley
Jalapeno
Garlic
Cumin
Chili paste
Salt
What if you don't have quinoa? While I recommend this combination, don't worry if your pantry looks a little different. You can easily substitute brown rice, farro, or barley for the quinoa and still have a delicious grain bowl. 
The vegetables are also easy to swap in and out. Brussel sprouts or cauliflower make nice substitutions for the broccoli, and you can swap any tender green for the spinach. Sweet potato delivers a beautiful sweetness to the bowl, but winter squashes like butternut or acorn squash are great substitutions.
There are also additions you can make. Roasted, lightly salted nuts are a great way to add protein and texture. Dried fruits like cherries, cranberries, or golden raisins are also a lovely sweet surprise in each bite. Trust your taste buds and you'll find many combos you love!

How to Make a Sweet Potato Quinoa Bowl
Ready for an easy family dinner? All you need is a baking sheet, a pan, and your blender to get started. Once you've gathered those, your knife, and your ingredients, preheat your oven to 400°F. A fantastic meal is only about 30 minutes away.
While your oven preheats, bring a pot of water to a boil or prepare a steamer pan on the stove for the broccoli. Next, dice your sweet potato into bite size pieces and trim your broccoli into small florets.
On a bare baking sheet arrange the sweet potato and drizzle with olive oil. Toss them to ensure every piece is coated and spread out into a single layer, allowing some space between the pieces so they'll caramelize.
Bake the sweet potatoes for about 10 minutes, or until they're tender. Next, add your broccoli florets to the steamer or the boiling water. Cook for about 5 minutes, you simply want them to be fork-tender. 
While your veggies are cooking, prepare your remaining ingredients for the bowls. Drain off the chickpeas, making sure to save the aquafaba for vegan meringue cookies. Slice your onion into thin ribbons and get your spinach leaves ready. 
Making The Grain Bowl Sauce
Now it's time to make the sauce. This is as easy as adding everything into the blender and letting it turn them into a creamy, tasty grain bowl sauce.
I love it creamy, but if you prefer a textured sauce, simply leave the jalapeno out while blending the rest of the ingredients, then finely chop it and mix it in afterward. 

When handling jalapenos, be sure to wear gloves to protect your skin from the oil inside the chile. This can burn, especially if you transfer it to your face or eyes by accidentally touching it.
If you don't have gloves, you can coat your hands with cooking oil to protect them, or alternatively submerge your hands in a paste of baking soda and water after handling the chiles. Once the paste dries on your skin and you wash it off with soap and water, the burning should subside.  
Assembling Your Veggie Glow Bowl
To serve your sweet potato quinoa bowl, simply divide your cooked quinoa between three bowls and top with a healthy amount of each topping. Drizzle with your avocado jalapeno dressing, and a delicious sweet potato grain bowl is ready to enjoy.

What makes a perfect Vegan Grain Bowl?
As I mentioned, they go by many names you may have heard before, namely a glow bowl or a Buddha bowl. Each name applies to a general recipe concept that combines a nutritious whole grain, vegetables, a protein, and one or two grain bowl sauces.
They're popular not only because they're incredibly fun and versatile, but also because they pack everything you need into one easy meal. After you've tried a few recipes for grain bowls, I'm positive you'll find yourself experimenting with your own combos.
All that matters is starting with a whole grain, a favorite selection of veggies and vegan proteins, then topping with a buddha bowl sauce or light dressing.
This version combines those roasted sweet potatoes in a quinoa bowl with a creamy avocado jalapeño dressing that really pops with a zing of spicy flavor. It's a great variation of a healthy, delicious vegan grain bowl, but it's only one!

Storage and Reheating
I'll admit these grain bowls are best eaten fresh when the sweet potato comes out of the oven freshly caramelized. But, they're easy to store for leftovers or meal prep too. 
If possible, store the toppings, grains, and sauce separately to extend their fridge life. Combine when ready to eat, and enjoy either cold or warm by gently reheating the veggies. If already combined, leftovers will keep for a few days in the fridge. 
Final Thoughts
If you're looking for a healthy, delicious meal that you can serve to family, or even just need a quick meal on nights when you're cooking for just a few, give these sweet potato quinoa bowls a try. The balance of roasted sweet potato, nutty quinoa, and a creamy, dreamy sauce is one I think the whole family will love.
Enjoy this variation, and I hope you're inspired to explore the versatility of vegan grain bowls. I'd love to hear how it goes in the comments section below.

Sweet Potato Quinoa Bowl with Jalapeño Avocado Dressing
Additional Time:
5 minutes
A healthy and nutritious vegan grain bowl made from sweet potatoes, quinoa, and healthy veggies topped with a spicy jalapeño avocado sauce.
Ingredients
Grain Bowl
1 head of broccoli
1 medium sweet potato
½ red onion
1 cup spinach leaves
1 cup of cooked quinoa
1 can chickpeas
1 tbsp olive oil
Dressing
1 ripe avocado
2 tbsp tahini paste
2 tbsp olive oil
juice of 1 lemon
Fresh parsley
¼ jalapeno
1 clove garlic
½ tsp cumin
1 tsp chili paste (optional)
salt to taste
Instructions
Preheat the oven to 400 degrees F (204 C).
Slice the sweet potatoes into bite-size pieces. Toss them with 1 tbsp of olive oil then arrange them on a bare baking sheet. Bake for 10 minutes or until the sweet potatoes are tender.
Cook the broccoli florets in a steamer pan or in boiling water for 5 minutes until fork tender.
While vegetables are cooking, chop the onions into slim ribbons.
Prepare the sauce by adding all the dressing ingredients into a blender. Blend until well combined. The result will be a smooth paste. If you'd rather a crunchy dip, hold off on adding the jalapeño to the blender. Instead, chop them into small pieces and mix them into the blended paste at the end.
To serve, divide the vegetables between 3 serving bowls and top with the avocado-Jalapeno dressing. This is best when fresh, though leftovers will keep for a few days in the fridge.
Nutrition Information:
Yield:

3
Serving Size:

1
Amount Per Serving:
Calories:

589
Total Fat:

33g
Saturated Fat:

5g
Trans Fat:

0g
Unsaturated Fat:

26g
Cholesterol:

0mg
Sodium:

622mg
Carbohydrates:

64g
Fiber:

19g
Sugar:

11g
Protein:

18g
Nutrition information isn't always accurate and is for estimation purposes only.