Quick & Easy Edible Cookie Dough That Won't Make You Sick
We've all done it; stolen licks of batter while baking despite the warnings telling us we shouldn't.
Well worry no more! This vegan edible chocolate chip cookie dough recipe is not only delicious, you don't have to worry about getting sick.
Made without raw flour, without raw eggs, and without dairy, you can whip up this edible cookie dough from scratch extremely fast.
This post may contain affiliate links. That means if you purchase an item through these links, I may earn a commission at no additional cost to you. Please read the full disclosure policy for more info.

What's the difference between edible cookie dough and regular cookie dough?
Regular cookie dough is the traditional batter that you make that bakes in the oven. Regular cookie dough contains raw flour and sometimes other raw ingredients that aren't safe to consume uncooked.
Often people think you're making the same dough with edible cookie dough but you're not. Edible cookie dough must contain heat-treated flour. It also must not contain eggs but that's not a problem for this vegan recipe.
What does vegan edible cookie dough taste like?
It tastes exactly like the spoonfuls of raw cookie dough batter you've snuck over the years but without the guilt.
The cookie dough is creamy with a sweet but slightly salty taste. The chocolate chips add a little bit of crunch.
Is raw flour safe to eat?
No, raw flour is risky to consume. Flours are made from whole grains but the processing does not remove harmful bacteria that may be present.
Think of how many animals live in or pass through a wheat field. All the bacteria they may pass onto the growing wheat doesn't get washed off before getting turned into flour.
Because of this, the FDA recommends cooking all flours before tasting or consuming them. All of the other ingredients in edible cookie dough are safe to eat in their uncooked state.
How To Heat Treat Flour To Make Edible Cookie Dough
Heat treating flour is a way to kill bacteria like salmonella that may be lurking in the flour. You can sometimes find heat-treated flour in the grocery store but if you can't, there are two methods you can do at home.
*Please note that even if you heat-treat the flour at home, there's no way to guarantee you've killed off all potential bacteria so do this at your own discretion.
In The Oven
This is my preferred method for heat-treating raw flour. Preheat your oven to 350°F. Then spread all of the flour onto a baking sheet and place in the oven for 5 minutes.
You can use parchment paper underneath the flour if you're worried about the flour sticking. This also makes it easier to pick up and transfer the flour back into a bowl.
For flour to be successfully heat-treated, it must reach a temperature of 165°F throughout. Use a thermometer to check the flour's temperature.
If your flour hasn't reached 165°F after 5 minutes, gently stir it and leave it in the oven for another 5 minutes before checking again. Make sure you don't burn the flour or you'll need to start over.
After it has reached the proper heated temperature throughout, let the baking sheet cool on the counter completely before adding it to the recipe.
In The Microwave
Place the flour into a microwave-safe bowl. Heat the flour on 30 second increments to prevent burning. After each 30 second interval, gently stir the flour and use a thermometer to check the temperature to see if it reached 165°F yet.
Once the flour has heated up to 165°F throughout, safely remove the bowl from the microwave and let it cool down on the counter.
---
How To Make Homemade Vegan Edible Chocolate Chip Cookie Dough
Making vegan edible cookie dough from scratch isn't very difficult at all. It requires little prep time and no cook time besides heat-treating the flour.

Heat Treat Flour & Gather Ingredients
There is very little preparation for this recipe so it's easiest to grab all of the ingredients at once. The vegan butter needs to be softened to room temperature so at least get that one out of the fridge while you're warming the flour.
For heat treating the flour, preheat the oven to 350°F and spread the flour onto a large baking sheet so it's not too deep. You can also spread it onto a piece of parchment paper on the baking sheet to make it easier to transfer the flower back into a bowl later.

Cream Butter & Sugars
Place the room temperature vegan butter into the bowl of a mixer. Whip the butter until it's smooth and creamy.
Then, add the white and brown sugar to the bowl. Cream the sugar into the butter until you end up with a light and fluffy mixture.
Please note: Not all sugars are vegan. Check out these tips for easy ways to tell if your sugar is vegan.

Combine Other Ingredients
Add in the dairy-free milk, vanilla extract, and salt. Blend together
Once those are blended, it's time for the flour. Sift the flour in and stir to combine.

Add Mix-Ins
This is the point where the dough is complete but it still needs whatever extras you want to add. I always add in vegan chocolate chips but you can use whatever you'd like.
Cookie Dough Mix-In Ideas
The cookie dough alone is a great base for you to get creative. If everyone in your family likes different flavors, let them pick what to add to theirs.
Here are some popular mix-in ideas:
Fruit
Vegan Cookies
Graham Crackers (without honey)
Sprinkles
Nut Butters & Nuts
Vegan Carmel Sauce
Brownie Chunks
Gummy Candies
Crushed Candybars
Hot Fudge
This can also be a fun unique twist on a dessert bar. The mix-in ideas are near limitless.

---
How To Store The Cookie Dough
Store your eggless cookie dough in an airtight container for best results. In the fridge, the dough can last 5-7 days but you'll probably eat it all before then.
If you double or even triple the recipe, you can freeze the dough for up to 3 months without it affecting the taste.
Can you bake edible cookie dough?
You could, but you'll end up disappointed. The ratio of ingredients in the edible chocolate chip cookie dough is different than traditional vegan cookie dough.
Also, there aren't any ingredients that would make the dough rise so you'd get flat disks instead of puffy baked cookies.
How To Make Edible Cookie Dough Healthy
No matter what you do, edible cookie dough is never going to be a health food, but there are some things you can swap out to help make it healthier.
Oat flour instead of white flour.
Maple syrup instead of white sugar.
Add healthy fruit instead of chocolate chips.
Reduce the amount of sugar overall.
How To Make Sugar-Free Edible Chocolate Chip Cookie Dough
You can easily switch your all of the ingredients to sugar-free varieties. There are even chocolate chips sweetened with stevia if you can find them.
I haven't tested out a sugar-free version myself so you may need to play around to adjust it to your preferences.
Is there a way to make cookie dough keto or paleo?
Yes, you can modify the recipe to be keto and paleo-friendly. Replace the white flour with 1/2 C blanched almond flour and 2 tbsp coconut flour.
Instead of vegan butter, use 1 1/2 tbsp melted coconut oil. For the sugars, use 2 tbsp granulated monk fruit sweetener and 2 tbsp monk fruit sweetened maple syrup (or any sugar alternatives of your choice).
Add a few tablespoons of your favorite keto/paleo chocolate chips, mix, and enjoy. If it's too soft, put it in the fridge for 30 minutes to make it thicker.
Conclusion
Edible cookie dough is perfect for vegans since it has to be free from eggs anyway to be safe to eat. By switching out dairy to a vegan version, you now have a sweet-tooth satisfying dessert.
Made this recipe? Give it a star rating below!
More Recipes You May Like: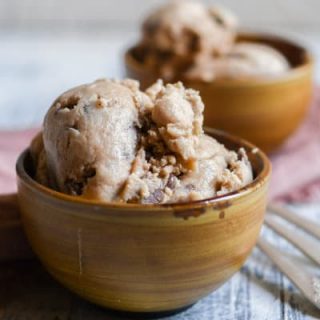 Best Ever Vegan Edible Chocolate Chip Cookie Dough
The best and tastiest edible chocolate chip cookie dough that is completely vegan.
Ingredients
8 tbsp vegan butter, at room temperature
½ cup brown sugar
3 tbsp white sugar
1 tbsp almond or cashew milk
1 tsp vanilla extract
1/8 tsp salt
1 ¼ cup flour
1/2 cup vegan chocolate chips
Instructions
Heat treating flour instructions: Preheat your oven to 350°F. Spread flour over a parchment-lined baking sheet and cook in 5-minute intervals, gently stirring and checking the flour's temperature until it reaches 165°F. Remove and let cool completely. (microwave heat-treating directions in the above post)
In a mixer, combine the vegan butter and sugars for around 3 minutes until creamy.
Add in dairy-free milk, salt, and vanilla extract. Slowly add in the flour until combined.
Use a soft spatula to fold in the chocolate chips or other mix-ins.
Serve immediately and enjoy!
Notes
If your cookie dough is too soft, place it in the fridge for 30 minutes to make it thicker.
Store in an airtight container in your fridge for 5-7 days.
Store in the freezer for up to 3 months.
Nutrition Information:
Yield:

6
Serving Size:

1
Amount Per Serving:
Calories:

402
Total Fat:

21g
Saturated Fat:

12g
Trans Fat:

1g
Unsaturated Fat:

7g
Cholesterol:

41mg
Sodium:

182mg
Carbohydrates:

52g
Fiber:

2g
Sugar:

30g
Protein:

4g
Nutrition information isn't always accurate and is for estimation purposes only.