Vegan Tofu Soup With Thai Lemongrass And Oyster Mushrooms
One really delicious, naturally vegan dish that my family enjoys whenever I make it, is this Authentic Tom Kha with tofu. It's a vegan thai coconut soup that's flavored with big bold flavors like red chile, lemongrass, and fresh galangal.
It's a brothy style soup that's best served warm and fresh, garnished with lime and cashews. Every bite is a good one, with ingredients like tofu to soak up all that brothy goodness.
This recipe serves two, making this vegan coconut lemongrass soup perfect for date night. It's spicy, creamy, and herbaceous flavors are exciting and fun, but it still won't take you longer than 30 minutes to pull together.
This post may contain affiliate links. That means if you purchase an item through these links, I may earn a commission at no additional cost to you. Please read the full disclosure policy for more info.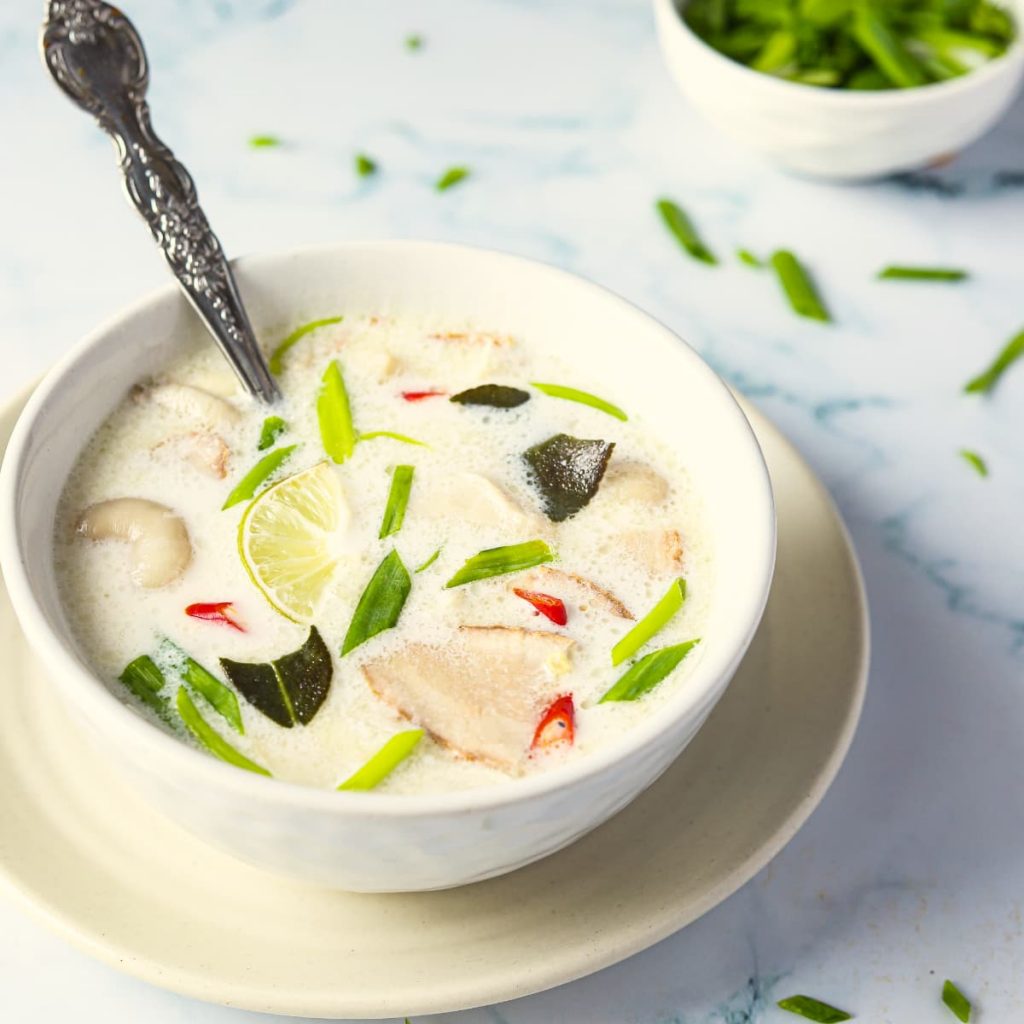 Ingredients for Thai Coconut Soup
For newbies to making soups like an authentic Tom Kha, ingredients like tofu, lemongrass, and kaffir lime leaves can seem unfamiliar. But all of them are often available at the mainstream grocery stores. To make this vegan thai coconut soup, you'll need:
Coconut milk, canned
Vegetable stock
Firm tofu
Oyster mushrooms
Lemongrass
Galangal
Kaffir lime leaves
Palm sugar
Light soy sauce
Lime juice
Red chilies
Salt
Spring onion
Cashews, optional
Lemongrass and kaffir lime leaves are often found near the herbs in the grocery store. Nearby you'll usually find fresh chilies, which is where the small red ones for this soup will be.
Galangal is a delightful spice in the turmeric and ginger family. It's flavor is spicy, peppery, and citrusy and adds a wonderful dimension to our soup. It's paler than ginger, with smoother skin, and is very hard. If you have trouble finding it, don't worry, simply grab some fresh ginger and your soup will be great.
Finally, I like to use palm sugar in this, but light brown sugar is a good replacement if you need one.

What Tofu Is Best For Soup?
There's a very good reason I call for firm tofu in this recipe. Anything softer than that and your tofu will lose its shape and texture in the hot broth of your vegan coconut lemongrass soup.
When you're shopping, be sure to grab firm, or even extra firm to make sure it holds up to the heat of the soup.
What Kind Of Coconut Milk Do You Use In Soup?
For the best flavor and the creamiest effect, go for a full fat canned coconut milk, instead of the cartons of coconut milk in the dairy aisle.
Cartons of coconut milk are often much higher in water content, meaning less coconut flavor for our soup.
How To Make Vegan Coconut Lemongrass Soup
The best part of making this vegan thai coconut soup, is that it really only takes 30 minutes to develop a huge, satisfying flavor. You'll only need one pot to cook the whole delicious dish.
Start by placing the pot over medium heat with the vegetable stock. Once it has come to a boil, reduce the heat to low to maintain a simmer, then add the coconut milk.
To that you'll add 10 to 12 thin slices of galangal, the kaffir lime leaves, and the stalk of lemongrass. For the kaffir leaves, be sure to tear them to release their oils into the soup. The lemongrass flavor will infuse best if you first mash the stalk with a meat tenderizer or the back of a heavy knife, then chop it into large pieces before adding it in.
Let all of that simmer together for about 8 minutes. Meanwhile, smash your chilies and slice your tofu and mushrooms. Then add all of it into the pan with the soy sauce, sugar, and salt. Depending on how salty your vegetable broth was, you may need less or more salt, so add it slowly and taste as you go.

Simmer your authentic Tom Kha soup for another 5 to 6 minutes, just until the mushrooms are tender and cooked. Then take the pan off of the heat for the finishing touches.
Add just 1 tablespoon of lime juice, then taste it. Add more if you want to, and then garnish with a sprinkling of fresh spring onions. If you're up for it, fresh lime wedges and cashews are excellent toppings as well
How Long Does Soup With Coconut Milk Last?
n addition to making our coconut lemongrass soup vegan and delicious, soups made with coconut milk last a lot longer than dairy based soups.
A can of open coconut milk, and the soups made with it, are good to store and use for up to a whole week. Just reheat and add fresh garnish whenever you're up for a bowl.

Final Thoughts
When you're looking for a quick meal for date night, or when you're just craving some spicy Thai flavors, this vegan thai coconut soup is absolutely perfect.
Between chilies, galangal, lime, and lemongrass, there are a lot of delicious bold flavors that make every bite exciting. Plus, since we made our authentic Tom Kha with tofu, it's also a protein-rich meal that can serve as dinner or a fantastic leftover lunch. Have fun cooking, and please let me know what you think by sharing a comment below.

Vegan Thai Coconut Soup
A flavorful and authentic version of Tom Kha made vegan with the use of tofu. You can easily double or triple this recipe to have leftovers or serve a family.
Ingredients
1 can (14 oz) coconut milk
1 ½ cups vegetable stock
½ package firm tofu
1 cup Oyster mushrooms
1 stalk Lemongrass
10-12 thin slices galangal or ginger
5 Kaffir lime leaves
1 tsp Palm sugar or light brown sugar
2 tbsp light soy sauce
2-3 tbsp lime juice
2-3 fresh red chilies, smashed
½ - 1 tsp salt (depending on how salty the vegetable stock is)
1-2 stalks spring onion
top with fresh lime slices or whole cashews (optional)
Instructions
Take the vegetable stock in a large pan and place it over medium heat.
Once the stock comes to a gentle boil, reduce the heat to low.
Add the coconut milk.
Slice the galangal thinly, tear the kaffir lime leaves, lightly mash the lemongrass stalk and chop it into big pieces. Add all these to the pan.
Let this simmer for about 6-8 mins.
Now add in the smashed chilies, sliced tofu, sliced mushrooms, soy sauce, sugar, and salt to the pan.
Let it simmer for a further 5-6 minutes or until the mushrooms are cooked.
Now take the pan off the heat and add in the lime juice 1 tbsp at a time, give it a taste and add more if you need.
Serve this soup hot topped with chopped spring onions. You can also add whole cashews and lime slices.
Nutrition Information:
Yield:

2
Serving Size:

1
Amount Per Serving:
Calories:

538
Total Fat:

12g
Saturated Fat:

3g
Trans Fat:

0g
Unsaturated Fat:

7g
Cholesterol:

10mg
Sodium:

2301mg
Carbohydrates:

94g
Fiber:

11g
Sugar:

16g
Protein:

27g
Nutrition information isn't always accurate and is for estimation purposes only.