Easy Zucchini Muffins That Are Ready In 30 Minutes
Muffins are easily one of the most common baking projects in households with kids. They're quick to make, easy to eat, and can be a great way to sneak in a bit of nutrition for the pickier children. My recipe for vegan zucchini muffins checks every single box.
These little beauties are packed with healthy ingredients like bananas, nut butter, zucchini, and are even gluten-free. They're soft, moist, and sweetened enough to make them craveable to both kids and adults.
The best part is that these healthy zucchini banana muffins are freezer friendly. It makes them ideal for using up all of that abundant garden zucchini in a really tasty, long-lasting way.
Having them baked and in the freezer is also a great way to ensure quick breakfasts and snacks when you don't have time to bake fresh. For all these reasons, these are a delicious, guilt-free win for vegan families that you'll always want stocked.
This post may contain affiliate links. That means if you purchase an item through these links, I may earn a commission at no additional cost to you. Please read the full disclosure policy for more info.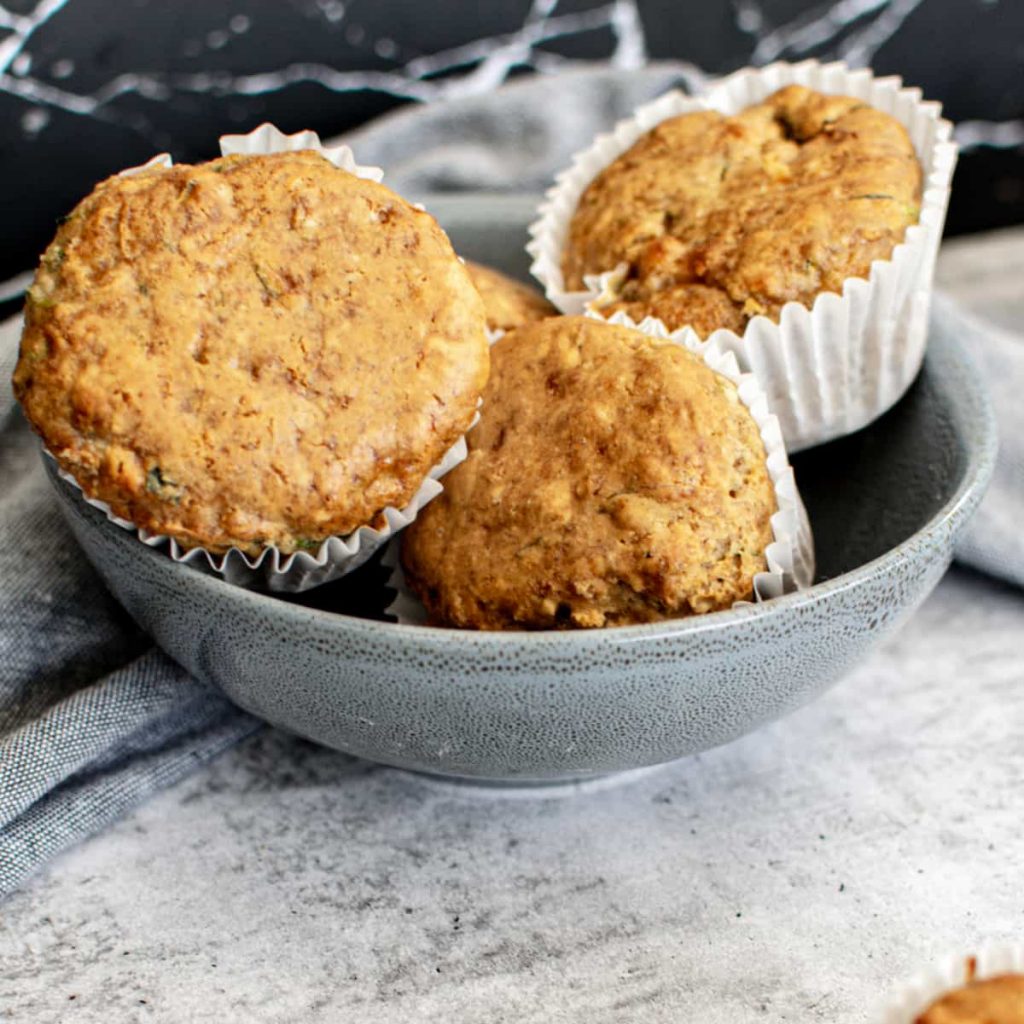 Ingredients for Vegan Zucchini Muffins
In addition to being vegan, this healthy recipe bakes up 12 perfect gluten-free zucchini muffins. I do this by combining a gluten-free flour blend with other common baking staples. They're simple to get into the oven and bake up into golden brown, fluffy muffins.
Gluten free flour
Brown sugar
Baking powder
Baking soda
Vanilla Extract
Cinnamon
Salt
Nut butter
Overripe banana
Shredded, well drained zucchini
Non-dairy milk
Choose your favorite non-dairy milk for this recipe, any you like will work. For the nut butter, either almond or peanut butter taste great with the zucchini and banana.
Do make sure that your banana is overripe. Not only does an overripe banana lend more natural sweetness to the muffins, but they also blend more easily into your mix.
For my new vegan parents with picky eaters, a clever way to prevent them from picking the shredded zucchini out of their muffins is to blend it. Be sure to remove the excess water first, then simply puree the zucchini and fold it into the batter as you would have the shredded squash.

Customizing The Zucchini Muffins
One of the fun parts about baking up a batch of healthy zucchini banana muffins is that a lot of additions taste really good with them.
Many nuts are great in these, like walnuts, almonds, or pecans. You could also add chocolate chips; either milk, dark, or semi-sweet are all delicious. I also recommend trying out raisins or dried cranberries if you're interested in a bite of sweet dried fruit.
Whatever mix-ins you choose, just be sure to add them in with the shredded or pureed zucchini during the mixing process. You can also sprinkle extras on top for a nice finishing touch.
How To Make Healthy Zucchini Muffins
To begin you'll need your oven preheating to a hot 400°F and a lined 12 cup muffin tin. If you prefer to avoid using the paper liners, a low waste method is to simply grease the tin with coconut oil instead.
While your oven is preheating, start mixing up your muffins. First we'll mix all the dry ingredients in a medium bowl. This includes your flour, sugar, cinnamon, salt, baking powder and baking soda. Stir those to combine them well.
Next, add in the non-dairy milk you chose, the mashed banana, nut butter, and your vanilla extract. Mix those in until everything combines into a uniform batter.

Now you'll add the zucchini and any other mix-ins you chose. If you still need to shred, or if you're pureeing your zucchini, you can do this now.
Make sure all of the excess water is squeezed out of it first. Then add it into the batter and fold it in gently. It's okay if there are a few lumps, it's more important to avoid overmixing.
Portion the batter between the lined or greased muffin tin, about three quarters of the way up.

Slide the pan into the oven. Bake until the muffins have risen up nicely and have a golden brown top.
This usually takes between 15 to 20 minutes. You can double check doneness by inserting a toothpick – if it comes out clean, the muffins are done.

Once they're out of the oven, let your vegan zucchini muffins sit in the pan for 10 minutes to cool. Then you can carefully slide them out of the muffin tin and onto a rack to finish cooling. Or, enjoy one warm and fresh right then and there!

Storing Zucchini Muffins
Once your fluffy zucchini banana muffins have cooled completely, you can store them in an airtight container on the counter for up to two days, but they'll hold in the fridge for up to four.
For the longest storage, these gluten free muffins will keep very well in the freezer for up to three months. Simply pull out a few as you want them and let them thaw at room temperature before enjoying.

Final Thoughts
This recipe is simply delicious. Fluffy, sweet, healthy muffins can be enjoyed by both adults and kids as a snack or a part of a well-balanced breakfast.
They're perfect for families transitioning to veganism, families with gluten-free needs, and families with picky eaters. Or, simply for anyone who wants a muffin recipe that both tastes good and is good for them.
As if that wasn't enough, their freezer-friendly nature makes them perfect for using up that garden zucchini without wasting it. You'll have a great snack already baked and on hand whenever you need it.
I'd love to hear what you and your family think of their muffins, let me know in the comments below!

Healthy Zucchini Banana Muffins
Additional Time:
10 minutes
These healthy zucchini muffins are both vegan and gluten-free. They're a great way to use up extra zucchini from your garden because they store so well. Even kids love these muffins and don't notice the zucchini.
Ingredients
2 ¼ cups gluten-free flour
1 cup of brown sugar
1 tsp baking powder
½ tsp baking soda
1 tsp vanilla extract
½ tsp cinnamon
¼ tsp salt
3 tbsp almond or peanut butter
1 smashed overripe banana
1 ½ cups shredded zucchini, very well-drained
¼ cup non-dairy milk
Instructions
Preheat the oven to 400 degrees Fahrenheit. Line a 12 muffin pan with muffin liners, or lightly grease your pan with coconut oil if you prefer to avoid using paper liners.
In a medium bowl mix all the dry ingredients (flour, sugar, baking powder, baking soda, cinnamon, and salt).
Add the mashed banana, almond butter, vanilla extract, and non-dairy milk. Stir well to combine.
Add the shredded zucchini to the batter. Be sure to squeeze excess moisture out of the zucchini first. Stir just until combined (a few lumps are ok!).
Divide the batter evenly between the 12 muffin cups.
Bake muffins for 15 to 20 minutes, or until the muffins are golden on top and a toothpick inserted into a muffin comes out clean.
Let the muffins sit in the pan to cool for around 10 minutes before removing them.
If you have leftover muffins, store them, covered, at room temperature for two days, or in the refrigerator for up to 4 days. Freeze leftover muffins for up to 3 months.
Notes
If your kids will try to pick out the bits of zucchini, you can purree it first before adding it to the batter.
Nutrition Information:
Yield:

12
Serving Size:

1
Amount Per Serving:
Calories:

188
Total Fat:

3g
Saturated Fat:

0g
Trans Fat:

0g
Unsaturated Fat:

2g
Cholesterol:

0mg
Sodium:

173mg
Carbohydrates:

37g
Fiber:

2g
Sugar:

17g
Protein:

4g
Related Recipes: