15-Minute Italian Roasted Red Pepper Pasta
There's nothing like a big plate of pasta for dinner on those nights when you just want some filling comfort food. Those nights are when I happily make this creamy roasted red pepper pasta.
It's so easy to make, it takes just 15 minutes and I can have dinner on the table. That's quick for a dish that's so full of Italian-inspired flavor. The roasted red peppers and garlic are delicious when made into a creamy vegan pasta sauce. 
This is a great recipe for my new vegan readers and their families. Simple soaked cashews make this sauce so creamy that you won't miss any dairy, and the savory but mild sweetness of roasted peppers builds a flavor that adults and kids both enjoy.
It's also a fabulous recipe to customize. It can serve as the base for some other sautéed veggies, breadcrumbs, or vegan proteins.
As a creamy vegan pasta sauce that stores well in the fridge for up to a week, it's also great to prep ahead. It'll quickly become a family favorite for you as well.
This post may contain affiliate links. That means if you purchase an item through these links, I may earn a commission at no additional cost to you. Please read the full disclosure policy for more info.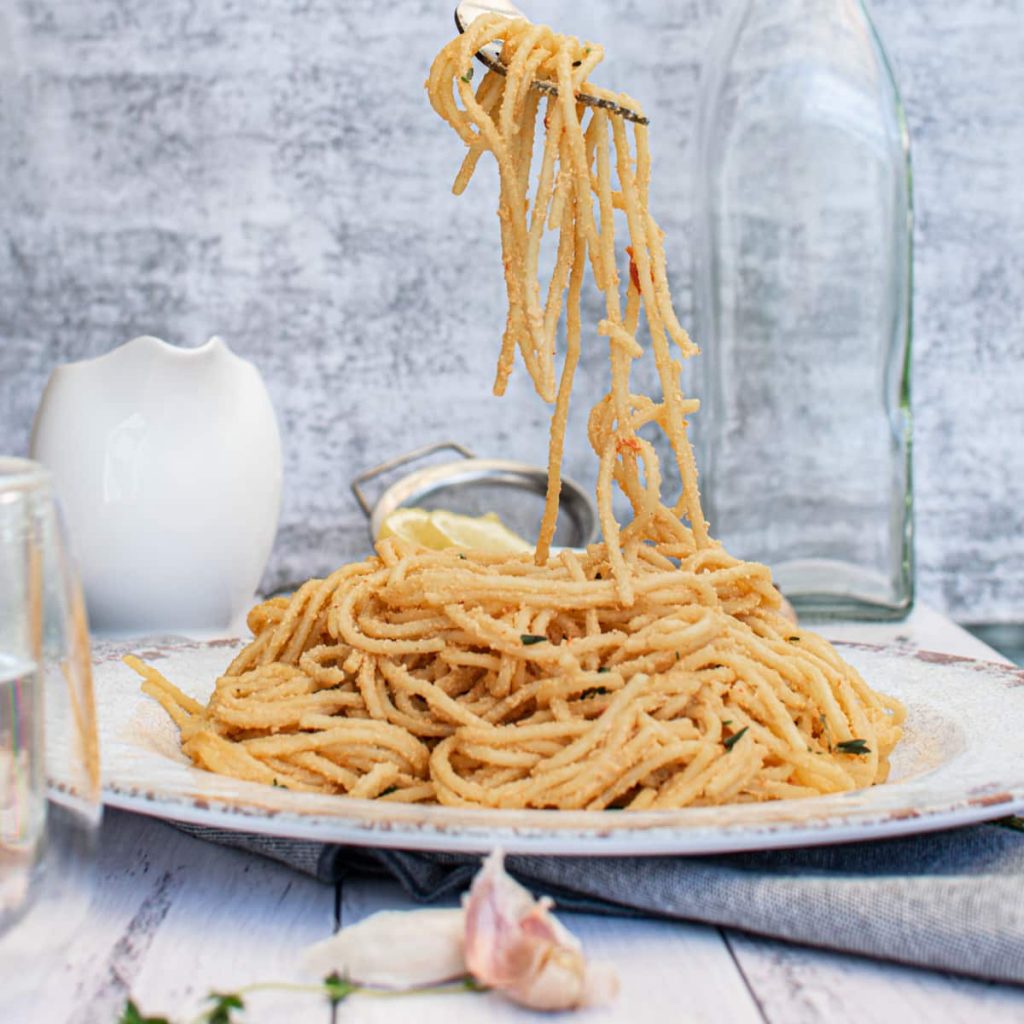 Ingredients for Vegan Red Pepper Pasta
To make this pot of vegan roasted red pepper pasta, we use a few key ingredients to build a creamy thick sauce without any dairy.
Cashew-based creamy sauces are a snap to bring together in my recipes like butternut squash mac and cheese, creamy spinach artichoke pasta, and of course, this one!
It's pretty important to soak your cashews for your sauces to be successful though. So either let them sit in water overnight, or place them in boiling water and allow them to soak for an hour before cooking.
In addition to those, you'll just need a handful of other tasty items to bring dinner together.
Raw cashews, soaked
Garlic
Water
Salt
Pepper
Nutritional yeast
Vegan butter
Corn flour
Roasted red peppers
Pasta
If you don't have vegan butter, olive oil or any other neutral-flavored oil will work as a replacement. Feel free to choose whatever pasta you like, though I love the long spaghetti style myself.
You can even go for gluten-free noodles to make this recipe easily wheat-free. 
If you're out of luck finding roasted red peppers at your store, don't worry, you still have options. You can roast some fresh red bell peppers yourself, or roasted eggplant or tomatoes make good replacements for peppers.
All of those will require a bit of oil and the oven before you make your pasta sauce however. For the quickest swap, simply pick up a jar of sun dried tomatoes in oil for a similar flavor profile to roasted peppers.
Finally, I should note that depending on where you are in the world cornflour may be sold as cornstarch.

How to Make the Italian Roasted Red Pepper Sauce
When you're ready to make your Italian inspired, creamy garlic roasted red pepper pasta all you need is a blender, a sauce pan, and a pot for boiling your noodles.
Begin with your blender, and add everything except the pasta, cornflour, and vegan butter into it. Blend it until everything is smooth and creamy, pausing when needed to scrape down the sides so everything is incorporated.
Next, in the saucepan over medium-low heat, add the vegan butter and allow it to melt. Add in the cornflour to that, and whisk until it's combined into a smooth paste.
Cook for three to four minutes, or until the color has darkened to a lightly toasted shade. 

While whisking, add in the pepper cashew mixture in a slow stream. Keep whisking until everything is incorporated and smooth.
Then add in the black pepper and simmer for about 5 minutes, just until the vegan roasted red pepper sauce for your pasta is thick and creamy. 

You can cook your pasta while this is all happening. Simply follow the package instructions for how to cook the style and type of pasta you chose.
When your pasta is cooked and drained, combine the creamy sauce with it and toss to combine.

Serve it up with a gorgeous fresh salad or a nice piece of bread, and dinner is served.
If you're cooking for just a few, or want to prep ahead, you can easily store the sauce separately from the pasta for up to a week in the fridge. Just mix with fresh pasta whenever you're ready to eat.

Final Thoughts
This red pepper pasta is a perfect meal for newly vegan families. Creamy pasta is always an easy win and the subtle sweetness of roasted red peppers is a flavor that both kids and adults will happily eat. 
It's really easy to dress up if you wanted to add extra veggies or some vegan proteins, or it's great as a main dish all on it's own.
But really, being able to whip up a flavorful, healthy pasta dish in 15 minutes is an easy win for anyone! I hope this vegan pasta is a hit with your family and becomes a part of the regular dinner rotation just like it has for mine.

Creamy Roasted Red Pepper Pasta
This creamy and vegan roasted red pepper sauce tastes great on any type of pasta. Even better is how it only takes 15 minutes to make and isn't spicy.
Ingredients
1 cup raw cashews, soaked
3 cloves garlic
2 cups of water
Pinch of salt
¼ tsp black pepper
¼ cup nutritional yeast
2 tbsp vegan butter
2 tbsp cornflour
½ cup store-bought roasted red peppers (jarred)
16 oz of pasta, cooked according to package
Instructions
Soak your cashews in water overnight or add boiling water to the cashews and let sit for an hour before use.
Add all the ingredients except the butter, cornflour, and pasta to a blender. Blend until smooth and creamy, scraping down as necessary.
Heat a saucepan over medium-low heat and add the butter. Let it melt then add the 3 tablespoons of cornflour. Stir to mix and let cook for 3-4 minutes until the flour is lightly toasted and a shade darker.
Slowly stream in the roasted pepper cream from the blender, whisking as you pour so it doesn't clump up.
Add the black pepper and whisk while the cream comes to a simmer. Let simmer until thickened, about 3-5 minutes, then remove from heat.
Cook your chosen pasta as indicated on the package.
Serve the pasta with the roasted pepper cream.
Store the roasted pepper cream separately in the fridge for up to a week.
Nutrition Information:
Yield:

4
Serving Size:

1
Amount Per Serving:
Calories:

451
Total Fat:

22g
Saturated Fat:

7g
Trans Fat:

0g
Unsaturated Fat:

13g
Cholesterol:

15mg
Sodium:

95mg
Carbohydrates:

50g
Fiber:

5g
Sugar:

3g
Protein:

17g
Nutrition information isn't always accurate and is for estimation purposes only.