Easy Vegan Pasta with Cashew Cream Sauce
On those nights when you're longing for a bowl of creamy pasta, look no further than this quick and easy vegan spinach artichoke pasta. It's a twenty minute meal that uses just a few key ingredients to build a rich, creamy sauce in your blender.
That sauce is poured over a tender saute of artichoke hearts and spinach, making this a simple, healthy, and classy dinner for vegan pasta night. A light, flavorful meal like this pairs nicely with a glass of chilled white wine, but it's also an easy win for families. Kids love a creamy alfredo-like sauce, and parents love that it's packed with all the protein and healthy fats of cashews.
Whether it's for stress-free date night, or simply a lazy night dinner, this is the recipe you need. You won't even dirty a knife, just let your blender do the chopping and mixing for you. I have no doubt it'll take just one bite to make this your new go to dinner in a pinch.
This post may contain affiliate links. That means if you purchase an item through these links, I may earn a commission at no additional cost to you. Please read the full disclosure policy for more info.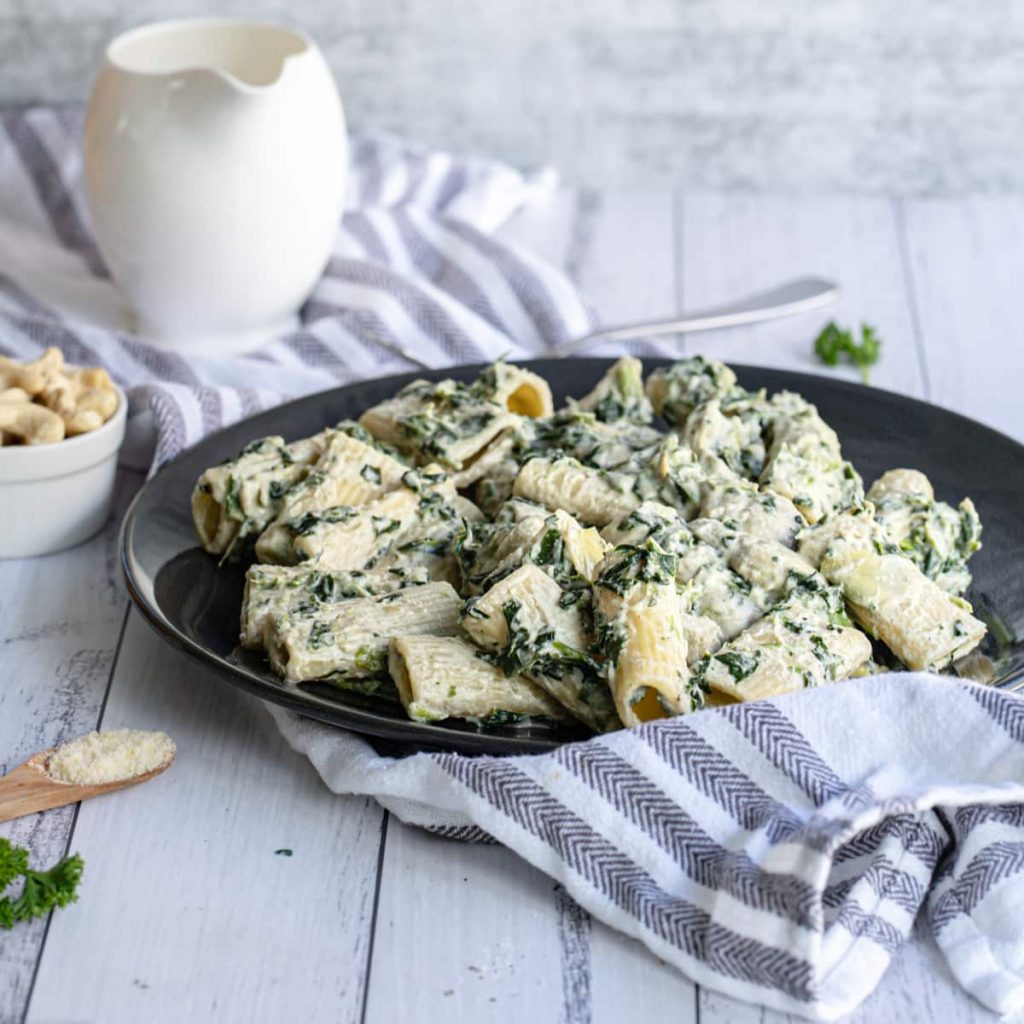 Ingredients in Vegan Spinach Artichoke Pasta
To make your family a big pot of this creamy pasta, we'll be using one of my favorite vegan sauce techniques, soaked and pureed cashews. To make it all you need is:
Rigatoni, or pasta of choice
Frozen spinach
Canned artichokes
Cashews, soaked
Nutritional yeast
Salt
Pepper
Almond or Cashew Milk
Garlic powder
Olive oil
I like a thick noodle like rigatoni for a creamy sauce, they also make for a fantastic bite with a tender piece of artichoke. I also recommend getting artichokes canned in water, not oil. Make sure they're drained before you start cooking.
For our creamy vegan sauce, the cashews do need to be soaked first. You can do this overnight, just like dried beans, or by pouring boiling water over them to soak an hour before you want to use them.
Finally, almond and cashew milk are favorites for this sauce, their flavor compliments the pasta, but you can use any non-dairy milk of choice.

How to Make Creamy Artichoke Pasta
You need just a pot to boil pasta, a pot to heat your sauce, and a blender to whip this dinner up for the whole family. Put the cutting boards away, this is a stress free twenty minute meal.
Start by preparing your pasta according to the package instructions. We'll prepare the sauce while that cooks. Simply add the cashews, nutritional yeast, milk, salt, pepper, and garlic powder to the blender and blend until they form a creamy, silky sauce.

Next heat the olive oil in the other pan over medium low heat. Gently squeeze and drain any excess liquid from both the artichoke hearts and thawed spinach. Then add both to the pan and saute for 2 minutes.
Add the sauce to the artichoke hearts and stir. Let the sauce simmer until it's warmed through. You should have cooked and drained pasta at this point as well. Toss them together, and serve immediately.

Ways to Make it Your Own
One thing that makes a 20 minute meal successful is that it can work with what you have and still create a beautiful dinner. Some ways for you to flavor your vegan cream sauce with what you have on hand would be adding chiles like pickled jalapenos to your spinach saute.

Using a can of marinated artichokes is another way to add flavor. A squeeze of lemon juice or zest, or a sprinkle of your favorite spice mixture can be a fun way to change it up.
Or, a simple addition of toasted breadcrumbs on top is always a lovely finishing touch to a creamy pasta. Get creative, and this vegan spinach artichoke pasta will appear on the table in one delicious variation or another every week!

Storage and Reheating
When it comes to handling leftovers, store them in the fridge in an airtight container for 3 to 4 days. You can also freeze any leftover sauce for up to 3 months. When it's time to reheat, simply pour into a warm pan until desired temperature. If you find it's too thick, add a splash of water to loosen it up.

Final Thoughts
Creamy pasta is a family favorite in many households, and our vegan ones are no exception. I think your family will enjoy this vegan version of the classic spinach and artichoke pasta combo.
Hot pasta tossed in this creamy, healthy vegan sauce is going to be an instant hit, and it's just icing on the cake that it only took you a few minutes to make. Please do enjoy it, and let me know how it goes for you. 
Related Recipes:

Creamy Vegan Spinach Artichoke Pasta
Additional Time:
1 minute
A delightfully creamy spinach artichoke pasta that is completely vegan. This recipe will please even the pickiest of eaters.
Ingredients
8 oz rigatoni
10 oz frozen spinach, thawed
1 can artichoke hearts (in water, drained)
1 cup cashews, soaked for 1 hour in hot water or soaked overnight
¼ cup nutritional yeast
½ tsp salt
½ tsp ground pepper
1 cup almond/cashew milk
1 tsp garlic powder
1 tbsp olive oil
Instructions
Cook your pasta according to the package directions.
Add all of the ingredients except the artichokes and spinach to a blender. Blend until smooth and creamy, scraping down the sides as necessary.
Heat a pot over medium-low heat and add the olive oil. Drain and squeeze excess liquid from the spinach and artichoke hearts. Sauté the spinach and artichoke for 2 minutes.
Slowly add the cashew cream to the cooked spinach and artichokes. Stir to combine all the ingredients. Remove the pot from heat when the sauce warmed thoroughly.
Toss in the pasta and serve.
Nutrition Information:
Yield:

5
Serving Size:

1
Amount Per Serving:
Calories:

500
Total Fat:

32g
Saturated Fat:

4g
Trans Fat:

0g
Unsaturated Fat:

26g
Cholesterol:

0mg
Sodium:

759mg
Carbohydrates:

42g
Fiber:

12g
Sugar:

5g
Protein:

20g
Nutrition information isn't always accurate and is for estimation purposes only.