Vegan 3-Ingredient Strawberry Banana Smoothie Bowl
A really easy and really delicious snack that my family and I enjoy is a nice, creamy and thick strawberry banana smoothie bowl. It only takes 3 ingredients to make them, and then everyone enjoys topping it with their favorite additions.
It's a healthy snack that's perfect for a cold treat on a warm day, much like my banana nice cream. But this gluten-free smoothie bowl is made with just fruit and a splash of water! It doesn't get much easier to whip up a nutritious vegan snack than this. 
I make this strawberry banana smoothie bowl without yogurt and it's just right, I think you'll think so too. But, with the many, many tips I'm sharing with this super easy recipe, you'll be able to whip up the perfect smoothie bowl for you in no time.
This post may contain affiliate links. That means if you purchase an item through these links, I may earn a commission at no additional cost to you. Please read the full disclosure policy for more info.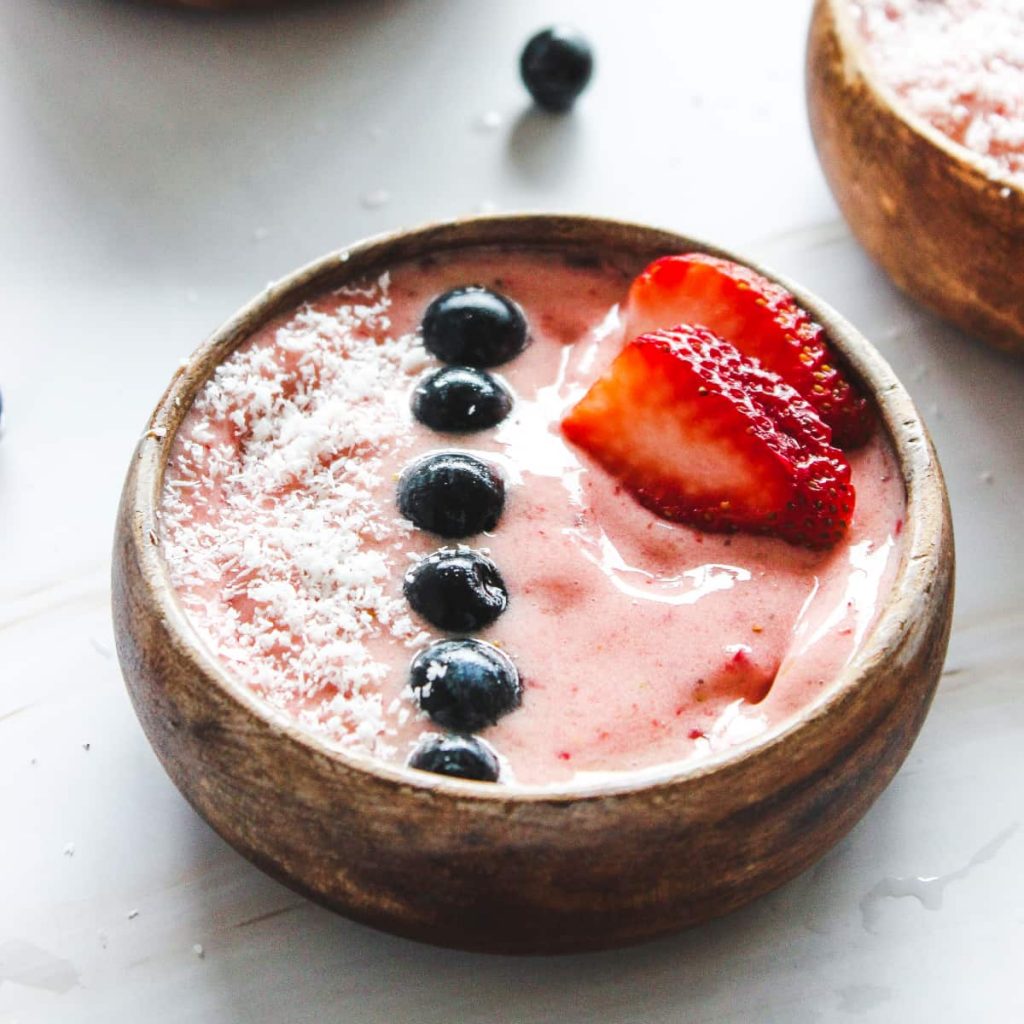 Ingredients For Making a Strawberry Banana Smoothie Bowl
Are you ready to see the easiest ingredient list ever? To make this 3 ingredient strawberry banana smoothie bowl you'll only need..
Frozen banana
Frozen strawberries
Water, optional
You'll notice that I call for only frozen fruit, and that's for a good reason. To make your strawberry banana smoothie bowls without yogurt, but still have it thick and creamy, it's best to use only frozen fruit. That goes for any smoothie bowl.
The bananas and strawberries blended together while frozen creates the thick, spoonable smoothie bowl we're after. If you find however that it's too thick for your liking, simply add the optional water to thin it out to your tastes.
With just these three ingredients you get a really healthy snack, just like eating a bowl of fruit, but transformed into a smooth, cold smoothie that feels like a treat.

Making the 3-Ingredient Smoothie Bowl
Making thick, beautiful smoothie bowls is easy, all you need is your frozen fruit and a high powered blender. Just add the frozen fruit to your blender and blend. That's it, really.
If your blender is struggling to blend the frozen fruit, you can leave it out to sit for 5 minutes. That will allow it to thaw just enough to blend up, but keep your smoothie bowl thick.

So long as you begin with frozen fruit, a too-thin smoothie won't be an issue, but you should make sure it's the thickness you prefer. If it's too thick, add just ½ teaspoon of water at a time, up to 1 tablespoon total, until it's the right, spoonable thickness for you. 
Then add your toppings! We love coconut, fresh blueberries, and fresh strawberries on ours. Be as artistic as you like and then sit down with a stunning strawberry banana smoothie bowl that'll taste great and is good for you.

The Best Toppings for Vegan Smoothie Bowls
Beyond our favorite toppings, there's a whole range of delicious choices you can add to your smoothie bowl. They add a nice change of texture, just like toppings on ice cream, but so much healthier.
Here are a few of our favorites for this smoothie that keep it healthy, vegan, and gluten-free: 
Fresh berries
Fresh banana slices
Chopped nuts
Shredded coconut
Nut butter
Cacao nibs
Chia seeds
Drizzle of maple syrup or agave
The topping options are really endless, so long as you enjoy the flavor combination you create. For the prettiest smoothie bowl, add a variety of colors and textures on top. It'll make your mouth happy too!
Final Thoughts
If you're after a naturally gluten-free, vegan snack then these super easy, thick strawberry banana smoothie bowls are perfect for you. They're so fun to decorate that it's an easy way to get the kids involved with making a healthy snack. They'll be so excited to eat their fruit!
There's a whole range of flavors you could make for smoothie bowls, and with my tips on keeping your smoothie thick and creamy, I hope you'll have fun whipping these together.
Give this classic strawberry banana flavor combo a try, and let me know what toppings you enjoyed best by leaving a comment below.

Super Thick Strawberry Banana Smoothie Bowl
Additional Time:
5 minutes
An easy-to-make and healthy smoothie bowl made from only 3-ingredients. This strawberry banana smoothie bowl is nice and thick and naturally gluten-free. Top with your favorite fresh fruit and other toppings.
Ingredients
3 bananas, diced and frozen
½ cup strawberries, frozen
1 tbsp of water (optional)
Toppings
1 tbsp coconut flakes, to decorate
1/4 cup blueberries, to decorate
Strawberries, to decorate
Instructions
Take frozen fruit out of the freezer and place it in the blender.
If your blender can't handle completely frozen fruit, let the fruit sit for 5 minutes to slightly thaw before blending.
Start blending the frozen fruit. If the mixture is too thick, slowly add in water 1/4 tsp at a time until you get your preferred consistency. For a thick smoothie bowl, this should be a maximum of 1 Tbsp of water.
Once blended, scoop the smoothie into a bowl. Top with your favorite toppings and enjoy.
Nutrition Information:
Yield:

2
Serving Size:

1
Amount Per Serving:
Calories:

211
Total Fat:

2g
Saturated Fat:

1g
Trans Fat:

0g
Unsaturated Fat:

0g
Cholesterol:

0mg
Sodium:

11mg
Carbohydrates:

52g
Fiber:

7g
Sugar:

29g
Protein:

3g
Nutrition information isn't always accurate and is for estimation purposes only.