Healthy Lettuce Wraps, a Better than PF Chang's Vegan Copycat
Lettuce wraps are a fantastic quick and simple answer to lunch, dinner, or even snacking. These easy, vegan lettuce wraps are like a hybrid of a saucy teriyaki chickpea sandwich and the light and refreshing nature of a salad.
There are tons of ways to make a good lettuce wrap. Crispy lettuce leaves are a blank canvas, just fill them with a flavorful filling and eat away! This version is a delicious vegan copycat that I'm happy to say is better than the PF Chang's version, and much healthier.
Even for vegan lettuce wraps, there are a lot of filling options. My version has no tofu. I use chickpeas and a handful of veggies to create a savory and sweet teriyaki filling. The balance of texture from crisp fresh lettuce and sautéed chickpea veggies is satisfying and addictive.
If you've never made lettuce wraps, I think these will be the start of a new household tradition. They're so easy to make and trust me, even easier to eat.
This post may contain affiliate links. That means if you purchase an item through these links, I may earn a commission at no additional cost to you. Please read the full disclosure policy for more info.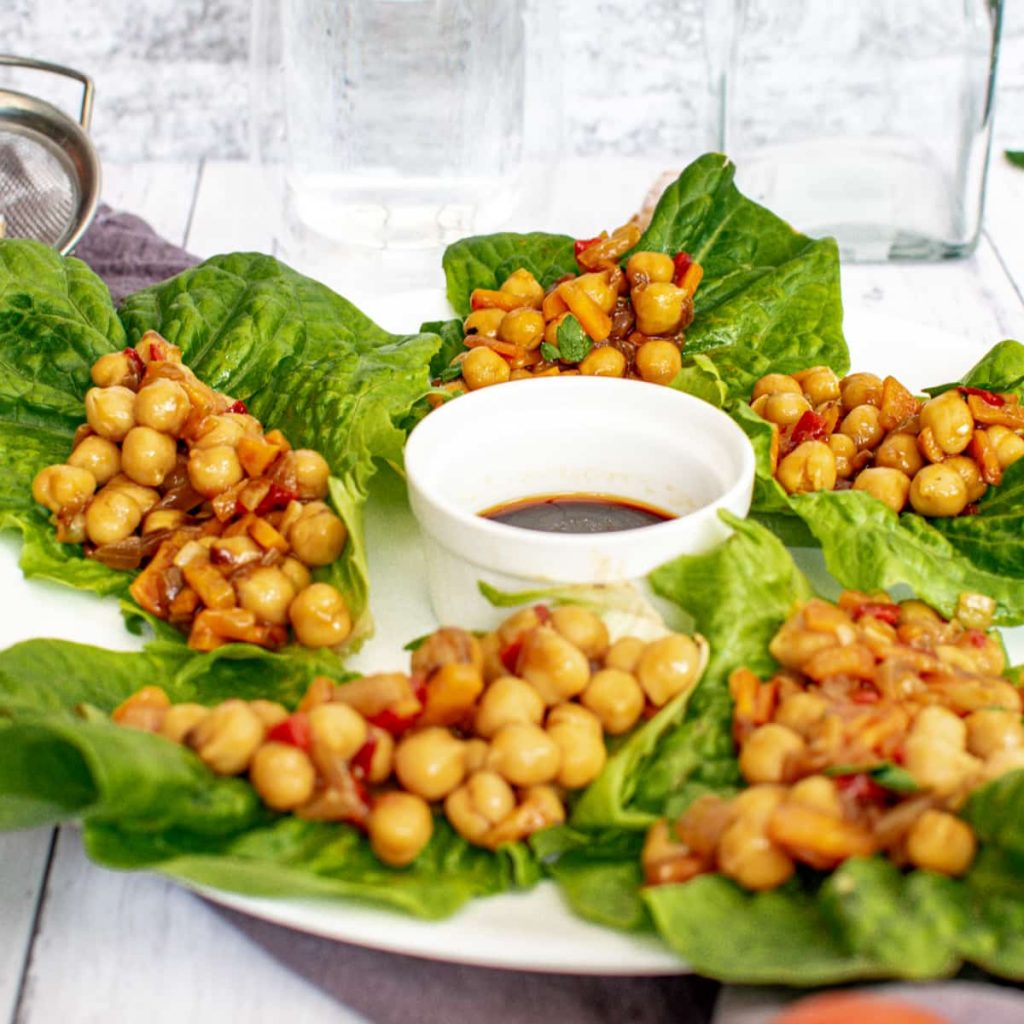 Ingredients for Healthy Lettuce Wraps
I love the ingredient list for these. Basic common ingredients combine into a quick homemade teriyaki sauce, and the filling itself is made of pure veggie goodness.
Usually, I use romaine or green butter lettuce, but you can use iceberg or whatever crisp lettuce you prefer. Choose a type with some sturdiness to it, so it can hold all that delicious filling.
This recipe also calls for canned chickpeas, but you can easily swap that for 1 ½ cups of cooked chickpeas if you like to prepare them from dried. Also, feel free to use either fresh pepper or roasted peppers, both are delicious.
For the Teriyaki Sauce you'll need:
Soy Sauce
Water
Maple Syrup
Garlic
Cornstarch
Balsamic Vinegar
For the chickpea filling you'll need:
Olive Oil
Onion
Carrot
Chickpeas
Parsley
Red Bell Pepper (Roasted or fresh)
Romaine or Butter lettuce
If you're low or out of maple syrup, brown sugar is a great substitute in your sauce. Be sure to read my tips on making sure your brown sugar is vegan!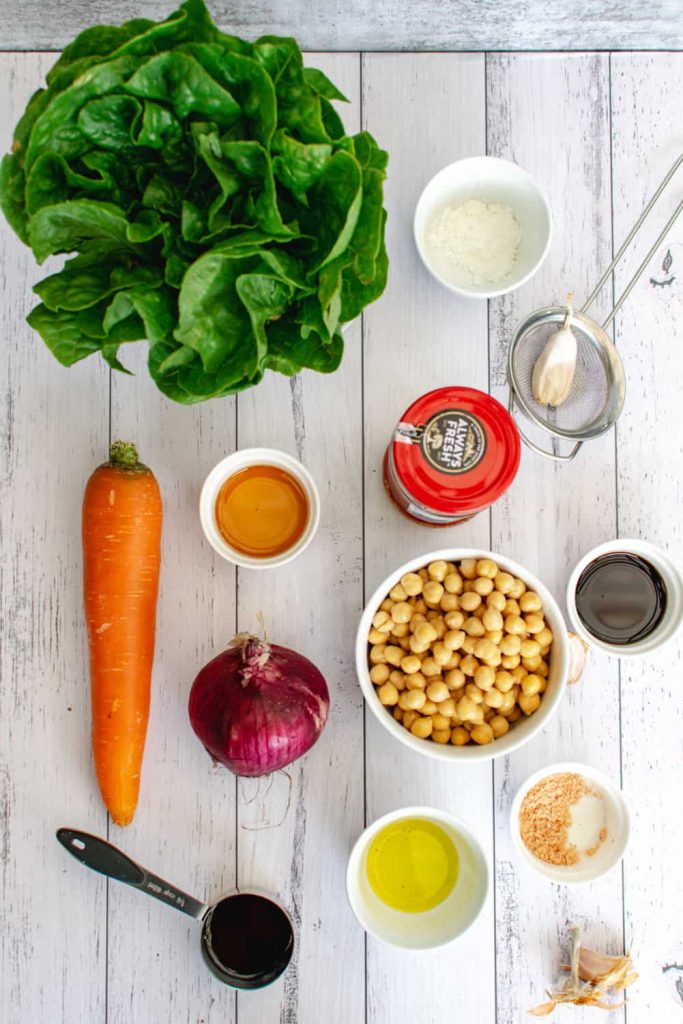 How to Make Easy Vegan Lettuce Wraps
When you're feeling hungry and have about 15 minutes to spare, all you'll need are two pans and a couple of spoons to turn those ingredients into a delicious meal.
Start by combining all the sauce ingredients in a saucepan. Whisk them to combine and dissolve the cornstarch. Then, bring it to a low boil until the mixture begins to thicken. Make sure you stir continuously. Once thickened, take it off the heat and set it aside while you make the chickpea filling.
The filling is made by first sauteing the carrots, peppers, and onion in olive oil. Stir occasionally until the veggies are soft and the onions are translucent. Then, add the chickpeas and let them saute with the veggies and oil for another minute.

Remove the pan from the heat and stir in the teriyaki sauce until everything is well and evenly coated. Set it aside while you prep your lettuce cups.
Carefully remove 8 firm, whole leaves of lettuce from the head. Rinse and dry gently to remove any excess moisture. Be careful with the leaves, we want them to stay whole. Add a few tablespoons of teriyaki chickpeas to each lettuce cup. Serve them immediately.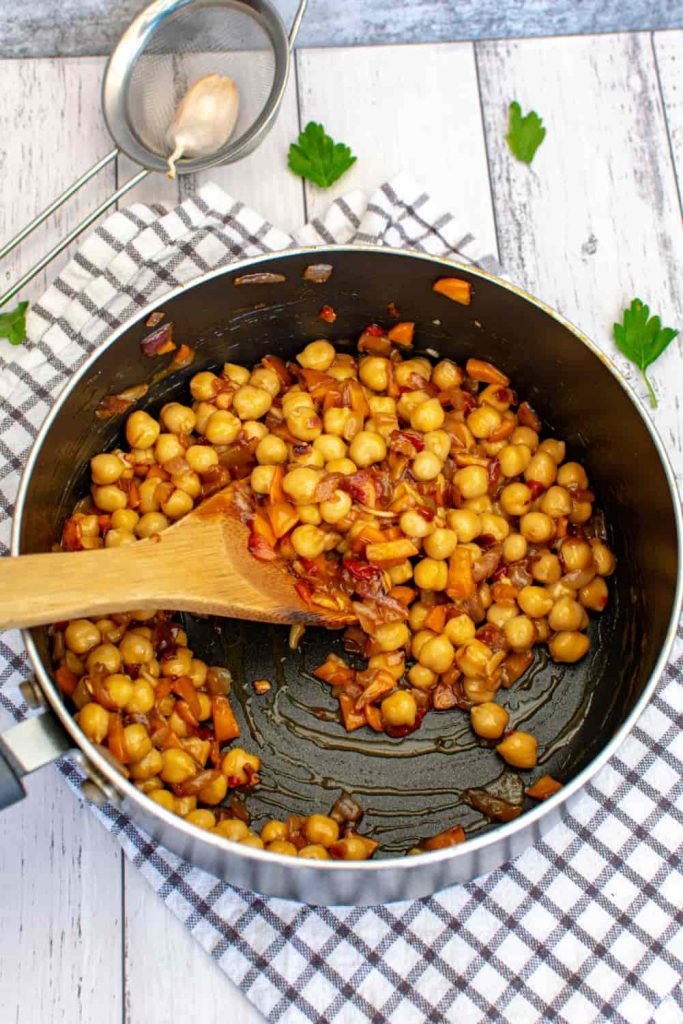 Serving Lettuce Wraps and Storage
Lettuce wraps, especially ones like these with a warm saucy filling, are best served right away. At most, I wouldn't wait longer than 10 to 15 minutes or the lettuce will get soggy and fall apart.
To make them easy to eat, center the filling in the thickest, sturdiest part of the lettuce leaf. Spreading the filling onto the thinner edges will make them hard to pick up.
When you are ready to serve, I recommend a nice side of fresh rice, vegan bread, pickled veggies, or a nice soup like my tomato coconut curry soup. Whatever you choose, these lettuce wraps will definitely be the star of the meal.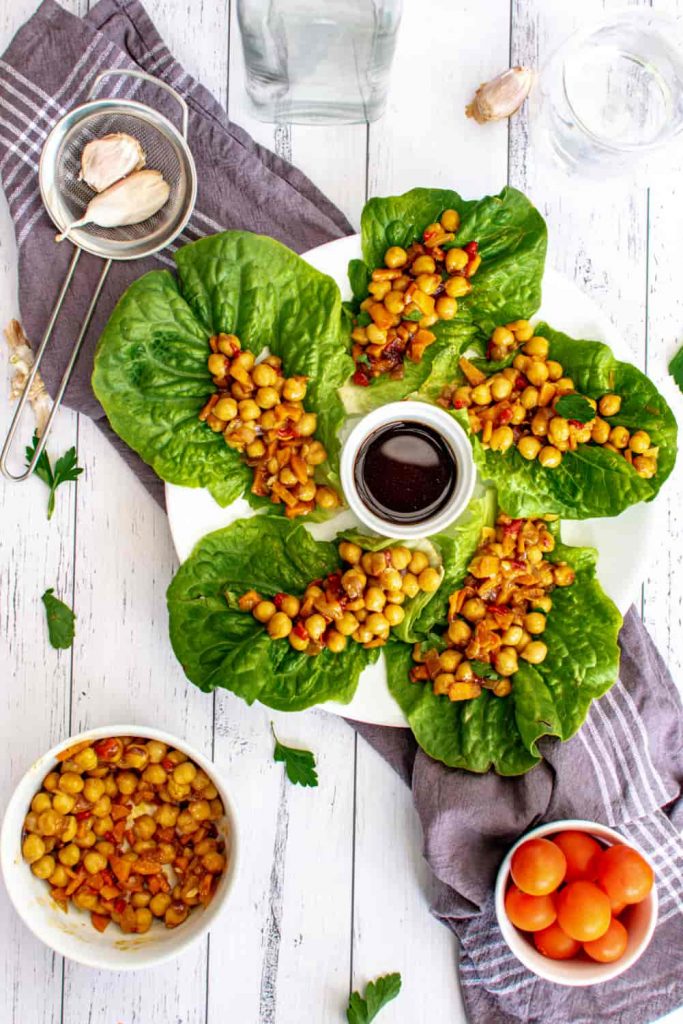 Lettuce Wrap Storage
If you want to make this ahead, I'd cook the filling and prep your lettuce but store them separately in the fridge until you're ready to serve. Then just reheat until warm, fill the lettuce and serve when you're ready to eat. This works so well that vegan lettuce wraps make ideal meal prep for lunch.
If there is any leftover filling, you can store it separately in the fridge for about 5 days. It also freezes well for up to 3 months. Just thaw in the fridge and gently warm to enjoy.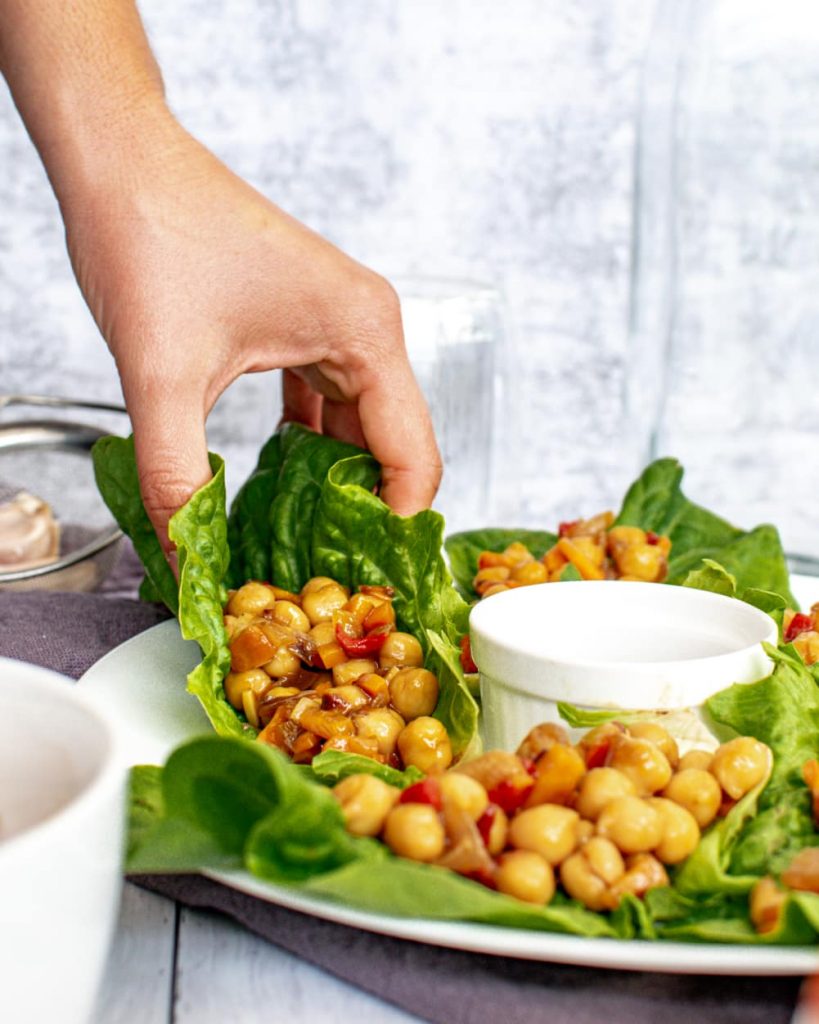 Final Thoughts
Toss together these vegan lettuce wraps with teriyaki chickpeas for a snack, appetizer, or as a fabulous lunch prep meal. They're light, delicious, and so simple to make and reheat when you get the craving. I think even kids would love this as an afternoon snack or quick lunch. That teriyaki filling will win them over in a heartbeat, and they can even have fun assembling their own lettuce cups.
Enjoy every crisp, saucy, delicious bite and don't forget to let me know what you think below!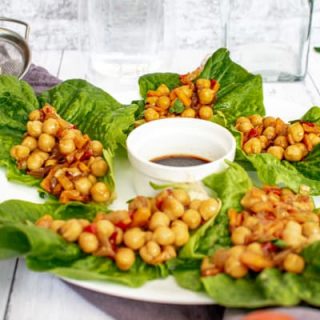 Vegan Lettuce Wraps With Teriyaki Chickpeas
Asian-style teriyaki chickpeas in lettuce wrap cups. A great vegan copycat recipe that is healthy and easy to make in less than 15 minutes.
Ingredients
Teriyaki Sauce
3 tbsp soy sauce
3 tbsp water
1 tbsp maple syrup
1 clove garlic
1 tbsp cornstarch
1 tbsp balsamic vinegar
Chickpea Filling
1 tbsp olive oil
1 red onion
½ carrot
1 can of chickpeas
Fresh parsley
¼ cup roasted red pepper or ½ fresh red bell pepper
1 Romaine or Green Butter Lettuce
Instructions
To make the Teriyaki Sauce. combine soy sauce, 3 tablespoons of water, balsamic vinegar, maple syrup, garlic, and cornstarch in a small saucepan. Bring the mixture to a boil, stirring constantly until it thickens. Remove the saucepan from heat and set aside.
Place a large skillet over medium heat and add the olive oil. Once the oil is hot, add the onions, carrot, and red pepper. Sauté until the onions are translucent and vegetables are cooked all the way through.
Add in the chickpeas and let them warm for around 1 minute. Remove from heat and stir in the Teriyaki Sauce, evenly coating the mixture.
Gently remove 8 Green Butter lettuce leaves from the lettuce head and pat off any excess liquid. To assemble, place about 3 tablespoons of filling in each lettuce wrap. Serve immediately.
Notes
Recipe can be easily doubled or tripled to serve larger groups of people.
Nutrition Information:
Yield:

5
Serving Size:

1
Amount Per Serving:
Calories:

126
Total Fat:

4g
Saturated Fat:

1g
Trans Fat:

0g
Unsaturated Fat:

3g
Cholesterol:

0mg
Sodium:

538mg
Carbohydrates:

19g
Fiber:

4g
Sugar:

7g
Protein:

5g
Nutrition information isn't always accurate and is for estimation purposes only.