Vegan Pumpkin Soup with Canned or Fresh Pumpkin
A guaranteed delicious and satisfying dinner around here is a big bowl of vegetable soup. This vegan roasted pumpkin soup is a family favorite, and I love how easily I can make a pot of something filling, healthy, and tasty.
This recipe is a perfect base recipe for healthy pumpkin soup without cream. It's great for enjoying the sweet, natural flavor of pumpkin, but it's also really fun to spice it up with different additions when we want a change of pace.
With roasted fresh pumpkin as the base, complemented by sweet carrots, onion, and garlic, it's a great soup for fall and winter, and a also great way to get a nutritious, flavorful vegan meal on the table.
This post may contain affiliate links. That means if you purchase an item through these links, I may earn a commission at no additional cost to you. Please read the full disclosure policy for more info.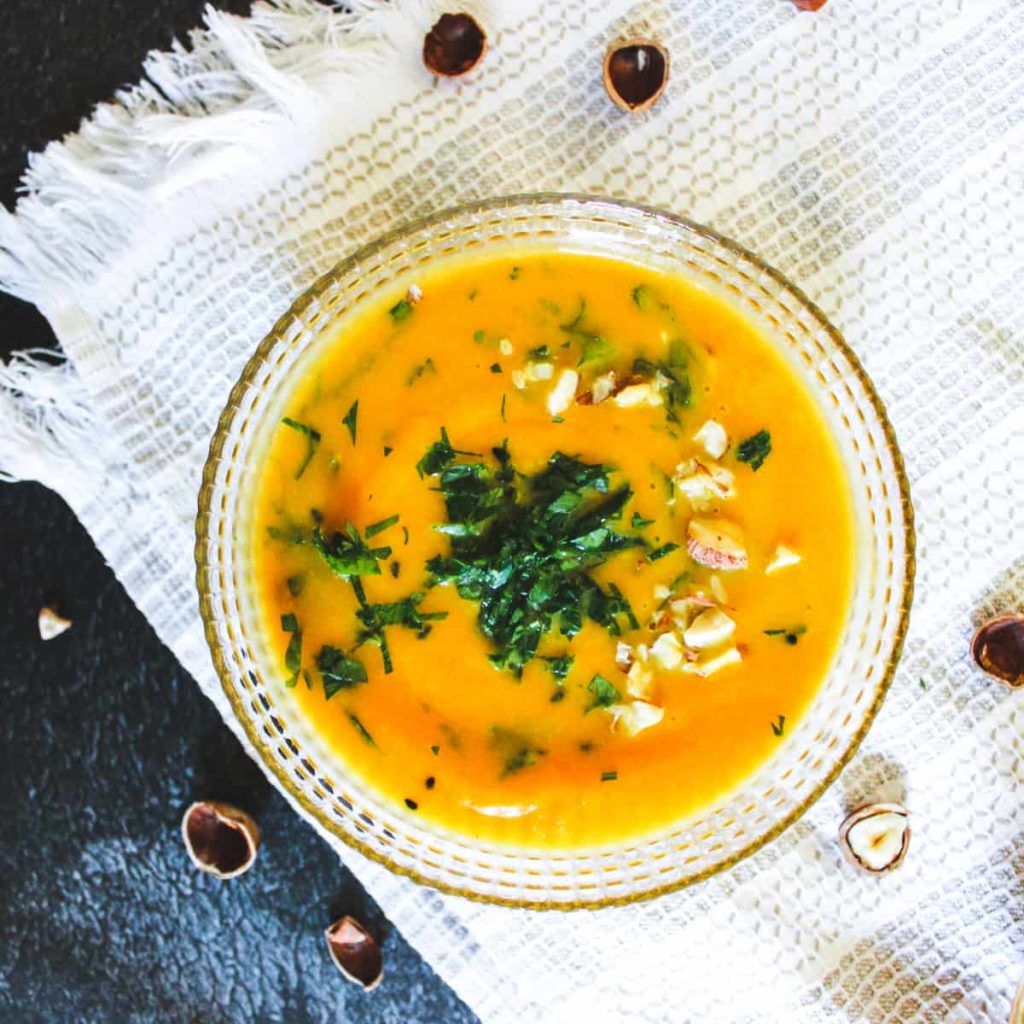 Ingredients for Roasted Pumpkin Soup
Making a smooth pumpkin soup without cream is easier than you may think. Aside from salt and pepper, this recipe only uses 6 ingredients to create a pot of pumpkin perfection.
Fresh pumpkin
Carrots
Onion
Garlic
Water
Olive oil
Salt
Pepper
Optional garnish – seeds, nuts, or herbs
With a healthy pumpkin soup made with pure and simple ingredients like this one, it's really easy to make it work for you. If you don't have fresh pumpkin, you can easily swap in butternut squash instead.
Or, you can make your pumpkin soup with canned pumpkin. Be sure to use only canned puree though, not pumpkin pie filling, to avoid the sweetness and spices manufacturers add.
If you're in the mood for something different, you can also jazz your soup up. I kept this soup cream-free and healthy by leaving out coconut milk, which is a common addition to creamy vegan soups. But there's no reason you can't add it!
A tasty way to mix things up is to add that can of coconut milk and a tablespoon or so of curry powder. It takes a classic soup and transforms it into an Indian inspired pumpkin soup we all really enjoy.
Other options to add flavor to your soup include adding lemon juice in with the water, for a brighter overall flavor, or adding some spices like cinnamon and cumin to the roasting pumpkin.

How to Make Pumpkin Soup Without Cream
Making a big pot of vegan roasted pumpkin soup is easy. We start with a hot oven at 400°F and two parchment-lined baking sheets. You'll also need a big pot and either an immersion or an upright blender.
Roasting the pumpkin is the first step, and that's where a lot of beautiful flavors are developed. Chop the fresh pumpkin into about 1-inch chunks, and toss it in a bowl with the chopped garlic and some of the olive oil.
Spread the pumpkin out over the two baking sheets. Make sure it's in a single layer and not too crowded to allow the pumpkin to roast properly.
That goes into the oven for about 15 to 20 minutes, or just long enough for the pumpkin chunks to be tender and a nice golden color.

Meanwhile, place your large pot on the stove with the remaining olive oil and allow it to get hot while you dice the onion and carrot. Sauté both in the hot oil until the onions begin to soften.
Add the pumpkin to that with all the roasted garlic from the baking sheets and the water. Bring the whole pot to a boil and then simmer until everything is nice and tender and ready to puree. This took about 10 minutes for me.

Once it's to this point, use either your immersion blender or upright blender to puree the soup.
This is really easy either way, but if you're using a traditional upright blender, be sure to only fill the blender halfway with hot soup, and cover the top with a folded towel to prevent any blow-offs from steam. You may need to work in batches.
With everything blended, all that's left is to season it to taste with salt and pepper and garnish. To finish our bowls, we like a few chopped nuts, pumpkin seeds, and parsley. You could use any or all!
Serve up your healthy pumpkin soup with a nice chunk of rustic bread, a seasonal salad, or a vegan sandwich or wrap. Some of our favorites from the blog are my vegan chickpea lettuce wraps and my easy cheesy vegetable bake.

Final Thoughts
This vegan roasted pumpkin soup, much like my tomato coconut curry soup, is a great vegan dinner or lunch that everybody can enjoy. Roasted vegetable soups are so healthy, easy to add flavor to, and since this one has no cream, it's also freezer-friendly for quick meals any night of the week.
I hope you and your family enjoy this as much as we do. It's a bowl of sweet satisfying pumpkin flavor that comes together completely stress free. Enjoy your soup, and let me know what garnishes and added flavors you enjoy in the comments below.

Easy Healthy Roasted Pumpkin Soup
A healthy and vegan pumpkin soup without cream. You can roast fresh pumpkin or butternut squash or even used canned pumpkin puree for this delicious easy soup.
Ingredients
600g (~3 cups) pumpkin or butternut squash, peeled or 1 ½ 16 oz cans plain pumpkin puree
1 carrot, diced
1 medium onion, diced
2 garlic cloves
2½ cups of water
2 tbsp olive oil
salt and pepper to taste
nuts and pumpkin seeds for topping
Instructions
Preheat the oven to 400°F.
Line 2 large baking trays with parchment paper.
Chop the pumpkin or butternut squash. Put the pumpkin in a bowl with the garlic, mix with olive oil. Spread the mixture onto the tray in a single layer.
Bake for 15-20 minutes or until the pumpkin is golden and tender.
In a pot, heat up the olive oil and sauté onion and carrot. Add the roasted pumpkin, garlic, and water.
Bring the soup to a boil and cook until veggies are soft (around 10 minutes).
Once everything is done cooking, use an immersion blender to blend the soup. Another option is to ladle the soup into a blender to blend. If you go with the second option, make sure to not spill the hot soup on yourself.
Nutrition Information:
Yield:

4
Serving Size:

1
Amount Per Serving:
Calories:

269
Total Fat:

14g
Saturated Fat:

2g
Trans Fat:

0g
Unsaturated Fat:

11g
Cholesterol:

0mg
Sodium:

120mg
Carbohydrates:

33g
Fiber:

11g
Sugar:

8g
Protein:

7g
Nutrition information isn't always accurate and is for estimation purposes only.