Vegetables are delicious, colorful, and healthy, but children aren't going to go for them when they have other options. In fact, most adults skip the veggies when they can, making it tough to get your kids and yourself to eat enough of them.
I find myself reaching for a tasty vegan brownie rather than a carrot stick, so I'm in the same boat.
For health-conscious parents, it's a challenge to get their kids to eat vegetables. Even if you put it on their plate, they might play with it or ignore it.
Eating vegan doesn't require you to skip your favorites, such as macaroni and cheese, but it might mean you have to get creative. It's possible to eat veggies in mac and cheese and brownies!
Below I'll go over how to hide vegetables in foods, even for picky eaters so you can eat healthily and not fight during mealtimes.
I'll cover classic foods, smoothies, desserts, dips, sauces, and more. Your child likely enjoys most of these foods already. I'll show you how you can add extra veggies to the mix.
This post may contain affiliate links. That means if you purchase an item through these links, I may earn a commission at no additional cost to you. Please read the full disclosure policy for more info.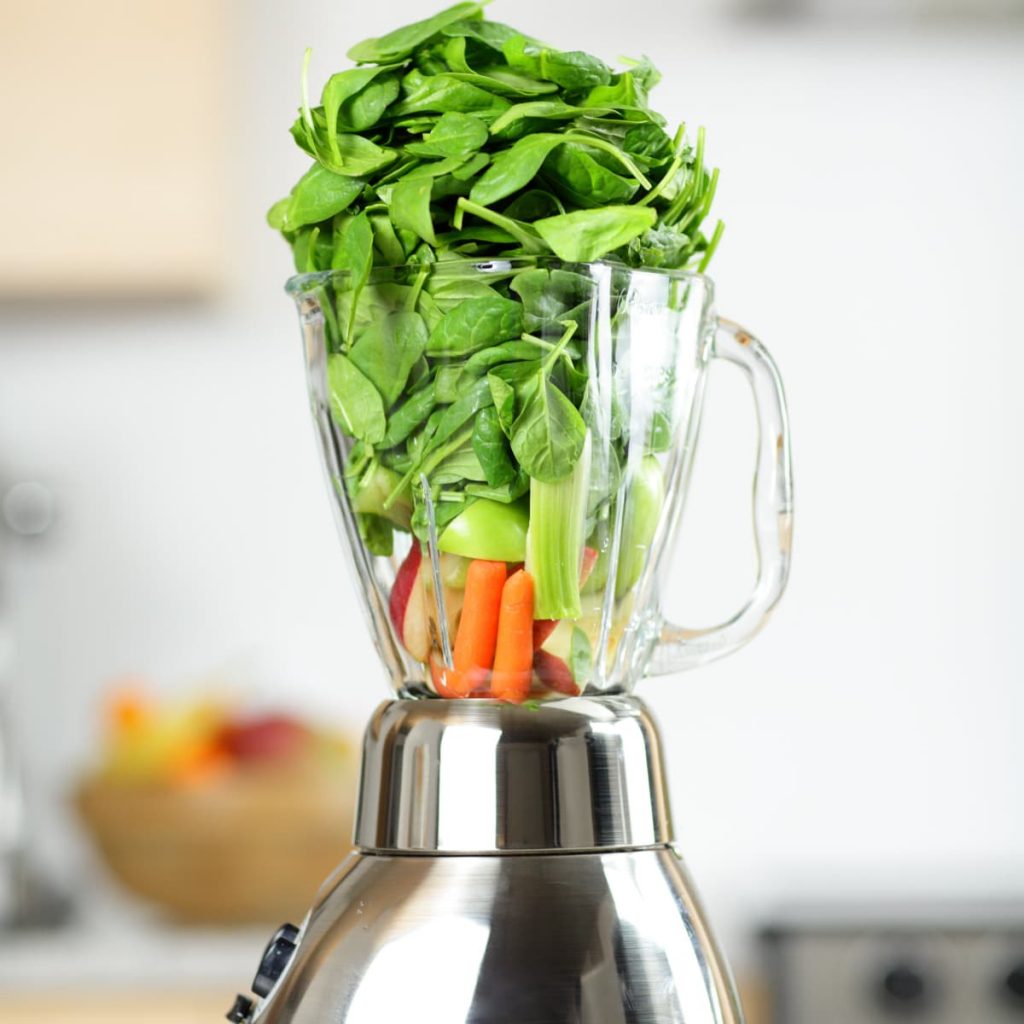 1. Butternut Squash Macaroni and Cheese
Most kinds of boxed pasta are vegan, so you don't have to substitute anything. Instead of using dairy-filled cheese, you'll use pureed butternut squash, acorn squash, or pumpkin in the sauce.
The addition of nutritional yeast to the sauce makes it take on that cheesy flavor that kids love. The macaroni ends up being very creamy and only takes 15 minutes total to make. Check out the recipe here.
You can add other vegetables to the sauce like cauliflower. All the veggies get blended up into a smooth sauce so there are no veggie chunks to pick at.
2. Mashed Potatoes
Of course, potatoes are a vegetable already, so you might think you are done with just that. Potatoes are nutritious because they have a lot of Vitamin C and potassium with fiber and complex carbs.
During the mashing process, consider adding some steamed or riced cauliflower to the mixture. This makes them taste better and have more nutritional value.
You can try adding steamed broccoli and leafy greens, but it changes the color of the potato mixture. I find it's easier to hide similar-colored veggies.
Yellow squash might be another option. Puree it, and it looks like you buttered the mashed potatoes.
3. Red Sauce
You can make a red sauce with just about anything. Of course, it does have tomatoes, but those are technically considered a fruit.
Add carrots, leeks, onions, zucchini, and bell peppers for flavor and to give a healthy kick of vegetable goodness in each bite. I'm giving you some bonus points if you can use zucchini noodles, spaghetti squash, or chickpea noodles!
You can add vegan proteins to the sauce like tempeh or TVP to make it chunky like ground beef. This is considered a bolognese sauce but is quite delicious.
Related: Protein-Filled Bolognese With Zoodles
4. Vegetable Cheese Bake
Even as a child, my favorite way to eat vegetables was smothered in a cheese sauce. While dairy-filled sauces aren't the healthiest, this dairy-free version lets you enjoy the classic veggie cheese bake, guilt-free.
A veggie bake works great as a side dish but you can make it your meal if you'd like. Use whatever vegetables you like or have on hand.
For a crunchy crust, top the bake with bread crumbs before putting it in the oven.
5. Veggie Burgers
You can make delicious veggie burgers using lentils, chickpea flour, black beans, and even ground meat alternative products.
While you're making the burger patties, blend in some carrots, zucchini, spinach, corn, beets, or whatever vegetable would go well with the flavors.
You can top the burgers with ketchup or avocado slices for extra veggies.
6. Fruit Smoothies
Smoothies are a great source of nutrition and kids like them because they taste sweet. In fact, you can use this to your advantage because you can add vegetables without them realizing it.
Smile wide each time they take a sip, knowing that you threw in some healthy veggies. I find it best to use frozen fruit because it eliminates the need for extra ice.
When making a smoothie with greens, use an overripe spotted banana. Those bananas are sweeter and you won't taste the greens at all.
Here are some of my favorites:
Mango Banana Avocado Smoothie
It's always a good idea to use green ingredients in your smoothie, such as avocado. This fruit pairs well with many others but it turns the concoction green.
That way, you can easily add green veggies, such as kale, broccoli, and spinach without fuss from your kids.
If your picky child doesn't want to try it, tell them it's edible slime or something else that they're into. This could be the trick to getting them to try it.
Once they taste how delicious it is, they're going to ask for it time and again.
Blueberry Banana Spinach Smoothie
Pair some bananas and blueberries together for a tasty smoothie. Toss in some spinach and zucchinia.
You'll never taste it. All you'll notice is the fruitiness of the blueberries and the thickness of the bananas.
Your kids are going to love this option, and you can toss in some green vegetables to bulk up the veggies.
Banana-Free Smoothie
I use overripe bananas in most of my smoothies because it adds the creamy texture and masks any veggie taste. That way, I don't need vegan milk or anything else.
But, some kids don't like the taste of bananas. You can find many recipes without them.
One option is using Medjool dates, avocado, and mango chunks. You get the same creaminess and can add green vegetables without your child noticing.
7. Zucchini Muffins
Make your favorite version of muffins with applesauce in place of the egg. Use your favorite plant-based milk and toss in some grated zucchini.
We love these zucchini banana muffins since they're quick and easy to make.
Your kids are going to really go nuts over them and you snuck in some healthy vegetables. No one's going to complain and the whole family is sure to fight over the last one.
These freeze well so it might be best to make a double batch!
8. Black Bean Brownies
I know how it sounds, but the black beans here add a fudgy texture that you don't find with other brownies. Plus, they're healthy, have plenty of sweetness, and uses an entire can of black beans. (You can't taste them, I swear)
This is the recipe I use and my kiddo loves. Even better is that they'll be ready in 30 minutes so you don't have to wait long to satiate your chocolate craving.
Once your brownies are baked and have cooled, crush up some walnuts or pecans to sprinkle on top for a health boost and some crunch. Those who prefer even chocolatier treats can add additional dairy-free chocolate chips on top.
9. Banana Bread
Banana bread is the perfect dessert to hide extra veggies in. You don't need to add extra sugar either.
The bread gets its sweetness from overripe bananas. I like to finely grate zucchini or carrots into the batter. You can't even taste it.
Here's my favorite banana bread recipe. It's not dry like some, can be made oil-free, and only takes 10 minutes to prep.
10. Cream Sauces
I already talked about red sauces, but some kids prefer cream sauce. You may decide to make Alfredo with the wider noodles one night for a change of pace.
Regardless, there are plenty of cream sauce recipes out there, and adding vegetables to them isn't as hard as you think.
Related: 20 Minute Creamy Spinach Artichoke Pasta
Cauliflower Alfredo Sauce
Most white sauces contain milk or cream, but you can find vegan versions that use coconut milk or cashews instead. It's entirely possible to make it without the use of vegan butter or cheese.
If you add tons of cauliflower to the mix and a touch of oil, it creates the consistency of a butter- or cream-based sauce. Pour it onto your fettuccini without the guilt.
Watch your kids lick the plate clean and smile, knowing it's full of healthy vegetable goodness.
Green Pesto Pasta
Pesto is an excellent way to get your veggies. Most kids eat it because of the pasta, but they find it tastes great, too. Most store-bought pesto products contain pine nuts, garlic, basil, and various cheeses.
While healthy, there is a way to add more vegetables and dump the cheese. Use an avocado for creaminess, and add some baby spinach to the mixture for more vegetables.
Pumpkin or other seeds are great additions, too. I prefer to use nutritional yeast in place of the cheese, but you can use vegan-friendly parmesan.
11. Nuggets
Veggie-filled nuggets are surprisingly easy to make. You combine all the nugget ingredients together, form them into nugget shapes, and bake them.
The resulting nuggets hold up great for dipping into sauces (that also contain vegetables).
I like these baked quinoa cakes as a base where you can easily add other blended veggies. Kids love dipping them into sauces.
12. Dip Into A Veggie Dip
Most kids don't mind dipping their vegetables in a special dip, but vegans have to be careful. Many store-bought products contain dairy and other non-vegan ingredients.
You can recreate queso and many other children-friendly favorites.
Vegan Queso
Rather than using various cheeses and cream, make Queso with carrots and potatoes. It's very creamy, and the entire thing is made of vegetables.
For those kids who just aren't going to hold a vegetable in their hand, there's no guilt giving them pita chips or bagel chips for dipping.
If you can, put out some celery sticks, more carrots, and broccoli to see if your little ones are going to take the bait.
Peanut Dipper
Peanut butter is healthy, provides protein, and is usually vegan. You can use straight peanut (or another nut) butter and provide bell peppers, carrot sticks, and celery for dipping.
Most kids enjoy nut butter with vegetables. If that doesn't work, try mixing the peanut butter with some pureed butternut squash. They're both the same consistency, and the peanut butter hides the vegetable easily.
Now, let them dip pita or bagel chips into it.
Chocolate Hazelnut Dip
Okay, I'm going a little off-topic here because no child ever is going to dip vegetables into chocolate, or maybe they will. If yours is a bit adventurous, you can try experimenting with that together.
This chocolate hazelnut dip is made by blending hazelnuts, dates, and chocolate. It makes a large enough batch to last your family a week or more.
I've been talking primarily about veggies, but kids need enough fruit in their diet, too. Make a vegan-friendly Nutella copy-cat dip and use apples, pears, and other 'hard' fruits.
13. Veggie Chips
I'm not talking about deep-fried potato chips. Instead, I'm talking about different types of vegetables you can make into a healthy chip through baking or dehydrating.
There are tons of nutritious vegetables out there, so try to mix things up a little.
Kale Chips
I really enjoy the taste of kale, but many kids don't. You can turn it into a child's favorite when you fry (or bake) it and turn it into nachos.
Most people shy away from anything cheesy. Vegan cheese can be expensive, but it can be a lifesaver when you're trying to get kids to eat their vegetables.
The best thing here is that you don't actually use cheese to make cheese sauce! You can use nutritional yeast, sunflower seeds, cashews, cayenne pepper, garlic pepper, and salt by pulsing it until it's well-blended.
Add your kale into the cheese and toss everything to coat it evenly. Put it on a baking sheet and bake it at 300 degrees Fahrenheit for about five or 10 minutes.
When it comes out, it looks and tastes cheesy, so your kids aren't going to notice. While the chips are dark green, they're sure to enjoy the crunch and forget about the color or what might be in the recipe.
This is a great trick to get your kids to eat leafy greens without the hassle.
Other Chip Vegetables
You can use other vegetables as chips, too. They include:
Sweet potatoes
Butternut squash
Parsnips
Radishes
Eggplant
Spinach
Turnips
Tomatoes (yes, they're technically a fruit, but they deserve an honorary mention.)
Beets
Carrots
Zucchini
14. Vegetable Fries
Just as you can use tons of vegetables to make 'chips,' you can make French fries with other things than a potato or sweet potato. I like baking my 'fries,' but you can fry them and create a vegan-friendly batter for coating, as well.
Carrot Fries
Cut your carrots into fry-like pieces. Toss them with your favorite flour and add black pepper, garlic powder, thyme, salt, and onion powder with a little olive oil (or oil of your choice).
Make sure the carrots are fully coated and lay them on a baking sheet in a single layer. Put them in a 450-degree oven for about 30 minutes.
You might want to flip them over about halfway through cooking so that they brown evenly.
Other Fry Vegetables
Though carrot fries are quite popular with many kids, you can try many vegetables. If you can cut them into the fry shape, you can have baked 'fries' with almost anything.
These are my favorites:
Eggplant
Turnips
Jicama (root vegetable from Mexico)
Plantain
Butternut squash
Rutabaga
Green bean fries
Zucchini
Bell pepper
15. Pizza Crust
Cauliflower pizza crust has been quite trendy recently. If your kids don't mind green foods, you can blend in spinach and broccoli as well.
These vegetable crusts are typically thin crust. If you prefer thicker crusts, blend the vegetables into the pizza sauce instead.
16. Juice
Drinking too much fruit juice is a sugar rush and not the healthiest. Instead, I'm talking about green juice.
The majority of the juice will be made up of greens, celery, and carrots. It's sweetened with a green apple and a shot of lemon or ginger.
Green juice is an acquired taste. I recommend making it slightly sweeter at first and then making it have a higher ratio of veggies over time.
17. Popsicles
If you're already making a batch of green juice, save some to make into popsicles. You can pour the juice into reusable popsicle molds to always have a healthy, nutritious treat on hand.
You can significantly change the taste of your popsicles depending on what veggies you use in the juice. For a refreshing summer treat, I recommend a blend of cucumber, lemon, and spinach.
18. Scrambles
If you dice up some vegetables, you can toss them into a scramble where everything blends together. You can use chickpea flour to make a batter that you cook like traditonal scrambled eggs.
Or you can buy pre-bottled vegan eggs to cook the same way. Chopped peppers, spinach, and mushrooms taste great in a scramble covered with vegan queso.
19. Chili/ Stew
Chilis and stews can hide a lot of vegetables inside. Use an immersion blender to lightly blend some of them up while still keeping the stew chunky.
Chili is perfect for adding in carrots, peppers, and zucchini. Use the chili as a topping on a baked potato.
Conclusion
As you can see, you've got many options to get your children to eat vegetables. Don't feel bad that you're 'hiding' them in regular foods.
You're not hurting your child and are actually focused on their well-being and health. When they get a little older, they're sure to ask you for the recipe, and you can surprise them with the veggie goodness they never knew they loved.
It's important to have balance, and there might be times where your picky eater just doesn't want to deal with veggies.
Eating vegetables is important, but you might have to throw caution to the wind and let them eat something else. Keep trying; your children are going to thank you for it when they're older.
Related Articles: